Times are changing in our technologically advancing world. More and more, we conduct business transactions on the internet instead of in person. You can now balance your checkbook, grocery shop, and track your spending online with money management apps and bank websites. 
With this tech surge, traditional customer service methods are declining, and online customer service portals are multiplying fast. And the financial industry is no exception.
In 2017 alone, over1,700 physical U.S. bank branches closed their doors for good. Instead of vying for prime real estate, these businesses now compete for likes and follows. As of 2017, 87% of banks were active on Facebook, and more than 50% use Twitter regularly.
While some financial brands are still struggling with social media, many are thriving. Here is a list of nine financial brands who are making it work.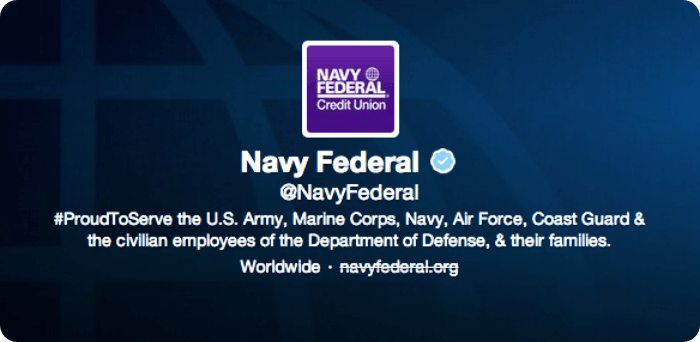 Facebook – 1.2M followers
Twitter – 79.9K followers
YouTube – 4.4k subscribers
LinkedIn – 52,463 followers
Instagram – 37k followers
Although this Virginia-based bank initially only served members of the U.S. Navy, it has since expanded its membership. From 1962 onward, the NFCU has been the biggest credit union in the world.
The NFCU has prioritized social media since August of 2012, when a simple customer appreciation promotion blew up on Facebook. As a result, they kicked off a whole new advertising branch.
Today, Navy Federal remains mostly in the realm of brand advertising, posting fun seasonal videos, financial advice, and inspirational clips. Their weekly #MondayMotivation posts highlight impressive military work, and their #FinancialAdviceFriday offers quick tips to help their members stay on budget.
So it's no surprise that this financial institution has thrived, online and off. The credit union now boasts over 8 million members and over $97 billion in assets.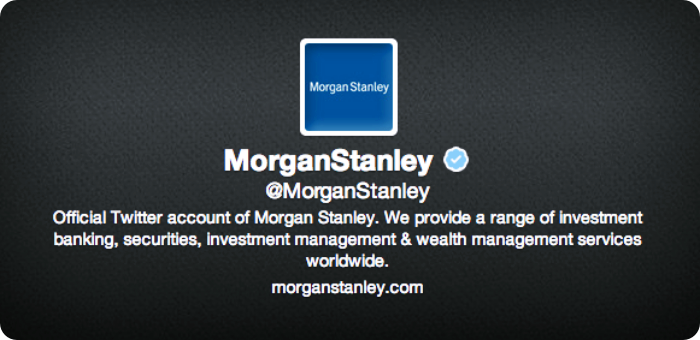 Twitter – 511k followers
Facebook – 79k
LinkedIn – 914k followers
Youtube – 11k followers
Founded in 2009, this wealth management organization's roots date back to 1873. With more than $2 trillion in client assets, they specialize in retail brokerage, asset management, and investment banking.
In the early days, Morgan Stanley primarily used their social presence to network. In one case, an agent reportedly brought in over $10 million of new business just from the connections he made on LinkedIn.
Today, Morgan Stanley's tone on social media is more analytical and educational. They maintain their stature as a venerated institution by posting financial analyses, thorough financial advice, and current charitable endeavors. Also, they started a podcast called the Ideas Podcast to establish themselves as thought leaders in the financial space.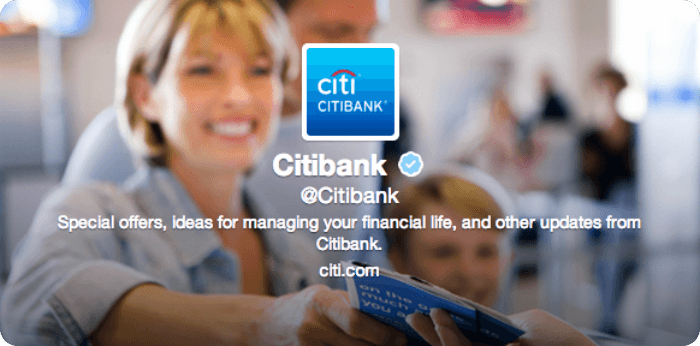 Facebook – 1.1M followers
Twitter – 911K Followers
YouTube – 37K Subscribers
LinkedIn – 1.8M followers
Instagram – 39.2k followers
Citi serves more than 100 million customers in 40 different countries. Established over 200 years ago, it is currently the fourth largest bank in the United States.
Although the 2008 economic crisis hurt this financial giant deeply, they have since bounced back. And in large part, that's thanks to their social media skills.
Today, Citi's social media presence is tighter and more focused than many of their competitors. Most of their posts on Twitter directly address Citi's features and offerings. In a world where more and more brands prefer more nebulous "brand advertising," this direct approach is refreshing.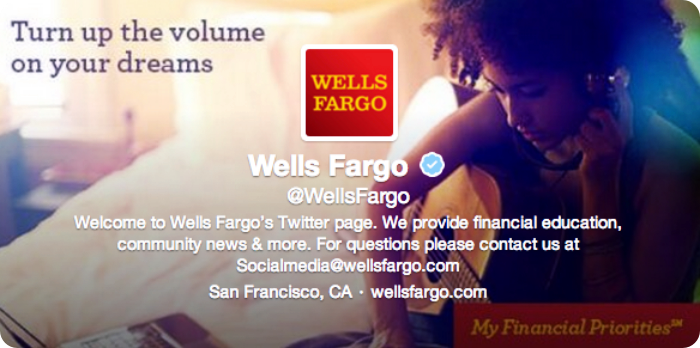 Facebook – 1.1M followers
Twitter – 304K followers
LinkedIn – 748K followers
Youtube – 281K followers
Instagram – 55.7K followers
Serving over 70 million customers worldwide, Wells Fargo is the third biggest bank in the country. Today, they have $1.9 trillion in assets.
Wells Fargo cleverly divides their social media presence across different accounts for different purposes. While @WellsFargo provides financial education and community news, @Ask_WellsFargo focuses entirely on customer service.
By separating and specializing these accounts, Wells Fargo can provide prompt replies to any and all customer service queries.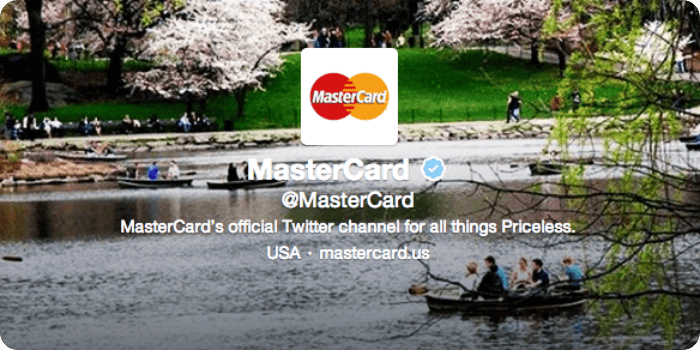 Facebook – 16M followers
Twitter – 473K followers
YouTube – 35K followers
LinkedIn – 398K followers
Instagram – 114K followers
This credit lender is used in over 210 countries world-wide. Created in 1966, MasterCard boasts over $14.95 billion in annual revenues.
Early on, Mastercard was reticent to break into the social media sphere. However, just a few years later, they'd developed their own social media listening program, the Conversation Suite. Since then, they've prioritized social media, even educating their employees on how to become brand ambassadors.
Mastercard prioritizes flashy, eye-catching partnerships with celebrities, athletes, and business professionals who represent Mastercard's mission. They also post fun promotional content, like sweepstakes and contests to win merchandise or meet famous people.
Mastercard understands that most people are on social media for fun. That's why they center their social media presence around catching that fun, and tying it back to their brand.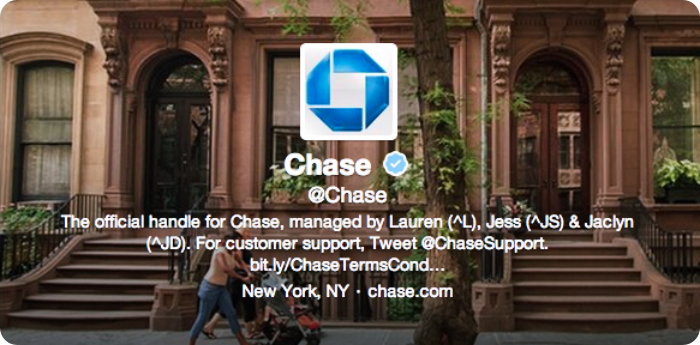 Facebook – 4M followers
Twitter – 364K followers
YouTube – 31K followers
LinkedIn – 168K followers
Instagram – 118K followers
Chase currently operates in more than 85 countries world-wide. With close to 300,000 employees, Chase currently manages assets worth approximately $2.8 trillion.
With the Chase Community Giving project, Chase was one of the first banks to promote their charitable donations on social media. Since then, they've donated millions of dollars, prompting a social following that is amongst the highest in their industry. At the time, Forbes Magazine named it their 2012 Success Story, calling it "the largest brand initiative in social media."
Today, Chase's social media presence is very balanced — from informational videos of financial advice to celebrity partnerships to seasonal recipes. Additionally, they advocate for social justice, taking a stand against the racial wealth gap, among other things.
Chase offers the best of all worlds, keeping their feed fun without losing their informative edge.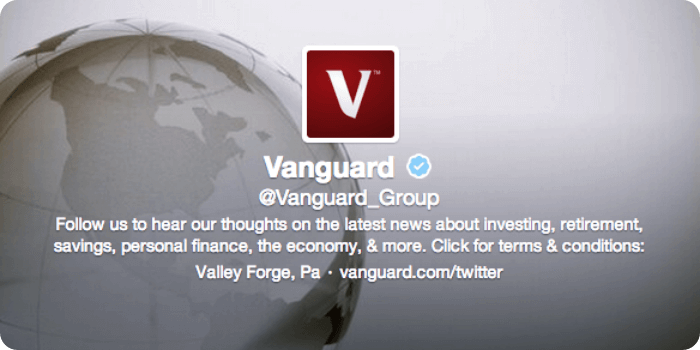 Facebook – 206K followers
Twitter – 278K followers
YouTube – 18K followers
LinkedIn – 133K followers
The Vanguard Group is an investment management company based in Pennsylvania, and currently manages approximately 2 trillion in assets. Created in 1975, the organization is one of the largest mutual funds companies.
Vanguard was one of the first finance companies to jump on the social media bandwagon. Amy Dobra, head of Vanguard's Retail Client Experience Group, was responsible for the organization's early adoption. "We have never believed that there is a one-size fits all approach to communications. That's why we keep evolving and expanding our channels," she explained (SmartBlog).
Today, Vanguard is still at the cutting edge of the digital space. For example, they're embracing live streaming, and they've even started a podcast. Additionally, Vanguard frequently posts conversations with their C-level execs along with the usual investing and financial advice. Their customers value their informative, transparent, and professional tone.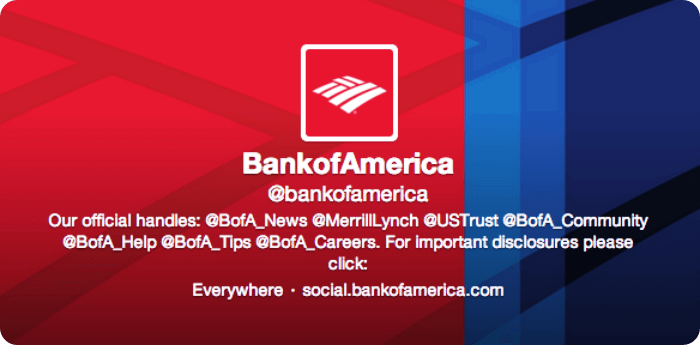 Facebook – 2.8M followers
Twitter – 519K followers
YouTube – 89.5K followers
LinkedIn – 1M followers
Instagram – 110K followers
Bank of America is the second largest bank in the United States, serving approximately 66 million clients.
While Bank of America's social presence initially focused on customer service, they've since grown and evolved. Today, their Twitter feed is home to a host of athletic competitions, advocacy organization meetings, strategic partnerships, and inspiring stories. And like Wells Fargo, they've moved their customer service arm to a separate account, @BofA_Help.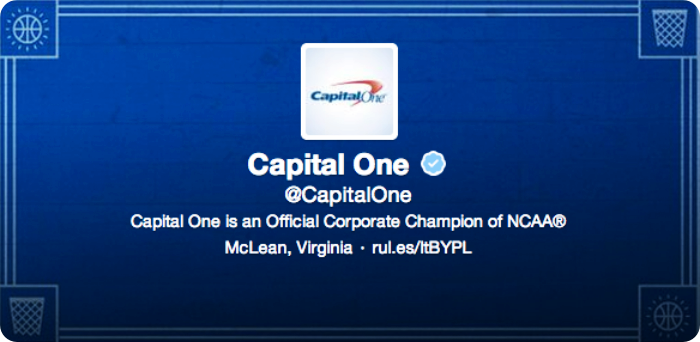 Facebook – 4.2M followers
Twitter – 175K followers
Youtube – 24.6K followers
LinkedIn – 374.5K followers
Instagram – 43.5K followers
Although Capital One is one of the newer banks in the United States, it has grown fast. It even helped to pioneer the mass marketing of credit cards in the late 1990's.
With over 4 million followers, Capital One is one of the top financial services brands on Facebook today. And they're skilled at using major events to promote themselves. For example, they've partnered with the NCAA, hosted concerts, and tied their brand to major events like March Madness.
"Capital One is investing heavily in [social media]," Patrick McLean, VP of Digital Brand Strategy for Capital One, explains. "And if we are able to scale it effectively, it will reach customers and consumers in truly valuable ways."
Conclusions
Are you shopping for a new bank to open up a checking or savings account? Then SuperMoney can help! We've put together a list of the best checking accounts and top savings accounts on the market. If you research your options and compare the companies' customer service offerings, you can find the perfect bank for your needs!

Jennifer Leonhardi was born and raised on Catalina Island, giving her a unique small town perspective and focus on community. With a degree in Sociology, she now primarily enjoys writing, largely based on her own experiences, on topics such as financial assistance programs, issues concerning the home and family, and socioeconomic trends.