Everybody expects you to mess up during your roaring 20's. After all, you still have time to set things right. Making money mistakes when in your 30's is another matter altogether.
Financial blunders in your 30's can haunt you for decades to come. These are the most common mistakes we make in our 30's.
Spending too much (or too little) on your education
The payoff for attending college, coding camp, or a trade school is higher than it has ever been. That also means the opportunity cost of not getting a higher education has also never been higher.
Income growth in the last 45 years has been modest among all age groups, but adults with ages between 25 and 34 only make $29 more today than in 1974 if you take into account inflation (source). Yes, that isn't a typo. Even though the cost of education has more than doubled and median housing prices have increased by 165%, Millennial wages have remained stagnant.
However, that is not the case for Millennials with a higher education. Millennials with a bachelor's degree or higher are earning around $50K a year, which is more than previous generations even after accounting for inflation. In contrast, the median income of 25-year-old men who only have a high school degree is $29K a year. That is about $2,600 less than what Generation X made, and nearly $10K less than what Baby Boomers earned at the same age.
However, it's also easy to spend piles of cash on a financially worthless degree that might be interesting or even make you happy but will not help you pay the bills. Choose a profession with a median income that matches your lifestyle. The Bureau of Labor Statistics has free tools you can use to filter occupations by median pay, entry-level education, number of jobs available, and the projected growth rate for the profession (source).
Avoid for-profit colleges and choose a college with a good track record at training its students for the work market. This study provides a ranking of the top 50 colleges in the United States by their return on investment. And don't forget coding camps and trade schools. Software engineers and journeyman electricians make a whole lot more than the average liberal arts graduate.
Getting Married Without Talking About Finances
Arguing about money is by far the top predictor of divorce, according to a study at Kansas State University. This is particularly true with couples who argued about money early in their relationships.
Money may not seem like the most romantic subject to discuss when dating, but it pays to talk about finances with the person you plan to live ever after.
Long Term Consumer Debt
There is always a good excuse for being in debt. "If only I were single, I would have paid off all this debt" or "I was paying off my debt, but we had a kid." Nobody is saying it's easy, but now is the time to be saving for your retirement not paying off yesterday's splurges.
Take charge of your debt now! Try consolidating your debt with a low-interest personal loan or a 0% APR balance transfer credit card. SuperMoney's credit card search engine helps you filter hundreds of credit cards by the features that matter to you.
Keeping Up With The Joneses
People of all ages spend money they don't have to try to impress people they don't like, but it seems especially common among 30-somethings. Be smart. Spend on things that truly matter to you. Live within your means, create a financial plan, and stick to it.
"Forgetting" to write a will
Nobody likes to think about dying, especially when you're "only" in your 30s. However, if you have a significant other or children, please make out a will or set up a living trust. You don't want your loved ones to go through the hassle of fighting the State for what is theirs. While you're at it, get a durable power of attorney too.
Not Having Enough Life Insurance
Again, it's not pleasant to think about death; but what will your loved ones do if you're not around to take care of them. If you have anyone that depends on your income or care, you need life insurance. And you have to get enough life insurance to cover the needs of your dependents, not just the minimum offered by your employer.
Unfortunately, Millennials are facing a huge life insurance gap. According to the 2018 2018 Life Insurance Gap Survey by New York Life, Millennials who have a life insurance policy only have an average coverage of $100,000. That only covers 22% of the self-reported needs of their dependents. This insurance gap is 60% higher than for the general population.
Not Re-evaluating Your Retirement Goals
Retirement is a moving target. What seemed like enough 10 years ago may not cut it today. Life expectancy is increasing, as are medical costs. You may also have become accustomed to creature comforts you didn't care about when you were younger. If your income has increased since you formulated your retirement goals, reassess your retirement plans and ensure it still meets your requirements.
The good news is Millennials are better at saving for retirement than previous generations. According to a 2019 survey by Transamerica Center for Retirement Studies, Millennials are starting earlier and investing a higher percentage of their income than Generation Xers. Seventy-one percent have an employer-sponsored retirement plan, such as a 401(k) and are contributing approximately 10% of their annual income. Generation Xers, in contrast, are saving 8% of their incomes. On average, Millennials starting saving for retirement at age 24 (median), which is younger than both Baby Boomers and Generation Xers. It's a good thing Millennials are so conscious about their retirement savings. They will need every penny to finance the rise in life expectancy and medical costs.
Not Paying Attention To How Your Investments Perform
When it comes to investments history means nothing. You need to stay on top of your investment funds and ensure they still represent your goals and risk tolerance. If you need help, now would be a great time to find a fee-only wealth management advisor and see if you are on the right track."
Not Saving For Your Child's Education
The average student pays about $24,000 a year (around $96,000 for four years) to go to college. Most households cannot afford to pay that with savings, which is why student loan balances are growing at an unprecedented rate.
Imgine what it will cost by the time your little ray of sunshine finishes high school. Start a 529 savings plan today.
Not Diversifying Your Income
It used to be that once you got a good job, it was for life. That just isn't the case today. We need to find ways to maximize and diversify our income. If you have a hobby that can make some money, pursue that. Try to generate revenue from sources other than your job. At the very least it will earn you some extra spending (or saving) money. Your portfolio is another area where diversifying is a protective measure. Check out these wealth management companies for easy methods to diversify your portfolio.
Overspending On A New Career
If you thought training for your career was expensive, try doing it twice. Many workers in their 30s find they are no longer as excited about their careers as when they started.
Starting a new career may sound like an enticing adventure, but don't underestimate the cost of starting all over again. This is a typical mistake that can drown you in debt. If you don't monitor the finance rates on your credit cards, you can easily encounter problems. In just a few years, it's easy to rack up $100k in debt. Debt is not just bad for your bank's account health either. A recent Gallup survey found that as student debt rises, physical well-being declines.
Starting A Family Without A Plan
Getting married and having children aren't purely financial decisions, but they shouldn't be made without consideration of how they will impact your household's bottom line. The average family will spend over $26k during the first year of a baby's life. That's a chunk of change. Being a parent can be stressful enough without the added burden of financial shortfalls.
Not Talking To Your Parents About Money
Being independent is all very good. But not talking to the rest of the family about finances can be an expensive mistake. Parents of 30-somethings might be able to share useful financial wisdom. Also, some 30-year-olds may believe that they are in line for a big inheritance or that money will be coming from their parents to help pay for their children's college expenses. However, without actually discussing these issues, they may be setting themselves up for an unpleasant surprise.
Failing To Take Budgeting Seriously
There is no reason to allow your bad budgeting habits to define your future. If annual budgets are too intimidating for you, start small. Look at your paycheck and plan how you will spend (or invest) every dollar. Learning how to balance your family's budget will protect your family from financial problems and improve your health. Money is the main cause of stress in the United States. Just knowing where your money is going will give you a sense of control. You'll sleep better, stress less, and feel happier. Not good at managing money? These money management tools can help.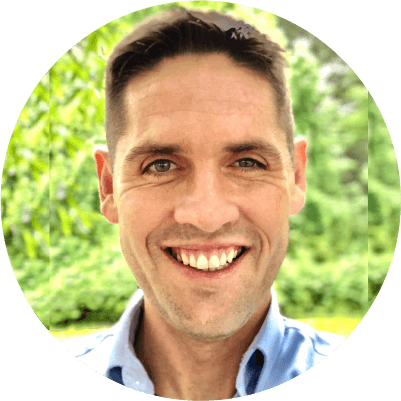 Andrew is the Content Director for SuperMoney, a Certified Financial Planner®, and a Certified Personal Finance Counselor. He loves to geek out on financial data and translate it into actionable insights everyone can understand. His work is often cited by major publications and institutions, such as Forbes, U.S. News, Fox Business, SFGate, Realtor, Deloitte, and Business Insider.