Article Summary
This article will look at how to finance a house flip so you can better understand the process from start to finish. It takes a lot of hard work to to fix and flip houses, and loans for flipping houses can differ from normal loans for primary mortgages. But if you're serious about real estate investing, keep reading. We'll go over private lenders, interest rates, and how to get a line of credit for your house.
How do you finance house flipping? That's a question more and more people are asking as this form of real estate investment continues to grow.
In fact, according to RealtyTrac, the average return on investment for house flipping increased a massive 15% in the four years between 2011 and 2015 (from 20 to 35 percent). And, according to Statista, the average gross profit per house flip continued to rise through 2017. As of 2019, the average gross profit per house flip was still higher than in 2015. In some parts of the U.S., as many as 8–10% of all single-family home sales are flipped.
Are you are asking, "Where do I start?" and "Can I afford this?" This article will break down everything for you. It will cover what a construction loan is and go over the types of construction loans. It will also give you details on how construction loans work, and it will tell you the steps you need to follow to apply for a construction loan.
What are the costs when flipping a house?
The first thing to understand about flipping a house is the costs involved. It's not just a matter of buying a house and selling it for a profit. Nine times out of ten, the house will need to be renovated. This is why it takes more than just being a real estate investor to fix and flip a house.
So what are the costs involved?
Costs of house flipping
The purchase price of the house.
Rehab costs.
Appraisals and inspections carried out on the property (examples: inspections for beetles and pests, foundation inspections).
Holding costs, Realtor fees, and closing costs.
Loan interest and fees.
Down payments on loans.
Now let's look at how to cover these fees.
5 financing methods
There are numerous ways to finance your house flip. Here are 5 viable options.
Method 1: Private money lenders
First, private investors lend you money to buy the house that you will flip as well as pay for any of the costs.
But why would a private investor lend you the money? Because house flipping offers large returns on investment (ROI) that are consistent. When done right, it can generate an ROI of 8–12%, and in a short period of time.
If you are considering financing your house flipping venture using a private investor, there are a few things that you will need.
Basic requirements for private investor financing
A promissory note.
Lists the terms that both you and the investor have agreed to follow.
A deed of trust.
This document connects the private investor's investment to the property purchased.
Hazard insurance.
Taking out insurance on the property adds additional protection to the investment, giving the private investor an added level of security.
How it works
Of course, when the deal is done, you will need to pay back your private investor. This can work in two ways. You could either pay monthly or accrued interest. Paying accrued interest means you let the interest add up then pay all of it back in a lump sum once the house is flipped, along with the principal investment. This is an excellent option if you have very little capital to start out with.
Where to find the money
Sounds great. But where do you find private investors? Most people start by asking friends, family, and colleagues. This group is the most inclined to both agree and offer favorable terms. If that is not an option or doesn't work out, turn to investors you can meet through networking and to marketplace lenders. While this group doesn't know you personally, they do want the ROI.
Method 2: Conventional bank loan
Another finance option is a conventional bank loan. This is where the bank pays for the property and you pay the mortgage payments until the house is rehabbed and sold.
How it works
It can be difficult to gain funding this way as house flipping is considered a somewhat risky investment. As a result, you will have to provide a 20–30% down payment of the purchase price on the house you intend to flip. Of course, the financial institution you apply through will check your credit score before approving a loan.
Financial institutions will also need to know what you intend to use the money for. When it comes to flipping houses, they might want to see if you have a history of flipping houses successfully. Finally, the home you intend to flip has to be habitable for a financial institution to approve the loan.
Where to find the money
Here are some tips on how to find the best mortgage lender. Also, learn about the best home lenders. And read about some alternatives to traditional lenders.
Method 3: Real estate crowdfunding sites
Another up-and-coming financing option is the use of real estate crowdfunding sites. Over the past several years, crowdfunding has become a popular way to finance all sorts of projects, house flipping among them.
In fact, Massolution estimates that in 2016, $2.5 billion was raised through real estate crowdfunding in the United States. As well, in 2015 it was the largest growing segment of the crowdfunding market. And Forbes reports that, in 2019, global real estate crowdfunding was expected to reach $9 billion by 2021.
How does it work?
But what is real estate crowdfunding and how does it work? Well, it's relatively simple. Basically, several people invest small sums of money in a real estate project that they are interested in. Those small amounts end up funding the project.
Most crowdfunding investments for house flipping are either built as equity or debts, depending on the site used.
Debt crowdfunding means that investors buy into a loan or a piece of that loan
The terms can vary, but they are generally between 1 and 36 months. Interest rates range from 8–14%. Note that an origination fee is charged by the crowdfunding site. Investors earn money on a monthly basis through interest charged on the loan. A balloon payment at the end of the term covers the principal and interest left over.
Equity crowdfunding means investors actually end up buying a portion of the property being flipped
Once it is sold, investors share in the profits. Sites like these are often only open to investors who are accredited. Investors also need to invest a fairly substantial amount, normally not less than $5,000.
Of course, investors pay fees no matter what type of crowdfunding option they choose. These vary from site to site but can include a monthly or annual fee, a spread fee, or a combination of both. For example, an origination fee of 3–4% and up to a 2% cut on monthly interest payments.
So what are the advantages of real estate crowdfunding?
Advantages of real estate crowdfunding
Crowdfunding has a relatively low price of entry for investors, making them more likely to invest.
They can buy into property flipping for as little as $1,000 through some platforms. Generally, however, investments start from around $5,000, particularly for equity investments.
It provides a maximum opportunity investment.
Crowdfunding is a relatively low risk investment and many sites have already vetted the properties on offer.
It's simple.
Everything can be done online, including signing up, tracking investments, and receiving regular updates. In other words, all the advantages of owning real estate are there, but without such hassles as legal documents.
Method 4: Hard money lenders
Hard money lenders are private lenders with their own money resources or a pool of other people's cash. They lend this money to others, such as real estate entrepreneurs, to earn profit from interest.
How it works
The loan is usually based on the after-repair (or after-renovations) value (ARV) of each property and takes into consideration such other factors as the location and the renovations needed. Normally, 65% of the ARV is loaned to buy, repair, and sell a property.
What is the 70% rule in house flipping? This is a popular house flippers' rule of thumb. It holds that you should never pay more than 70% of the expected ARV for any house you plan to flip.
The terms negotiated between the investor and the property flipper are usually tough. This means high interest with strict penalties. But getting approved for this kind of loan is far easier than obtaining a more traditional loan.
Hard money lending works as follows (Source).
Lenders charge higher interests rates (up to 18 percent) as well as points (2–4) and generally expect their money to be paid back within a year. The amount of points used represents the percentage of the loan given. For example, 2 points equal 2% of the sale price of the property."
Note that hard money loans normally do require some form of down payment, meaning you also have skin in the game. If you don't have the money for a down payment, you will need to get it from another source, such as family, friends, other investors, or a business credit card.
So what are the advantages of hard money lending?
Now let's look at an example of how a typical hard money loan worksSay you have found a great house you want to flip that costs $40,000. After hiring a contractor and planning renovations, you find out that the rehab will cost another $35,000. Meanwhile, inspections, closings, and appraisals will cost $5,000. That's $80,000 total.After the renovations are complete, the house is projected to have a value of $130,000. You find this by looking at the upgrades being made, the location, and comps in the area. Now you approach hard money lenders to fund the project. One offers to lend you the capital based on 65% of the ARV ($130,000) and says you will need a 10% down payment. This lender will charge you 18% interest and wants 5 points when the property is sold. (This is on the high end of the common terms offered.) You'll have to pay the money back within a year.Crunching the numbers shows that you will only need $8,450 of your own money to earn about $30,000 in 3 months.Take a look at the example below.As you can see, even with hard terms, the profit margin can be good.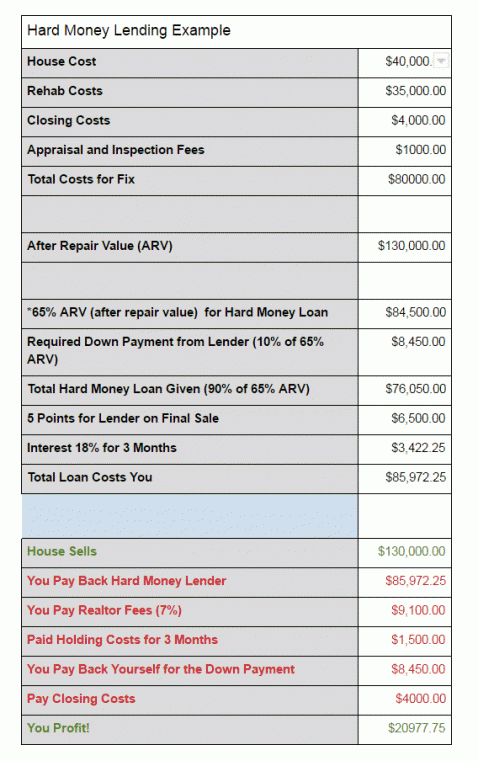 Method 5: Don't forget your own assets
Finally, don't forget your own assets. But what assets can you use? You may not have any extra cash lying around, but there are other areas of finance that you can access.
Where to find the money
IRA
Your Individual Retirement Account (IRA) could be an option. (Trivia: A June 2021 check of the IRS website found that agency defining IRA to stand for Individual Retirement Arrangements rather than Accounts.) Although there are tax penalties if you draw from this before the age of 59.5, the cost does not apply to a first-time home buyer. In this scenario, you could borrow up to $10,000 to buy a house you intend to flip. Of course, taking money from your IRA can hurt its growth potential in the long run.
Credit cards
If you have a personal or business credit card, you could also consider using it as a way to finance a home to flip. You should only use this option if you can pay the credit card off quickly as the interest rate attached to credit cards can be between 18% and 20%. Here is a comparison of the top personal credit cards along with user reviews.
Home equity line of credit
If you already own a home that has some equity built up, you can use that to generate funds. A home equity line of credit is basically taking out a second mortgage. You will be repaying it over a fixed term, often with a fixed rate of interest. Bear in mind, if you do choose this route, your home will act as collateral. You risk foreclosure and the loss of your house if you do fall behind in payment. But if you are confident you can flip a house, this line of credit could give you the capital you need to jump start a new stream of revenue.
Find the right option for you
These are 5 ways you can finance house flipping. Whether you opt for private investors, a traditional loan, crowdfunding, hard money lending, your own resources, or a combination, you have plenty of options. House flipping is not only for the rich but also for the resourceful! The key is finding the right solution for your unique needs.
FAQ on financing house flipping
What are fix & flip loans?
Fix-and-flip loans are used by short-term real estate investors to purchase and renovate a property before flipping it for a profit. This type of funding for flipping houses offers investors fast closings for properties in any condition. The most popular type of fix-and-flip loans are hard money loans.
How do you finance a house flip?
Once a home equity line of credit (HELOC) is issued, fix-and-flip investors can use it to finance any investment purchase. Investors will then use the cash from a HELOC to purchase and renovate an investment using all cash or as a down payment on a hard money loan.
Do you need a license to flip houses?
You should get a real estate license to flip houses only if the advantages make sense for you and your house flipping business. It is not necessary to have a real estate license to flip houses professionally. So the decision about whether to get a real estate license should be made on a case-by-case basis.
How do you start flipping houses with no money?
To flip a house with no money, ask your lender to roll the closing cost into the deal and cross collateralize for the down payment. Hard money lenders require 20–25%+ down, so you must have equity in another property if flipping properties with no money down.
Is flipping houses better than renting?
Flipping can earn a lot of money in a relatively short amount of time. Renting out an investment property usually produces less upfront income, but it generates income consistently over a long period of time. In other words, your rental property will produce passive income, especially if you hire a property management team to find quality tenants and handle maintenance.
Ready to start shopping for solutions? Check out our page dedicated to home loans where you can read reviews, check offerings, and compare different lenders.
View Article Sources
Advantages of hard money lending
First, it is far easier to qualify for than a traditional loan from a financial institution.
Second, loan terms can usually be negotiated.
Jessica Walrack is a personal finance writer at SuperMoney, The Simple Dollar, Interest.com, Commonbond, Bankrate, NextAdvisor, Guardian, Personalloans.org and many others. She specializes in taking personal finance topics like loans, credit cards, and budgeting, and making them accessible and fun.