American Advisors Group, also known as AAG, is the leading reverse mortgage lender in the U.S. According to its website, it closes more home equity conversion mortgages (HECMs)–another name for reverse mortgages–than any other lender.
But that doesn't necessarily mean you should use them when applying for your reverse mortgage. With this in-depth review, you'll get a glimpse into the different features and terms you'd get with an AAG reverse mortgage.
What is American Advisor Group?
Founded in 2004 by Reza Jahangiri, AAG is headquartered in Irvine, California. Like other reverse mortgage companies, AAG works with consumers over the age of 62 to help them convert a portion of their home equity into retirement income.
Here are some must-know facts about the company:
It has a B+ rating from the Better Business Bureau.
Customer surveys give the company a 96% satisfaction rating.
They often work with celebrity spokespeople, including actors Pete Graves and Tom Selleck, and former Senator Fred Thompson.
Who would benefit from an AAG reverse mortgage?
Reverse mortgages make it possible for senior citizens to get the income they need without having to give up their home or go back to work.
You're eligible for a reverse mortgage if you meet the following requirements:
You're at least 62 years old.
You or an eligible spouse lives in the home as a primary residence.
You don't have any delinquent federal debts.
The title to the home is in your hands, or you have a low enough balance that you can pay it off with the proceeds from the reverse loan.
You can continue to pay property taxes and insurance on the home.
You go through HECM counseling with a third-party counselor.
The home meets the Federal Housing Administration's (FHA) standards for flooding and hazard insurance.
With a reverse mortgage, you give up a portion of the equity in your home in return for payments from the lender. It's an option worth considering if you need the cash and you don't want to sell the home outright.
The loan can offer some peace of mind during a time where it can be difficult to re-enter the workforce.
AAG reverse mortgage review
Getting a reverse mortgage isn't always the best idea. In fact, many senior citizens have been scammed into getting reverse mortgages from less-than-reputable lenders, or straight-up fraudsters.
"Not every senior should get a reverse mortgage," says Greg Cook, a reverse mortgage specialist. "But every senior should investigate with an open mind whether a reverse mortgage is right for them."
While the company is the biggest in the industry, it might make you feel like you're not as important as you would be if you were to get a reverse mortgage from a local lender. The good news is that the company gets fairly good reviews from past and current customers.
A good customer experience can go a long way, especially when you're wondering whether reverse mortgage companies are taking advantage of you.
What are AAG's rates and fees
AAG doesn't provide a range of interest rates but does offer both fixed and variable rates.
According to its website, AAG determines your interest rate based on the following information when you apply:
Type of HECM loan (reverse mortgage or purchase)
Age
Home value
Zip code
Existing mortgage balances or liens, if any
How long you plan to stay in the house
Life expectancy
Which disbursement option you choose
Here are some fees that the lender may charge as you close on your loan:
How to apply for an AAG reverse mortgage loan
If you're thinking about getting a reverse mortgage, you can request a free information kit from AAG. It's the first part of the application process and can be completed entirely online in no more than two minutes.
Here's the step-by-step process.
1) Click here to go to AAG's website. Once you're there, click the tab that says "Free Info Kit."

2) You'll be taken to this page.

You'll be required to provide the following seven pieces of information, in this order:
Zip code of your property

Property street address

First and last name

Your mortgage balance (where you'll click one of these options):
5. Age of the homeowner on the title (where you'll click one of these options):
6. Your phone number.
7. The estimated property value (where you'll click one of these options):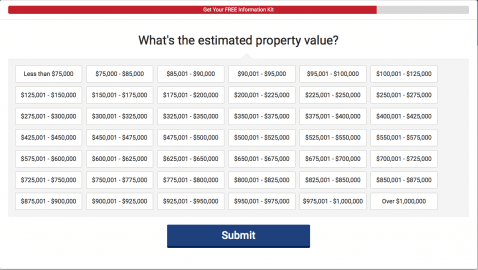 3) Once you click "Submit," you'll get access to the info kit, which includes a 14-minute video and educational guides.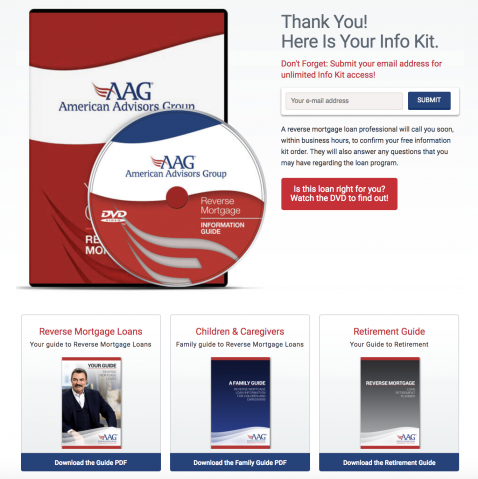 4) A reverse mortgage loan professional will call you to confirm your info kit order and answer any additional questions you have.
5) Contact AAG once you're ready to start the process of applying. This part is done offline, and you'll have a reverse mortgage expert walk you through the process.
AAG contact
If you have any questions about AAG's reverse mortgage program, you can call the company's customer service number, which you can find here.
FAQ on American Advisors Group Reverse Morgage
What is a reverse mortgage loan and how does it work?
A reverse mortgage works by allowing homeowners age 62 and older to borrow from their home's equity without having to make monthly mortgage payments. As the borrower, you may choose to take funds in a lump sum, line of credit or via structured monthly payments.
What is the eligibility for reverse mortgage?
The basic requirements to qualify for a reverse mortgage loan include: the youngest borrower on title must be at least 62 years old, live in the home as their primary residence and have sufficient home equity. Borrowers must also meet financial eligibility criteria as established by HUD.
Can you sell your house if you have a reverse mortgage?
A borrower can sell a home with a reverse mortgage at any time they choose, just like a traditional mortgage. When a borrower sells their home, they must repay the reverse mortgage loan balance and their lender will close their account. Borrowers then keep the remaining equity.
What is AAG?
AAG (American Advisors Group) is a reverse mortgage lender that provides government-insured home equity conversion loans, jumbo refinancing loans and other mortgage loan options.
How much money do you really get from a reverse mortgage?
The amount of money you can borrow depends on how much home equity you have available. You typically cannot use more than 80% of your home's equity. As of 2018, the maximum amount anyone can be paid from a reverse mortgage is $679,650. However, most people will be paid much less.
Should you get a reverse mortgage with AAG?
American Advisors Group is one of the best in the business for reverse mortgages. To make sure you're getting the best overall deal, though, shop around for different reverse mortgage lenders to see what kind of rates and terms they offer.
"The best price on the wrong program is much more expensive than getting a competitive price on the right program," says Cook. "There are some variations of the reverse mortgage, and a good originator will take the time to ask thought-provoking questions to make sure that the program they recommend best suits the retirement goals of the consumer."
The more you learn, the easier it will be to know whether a reverse mortgage is right for you.
Ben Luthi is a personal finance writer and a credit cards expert who loves helping consumers and business owners make better financial decisions. His work has been featured in Time, MarketWatch, Yahoo! Finance, U.S. News & World Report, CNBC, Success Magazine, USA Today, The Huffington Post and many more.