Are you on the hunt for life insurance and wondering if Aflac Life Insurance might be the right provider for you? The first thing you should know is that Aflac's universal, whole, and term life insurance policies are only available through employers via worksite payroll deductions. However, Aflac's juvenile life insurance is available to individuals as well as through employers.
If your employer offers Aflac policies or if you want life insurance for your child, read on for a guide to Aflac's current offerings.
About Aflac Life Insurance
Founded in 1955, Aflac is a Fortune 500 company that offers insurance. It provides policies to more than 50 million people around the world and is the largest provider of voluntary/supplemental insurance in the U.S.
The company has an A+ rating for financial strength from A.M. Best, Fitch, and Standard and Poor which speaks to its reliability when paying out claims.
In addition to life insurance, it offers accident insurance, cancer insurance, critical illness insurance, hospital insurance, short-term disability insurance, dental insurance, and vision insurance.
The company's primary mission is to provide coverage that will pay cash benefits when medical insurance falls short.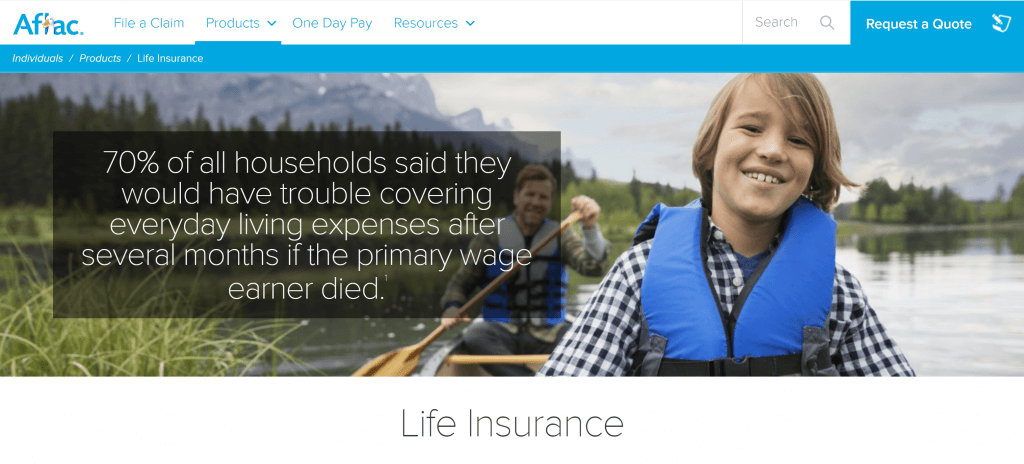 Types of life insurance
Now let's take a closer look at Aflac's life insurance offerings.
Universal life insurance
Aflac added universal life insurance policies to its line up of group insurance products last year. Underwritten by Trustmark Insurance Company, the plans provide up to $300,000 of financial protection to beneficiaries when policyholders pass away.
The policy also builds cash value over time which policyholders can access through the surrender value option (withdrawal) or a certificate loan. The insured person can repay it at any time during their life. If they don't, the amount comes out of the settlement at the time of the person's death.
Further, Aflac offers optional living benefits with universal life insurance plans, which include Long Term Care (LTC).
Note that the policy features, limits, and benefits vary by state and employer.
Highlights:
Lifelong coverage as long as your premiums are paid.
Coverage available for your spouse, children, and grandchildren.
Cash value grows over time, tax-deferred
The premium amount is subject to change.
The Living Benefits can triple the value of a universal life insurance plan.

The LTC benefit pays 4% of the death benefit for 25 months.
Benefit restoration restores the death benefit if it is used to pay for LTC so it is still available for the beneficiary when a person dies.
An extension of LTC is available for up to 25 additional months.
This product is only available through an employer.
Whole life insurance
Aflac's whole life insurance also ensures that an individual can leave up to $300,000 to a beneficiary when they pass away.
A whole life insurance plan will cover policyholders for their entire life as long as they pay the premium. Further, like universal life insurance, it builds tax-deferred cash value over time which you can borrow against. The premiums stay the same but are higher than term life insurance premiums.
The face amount of coverage available to an employee and their spouse varies by state and policy. You will need to check with your employer for specific details.
Highlights
The plan provides cash value which can be accessed through the surrender value option or a certificate loan.
As long as the cash is in the policy, increases are not subject to income tax.
Premiums never change throughout the duration of the policy.
Riders are available to get coverage for children and spouses.
No LTC benefits are available.
This product is available through worksite payroll deduction only.
Term life insurance
Term life insurance also provides your beneficiary with a death benefit. However, the coverage is for a specific length of time (10, 20, or 30 years). The maximum coverage amounts vary by state and policy but go up to $100,000.
Highlights
Term life premiums are usually lower than whole life premiums.
Premiums are fixed for the length of the term you select.
Offers flexible coverage for a specific time period.
When your term ends, you can renew your policy on an annual basis.
Offers the most face amount coverage for the lowest cost.
No cash value or savings.
No LTC benefits are available.
This product is available through worksite payroll deduction only.
Learn more about how to decide between whole and term life insurance policies.
Juvenile whole or term life insurance
If a child passes away before the age of 18, this policy will cover their final burial and medical expenses. Policies up to $30,000 are available for children between the ages of 14 days and 17 years.
The whole life insurance option stays with the juvenile past their 18th birthday without any increase to the premium. Additionally, the coverage amount doubles when the insured individual turns 18.
With the term life insurance policy, coverage continues until the policy anniversary year which follows the 25th birthday of the individual that is insured. At that time, the insured person can convert the plan into a permanent life insurance policy, without evidence of insurability, up to double the amount of the current policy.
As mentioned in the opening, these policies are available through employers or direct to individuals.
Aflac life insurance features
Aflac offers the following features on its universal, whole, and term life insurance plans:
Guaranteed-issue: Up to $50,000 in coverage is available for select products without answering underwriting questions (May not be available in all states). Learn more about no exam life insurance.
Portability: You can take the insurance plan with you if you switch jobs.
Payroll deduction: Premiums are deducted from your paycheck.
Accidental-death benefit rider: If you pass away due to injuries caused by a covered accident, an additional amount of proceeds will be paid to your beneficiary. There is often a time limit.
Accelerated death payment: If you receive a terminal illness diagnosis, you will receive a payment for a percentage of the face amount of your policy.
Waiver of premium benefit: You will not have to pay premiums if you become wholly disabled under the terms of your policy.
With all of these plans and features, is Aflac the best choice for you?
FAQ on Aflac life insurance
How to get Aflac life insurance policies?
Since Aflac offers adult life insurance only through employers, getting one of these coveted policies can be tough if your company doesn't provide them or you're self-employed. You can get Aflac accident insurance as an individual policy directly from the company.
Can I keep Aflac if I leave my job?
Aflac is not a "pure" employee benefit company. It typically makes it possible for employees to keep their coverage even after they leave their sponsor employer, provided they are willing and able to keep paying the premium.
What does Aflac life insurance cover?
Aflac offers several options for life insurance coverage. These include both term and permanent protection. With term life insurance, a policyholder is covered with death benefit protection only, without any type of cash value or savings build-up.
How long do you have to have Aflac before you can use it?
Aflac will not pay benefits for an illness, disease, infection, or disorder that is diagnosed or treated by a Physician within the first 30 days after the Effective Date of coverage, unless the resulting Disability begins more than 12 months after the Effective Date of coverage.
What is Aflac Critical Illness insurance plan?
Aflac Critical Illness insurance plan can help with the treatment costs of covered critical illnesses, such as a heart attack or stroke. More importantly, the plan helps you focus on recuperation instead of the distraction of out-of-pocket costs.
Is Aflac life insurance right for you?
If your employer offers Aflac plans and you want a life insurance policy, the company is worth your consideration. It is the largest provider of voluntary insurance in the U.S. after all, so it's doing something right.
The company now offers a complete line up of life insurance products. If you just want to insure your child, you can do so with the juvenile whole or term insurance. If you want a plan to cover yourself for the short-term, term life insurance is affordable and effective.
On the other hand, if you want coverage for life as well as cash value, consider the whole or universal policies. The latter offers the distinctive benefit of Living Benefits which are helpful if you end up needing long-term care.
Aflac has a life insurance solution for a variety of situations. The only catch is that you have to get the coverage through your place of work. If your employer doesn't currently offer Aflac's policies or if you'd like to compare Aflac to other companies, you can browse through other leading insurers here.
Jessica Walrack is a personal finance writer at SuperMoney, The Simple Dollar, Interest.com, Commonbond, Bankrate, NextAdvisor, Guardian, Personalloans.org and many others. She specializes in taking personal finance topics like loans, credit cards, and budgeting, and making them accessible and fun.