Align Income Share Funding is a Chicago-based finance company that offers investors and borrowers a new type of loan: Income Share Agreements. The big advantage of an Align loan is that the incentives of lenders and borrowers are aligned. In other words, loan payments fluctuate with your income. Confused? This review will explain how Align Income Share Funding loans work and whether the flexibility they offer is worth the price.
What type of loan is Align Income Share Funding selling?
Align Income Share Funding offers a new financial tool called Income Share Agreement. Instead of conventional interests rates, Income Share Agreements charge a fixed percentage of your pretax income. If your income rises, so do your payments. If your income drops, your monthly payments also fall. In fact, you don't have to pay a dime when you're unemployed. Nathan Popkins, the founder and CEO of Align Income Share Funding, likes to describe this type of financing as human capital finance. He has a point. If Align approves you for a loan, it is quite literally betting on your success.
Income Share Agreements align the interests of lenders and borrowers. When you do well, so do your backers. When you're struggling, lenders give you a break. It's what Align Income Share Funding loan officers call inherent affordability.
How do Income Share Agreement's work?
Income Share Agreements require borrowers to pay a percentage of their incomes for the term of the agreement. This percentage is never higher than 10% and the terms range from 2 to 6 years. The term of the loan will depend on your financial circumstances and the loan amount. Loan amounts range from $1,500 to $12,500.
To illustrate how an Income Sharing Agreement works, imagine you just completed an engineering degree. Your credit history is not great but you need a $5,000 loan to pay for the moving expenses to the big city. You have entry-level job in a promising company but lenders take one look at your credit score and only offer ridiculously high interest rates. You apply for a loan with Align Income Share Funding and receive an offer for an Income Sharing Agreement. The loan requires you to pay 7% of your income during a 3-year period. If you're making $4,000 a month, that is $280 a month: a total of $10,080, which amounts to a 53% APR. This is just an example. Your terms could be better or worse. However, even in our hypothetical example, there is a lot of room for variation in the final APR. If you get a promotion early on and make $7,000 a month, your monthly payments would jump to $490. On the other hand, if you lost your job, you wouldn't pay a dime while you're out of work.
What can you use an Align loan for?
You can use the cash from your Income Share Agreement for practically any purpose. You can even use it to start your own business, as long as you promise to keep a 35+ hour a week work schedule while you're getting your business off the ground.
Who qualifies for an Income Share Agreement?
Align Income Share Funding bases eligibility on income, credit, occupation, and location. The idea is to approve borrowers who don't qualify for prime rates at this moment but have the potential of becoming a good investment down the road.
Align doesn't publish exact eligibility requirements. However, if you have a credit score of 600 or more and your income is $20k or more a year, you could qualify for a loan of up to $12,500.
How does Align Income Share Funding application process work?
The first step is to fill in a short application form. It only takes 4 minutes to complete.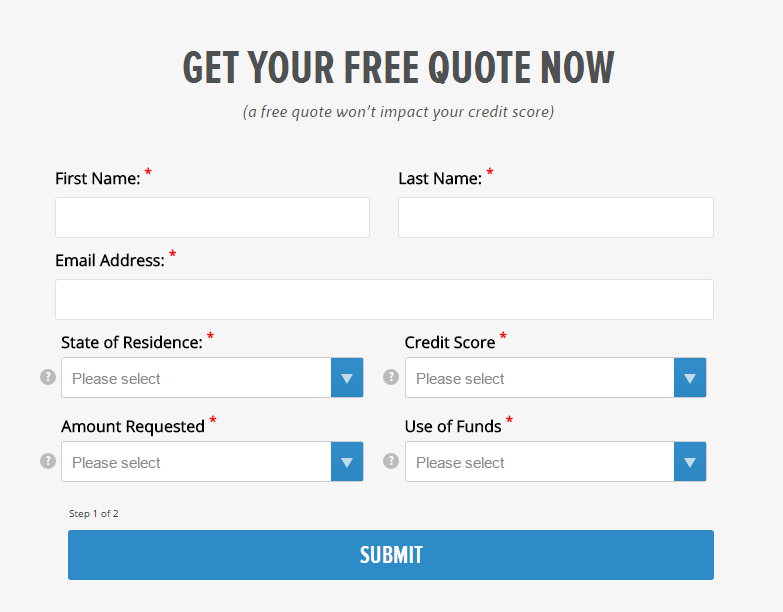 You will then get a non-binding quote with the term and interest rate you must pay off your income. If you agree to the terms, Align will check your credit to see if the information you provided in the application process was accurate. Notice you get a rate without the need of a credit pull. Once you accept the offer, a loan officer from Align will call you and complete the rest of the application process.
What are the interest rates for an Income Share Agreement?
According to Align, the average APR on an Income Share Agreement is in the mid-double-digits. But there is no way to know before you repay the loan. It all depends on how well you do financially during the term of the agreement. If you lose your job and can't find a job for the duration of the agreement, the loan could be practically free. On the other hand, if you invest your loan in a obtaining an advanced degree that opens the door to a promotion, it could be an expensive loan. Of course, the fact you also are making a killing off the returns of your investment should at least soften the blow.
What happens if my income rises dramatically?
Paying a share of your income instead of a fixed monthly payment sounds great until your income grows significantly. Align gives borrowers the chance of buying out their loan for a lump-sum. The buy-out amount is never higher than the principal of the loan and is provided before a borrower signs an Income Share Agreement.
What are the benefits and disadvantages of an Income Share Agreement?
There is a lot to like about Income Share Agreements. However, there are some caveats you must understand before signing up for one.
You don't know how much an Income Share Agreement will cost. They can get expensive if your income jumps dramatically.
The APR depends on your income. You could end up paying more than with a conventional loan.
Having said that:
You are less likely to default on an Income Share Agreement because the monthly payments rise and drop with your income.
The incentives are aligned for lenders and borrowers. We love that!
Align Income Share Funding is more forgiving than similar lenders when it comes to credit history as long as you meet the other qualifications.
You can use the funds for practically anything, including starting a business.
You can buy out your loan if your income rises significantly.
Getting a rate will not impact your credit score.
Andrew is the managing editor for SuperMoney and a certified personal finance counselor. He loves to geek out on financial data and translate it into actionable insights everyone can understand. His work is often cited by major publications and institutions, such as Forbes, U.S. News, Fox Business, SFGate, Realtor, Deloitte, and Business Insider.