Free two-day shipping? That's so two days ago. Amazon is now offering free same day shipping to all of its Prime Members.
Amazon, the largest eCommerce site to date, has a new plan for becoming the front runner of fast delivery. Announced just yesterday, the online giant is now offering same day delivery to its Prime customers in select locations. There are fourteen major cities which will offer this service, including Philadelphia, New York City, Boston, Baltimore, Washington D.C, the Tampa Bay area, Atlanta, Indianapolis, Dallas/Fort Worth, Phoenix, San Diego, Los Angeles, the San Francisco Bay area, and Seattle/Tacoma.
Price and benefits
If you are a Prime Member, have a qualifying order of $35 or over, and live within one of those areas, you are eligible for the free same day delivery. Before announcing this special incentive you would have to pay $5.99 for same day delivery as a Prime Member and $8.99 as a non-Prime Member.
The Amazon website, where the announcement was made, offers a convenient map where you can put in your zip code to check whether or not your area is included in the new, cutting edge deal.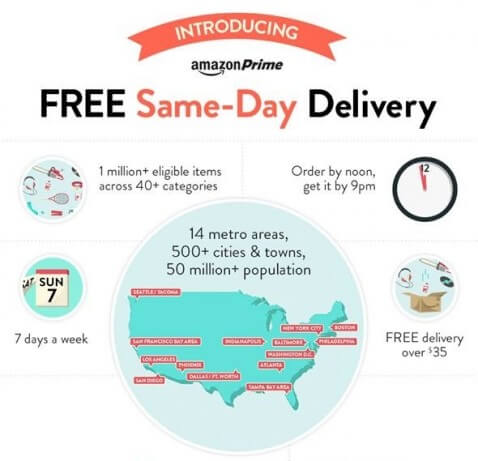 Other than having to choose qualifying items that have the Prime FREE Same-Day Delivery logo and spending over $35, it also matters what time you buy if you want to receive the items before the day is out. Prime customers have to place their orders by noon to get them same day, or can place them after noon to get free next day delivery.
To become an Amazon Prime Member, shoppers simply sign up for the program on their website and pay the $99 annual membership fee. Prime Membership benefits not only include this new shipping offer, but also unlimited on-line photo storage, exclusive access to unlimited movies and TV shows with Prime Instant Video, over 1 million songs and unlimited on-line music streaming, and over 500,000 free Kindle books to choose from. Amazon is currently offering a 30-day free trial as well, and promises that you can cancel your membership at any time.
The internet marketplace recently celebrated it's 10th anniversary of this program, and stated that it's Prime Membership level currently has over 41 million members.
So why does this membership program seem to have such amazing success where so many others fail? Robert Passikoff, president of Brand Keys, an agency that offers research and marketing consultation services specializing in brand loyalty and customer satisfaction, has a few theories.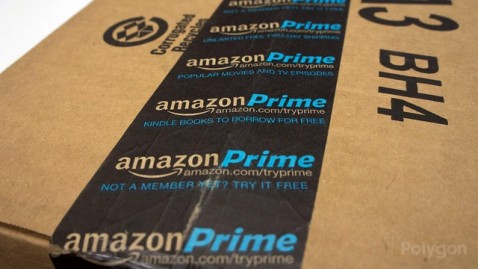 "I think that Amazon Prime is so popular because it manages to exceed expectations consumers have about such programs," said Passikoff. "Amazon Prime has been able to fill the gap between what people expect from these kinds of programs–on both a rational and emotional basis–and does so via innovation and technology."
Other industry experts believe that Amazon Prime is the most successful customer loyalty programs to date. But the consumer is not the only one who wins. It is estimated that for every additional 1 million members who sign up for the Prime status, Amazon brings in an additional 1.5% increase in total revenue.
The growth that this eCommerce site is facing will greatly impact surrounding areas, increasing the number of warehouse jobs in the United States by almost 6,000 just this past week alone. Offering same day delivery requires more manpower, and the growing need for workers is a direct correlation to the increase of quick sales and shipping for Amazon.
Are you looking for ways to get your startup off the ground? Check out our reviews section on Business Loans or Crowdfunding ideas.