Apple announced the launch of the no-fee Apple Card coming in Summer of 2019. Customers will be able to use a physical card for purchases or pay using the Apple Wallet app wherever it's accepted. However, this is as halfhearted a product launch as you're likely to see. Apple would prefer users never used this card and instead paid with their phones or watches. In fact, they are willing to pay you not to swipe this card.
One of the biggest attractions for users is Apple's security policies. Unlike other credit cards, this physical card does not display the customer's credit card number. The card number, along with the CVV, expiration date, and signature are within the Apple Wallet app.
Apple Card fees and interest rates
The company promises no late fees, annual fees, international fees, or over-limit fees with their new card. Interest rates will run between 13.24% and 24.24% depending on each applicant's creditworthiness. Those interest rates are where customers who don't pay their balance in full each month will find themselves penalized. However, there will not be an additional penalty rate applied for missing payments.
The Apple Card takes advantage of customers iPhone use by offering special app features. For example, users receive payment reminders and have a range of payment options. Of special interest to anyone who can't pay their balance in full, calculated interest displays in real time. This allows customers to make an informed decision about how much to pay each month. Customers can also choose to schedule more frequent payments to avoid heavy interest.
Apple Card rewards
Instead of offering points rewards, Apple Card offers 1% – 3% cashback as Daily Cash rewards. Daily Cashback means not waiting until the end of the month for the applied cash rewards. Customers can use the money toward paying off their balance, sending cash to family and friends or for regular credit card purchases.
The highest bonus of 3% applies to all Apple-related purchases. This includes Apple services, buying from the App store, or from an Apple Store. All purchases made from your Apple Pay app (not the card) receive a 2% cashback. Since Apple Pay is not an option with all retailers, a lower rate of 1% Daily Cash rewards applies to all other purchases using your physical card.
Security and privacy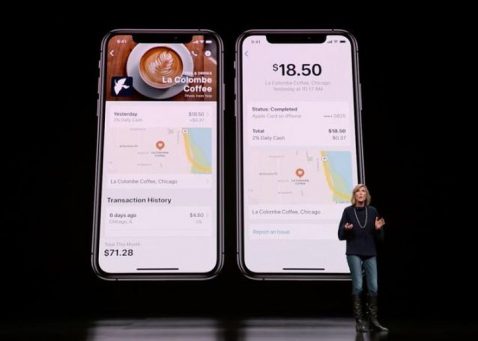 Apple Card relies on a security chip within Apple Pay. Access to the app requires Face ID or Touch ID and a one-time security code. Apple says that all of the customer's data stays within the phone, not with them. This means that they cannot see where a customer shops or how much they pay.
The company is partnering with Goldman Sachs to offer the Apple Card, and promises that "Goldman Sachs will never sell your data to third parties for marketing and advertising."
Labeled transactions
Purchases are organized by color-coded categories to allow customers to monitor how their money is spent. Weekly and monthly spending summaries are available within the app. If while viewing this summary a customer does not recognize a purchase, Apple Maps can pull up the transaction with a merchant's name and location.
How to apply for an Apple Card
iPhone users will be able to sign up in the Apple Wallet app. Credit score requirements haven't been released but if approved, users should be able to use the digital version of the card "within minutes".
Apple Card won't be available until this summer, but U.S. customers can continue to check for the latest news and updates on their site.