Autopay is a marketplace that connects borrowers who are looking for auto financing solutions with lenders. Here is an in-depth review of the company and its services.
By the end, you will have a good understanding of the pros and cons of using Autopay's services. You will also know how to figure out if it's the best solution for your car financing needs.
Autopay Loans Details
Here is an overview of Autopay's loan products, the application process, costs, and other offerings.
Autopay loan products
You can get financing to purchase a new or used car, or you can opt for traditional refinancing, cash back refinancing, or lease pay off refinancing.
Cashback refinancing involves taking out up to $12,000 in cash back, in addition to your car loan. Lease payoff refinancing enables you to pay off your lease early, keep your car at the end of the lease term, and avoid paying high mileage and other fees.
Autopay Loans Application Process
Applications are completed online by filling out a form that takes about two minutes. Autopay will then communicate with its lender network and provide the rates available to an applicant.
Autopay's lender network includes credit unions and financing institutions nationwide.
If a borrower would like to accept one of the offers, they can do so online. Autopay enables borrowers to verify their identity and sign contracts virtually.
Once an offer is accepted, Autopay will perform a hard credit inquiry to get final approval and process the loan.
To apply, you need the following:
Insurance
Driver's license
Proof of income
Payoff letter if refinancing
Proof of residence
Autopay loans fees and costs
There is no fee to apply and pre-qualification offers are good for 30 days. Loans will be for a set term and will have a set interest rate determined by the third-party lender.
We charge a doc and title fee, which ranges from $449 to $649. The amount will depend on the details of your loan, such as the loan-to-value ratio."
In addition to the interest rate, a customer service representative from Autopay says, "We charge a doc and title fee, which ranges from $449 to $649. The amount will depend on the details of your loan, such as the loan-to-value ratio."
Autopay Other Offerings
Other Autopay offerings include service vehicle contracts (aka warranty) and GAP insurance.
The service vehicle contract can be utilized when buying a new car or refinancing an existing loan. Through a partnership with a third-party, AUL, it offers powertrain coverage, classic coverage, vintage coverage, front and rear suspension, cooling group, seals and gasket coverage, and roadside assistance.
GAP insurance is offered through a partnership with the American Assurance Corporation to cover the financial gap between the cash value of a car and the payoff amount awarded in the event of a total loss.
How to Apply for Autopay Loans
Here is the step-by-step process of applying with Autopay.
1: Visit the Autopay website and click "Apply Now." This pre-qualification process will not hurt your credit, as only a soft inquiry is used.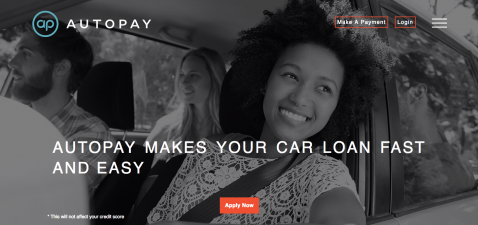 2: Select what you would like to apply for: Autopay Purchase or Autopay Refinance.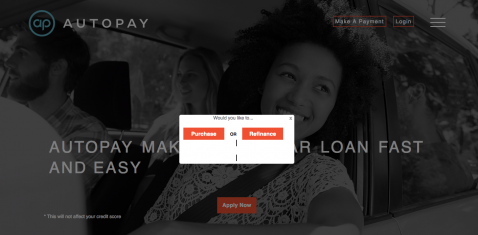 3: Fill out the basic information about what you would like to do.
For purchase: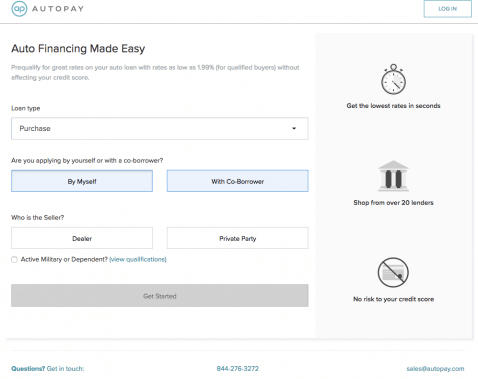 If you're refinancing: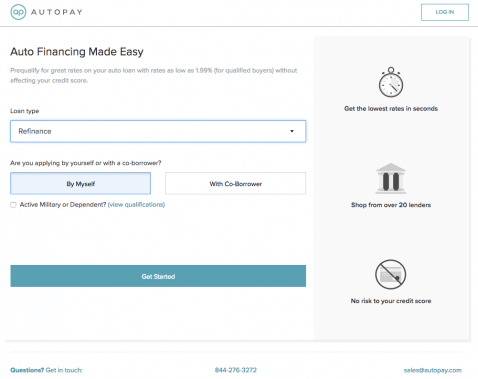 For a lease buyout:
4: Personal contact information.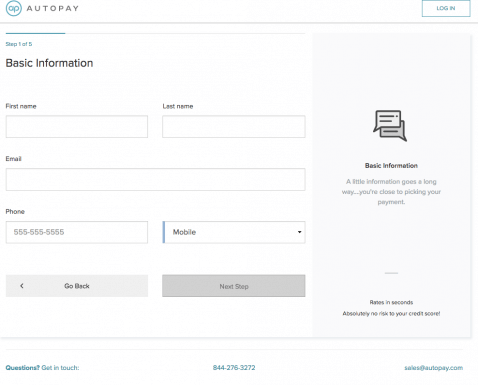 5: Provide your address.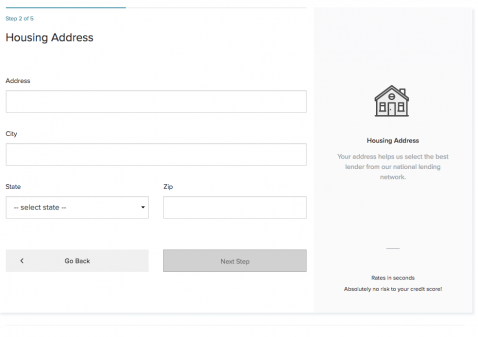 6: Identify your vehicle.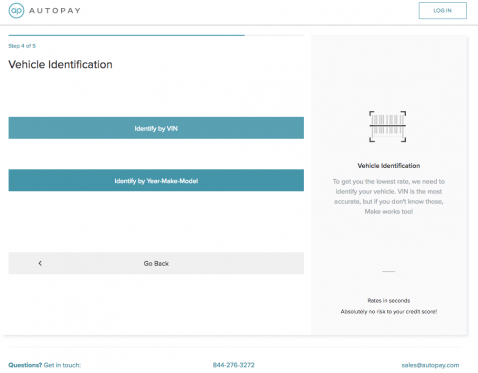 If you identify by make and model: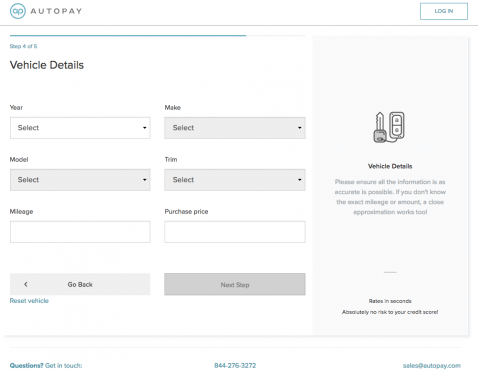 7: Create your account.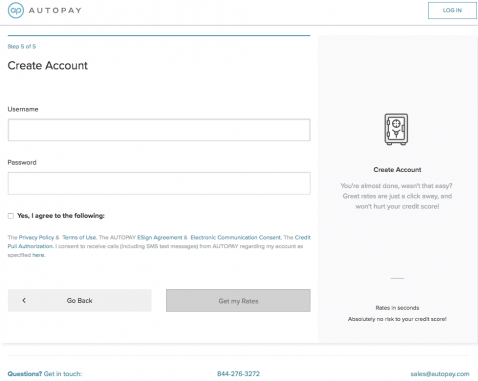 Once you've completed these steps, you will be taken to a user dashboard where you will see the offers for which you are pre-qualified.
From there, you can choose the best offer, customize it, apply for final approval, upload docs, sign, and get funded.
Autopay Loans Pros and Cons
Autopay auto loans have some clear pros and cons. Here is what you should know.
WEIGH THE RISKS & BENEFITS
Here is a list of the benefits and the drawbacks to consider.
Pros
Easy online application process
Entire loan process is online
Network of lenders that offer quotes
Competitive interest rates
Allows you to compare numerous offers and choose the best one
One-stop shop for warranty and GAP insurance
Allows co-signers
Cons
Charges doc and title fee of several hundred dollars
Is not upfront about the fee (not visible on website)
GAP insurance and warranty contracts can be expensive
Autopay
does provide a helpful service that connects people in need of auto loans.
The Verdict
It's convenient to be able to quickly find out what you qualify for with a variety of lenders. As soon as you finish your application, Autopay will call you to further discuss the loan.
Just like any other financial decision, deciding whether or not Autopay is the right fit for you will require running the numbers.
If you are going to opt for the vehicle service contract or GAP insurance, find out the costs and to shop around to ensure you get a competitive price. Some previous customers have found the costs to be negotiable.
It is also important to find out what your doc and title fee is going to be. It will be a key determining factor in whether or not an Autopay loan is the best choice for you.
You may find that you get the best interest rate through Autopay, but the fee offsets the savings. On the other hand, the savings may be significant enough that, even with the fee, it is the option available.
The only way to find out is to take the two minutes to apply. It's simple, quick, and doesn't hurt your credit score. By doing so, you will know if Autopay can offer you the most in savings.
Learn more about Autopay and apply by clicking here.
Jessica Walrack is a personal finance writer at SuperMoney, The Simple Dollar, Interest.com, Commonbond, Bankrate, NextAdvisor, Guardian, Personalloans.org and many others. She specializes in taking personal finance topics like loans, credit cards, and budgeting, and making them accessible and fun.