Avant is an online lending platform that offers "reasonable" rates to people with not-so-great credit.
With the 2008 financial crisis came a reduction in the average American's credit options. Lenders shifted their focus to the sub-prime and super-prime markets. As a result, half of all Americans in the middle have few credit options. Avant's focus is this niche they call the "underbanked middle-class".
This target group of consumers has a typical credit score of 600 – 700 and average household income of $40,000 – $100,000.
With this model in hand, Avant has seen some impressive growth since launching in 2013. As of June 2017, it has more than 400 employees and operates in two countries. In its first three years, the Avant platform served over 400,000 customers and funded over $4 billion in personal loans. Forbes listed Avant as the sixth most promising company in the United States in January 2015.
Who Are Loans Through Avant Designed For?
Avant is an affordable, fast and convenient option for people who don't qualify for super-prime loans and credit cards but still want access to fast cash at reasonable rates. Applicants with credit scores as low as 580 are considered.
How Do Loans Through Avant Work?
Avant only offers access to unsecured personal loans. These loans do not require any type of collateral and can be used for whatever purpose the borrower has in mind. Applying for a loan only takes a few minutes and borrowers can receive a pre-qualification within 15 minutes. The pre-qualification form also allows applicants to find out what rates they will receive without the need of a hard credit inquiry.
The range of rates offered through Avant roughly mirrors the rates offered by credit cards. Having said that, the sample application qualified for Avant's lowest rate, but it may not see the lowest rates offered by credit card companies.
A key benefit of loans through Avant over credit cards is you don't have to wait for a credit card to come in the mail – funds can be available as soon as the next business day. Additionally, the maximum loan amounts are larger than the credit limit of most credit cards. Another advantage comes from the fact that Avant's product is a closed-end installment loan with equal payments. This means you'll know what your monthly payments will be the moment you apply and your loan payments have a set end-date. This may protect borrowers from the revolving trap of never ending credit card debt.
Origination Fees
There is an origination fee, which is deducted from the loan principal from the loan proceeds as an origination fee. However, borrowers still have to pay interest on the full amount. For more info on Avant's fees visit the Avant profile page.
Avant Penalty Fees
Avant does not charge a prepayment penalty fee. It does charge a $25 late fee and a $15 fee for returned payments. However, this fee may vary depending on your state.

What Is Avant's Application Process Like?
Avant's loan application process is fast and entirely online. This section will explain Avant's eligibility criteria and the workflow required to process an application.
Avant's Eligibility Criteria
Avant's eligibility criteria are pretty standard. There are the usual suspects, such as a steady income, an active bank account, and no bankruptcies in the recent past. You must also live in a state where Avant operates. As of June 2017, loans through Avant are offered in 47 states and DC. Applicants must also have a credit score of at least 580. However, lower credit scores will only qualify you for the highest interest rates and most successful applicants have FICO credit scores ranging between 600 and 700.
Avant Application Process
1. Complete pre-qualification form
The first step is to check what your rate will be. To do this, simply fill out their pre-qualification form. You will need to provide your full name, address, email, telephone number and Social Security Number. The initial inquiry is a soft credit pull so you won't have to worry about a hard credit inquiry on your credit report just to check your loan options. Avant only performs a hard pull when you sign the full application form.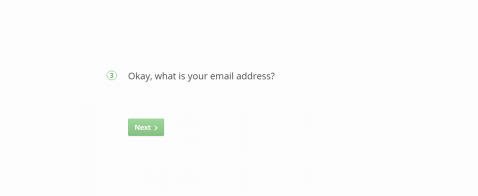 2. Choose Terms and Rates
Once you complete the form, Avant instantly provides the range of loan amounts, along with the terms and rates you qualify for. There is a sliding bar that allows you to increase or lower the loan amount. The terms and interest rates below that change instantly to reflect your personalized rate for each loan amount.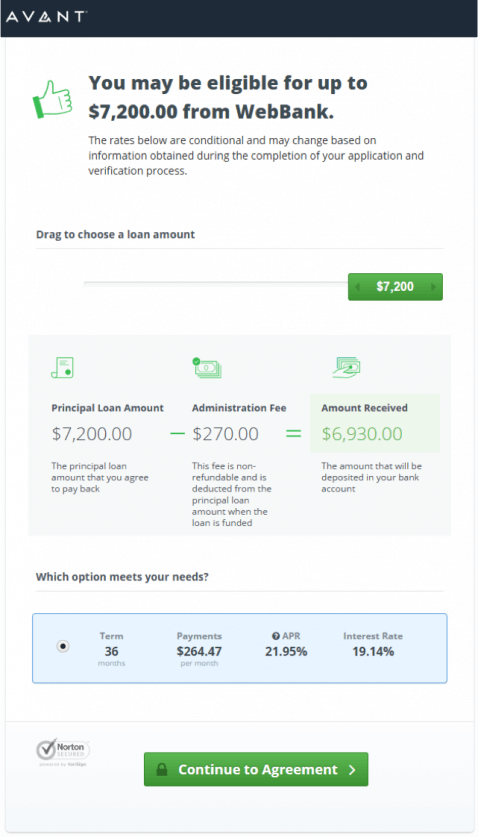 3. Review Terms and Sign Contract
Once you choose the terms you want, Avant sends you directly to a summary of the loan contract. Select the payment method, and sign the contract. After signing, you will need to provide your bank account and employment information. If approved, you could receive your funds within one business day.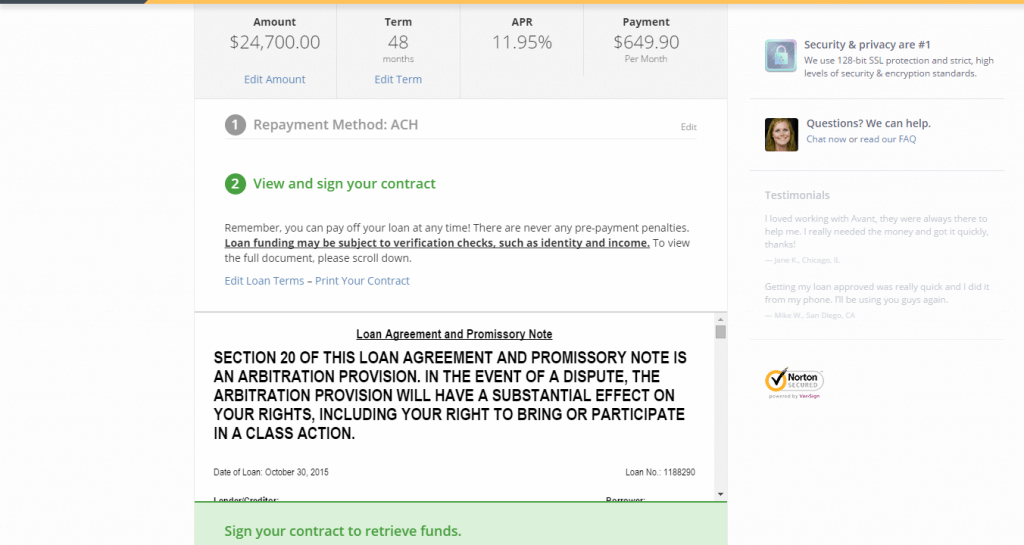 The Benefits and Disadvantages of Loans through Avant
Although Avant's rates are certainly not the lowest around, it does provide a viable option for many borrowers. Here is what we liked about loans through Avant:
Flexible eligibility criteria. Considers borrowers with a FICO (TransUnion) as low as 580.
No prepayment fee.
Fast approvals.
Check your loan options and terms without impacting your FICO score.
Funds deposited in your bank as soon as the next business day.
FAQ on Avant Personal Loans
Can I take out a second loan with Avant?
Yes. You can have up to two active personal loans at the same time. If your loan has been partially funded and you reapply during a 30-day period, LendingClub will considered a single loan.
Does Avant refinance my loan?
Avant says some customers may be eligible to refinance their loans to get a higher loan amount and possibly a reduced rate. Customers need at least six months of on-time payments on a loan to qualify for refinancing.
Does Avant report to the credit bureaus?
Avant report to each of the three major credit bureaus (TransUnion, Experian, Equifax) on a monthly basis. In most cases, you will see this activity by the middle of the following month.
Does Avant check your credit?
Avant perform a soft credit inquiry when you check your loan options through Avant.com. That inquiry will not affect your credit score at all, and will only be visible to you on your report; not to others. However, if you choose to continue the application, a hard credit inquiry will be performed.
Who's the best fit for an Avant personal loan?
Different personal loans come with different rates, fees and requirements. Among lenders who issue personal loans in this credit score range, Avant's starting interest rates are near average. If you have a lower credit score, you should make Avant one of the companies you look at first, along with credit unions that allow you to apply online. However, if you have a good or great credit score, you may find a better interest rate elsewhere, so check out what the best personal loans are to ensure that you choose the best option for you.
Here are some things you also may want to consider:
There are other lenders, such as SoFi, Prosper and LendingClub that offer lower rates to prime and super-prime borrowers.
The maximum loan amount is $35,000. Although this is a typical maximum for unsecured loans, it may not be enough for some borrowers.
Andrew is the managing editor for SuperMoney and a certified personal finance counselor. He loves to geek out on financial data and translate it into actionable insights everyone can understand. His work is often cited by major publications and institutions, such as Forbes, U.S. News, Fox Business, SFGate, Realtor, Deloitte, and Business Insider.