Getting a credit card isn't always easy, especially if you're new to credit or have made some credit missteps.
If you can't get approved on your own, you might be wondering if you can get someone to apply with you. After all, most loans allow you to get a cosigner.
Unfortunately, there are very few major credit cards that allow cosigners. In fact, Discover just dropped the option a year or two ago.
"There's more administration paperwork getting multiple people to apply and agree," says credit card expert Jason Steele. "Also, these accounts could have a higher default rate, as each account holder might assume the other is responsible."
That doesn't mean it's impossible, though. Read on to learn why it's worth looking into credit cards that allow cosigners and which issuers offer the option.
The pros and cons of getting a credit card with cosigner
The main reason why you might want to get a cosigner on a credit card is to get approved for a card you might not otherwise be eligible for.
As joint account holders, you're equally responsible for the debt you incur on the card, but that also means that you both get the benefits of the positive credit history established with the card.
Of course, there are some drawbacks to getting a cosigner on your credit card. For starters, you can't always remove the other person from your account after your credit has improved.
Instead, you'd have to cancel the card and open up a separate account. And as we previously mentioned, both you and your cosigner are legally liable for the debt you incur with the card.
So, if you rack up a bunch of credit card debt, it could hurt your cosigner's credit score. What's more, it could ruin their credit if you default on the account.
In other words, your next Thanksgiving dinner might not be pleasant if you abuse your cosigner's trust.
Credit cards that allow cosigners
There are only a few major credit card issuers that allow cosigners, but that doesn't mean you have only a handful of options. Your local credit unions or community banks may offer the option, as might bigger banks like the ones listed below.
If you're intent on getting a cosigner or thinking about cosigning a credit card, check out your local options as well as the following: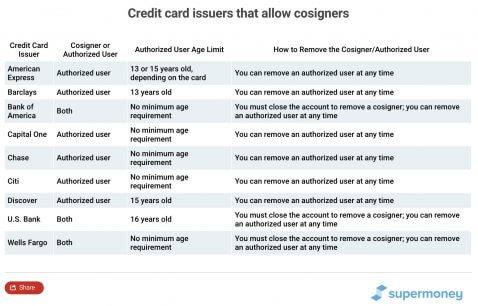 Consider getting added as an authorized user instead
If you don't like any of the credit cards that allow cosigners or can't manage to get someone to agree to cosign for you, consider trying to get added as an authorized user instead.
You can generally be added as an authorized user on any type of credit card from any issuer. An authorized user is different than getting a cosigner in that you'll be getting added to someone else's existing account.
You don't need to apply to become an authorized user, so there's no credit check. Also, you can typically benefit from the card's previous account history as well as future account activity.
So, in many cases, your credit could see a huge improvement immediately.
As an authorized user, you're not liable for any of the debt you incur with the card — the primary cardholder is. So, again, it's important to gain and maintain trust in your relationship with the person.
Getting removed as an authorized user is also much easier than getting rid of a cosigner. The primary account holder just needs to call the credit card issuer and ask that you be removed from the account.
Just keep in mind that you may lose the entirety of the card's history from your credit report. So, avoid having this done unless your credit is in better shape.
Are credit cards that allow cosigners right for you?
Getting a cosigner on a credit card has its pros and cons, so it's important to consider your situation and goals before choosing whether to go that route or the authorized user path.
If you want to get a cosigner on a credit card, check out the top Bank of America credit cards, U.S. Bank credit cards, and Wells Fargo credit cards to see if there are any that fit your needs.
And remember, you can have access to all of the top credit cards if you opt to become an authorized user instead.
Lastly, "You can apply for a card with lower credit requirements such as a secured card," says Steele.
Secured credit cards aren't ideal because of the collateral they require, but they can be a good option if you can't convince someone to cosign or add you as an authorized user.
Thoroughly explore all three options before coming to a decision. Whichever option you choose, start working to improve your credit as soon as possible so that you can get a solid credit card on your own in the future.
Compare personal credit cards side-by-side to find the best one for you.
Ben Luthi is a personal finance writer and a credit cards expert who loves helping consumers and business owners make better financial decisions. His work has been featured in Time, MarketWatch, Yahoo! Finance, U.S. News & World Report, CNBC, Success Magazine, USA Today, The Huffington Post and many more.