Article Summary:
Winters are long and summers are short in Alaska. The best time to visit Alaska for summer activities is typically going to be from mid-June through mid-August for the ideal combination of the best weather, wildlife viewing, and a ton of other things to do. For enthusiasts of winter sports and other winter activities, February and March typically have great snow, although you won't have as much daylight to enjoy them.
Who hasn't dreamt about visiting Alaska at some point in their lives? Viewing the iconic Alaskan wildlife, going whale watching, or hiking through Denali National Park are just a few popular summer activities. Or maybe you'd like to experience an Alaska winter and get in some skiing before taking in the eerie and amazing spectacle of the northern lights.
Whatever your reason to visit Alaska, there is a good time for each activity and excursion. We'll delve deeper into the best time for all features unique to Alaska, winter, spring, summer, or fall. First, a few fun facts about the majestic state of Alaska.
About Alaska
In 1867, the Alaska territory was purchased from Russia for $7 million. Then, in 1959, Alaska became the 49th U.S. state and also its largest, at more than 663,000 square miles — larger than Texas, California, and Montana combined. Despite its impressive size, Alaska also has the lowest population destiny with only around 733,000 residents and 1.3 people per square mile.
It also contains some of the biggest mountains in the country, holding 17 of 20 of America's highest peaks, including Denali, the highest mountain in North America at 20,320 feet above sea level. Alaska also has the third largest river, the Yukon, which stretches over 2,000 miles, and is one of more than 3,000 rivers and over three million lakes contained within the state.
In addition, Alaska boasts more active glaciers and ice fields than any other part of the inhabited world, with an estimated 100,000, ranging from tiny cirque glaciers to huge valley glaciers. 5% of Alaska, or 29,000 square miles, is covered by glaciers. The biggest one is the Malaspina at a massive size of 850 square miles.
Best time to visit Alaska in the summer season
The main tourist season in Alaska spans from mid-May to mid-September. Of that time, the best weather of the summer months comes in the peak season of mid-June through mid-August when the wildlife is active, the flowers are blooming, the national parks and everything else is open, and the days are incredibly long. The nights don't get dark enough to see the northern lights, but you will get to experience the famous midnight sun.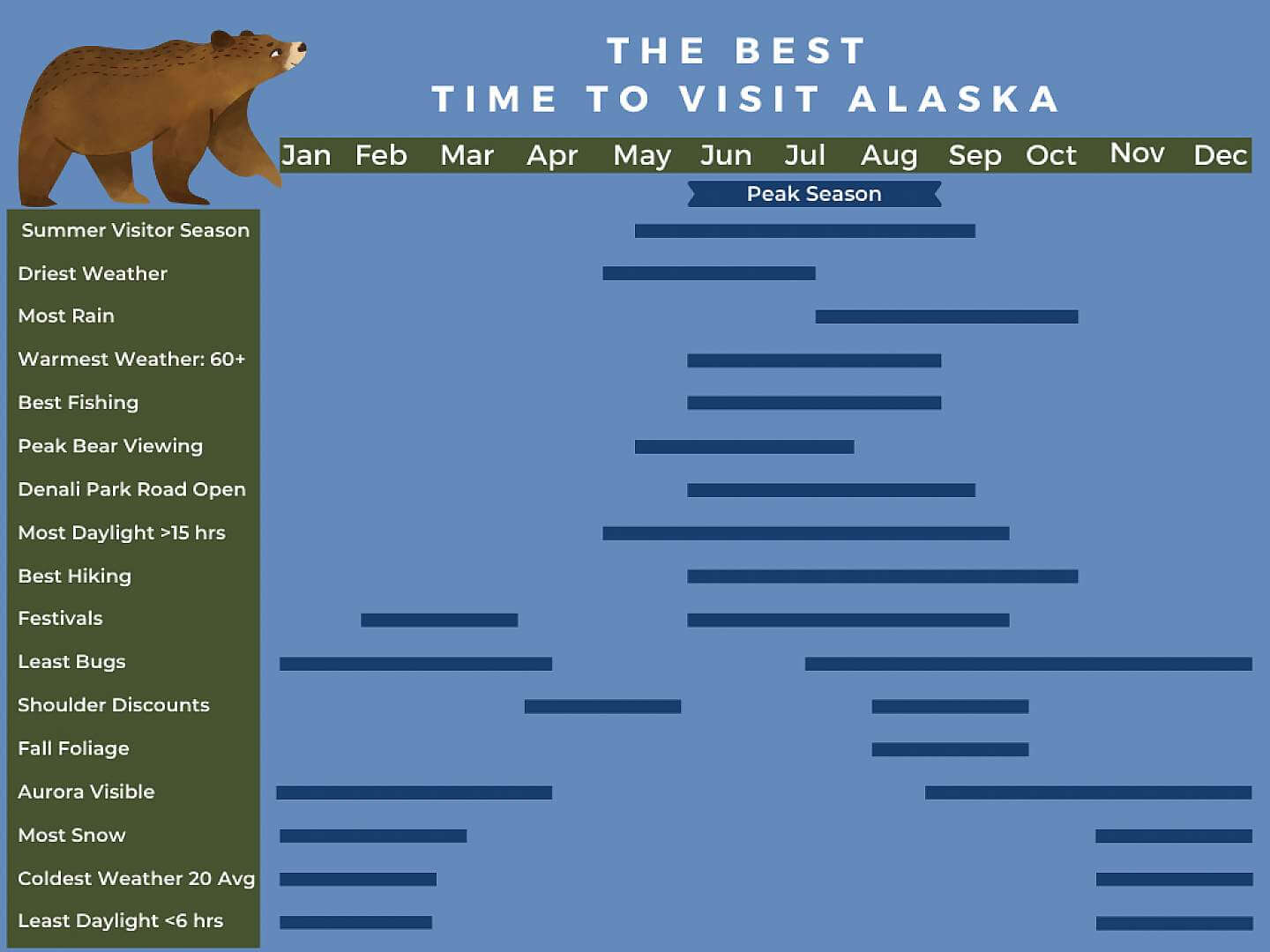 If you're there for the summer solstice on June 21, the longest day of the year, it practically never gets dark. Anchorage sees about 19 hours of daylight a day, and the Fairbanks area gets up to 22 hours. Even as the nights grow longer, you can still enjoy daylight hours until 10 p.m. for much of the summer months.
This leaves plenty of time to enjoy all that Alaska has to offer, such as biking the Denali park road that leads through Denali National Park. Visitors from around the world flock here every summer season for some epic hiking trails, fishing, and thrilling wildlife viewing. Or, to see most of the mountains, rivers, and creatures, you can take a "flightseeing" tour and really cover a lot of ground — from the air!
If you choose to visit Alaska as the summer progresses towards fall, you can visit the Alaska State Fair, which is held in Palmer (north of Anchorage) from late August into early September. This is the state's biggest event and features giant vegetables, concerts and other performers, farm exhibits, and amusement park rides, as well as depictions of Alaskan and Alaska native culture.
Best time to visit northern Alaska
The summer months are also the warmest time to visit northern Alaska, although "warmth" can be a bit of a relative term as you approach and enter the Arctic circle. Still, the summer season is the best time to visit Alaska in this extremely rugged part of the country, much of which can only be reached by air.
Average high
Average low
Number of daylight hours
Average rainfall (in.)
Anchorage
Jan.
22°
9°
5.5 hours
0.7″
Feb.
26°
12°
7.5 hours
0.8″
Mar.
33°
17°
10 hours
0.6″
Apr.
44°
28°
13 hours
0.5″
May
55°
39°
17 hours
0.7″
Jun.
62°
47°
19 hours
1.0″
Jul.
65°
52°
19 hours
1.9″
Aug.
63°
49°
17 hours
2.7″
Sept.
55°
41°
14 hours
2.6″
Oct.
40°
58°
11.5 hours
1.9″
Nov.
28°
16°
8.5 hours
1.0″
Dec.
22°
10°
6 hours
1.1″
Denali National Park
Jan.
10°
-1°
7 hours
4.3″
Feb.
16°
-5°
9 hours
4.0″
Mar.
25°
1°
12 hours
3.4″
Apr.
39°
15°
14.5 hours
2.9″
May
53°
29°
17.5 hours
3.5″
Jun.
64°
39°
19 hours
3.1″
Jul.
66°
43°
17 hours
4.4″
Aug.
61°
38°
14 hours
5.4″
Sept.
51°
31°
11.5 hours
7.2″
Oct.
32°
14°
10 hours
7.9″
Nov.
18°
1°
7 hours
5.4″
Dec.
11°
-6°
6 hours
5.1″
Juneau
Jan.
30°
19°
6.5 hours
4.3″
Feb.
34°
23°
8 hours
4.0″
Mar.
39°
27°
10.5 hours
3.4″
Apr.
47°
32°
13 hours
2.9″
May
55°
39°
16 hours
3.5″
Jun.
62°
45°
18 hours
3.1″
Jul.
64°
48°
18 hours
4.4″
Aug.
63°
48°
16.5 hours
5.4″
Sept.
56°
43°
14 hours
7.2″
Oct.
47°
37°
11.5 hours
7.9″
Nov.
38°
29°
9 hours
5.4″
Dec.
33°
24°
7 hours
5.1″
*Sources: ResponsibleVacation.com and AdventureSmithExplorations.com
**All temperatures shown in Fahrenheit.
The only land route through this region is the Dalton Highway ("highway" also being a relative term in this part of the country). The road leads you from Fairbanks, over the Yukon river, into the Arctic circle, and ends at the shores of the Arctic Ocean at the small community of Deadhorse. For the less adventurous, air tours can be taken over this magnificent piece of land for a birds-eye view of this sparsely populated but beautiful part of the state.
Best times for bear viewing
Let's not forget the bears — perhaps one of the most iconic of all Alaskan images. Some of the most incredible bear viewing in Alaska can be found near Anchorage. Classic spots like Brooks Falls in Katmai National Park, Lake Clark National Park, Redoubt Bay, and McNeil River are all a float plane flight away from the city, though many other air services can get you there as well.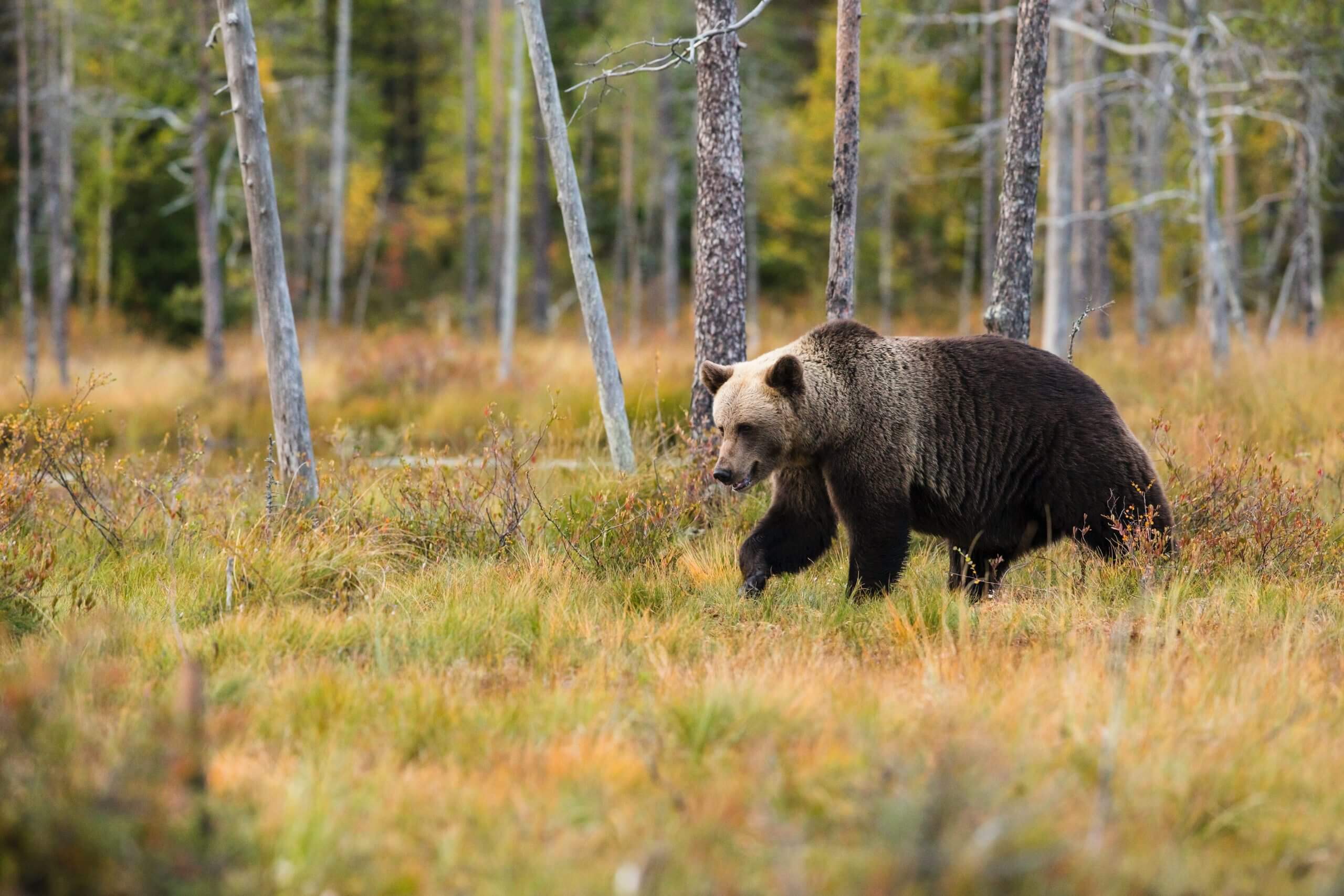 The best time for viewing bears is when their feeding grounds are ideal. Of course, everyone knows that bears love salmon, so follow the fish, experts suggest. Redoubt Bay is said to have good bear watching from June through August, and Katmai's Brooks Falls is supposed to boast ideal bear viewing in July, for instance.
Admiralty Island is also a great place for some bear sightings. It is known as the most bear-infested island on earth because it has the highest density of brown bears globally. Seeing bears in Alaska isn't rare, but seeing them on Admiralty Island is practically a sure thing.
Best time for an Alaska cruise
The best time for an Alaska cruise pretty much follows the summer months as well, although it is a bit warmer on the coast than inland. Because of this, some cruises begin in April and continue through mid- to late-September. The Alaskan coast stretches for 6,640 miles, and, if you include the islands, Alaska has more than 33,000 miles of coastline for both large and small ship cruises to explore.
The most popular Alaska cruise is a round-trip tour up and down the coast beginning from Seattle or Vancouver. These big ships typically hit a few port towns and spend some time at Glacier Bay National Park.
The more adventurous can embark on longer cruises that explore more of Alaska's glaciers and coastal territories. Disembarkation in towns such as Seward or Whittier makes it convenient for travelers to transition from cruises to land tours. This way visitors can then experience Alaska's mountains, vast tundra, and giant land mammals after viewing Alaska from the sea.
You might be able to find some discounts on cruises in the earlier or later parts of peak season. However, there are also fewer routes and itineraries available, which can make for less competitive pricing.
Best time for winter sports
Some would say don't bother to visit Alaska in the winter. It's unbelievably cold, incredibly dark most of the time, and there's nothing to do. But that's absolutely not true.
If you're into skiing, snowmobiling, or dog sledding, for example, an Alaska trip in winter can be a great time to visit. Sure, the days are much shorter, with the sun not rising sometimes until 9:00 a.m. and getting dark around 4:00 p.m., but that doesn't mean you can't make the most of those daylight hours.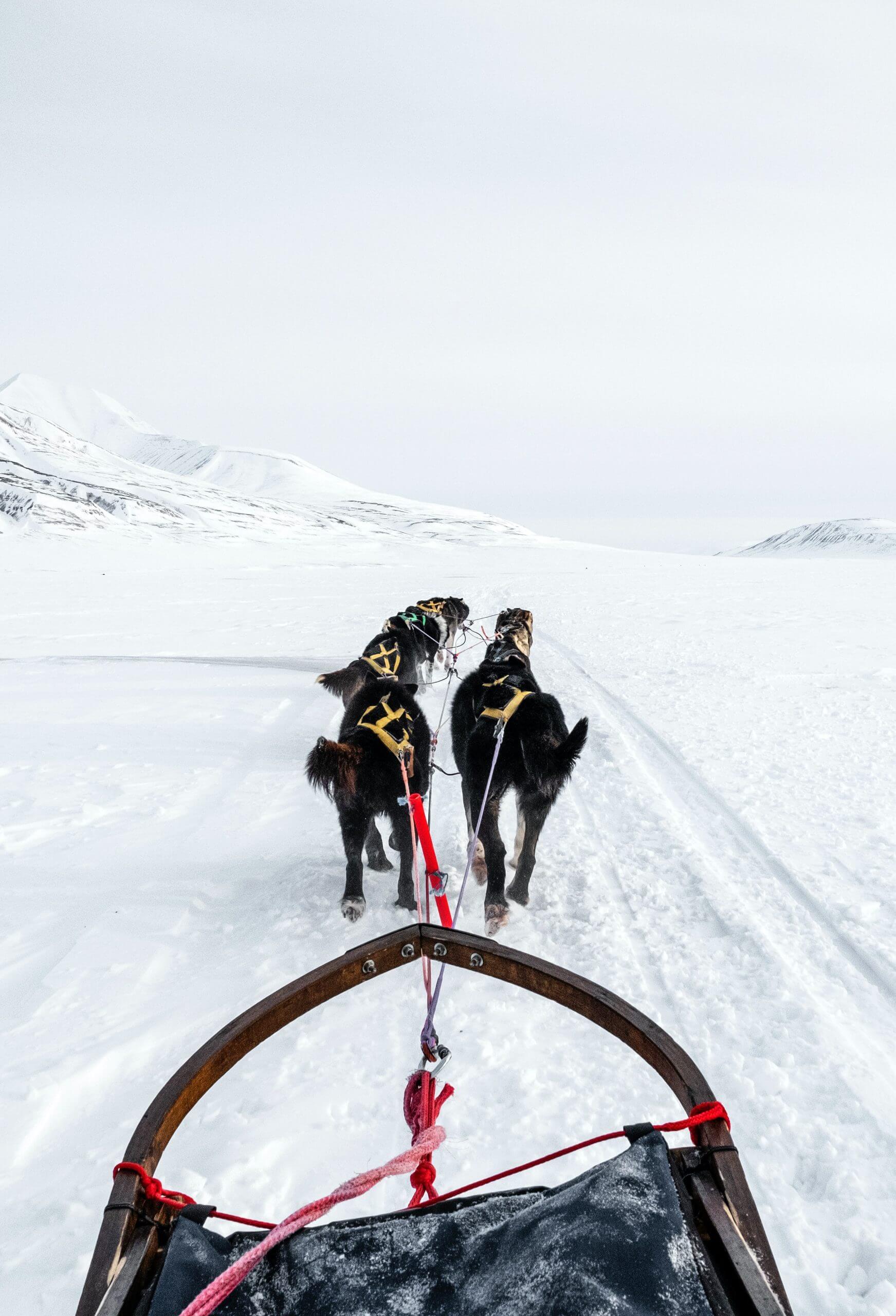 Since snow begins falling in earnest in December, February and March are when you'll find the best snow conditions for winter sports. Many people come out for the famous dog sledding race, the Iditarod, which begins the first Saturday in March. The Iditarod traverses approximately 1,000 miles from Anchorage to Nome and can take up to two weeks. Race fans can "chase the race" by snowmobile or take flights to various checkpoints throughout the course.
There are also winter carnivals and other events around the state, such as the World Ice Art Championships. It's the largest ice sculpting competition in the world, which is held in the heart of Alaska (Fairbanks) beginning in February and going through the end of March.
Best time to see the Alaska northern lights
The northern lights (scientifically named aurora borealis), are a type of astronomical phenomenon known as polar lights, or aurora polaris, because they are located near the Earth's magnetic poles. The lights bring a spectacular, colorful show to the night sky and are truly awe-inspiring.
Some may not realize that aurora borealis occurs year round. Unfortunately, you just can't usually see it in the summer months because it doesn't get dark enough. Northern lights viewing times stretch from late August through April when the days are shorter. That being said, the peak times for these lights are December through March when the sky is clear and you have very dark nights.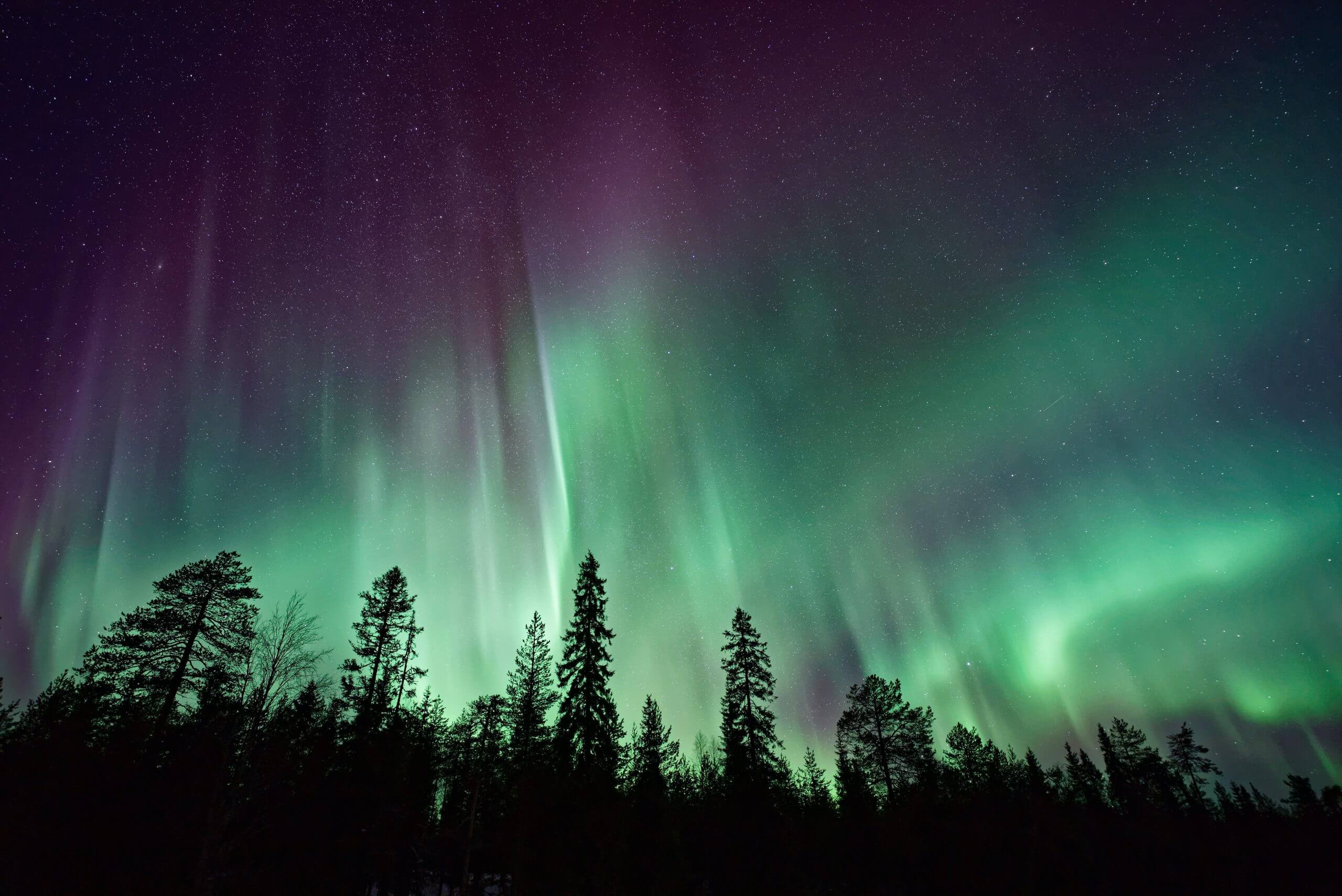 Best time to visit Alaska on a budget
The cheapest time to visit Alaska will be during the winter months, except in November and December (around the holidays). However, if you're not interested in enduring an Alaska winter and still want to experience at least some of the summer activities, consider visiting Alaska during the shoulder seasons of late spring from May to early June, or early autumn from September to mid-October.
The weather can be more unpredictable in May and the hiking trails at higher elevations could still be a little muddy. In September, the days get shorter and the temperature drops, but there are still a lot of summer activities to engage in. You're more likely to find discounts and deals on excursions and lodgings during the shoulder seasons. You'll also be dealing with fewer people at these times, which can be great for those who prefer fewer crowds.
You may also get a better deal if you purchase your tickets to Alaska using a rewards credit card. Depending on your preferred airline and the amount of points you've accumulated, you could save considerable money on your trip.
Vacation loans
Maybe you don't have many rewards points stocked up, or you'd rather not spend more money to build up those points. Instead, you can finance your trip to Alaska with a vacation loan. Take a look at some of the loan options below to find the vacation loan best suited to your plans.
Best time for whale watching
The prime time to see Alaska wildlife at sea, most popularly whales but also sea otters, dolphins, porpoises, and other sea creatures, is from April through September. And the best way to view them is on small ship cruises that are abundant in Alaska coastal towns and waters.
Orcas can be spotted in Alaska year-round, humpbacks are in the area from May to September, and gray whales migrate back in March and April. Everybody's favorite, the humpbacks, spend their winters in Hawaii to mate and then migrate to Alaska in summer to feed. They can be seen almost everywhere along Alaska's coast, particularly in the southeast and south-central regions.
The gray whales swim up from breeding areas near Baja, California, to their summer feeding areas in the Arctic, an astounding 12,000-mile round trip. These whales tend to stick to the outer coasts of Alaska and can often be seen in their biggest groups passing by the Kodiak and Kenai Peninsula areas during the month of May.
Pro Tip
If you want to save a few dollars on your dream vacation, but still get to enjoy some nicer weather and area attractions, plan your Alaska visit for May or early September. Mid-September a lot of activities start closing down, so by visiting early in the month, you might score some good discounts and deals on fun and lodgings.
FAQs
How many days do you need to see Alaska?
Alaska is not the type of place you want to go for just a short visit. There is so much to do and see, and getting around to different areas can take some time. With that in mind, try ad give yourself at least a week to 10 days to explore the wonders of Alaska, our country's largest and wildest state.
What is the hottest month in Alaska?
The hottest average temperatures in Alaska are in July. Some days occasionally reach into the 80s, but you can still can feel very mild temperatures throughout the summer, especially from late June to August.
What month is best to see the northern lights in Alaska?
The aurora borealis is best seen in Alaska during the winter months when nights are darker. That being said, the best month is thought to be December, particularly right around the shortest day of the year (December 20).
March and September are also thought to be peak months for northern lights viewing, as the magnetic field of Earth and the solar wind are in sync due to the Earth's tilt at these times.
Key Takeaways
The best time to visit Alaska is during the peak season from mid-June to mid-August. This timeframe offers an ideal combination of great weather, wildlife viewing, and a plethora of summer activities.
You can save some money on flights, accommodations, and excursions by booking your trip in the shoulder seasons of May or September. During these months, you'll still get to enjoy most Alaskan summer activities as well.
If you enjoy the snow and fewer visitors, come for an Alaskan winter trip. You can get your fill of dog sledding, skiing, and snowmobiling during daylight hours, then experience the northern lights after the sun goes down.
The best time for winter activities on an Alaska trip in winter are February and March, when the snow is at its best and the days have begun to get longer and a little warmer.