Article Summary:
While New Orleans has festivals and events year round, deciding on the best time to visit New Orleans depends a lot on your budget and vacation goals. If you want to party with a crowd, join the heavy tourist traffic during springtime festivals such as Mardi Gras and the New Orleans Jazz and Heritage Festival from late February into May. If you're looking for a more low-key trip that includes enjoying area attractions like a swamp tour, the Garden District, or "haunted" buildings, you might want to visit during the late fall or winter months.
Who hasn't wanted to visit the unique and colorful city of New Orleans? It boasts some of the most amazing food in the South (or the country, for that matter), exciting live music, and, by all accounts, very welcoming locals.
Aside from deciding when it's a good time to visit, the hardest part about a trip to New Orleans is narrowing down what you're going to do and where you're going to eat once you get there. Today we'll take a look at some of the best times to visit New Orleans for weather and festivals. You can also find out the best times to travel where you can save some money and still have a fantastic vacation in the Big Easy.
What is the best time to visit New Orleans?
Mardi Gras and the New Orleans Jazz Fest are two of the biggest events in the city and are on many people's bucket lists. If you don't mind the craziness, this is a fun time to hang out in New Orleans. These two festivals also coincide with some of the best weather of the year coming in early spring, making this by far the most popular time to visit New Orleans.
Both Mardi Gras and Jazz Fest don't have set dates every year, but official Mardi Gras is typically somewhere between late February and early March. Jazz Fest usually comes around in late April to early May. If you're flying in for Mardi Gras season, try to come the week leading up to Mardi Gras day and stay through Fat Tuesday (which is the day before Ash Wednesday), to catch the most popular parades.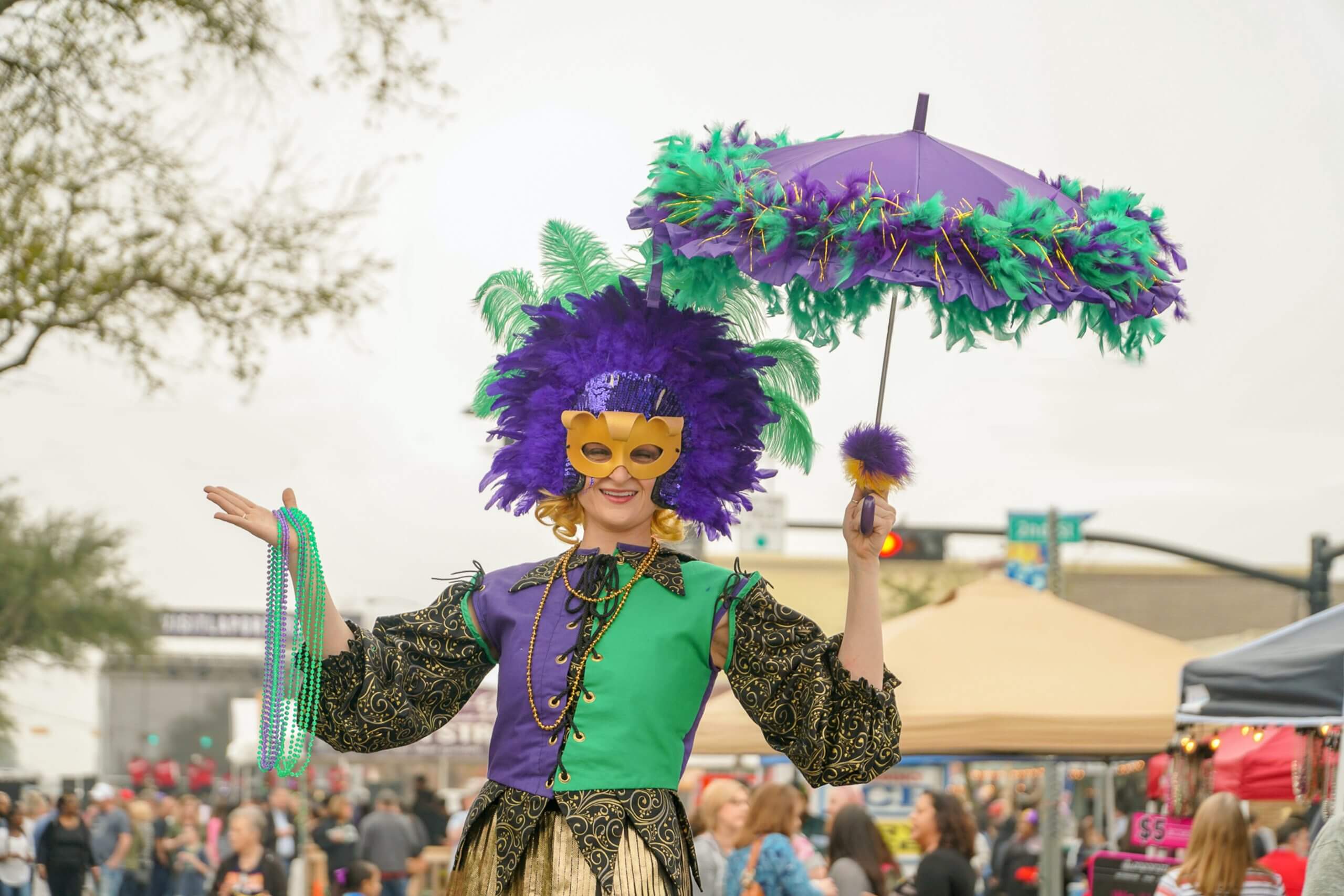 Other key events to attend during the springtime festival season are the New Orleans Bourbon Festival in March and the French Quarter Festival in early April. While there, you can enjoy live music from local musicians, incredible food, and cultural events from Wollenberg Park to Jackson Square.
Early spring is a popular time to visit New Orleans, meaning it's also going to be the most expensive time to visit, particularly with hotel rates at a premium. Those in the know recommend booking your flights and making reservations as far as a year ahead of time to get the best hotel deals possible for that time of year.
Fun Fact
If you get to visit during this time, you may also see your first king cake, which is available through Ash Wednesday. This sweet confection is a blend of coffee cake and cinnamon roll and is usually iced in the colors of Mardi Gras — yellow, green, and purple.
The traditional dessert is often packed with fruit fillings or cream cheeses and hides a tiny king cake baby in one of its slices. If you find the baby, you're supposed to either bring the next king cake or throw a party!
Mardi Gras on a budget
Spring might be the peak season in New Orleans, but Mardi Gras season (or Carnival) actually begins on January 6 (also known as Twelfth Night). This means you can enjoy some of the parades and festivities when there are fewer tourists, and prices for hotel rooms aren't as inflated as they are for the height of Mardi Gras.
Plus, because New Orleans is so far south, even January has mild weather. This means you typically won't need to pack a heavy winter coat for your trip, as just a light jacket and a sweater or two should be enough to get you through the cooler days and nights.

IMPORTANT! Keep in mind that a cold snap does sometimes happen and temps could occassinally dip below freezing. Just be sure to check the weather reports before you leave home and pack accordingly.
If you're looking to save as much as possible for your flights to New Orleans, consider using a rewards or airline credit card. By racking up points or miles, you can pay for part of or your entire flight this way.
What is the cheapest time of the year to go to New Orleans?
The best time to visit New Orleans if you're on a budget (and want fewer crowds) is the hot and muggy summer months. If you don't mind the heat, you can score some great flight deals and bargain hotel rates. This is especially true during the steamy months of July and August when most tourists have fled the heat and hotels want to lure in new guests with great prices.
July and August are also the rainiest months in the Big Easy, so be sure to pack your umbrella. You might want to seek air conditioning during the hottest parts of the day, but there are still plenty of outdoor activities you can indulge in at other times, like early morning or in the evening.
New Orleans is a walking city and famous for its tours because there is so much to see. Haunted tours, culinary tours, garden tours, historical tours, French Quarter tours — pretty much all things New Orleans can be toured. You can even take a creepy swamp tour or a cocktail tour, which will lead you around to the best local pubs and famous New Orleans bars.
If you're looking to save money on your trip but still need a little help, a vacation loan may be able to help. Take a look at some of the loan options below to find the vacation loan best suited to your plans.
Summer festival highlights
As with every month in New Orleans, there are plenty of events and festivals to enjoy even during the hottest months of the summer. The fireworks blown up over the Mississippi river for the Fourth of July provides plenty of entertainment. You should then follow up with a visit to ESSENCE Fest, which celebrates black culture, fashion, food, and music, with some of the best R&B and hip-hop artists.
In August, celebrate the life of famous trumpeter Louis "Satchmo" Armstrong at Satchmo Summerfest, or visit the French Quarter for Southern Decadence, New Orleans' largest LGBTQ event. Or, on the second Saturday of the month, you can don your best red gown to watch or participate in the Red Dress Run. This is an annual New Orleans tradition where runners and walkers raise money for local charities.
Other more affordable times to visit New Orleans
You can also find some better deals in winter when there are fewer tourists and cooler weather, although it's still quite comfortable (60s during the day) by northern standards. If you don't have any plans for the December holidays, that can be a fun time to see the city decked out with holiday decorations.
Not to be missed is the Celebration in the Oaks at City Park. During this event, ancient oak trees are bedazzled with millions of lights making for a magical light show the whole family will enjoy. The admission price is philanthropic too, as it's City Park's largest fundraiser and is very important for the year-round maintenance, care, and beautification of the park.
On Christmas Eve, you can head to the Mississippi river, where giant bonfires are lit from New Orleans all the way to Baton Rouge. These fires are said to be lighting the way for Santa Claus and his reindeer.
If you come for Christmas Eve, you might want to stay for a New Year's Eve party or two. Check the events calendar before you come to find the parties and festivities that best fit your style. This may or may not include the fleur-de-lis drop at Jackson Square, New Orleans' version of the famous New York City ball drop.
September in New Orleans
September is also a pleasant time to visit. The hotel rates are still decent, the city's streets aren't too crowded, and the summer heat has begun to recede a bit.
Foodies can experience some amazing meals at Restaurant Week, which kicks off on September 9. Many area restaurants offer prix-fixe, multi-course meals for great prices. Football fans might also want to take in an early-season Saints game at the Superdome.
Louisiana's spooky season
October is another fun-filled month in New Orleans, featuring the New Orleans Film Festival (typically held in October, although 2022's dates fall in November). With around 200 movies from more than 100 countries, it's considered one of the nation's premier film festivals.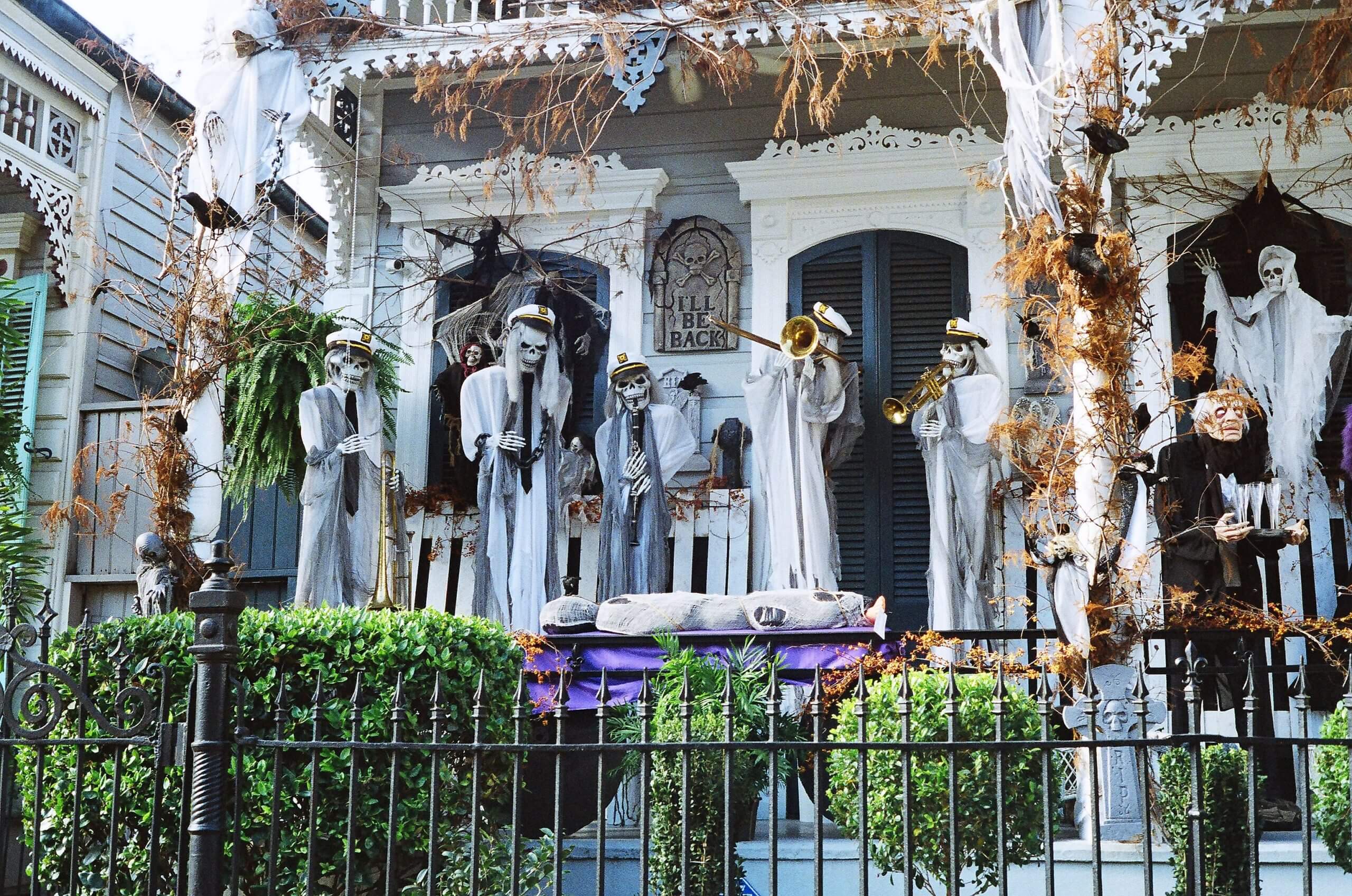 Blues and barbecue fans might also want to take in the Crescent City Blues and BBQ Festival. And for fans of the spooky, you can get a taste of some funky music entertainment at the Voodoo Music and Arts Experience around Halloween weekend.
A New Orleans November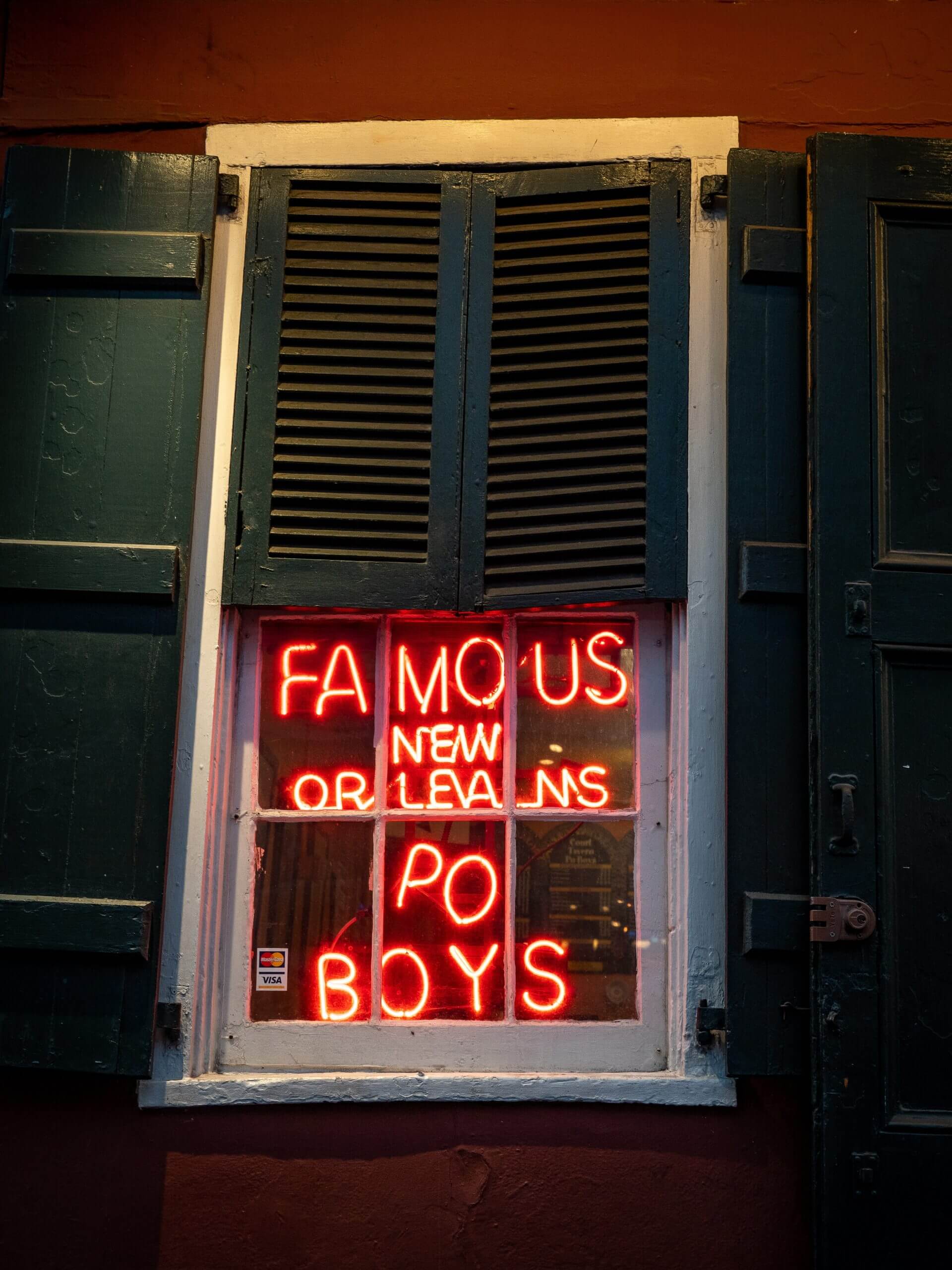 November can have some of the best weather of the year and might just be one of the best times of the year to visit New Orleans. You can
celebrate Caribbean culture at the Bayou Bacchanal Carnival with food and music from Caribbean nations and a colorful parade down Canal Street.
Round out your November visit with some decadent food events such as the Oak Street Po-Boy Festival, where around 35 vendors serve up their best version of this classic dish. That's in addition to the Treme Creole Gumbo Fest, which features the best of New Orleans brass bands, beads, and gumbo.
FAQs
What is the best month to visit Louisiana?
That depends on your preferences, really. If you can't bear to miss the pinnacle of Mardi Gras and Fat Tuesday, you'll need to visit New Orleans in late February or early March. If the French Quarter Festival or the New Orleans Jazz and Heritage Festival are more your speed, April and May are going to be your best months.
However, if you want to have a fantastic time with fewer crowds, better hotel rates, and near-perfect weather, November might just be your sweet spot. Enjoy the multitude of food and cultural festivals without the heavy tourist traffic and only a very slim chance of a hurricane.
What is the off-season for New Orleans?
The least desirable time to be in the Crescent City will be the months of July and August, when the summer heat, rain, and extreme humidity are unbearable for most visitors. But keep in mind that you can also get the best deals on flights and hotel accommodations (and probably excursions and tours too) if you can handle the heat.
What months make up the hurricane season in New Orleans?
Hurricane season is considered a threat in New Orleans from June through November, but keep in mind that severe storms are pretty rare. Still, it's wise to be aware that peak times for hurricanes in New Orleans are late August and September.
And, while hurricane season is still underway in October and November, those months can also have some of the driest and most perfect weather of the year.
What is the best part of New Orleans to stay in?
Many would say that the French Quarter, New Orleans' oldest and most well-known neighborhood, is the best place to stay. It has the iconic Bourbon Street, great architecture, restaurants, music venues, and much more. Stay in the French Quarter if you want to be in the midst of the action.
If you want to be near the party but not smack dab in the middle of it, you might consider the beautiful Uptown/Garden District area, the bustling Central Business District, or the trendy Marigny/Bywater neighborhoods.
Key Takeaways
The combination of near-perfect weather, and some of the biggest events, make spring the most popular and best time to visit New Orleans. This is particularly true of early March into early May.
If you want to avoid crowds, score some great hotel rates, and don't mind the extreme heat, the summer months of July and August will give you the most punch for your vacation dollars.
Late fall and early winter is a nice shoulder season to visit New Orleans. During this time, there's still good weather compared to a lot of the country and reasonable travel and hotel deals.
There's always a lot going on in this eccentric, musical, and cultural city, so the best time to visit New Orleans is really up to the visitor.