Ever wish you could ask the richest man in the world for advice about life and success? Looking for some inspiration? Below are some of Bill Gates' most memorable quotes and lessons about life, failure, success, and innovation.
Never fear change. Change is good!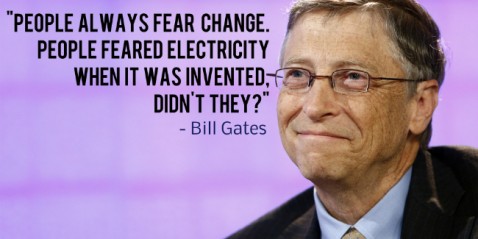 Change doesn't have to be a bad thing! Many people admittedly fear change. They become comfortable with their surroundings and what they know. But sometimes, and though change can be scary, it's necessary.
If you find yourself miserable at work, why not do some research into a new job, in a new industry entirely? Always had a passion for something, but was too afraid to pursue it professionally? Look into ways you can turn your passion into a full time career. Fear of the new or unknown holds us captive and holds us back from experiencing or exploring our options professionally, financially, and personally.
Keep reading, keep dreaming.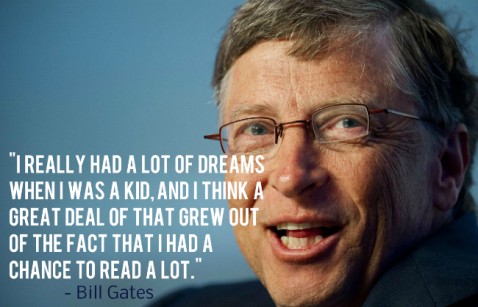 Bill Gates was on to something when he stressed the importance of reading. Reading books may have inspired us as children, dreaming about what we'd be when we grew up.
But reading can still inspire us as adults. We have a wealth of information at our fingertips, readily available to us at any time of the day. Reading about different parts of the world could inspire our vacation choices, while reading about different industries inspire career changes. If you dream of entrepreneurial or financial success, read the stories of those who made it and follow in their footsteps.
One of our favorite books for inspiration is What Should I Do With My Life? by Po Bronson. In it, Bronson shares true stories of how people answered that question through trials, failures, and eventually, success.
Celebrate your failures.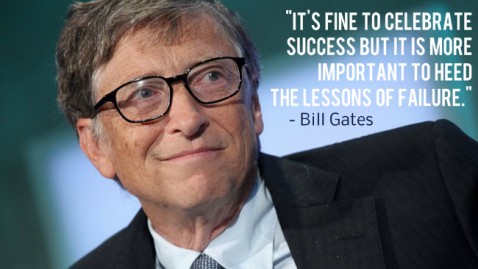 When you fail at something, no one can ever say you didn't try, or take away your effort. Success is just as much a part of life as failure is, so why not celebrate both? Appreciating what went wrong and learning from your mistakes can lead to future successes.
If you find yourself in debt because you made an unfruitful investment, it's not the end. Seek financial advice from a mentor you admire. Do your research and learn how to budget and save in order to be financially successful in the future.
You don't learn from your successes, only your mistakes.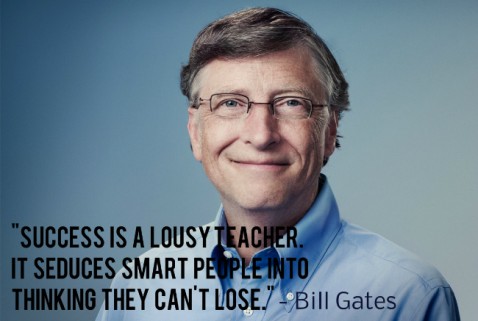 Like the quote above, Bill Gates clearly stresses the importance of learning from your failures. Don't get blinded by success. Know that you will make mistakes in life, and that they're a great thing. Gates also warns to not waste time blaming anyone else for your mistakes. "If you mess up, it's not your parents' fault, so don't whine about your mistakes, learn from them."
"Life is not fair; get used to it."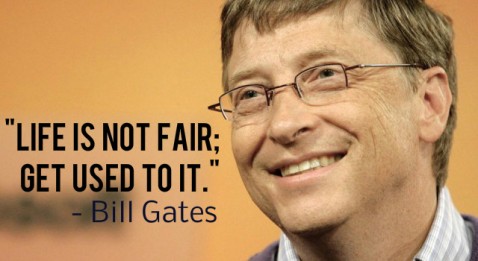 This one speaks for itself. We all know that life isn't fair and instead of complaining about it, we should suck it up and keep going! Change what isn't working for you by taking charge of your life rather than complaining about it.
There's no such thing as "I don't know."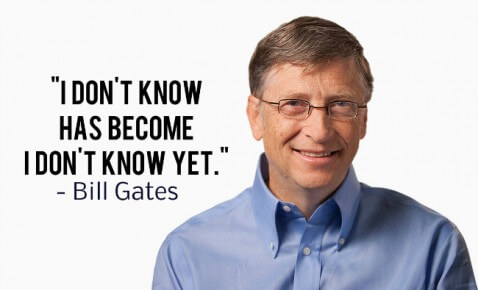 Once again, we live in the information age, where not knowing about something doesn't last long. Take the initiative and inform yourself by reading and researching what you do not know about.
Having financial trouble? Do your research and ask a financial advisor questions, even if you're nervous or doubt yourself. There's no excuse for not knowing something anymore.
Related article: How To Make Clever Money Decisions by Improving Your Financial IQ
Focus on hard work, not acknowledgement.
Thanks to social media, we are inclined to believe that the world cares about our everyday lives, to the point that we post hourly status updates, pictures of our meals, and endless selfies. With this quote, Bill Gates reminds us that we need to get out there and do something before we seek acknowledgement and appreciation. Whether it's a professional or a humanitarian effort, effort and accomplishments go a long way.
Don't be afraid to take risks.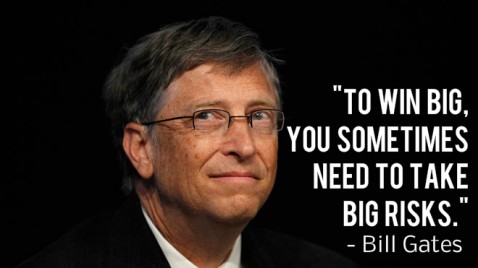 When presented with a rare opportunity that could have major benefits, weigh the pros and cons out. If you find the investment of your time, money, and effort worthwhile, don't hesitate to invest. With a large contribution, you could possibly reap a large reward in return.
Create your own path, don't be a follower.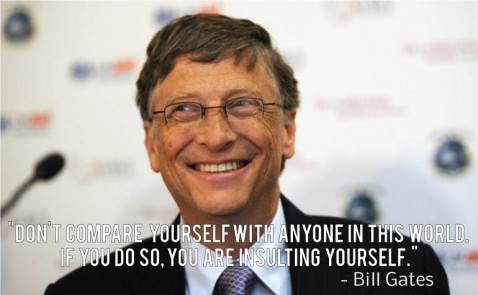 We've all heard a version of this quote before. There's no use in comparing yourself to anyone else.With social media, you're constantly bombarded by the status of other people. Are you as financially stable as your online friends? Do you go on as many vacations? Are you as fit as they are? The comparisons are endless.
The only time you should compare yourself with someone else is when you are trying to follow in someone's footsteps to create a similar success story. Just remember, you can seek their advice and learn from them, but create your own path. There's only one you.
Go big, change the world, make difference.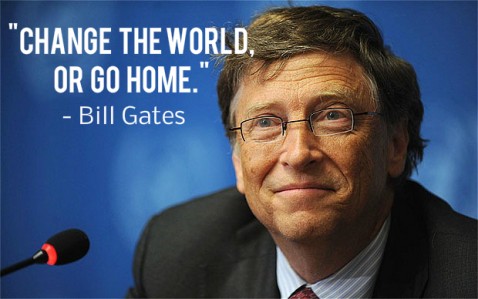 This is our favorite Bill Gates quote. His no-nonsense approach shows that he lives to make the world a better place, one innovation at a time. All it takes is one idea, and the hard work and effort to drive this idea forward, amplify it, and make a lasting impact.
Ready to start your own company but need seed money to get your idea off the ground, find a business loan with SuperMoney's business loans search engine.