Founded in 2010, BillGuard was a personal finance security company that set out to solve a crucial problem: fraudulent charges on credit cards. Throughout its seven-year lifespan, BillGuard flagged millions of dollars in suspect charges.
What was BillGuard?
Fraudulent charges happen more often than you think. And even in the case of legal, deliberate purchases, things can go wrong. A vendor might miss a decimal point, or inadvertently push a charge through twice. Just trusting your credit card statement could cost you a lot of money.
In answer to this problem, founders Raphael Ouzan and Yaron Samid created BillGuard, a personal finance analytics app which let its users take control of their personal finance.
How did it work?
BillGuard automatically monitored credit card and debit card activities to check for unusual transactions. Of course, most banks already monitor charges to some degree. But BillGuard iterated on this by crowdsourcing data from thousands of other BillGuard customers. This gave them broader, more in-depth knowledge of common scams and scammers.
How did that work? Well, entities that fabricate false claims and bogus charges on your credit card typically do so more than once. In most cases, scammers try the same scams on hundreds (or even thousands) of victims. This makes it easy for BillGuard to flag and identify such scams.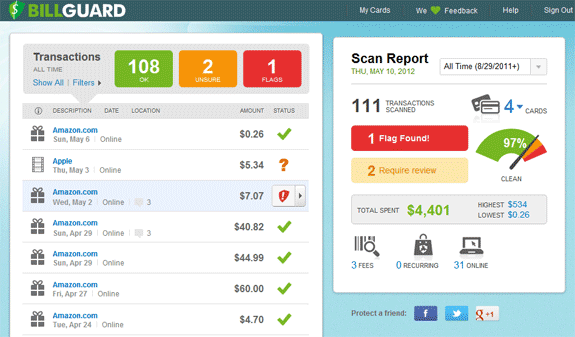 In addition to flagging false charges, BillGuard helped its user base get their money back. Through the app, you could easily dispute false charges with your bank and claim any fraudulent money back.
What happened to BillGuard?
In September 2015, BillGuard was acquired by Prosper Marketplace, a lender that rebranded the service as Prosper Daily. Prosper kept BillGuard running for another two years until terminating it in 2017.
To ease the transition, they teamed up with Clarity Money, a finance app which offered many of the same monitoring and security features as BillGuard.
Looking for financial security?
If you're a formal BillGuard user looking for financial security in the digital age, don't fear: there are a ton of ways to secure your savings.
Most banks let you sign up for charge notifications, sending you a text or an email for every charge you make. That way, if you're notified about a charge you don't recognize, you can contest the claim right away. You can browse top-rated savings accounts and compare their security features here.
For those who want to be doubly safe, there are also lots of excellent credit monitoring solutions on the market. Your credit score determines your eligibility for loans, new apartments, and more — you want to make sure it's as accurate as possible.

In the pursuit of getting better with money management, personal finance and everything in between. These are my learnings along the way.