Just when you thought things couldn't get any stranger, billionaires are in a battle to provide internet access to the 3 billion people who can't connect to the "worldwide web." This project is so ambitious even billionaires are looking for investors to help foot the bill.
Space billionaires
As Ashlee Vance reported on Bloomberg.com, Greg Wyler has "dedicated his life to connecting the unconnected. He founded a telecommunications startup that laid fiber-optic cables throughout Rwanda, then a satellite company to bring high-speed, affordable Internet service to islands and other remote locales. Now he's starting a third venture, OneWeb, with engineering headquarters in Silicon Valley, that aspires to create an elaborate array of low-orbit satellites to bring Internet access to everyone on earth. In tech-conference speak, what Wyler's been doing for the past dozen years is connecting 'the other 3 billion.' This is the half of the world's population that for various reasons are not online."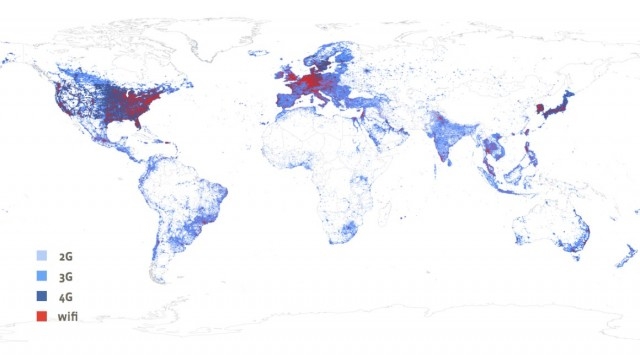 But Wyler isn't the only billionaire in the game. On CnnMoney.com, Jose Pagliery wrote about the race that's ongoing. "A handful of ultra-rich guys are racing one another to deliver the Internet from the sky. The latest is SpaceX, which just got $1 billion in funding from Google and Fidelity. Some of that money will be used to bolster CEO Elon Musk's plan to launch hundreds of internet signal satellites into space. His mission to deliver reliable Internet access worldwide isn't unique. Other tech entrepreneurs realize there's a vast, untapped potential in connecting the estimated 3 billion people who still aren't online. These are customers who could be shopping, clicking on advertisements and posting on social media. You can already get an Internet signal from above. But it requires special hardware. It's spotty, slow and ludicrously expensive.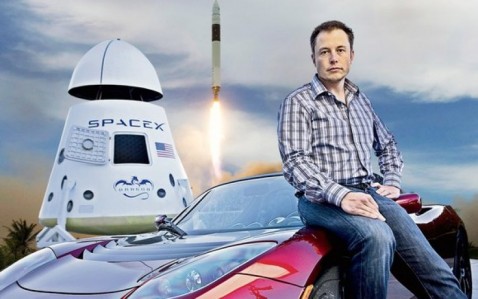 Elon Musk's SPaceX has requested the FCC permission to launch 4,000 small satellites to create a global internet network
To change that, Google (GOOG) co-founder Sergey Brin is overseeing Project Loon, a battalion of Wi-Fi balloons that will float in the stratosphere. Facebook's (FB, Tech30) Mark Zuckerberg wants to do that with high-flying drones for his Internet.org project. Then there's Virgin's Richard Branson, who last week poured a ton of money into OneWeb. The company wants to launch a fleet of 648 microsatellites to bring high-speed Internet and phone service 'to people living in underserved areas.'  Tech industry billionaires are obsessed with this idea for two reasons: capitalism and philanthropy."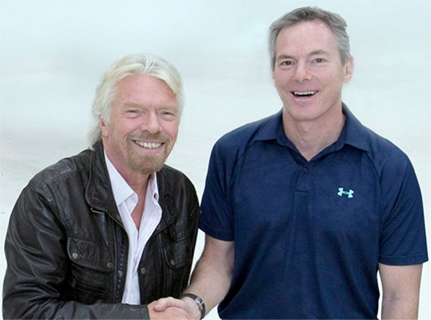 Richard Branson's Virgin Group is investing heavily in OneWeb's project of providing global internet access
Pagliery explained, "Whoever owns the skies has the opportunity to be the telecom operator of the future, creating a network in space akin to what AT&T (T, Tech30) made by laying down cables in the dirt 100 years ago. Also, the Internet is so pivotal to commerce and communication that access is starting to be considered a human right. The Arab Spring revolutions of 2011 were made possible by protestors coordinating via Facebook and Twitter (TWTR, Tech30). When Egypt pulled the plug on the Internet to try to assert authoritarian control, it showed that land cables are a liability to liberty. Advocacy groups like Outernet and A Human Right (led by a former SpaceX engineer) hope to acquire satellites to deliver Wi-Fi from space to make sure that never happens again.  To make the Internet from space a reality, entrepreneurial billionaires are trying something daring. The tech industry is now championing a new way of delivering the Internet from the sky. O3B launches four satellites at once and keeps them closer to the ground, orbiting at "just" 5,000 miles. That allows for tighter light beams and faster Internet. The downside is a smaller coverage area, about the size of New Mexico.
SpaceX and OneWeb are aiming even closer. They want to launch many rockets — each with lots of smaller, cheaper satellites inside — and keep them circling at a relatively low 750 miles above the Earth. The coverage area will be tiny, but the goal is to sprinkle the atmosphere with hundreds of satellites. The extra gravity means they'll run out of fuel faster. In any case, they will need to be replaced often to keep up with ever-faster Internet-connected devices down on the ground.  The biggest challenge, experts say, is money — hence the backing from some of the world's richest people. Despite the lower costs, launches are still expensive. Right now, a SpaceX launch costs $61 million or $85 million, depending on the rocket power needed. Musk wants to reduce the cost of sending a pound of anything into space from $2,000 to below $1,000. If SpaceX runs out of money before all those mini communication satellites are up there, experts warn it'll suffer the same fate as the failed Motorola-backed project Iridium, which aspired to do the same for cell phones before it ended up in bankruptcy in 1999.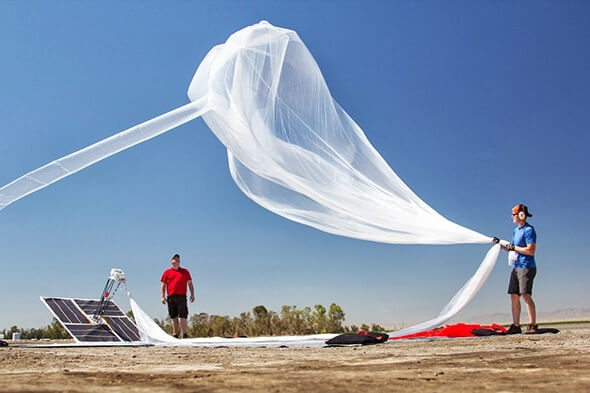 Google's Loon project plans to use balloons to provide internet access to remote areas
Google is launching balloons into near space to provide internet access. Thirty of the super pressure balloons are being launched from New Zealand from where they will drift around the world in a controlled path. The equipment attached to the balloons will provide 3G-like speeds to 50 testers in the country. At this stage, access will be intermittent, but the firm hopes to build a big enough fleet to provide reliable links to people living in remote areas. The technology could also be used to aid rescue efforts in disaster-hit areas where ground communication equipment has been damaged. The challenge lies in navigating thousands of high-altitude balloons around the globe's wind patterns. Super pressure balloons are made out of tightly sealed plastic capable of containing highly pressurized lighter-than-air gasses. The aim is to keep the volume of the balloon relatively stable even if there are changes in temperature. This allows them to stay aloft longer and be better at maintaining a set altitude than balloons which stretch and contract. The firm says the concept could offer a way to connect the two-thirds of the world's population which does not have affordable net connections.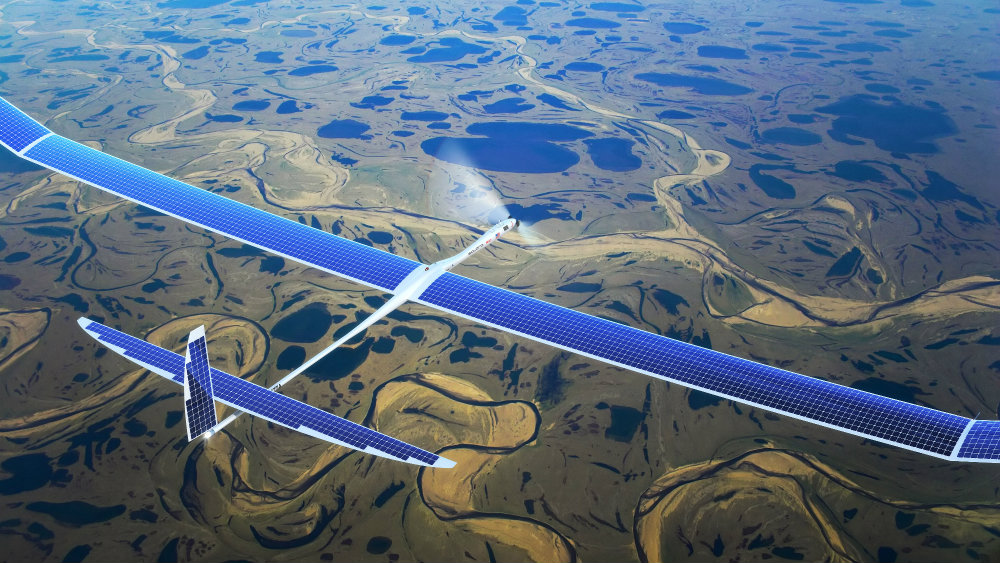 Facebook is building solar-powered drones that can deliver internet connectivity to isolated areas
In a BBC article, Jane Wakefield reported about Facebook's move in the space internet race: "Facebook has ambitious plans to connect the two-thirds of the world that have no net access, using drones, satellites, and lasers. The move was announced on the social media platform by founder Mark Zuckerberg. It will put it in direct competition with Google, which is planning to deliver net access via balloons. Both of the net giants want to extend their audiences, especially in the developing world. Details about Facebook's plan were scant but it will include a fleet of solar-powered drones as well as low-earth orbit and geosynchronous satellites. Invisible, infrared laser beams could also be used to boost the speed of the net connections. Last year Facebook and other technology companies launched internet.org to help bring net access to the huge swathes of the globe that are still not connected."