Blooom is an online wealth management company that helps everyday-people manage their employer-sponsored retirement accounts. Since its founding in 2013, it has acquired 23,000 clients and over $3 billion in assets.
The company came about when the founders recognized a large gap in the investment management industry. At the time, they managed the portfolios of clients with millions of dollars, like many other companies, but weren't in a position to help many of their family and friends.
One of them asked, "What if we build the technology to help the people that Wall Street has turned their backs on so they can get the most out of their retirement funds?" From that question, Blooom was born and has grown into the company that uses technology to make 401(k) management simple, smart, and affordable.
Blooom's services
Can Blooom help you? Here's a closer look at all it has to offer:
Free online analysis
The company offers a free online analysis of employer-sponsored retirement accounts (401(k), 401(a), 403(b), 457 or TSP). After answering a few quick questions, you will:
Find out how much you currently pay in fees
Get a full breakdown of your investments
Receive a detailed list of recommended adjustments
The best part is, you can take this free information and use it how you want. Walk away and forget it, make the changes on your own, or hire Blooom to manage your account.
We make sure clients have an appropriate mix of stocks and bonds in their employer-sponsored retirement accounts."
Account management
Blooom chair and co-founder, Chris Costello, says, "The three main benefits that Blooom's account management services provide for our clients are:
We make sure clients have an appropriate mix of stocks and bonds in their employer-sponsored retirement accounts.
It's important to set the mix according to your age and time to retirement. The younger you are, the more you should allocate in stocks. The older you are, the more you should allocate in bonds and cash.
We make sure our clients have an appropriate amount of diversification in their 401(k)s.
In other words, we make sure our clients don't have too many eggs in too few baskets. This is done by attempting to allocate our clients across numerous asset classes. These can include large company stocks, small company stocks, international stocks, and depending on age- potentially bonds, just to name a few.
We do everything we can to lower the investment fees that our clients pay in their 401(k)s.
Our algorithm and software look at all of the choices you have in your 401(k). Then, they identify the ones with the lowest internal expense fees. Every fund in existence, except Fidelity's two recent funds with no fees, have expenses. Employers don't pay the fees. You pay the fees, so we work to lower them."
We do everything we can to lower the investment fees that our clients pay in their 401(k)s.
In short, Blooom helps everyday Americans (the 99%) to get the most out of their 401ks and other employer-sponsored retirement accounts by managing the accounts on a monthly basis.
Once enrolled, you can view your account through the Blooom user dashboard as well as through the investment management firm your company uses (i.e., Paychex, T. Rowe Price, etc.). Further, your funds do not leave your account as Blooom manages them where they are. As a result, if you cancel, you don't have to worry about transferring your funds back.
AI and human support
Blooom uses artificial intelligence to analyze and optimize accounts and has financial advisors on-hand to review accounts that have special needs.
Additionally, clients get unlimited access to financial advisors and can ask questions on topics ranging from paying off student loan debt to refinancing their home mortgage. The advice is included in the monthly service fee and it doesn't have to be related to the retirement account.
Costs of Blooom's services
The online analysis of your account is completely free. If you decide you want to enroll in Blooom's monthly management service, it is $10 per month.
No matter how much money you have in your account, how much blooom earns you, or how much it saves you, you pay the same amount per month. There's no contract and no termination fee so you can join or quit at any time.
Who can become a client of Blooom?
While most investment management companies focus on people with at least $100,000 to invest, blooom provides expert advice to the underserved market of people with less than that.
Costello says becoming a client is easy. You only need the following:
An employer-sponsored retirement account (401(k), 401(a), 403(b), 457 or TSP)
The login credentials for your account
You don't have to worry about minimum or maximum account balance requirements. You just need to have an eligible account and your login details
Blooom's free online analysis
How do you get your free analysis? Here's a step-by-step guide:
Visit the Blooom website and click "Start Now."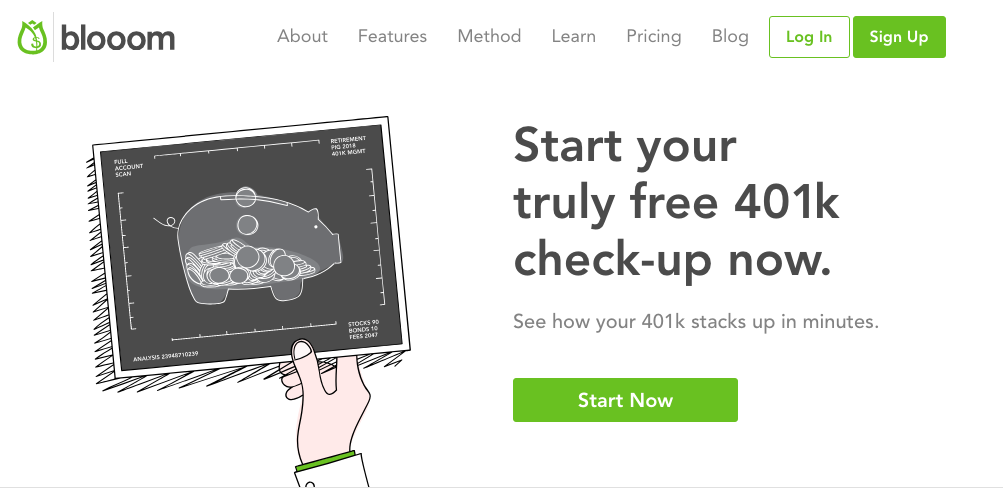 Provide your name and birthdate.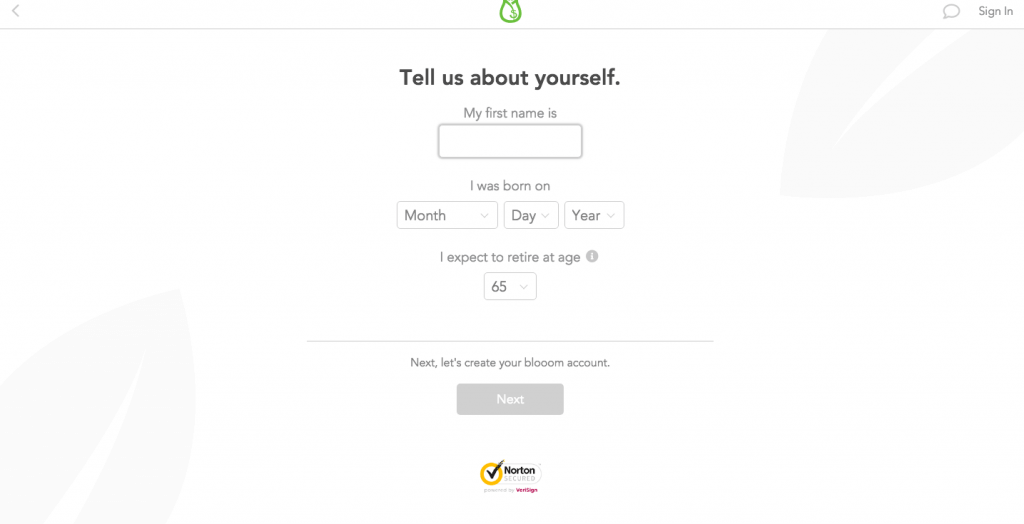 Create a Blooom account by entering your email address and a password.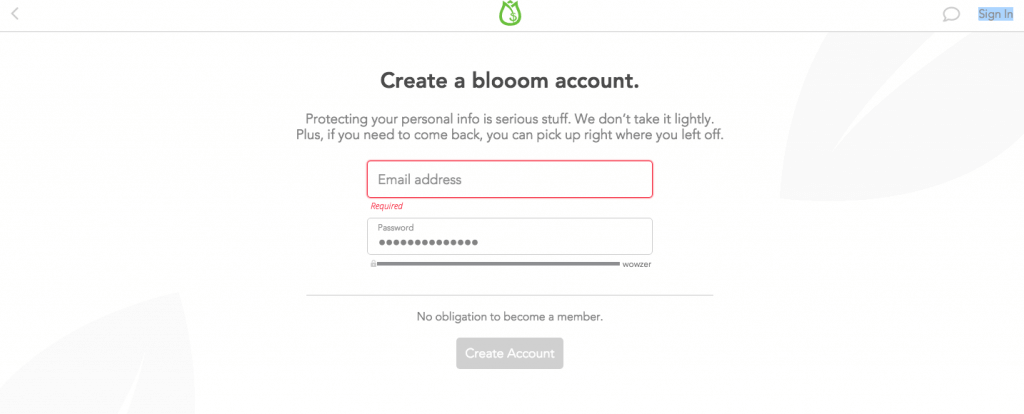 Confirm that you have a retirement account sponsored by your employer.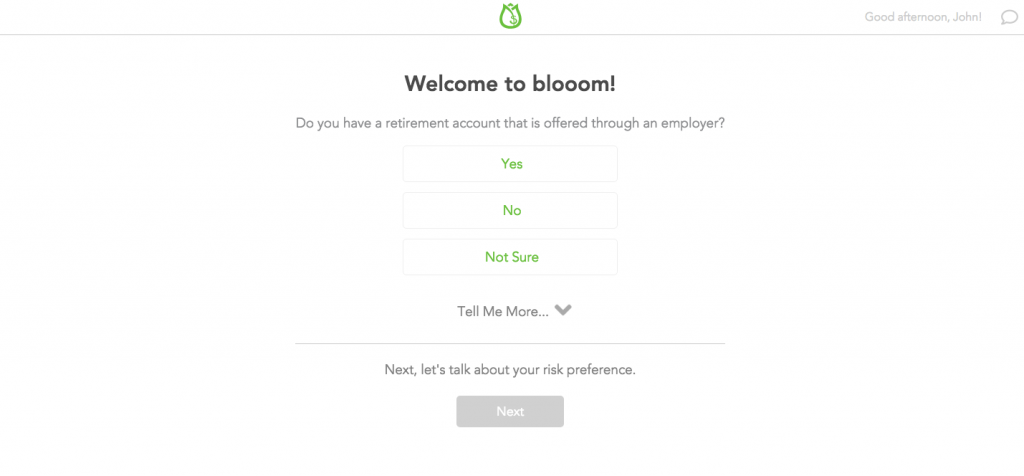 Share your knowledge level with stocks and bonds.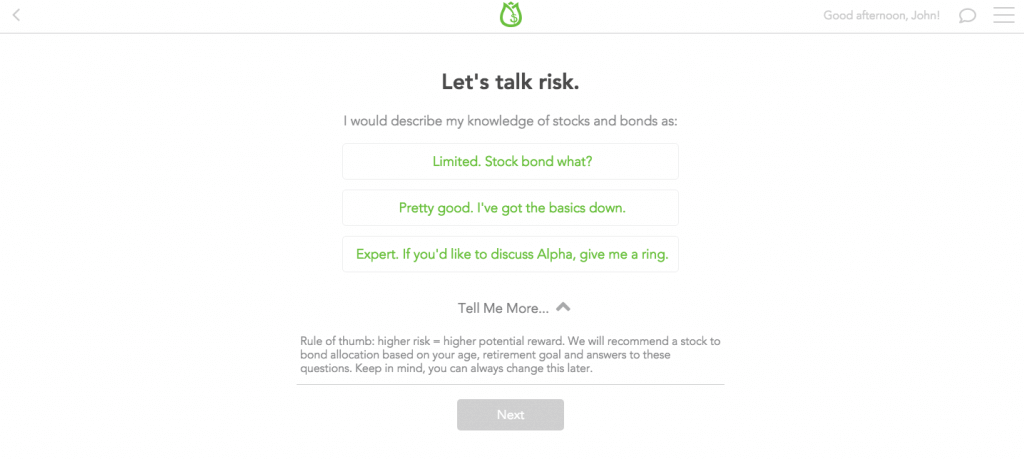 Answer whether you prefer job security or pay increases.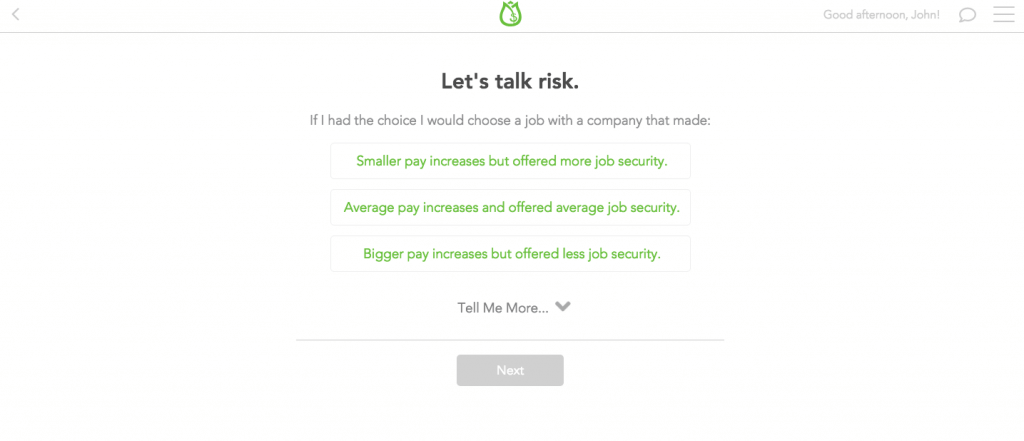 Select the answer that most aligns with your ideal vacation.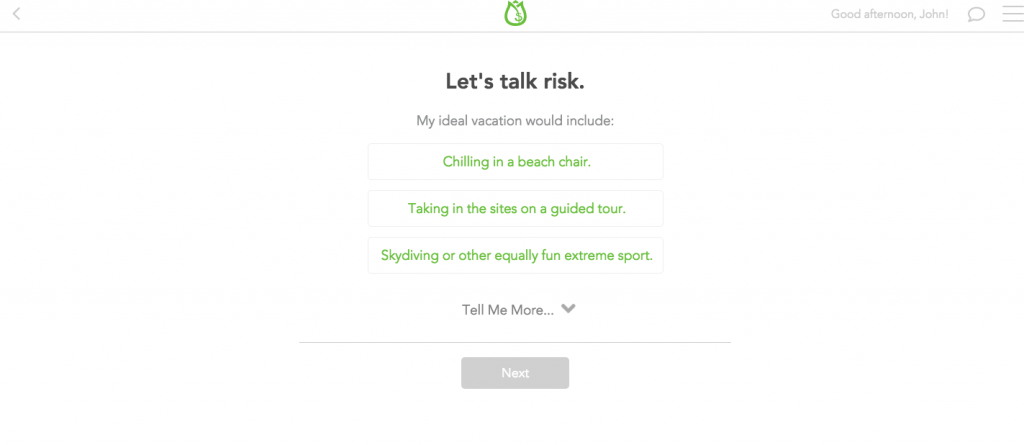 Choose the option that best fits with your contribution mindset.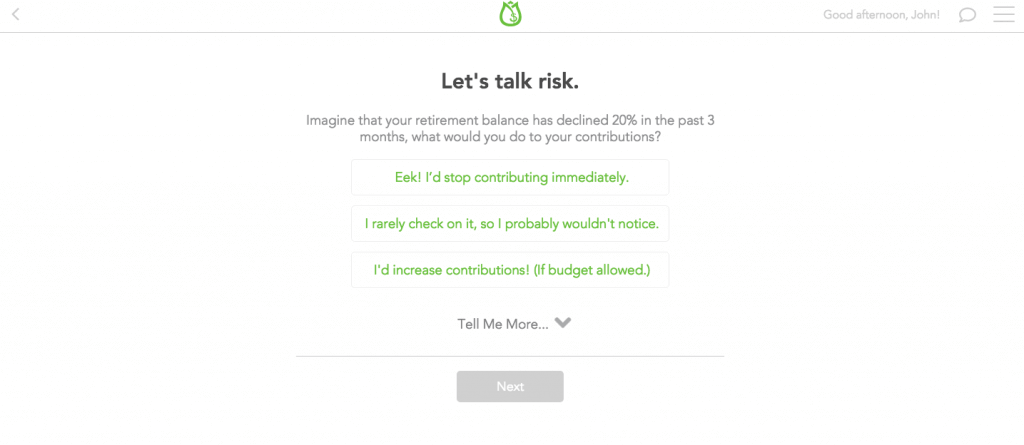 Select the answer that best matches how you would respond in the described scenario.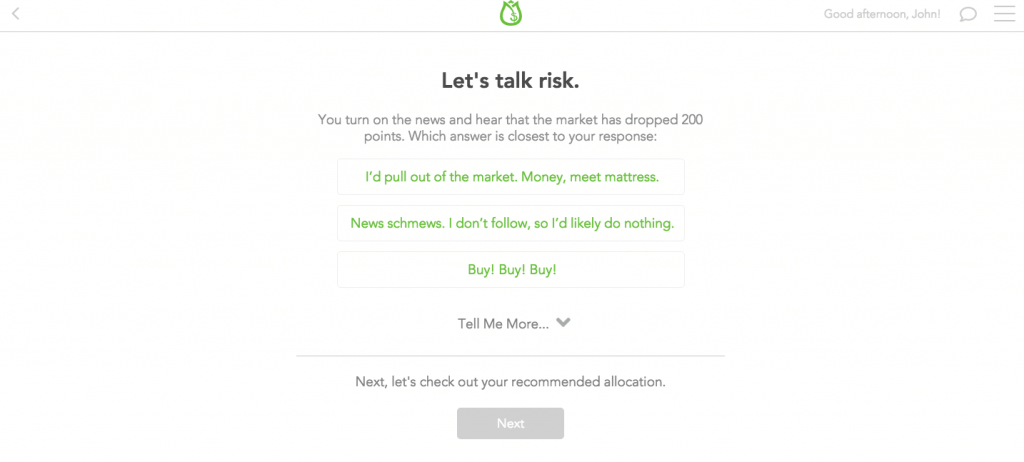 See the recommended stock/bond mix and adjust it to your liking.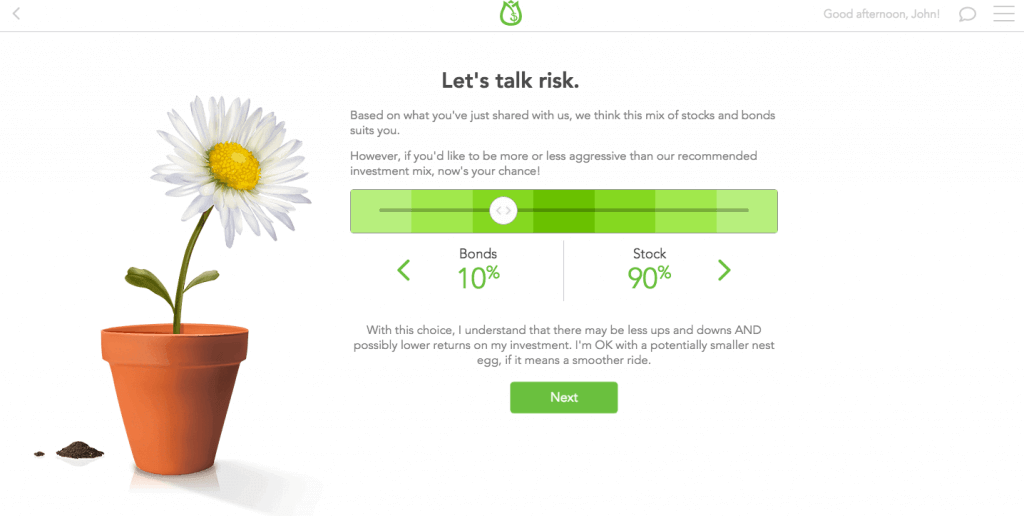 Select the institution that manages your retirement account.
Enter the credentials for your retirement account.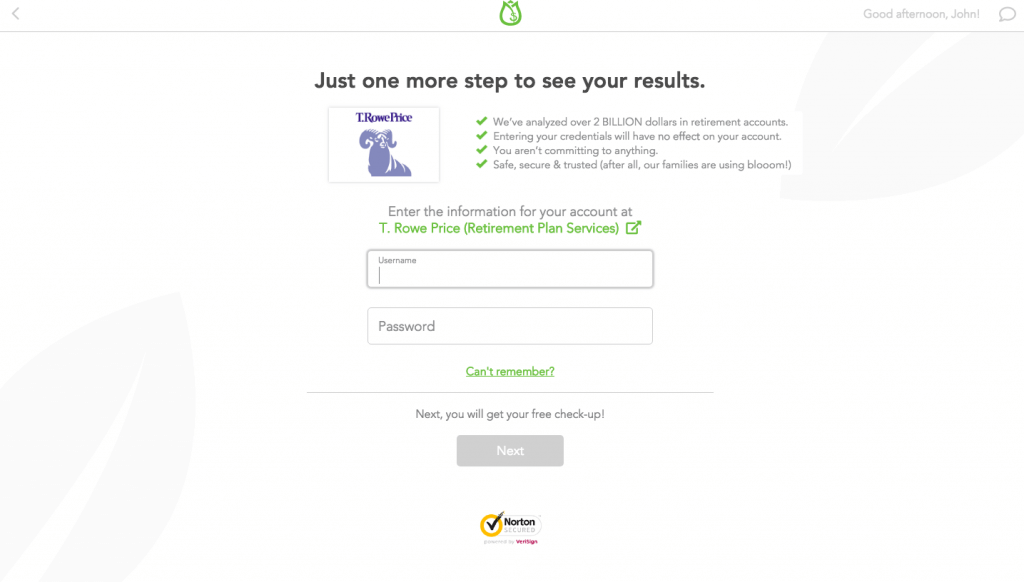 That's it! After this step, you will get your free analysis.
Blooom client service
Blooom has a client service team that offers support via online chat from 8 a.m. to 5 p.m. CT Monday through Friday.
Costello is so confident and proud of the client support team that he hopes customers end up messaging in so they can experience the level of support available.
If clients have problems after hours, they can send a message and will receive a reply the next business day when the team returns.
The Blooom difference
Blooom currently holds a unique place in the market. Costello commented that no other company is in direct competition with it, despite the fact that approximately 80 to 90 million Americans have these accounts.
Investment management companies go after the high dollar accounts because it's more profitable for them per client. Further, the only other company helping employees optimize their retirement accounts is one that contracts with companies.
Blooom does not restrict its services to employees of certain companies or high-dollar individuals. Any employed individual with an employer-sponsored retirement account can sign up.
While Blooom earns a smaller profit per customer than traditional investment management service providers, the market is huge and completely underserved.
Blooom review: Is Blooom right for you?
If you have a 401(k), 401(a), 403(b), 457, or TSP, there's nothing to lose by connecting it to Blooom to get a free analysis. You will see how much you're paying in fees and what the company recommends.
Further, the service is only $10 per month so if it can earn you at least $10 more than you did before, you come out ahead.
Most people don't have time to worry about their retirement accounts. They have families, soccer games, house repairs, car maintenance, and more to think about. It's nice that Blooom can make it easy to get more from these accounts with little investment or effort on the part of the client. If you don't see the value or experience the peace of mind, you can cancel with no strings attached.
Want to learn more or get a free Blooom analysis? Click here.
Jessica Walrack is a personal finance writer at SuperMoney, The Simple Dollar, Interest.com, Commonbond, Bankrate, NextAdvisor, Guardian, Personalloans.org and many others. She specializes in taking personal finance topics like loans, credit cards, and budgeting, and making them accessible and fun.