Article Summary:
CVV codes protect consumers who shop online or over the phone, where a physical credit card can't be presented to a retailer. There is really no legal way to bypass a CVV code, although you will not have to use it at a brick-and-mortar store when acquiring goods and services in person. When you swipe the physical credit or debit card, that CVV code is automatically transmitted through payment terminals via the magnetic strip or chip reader.
Depending on your age, you may not remember the days when you had to hand over your card to the person behind the counter for a credit card transaction, rather than swiping or inserting it into a machine. Sometimes they would even check your identification before they would accept payment, to ensure you were the legal credit card holder.
Then along came internet shopping, and online transactions became fraught with various scams, identity theft, and other types of fraud. To combat this, credit card companies started installing a card verification value (CVV) on every card, which helped to protect against online fraud. While hackers are a common problem in the world of online shopping, there are many things you can do to protect yourself against various forms of scams or identity theft.
What are CVV codes?
The CVV number stands for card verification value. You may see it referred to by other names, such as CID, CVC, or CSC, but they all mean the same thing.
No matter what you call them, these card verification codes add another layer of security to your debit or credit card transactions anytime you're shopping with your "card not present" at a retailer, such as online or by phone.
Why are CVV codes necessary?
These days nearly every credit or debit card comes with a CVV code, even prepaid or department store cards, which credit card companies started adding in the late 1990s. The move was prompted by the expansion of online retailers as well as the growing concerns of internet hackers and scammers.
While not every merchant will ask for the CVV code at the moment of online transactions, most responsible retailers will require that number before completing the sale. The reason for this is to lessen the possibility of the use of stolen credit card data. Because that CVV code is only located on the credit card itself, it provides a stronger likelihood that the person using it is the legal cardholder.
Additionally, the CVV number is not stored by retailers when you make online purchases. That means if there's a data breach, the hackers can't get the CVV code along with your other credit card data and personal information, such as credit card number, expiration date, and billing and mailing addresses.
Other names for CVV codes
CID — Card identification number
CVC — Card verification code
CSC — Card security code
CVD — Card verification data
CVV2 — Card verification value 2
CVC2 — Card verification code 2
How to locate your CVV number
If you are using Mastercard, Discover, or Visa-branded cards, you will find the three-digit CVV number on the back of the card next to the signature line.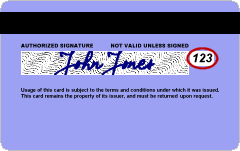 If you're carrying an American Express, your card identification number will be a four-digit number and located on the front of the card above the credit card number. Retail store cards also typically have a three-digit CVV code on the back of the card.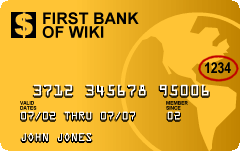 Some cards may not have a CVV code listed on the card, such as the Apple card. In that case the CVV code will be stored in your Apple Wallet on your iPhone. If you have another card that doesn't have a CVV number listed on the physical card, you can contact the card issuer and they will provide you with the code.
CVV codes vs. PIN codes
It's important not to confuse your credit card's CVV number with your personal identification number (PIN). Any credit or debit cards will automatically come with a card verification value number printed somewhere on the physical card.
Your PIN will be a four-digit number that is either generated by the credit card company and mailed to your home address (separate from the card itself for security purposes), or you will choose that number yourself. In the case of a debit card, you'll need that PIN to make in-store purchases. Both credit and debit cards will also require the PIN to get a cash advance or withdraw money from an ATM.
Scams with credit and debit cards
Unfortunately, hackers are a prevalent part of the online world, many of whom may try to steal your identity or use your credit or debit card for fraudulent purchases. One of the most important things to remember is that no credit card company or debit card provider will ever contact you to ask for your credit card details.
When in doubt, contact customer service through the number located on your physical credit card, your statement, or the credit or debit card provider website.
The following are a couple of other ways in which dishonest individuals or groups will try to obtain your personal financial information.
Phishing scams
Phishing is when scammers try to trick you into giving them your personal data, usually by sending a text or email. They do this to get your passwords, account numbers, social security numbers, or CVV code, for instance.
Phishing scammers will often try to pose as legitimate companies that you already do business with. For example, you might get an email from "Amazon" saying they need to verify your account information, or a text from "Visa" saying your account has been breached. Usually, these attempts look pretty sophisticated and will, on the surface, appear legit. They often use real company logos and other details you would find from a genuine retailer.
One of the biggest tipoffs to this type of fraud is that the communication will ask you to click on a link to update your information. Never do this! If you have any concerns at all, contact the company directly and ask if there have been any problems with your account. More than likely, they will say no and applaud your decision to call them before making any hasty moves.
Keystroke logging
Keystroke logging, also known as keylogging or keyboard capturing, is a way of surreptitiously recording your keystrokes when you're on a website.
Hackers can see what numbers or letters you typed in and then later use that to find out all of your account details including your CVV code. This can happen through websites as well as through malware, so be sure to have up-to-date virus software on your computer.
How to bypass a CVV code
If you think there is some way to get around, or bypass, CCV codes, you are probably a victim of a scam or a criminal yourself. If a website actually provides tips on bypassing CVV codes, be very wary. They are likely trying to get you to give them at least some of your personal information, such as your credit card account number and expiration date.
Essentially, you can't bypass CVV codes. If you're making an online purchase and they ask for that three-digit CVV code (or in the case of American Express, a four-digit CVV number), you can't just skip that field. If the box is there to fill out, it's required and your purchases online will be denied without that number.
What if the site doesn't ask for the CVV code?
If for some reason the CVV code is not a required field when you're making an online transaction, you might want to ask yourself if you feel comfortable making a purchase with this particular retailer.
While the merchant itself could be legitimate, the very act of not requiring a CVV code is making it that much easier for numerous illegal online purchases. Plus, if the merchant account service for that website is looser about their security, there's a larger chance your credit card number and expiration date will be stolen. This could be enough for a thief to make some purchases online or by phone.
Keep in mind that it could also be a hacked or fraudulent website. Before revealing your credit card details, including your CVV code, try to ascertain if the website is secure before you complete online transactions.
How can you tell a website is secure?
There are a few steps you can take to protect yourself against fraudulent websites. For example, check to see that the beginning of the web address starts with "https." This code, unlike its cousin "http," indicates your data is being spent encrypted rather than in plain text. Https stands for hypertext transfer protocol secure and has the strongest privacy and integrity protection currently available for public web connections, according to the federal government.
You'll also want to look for the padlock icon just to the left of the URL. The padlock symbol means that the website is secured with a digital certificate, so information can't be intercepted as it's sent between your browser and the website. Unfortunately, this is still no guarantee; scammers get more sophisticated by the day and sometimes buy the digital certificate to give online shoppers a false sense of security.
How to protect your credit card and CVV code
Other than making sure you are entering a secure website, there are several things you can do to protect your credit or debit card and CVV code.
Be very careful about where and how you reveal your credit card data.
Make sure you're up-to-date on your anti-virus software.
Do not shop online while in public or anywhere using unsecured WiFi.
Consider adding a firewall to your home computer for maximum security.
Report lost or stolen cards immediately to your card issuer.
Use multi-factor authentication to better secure your accounts.
Pro Tip
Credit card companies will never contact you to ask for any of your personal data. If you get a phone call claiming to be your credit card issuer, avoid providing any personal information and call your issuer using the contact information on the back of your credit card.
FAQs
Can payment be done without a CVV?
You will not have to provide your CVV number if you are purchasing items at a physical store. That's because there is code embedded in the chip of your credit or debit card that is transmitted through the payment terminals the merchant provides. This is the verification process when you have the physical card in hand.
What are dynamic CVV codes?
Dynamic CVV is a newer technology where the system continually generates CVV codes each time you make a purchase, or continually change the number at specified times, such as every 60 minutes.
The number can either be displayed on a tiny screen at the back of your credit card or you may receive the new CVV code via email or text when making an online transaction. The process is very much like many secure websites that send you a special code to enter as part of a multi-step verification process.
Is 000 a valid CVV code?
A CVV number of 000 is not a valid code, and there is no universal CVV code. In fact, no two cards have the same CVV code. If your credit or debit card is lost or stolen, your new card will not only have an entirely new credit card number, but it will also have a new CVV code.
That is also the case when your existing card expires and you receive a new one in the mail. Even though your account number is the same for your visa cards, for example, the CVV code will always be a new one.
Can a CVV code be cracked?
Theoretically, someone else could guess your secure CVV code, but it's the proverbial needle in a haystack. There is nothing about your credit card number or other information that can help you figure it out.
Additionally, the CVV generator algorithm or other system to generate CVV codes that banks use is unknown for obvious security reasons. This is good news; it means it's harder for scammers to crack your code as well.
What are virtual credit cards?
Some credit card networks will issue virtual credit cards to be used online just like your normal credit or debit card. You will receive a temporary or one-time-use only account number that is connected directly to your actual account, making it harder for hackers to steal your data.
There are some problems with virtual credit cards, however, in that it can sometimes be harder to return items after making online purchases. For example, sometimes merchants will only credit the account number you used to pay online. If that number has since expired, or you've canceled it, you may only be able to receive store credit as opposed to a proper refund.
Key takeaways
CVV numbers were created to add another level of protection from internet scammers for transactions online.
Almost all credit or debit cards now come with card verification values (CVVs).
Most online merchants require you to enter your CVV code to complete an online transaction.
There is a law prohibiting the storage of CVV numbers on online merchants' servers, which helps protect you from possible data breaches.
It's virtually impossible to bypass a CVV code when online shopping.
If a website tries to tell you how to bypass a CVV code, they are probably hoping to steal your credit card information.