Article Summary:
Many mortgage lenders focus on credit scores when you're applying for a loan. If you don't have credit, you may worry you won't be able to buy a house. Although it takes work, it is possible to buy a home or get a mortgage loan with no credit. There are many resources and options in place that allow those with no credit or bad credit to buy a home. Some of these are government-backed loans, co-signers, manual underwriters, and more.
When getting a mortgage loan or buying a house, many lenders ask for your credit score, credit report, and credit history. Looking at all of this may lead one to wonder if you can buy a house with no credit. The good news is you can! It's possible to buy a house with no credit, but it does take some effort. To get a home with no credit, you may have to show proof of payment, apply for a government-backed loan, and more.
Keep reading to learn how you can finance a house even if you have no credit history. This article will also teach you a few ways to build your credit score from scratch.
What makes up my credit?
When we talk about your "credit," we're bundling a few terms together. Your overall credit includes your credit history, credit report, and your credit score.
Credit history
Your credit history is a record that shows how well you repaid your debts. These debts could include mortgage loans, student loans, cars, or credit card debt. Credit history is in your credit report and also determines your credit score.
Credit report
A credit report is a document that compiles information around your credit, such as:
The number of credit accounts open
The types of credit accounts open
How long each credit account has been open
The number of credit inquires
The amounts owed
The amount of available credit
Whether payments are on time
Your credit report discusses your credit history in more detail and provides possible lenders with a clearer picture of your financial situation and history.
Credit score
A credit score is a number that measures how likely you are to pay back a loan on time. Credit scores show lending services your payment history. Many lenders use this to determine if they should give you a loan. A credit score ranges from 300 to 850. A high credit score shows lenders you are reliable and able to make timely payments, and therefore there's less risk in giving you a loan.
The three main credit bureaus are Experian, Transunion, and Equifax.
The following impact your credit score:
Payment history
Recently opened accounts
How many accounts are currently in use
Length of your credit history
You will have a good credit score if you make on-time payments and don't overextend. You can still get a loan with a bad credit score, but you may end up paying a higher interest rate.
What is the minimum credit score needed to buy a house?
The minimum credit score needed to secure a traditional loan is around 620. If you have a score lower than 620 or no credit at all, buying a house can be difficult. Thankfully, there are a few strategies you can use to still buy a house and get a mortgage with no credit.
How can you get a mortgage without a credit score?
Showing proof of payments
Some mortgage lenders accept reoccurring proof of payments instead of a credit score. For instance, you can provide on-time payment slips from the previous 12 months made toward your government-backed loan. These payments must be for reoccurring bills, such as utilities, rent, car payments, or insurance.
Making a big down payment
If you have poor or no credit, you'll likely need to make a larger down payment on your dream home. Not only does this demonstrate your reliable income, but you'll also stand out to mortgage lenders. Because of this, consider setting aside some savings specifically for a down payment.
How to buy a house with no credit
You've found the house of your dreams, but your credit score is down the drain. But don't fret! You still have several options available to claim that dream house. In order to appear less risky to mortgage lenders, here's what we recommend:
Step 1: Find a co-signer
Co-signers agree to take financial responsibility if the borrower cannot make payments on their loan. A co-signer can be a spouse, parent, or another family member. Having a co-signer can help you get a mortgage even with bad credit, and it makes you a more appealing candidate for a loan.
Step 2: Use a manual underwriter
Mortgage lenders use underwriters to determine if the borrower will repay their loan. Underwriters also determine how much of a credit risk borrowers are. Many lenders use an automated underwriter, which is a computer program that analyzes creditworthiness. A manual underwriter is a real person as opposed to an automated system. Manual underwriters are more likely to approve an application for someone who has no credit.
Step 3: Research lenders
Finding the right lender can make a big difference. Make sure you research mortgage lenders before choosing one. Don't just go with the first one you find. If you want a manual underwriter, make sure the company you're looking at has one. Small lenders are generally more likely than large companies to use manual underwriters. Smaller lenders also usually have more lenient standards than bigger companies. So, you might have more luck getting a loan with no or bad credit at a smaller company than you would at a larger bank.
Credit requirements for government-backed loans
You can sometimes get a mortgage with low or no credit through government-backed loans, but it is difficult. The four main types of government-backed loans are conforming conventional loans, FHA loans, VA loans, and USDA loans.
Conforming Conventional Loans
Earning a conventional loan with low credit is challenging, but it is possible. Some government-sponsored companies can help you get a conventional loan with no credit score. Two of these companies are Fannie Mae and Freddie Mac. However, an individual with no credit must submit his or her case to the Desktop Underwriter (the computer program we mentioned earlier) before receiving a loan from either company. Even then, you are not guaranteed to receive a loan.
To receive a conventional loan, you usually have to make on-time payments for 12 months on two to three reoccurring payments. Some recurring payments include housing, insurance, or utilities. You also need a high debt-to-income ratio, proof of income, and a down payment.
FHA Loan
The Federal Housing Administration insures FHA loans, which are often a helpful option for first-time homebuyers. FHA loans have lower qualifying requirements compared to other loans. The minimum credit score requirement for FHA loans is usually around 500, and lenders are known to accept a low down payment.
Requirements for FHA loans include:
The home must be your primary residence and cannot be used on a second home or investment property
An FHA-approved appraiser must appraise the home
An inspection must be conducted to ensure it meets the proper standards
VA Loans
VA loans are backed by the U.S. Department of Veteran Affairs. Only active and veteran military members or surviving spouses qualify for a VA loan. These loans usually have no down payment or minimum credit score requirements.
USDA Loans
The U.S. Department of Agriculture backs USDA loans, which are designed to help those with a low-income buy property in rural areas. To qualify for a USDA loan, you usually have to show proof of making 12 months of on-time payments.
While no minimum credit score is required, the USDA has strict qualifications for applicants including a maximum monthly housing payment and underwriter requirements. Read more about the USDA's qualifications here.
How do I build credit?
Make your payments on time
One of the best and easiest ways to build your credit score is by making your payments on time. On-time payments can greatly boost your score and show lenders that you are reliable. Your application will be much more appealing to lenders if your payment history shows you meet your deadlines.
Get a credit card
If you have no credit and are just starting to build it, using a credit card is a great place to start. You'll likely have to pay a deposit to get a credit card, but there are some options out there that don't require a deposit. As mentioned before, make sure to pay your credit card bills on time. This will help boost your credit score.
Become an authorized user of a credit card
An authorized user of a credit card is not the primary cardholder. They don't even have to use the card at all. If you're an authorized user, the primary cardholder's payment history will be added to your credit history and affects your score. This can either be valuable or vulnerable depending on the primary user's payment history. Be sure the person you're an authorizer of has a history of making payments on time.
FAQs
How much of a down payment do I need for a house with no credit?
This typically depends on the loan you receive, but oftentimes you'll need to pay at least 10% if you have no credit. If you have no credit or a bad credit score, raising the down payment is a common practice. Make sure to save up some money for a down payment if you don't have any credit and want a home.
Will I get a mortgage without a permanent job?
It takes more work to get a mortgage without a job, but it's not impossible. Most lenders like to see reliable work history. The main thing you have to prove is that you have enough income to make your payments on time. If you don't have a permanent job, look into getting a VA loan, USDA loan, or FHA loan.
How long do I need credit before I can buy a house?
You don't need credit for a certain amount of time to buy a home or apply for a mortgage loan. However, it's easier to achieve these goals with good credit, so it's worth waiting to build your credit score before buying a home.
Key Takeaways
You can buy a house with no credit, but it takes some extra work.
A conventional loan, FHA loan, VA loan, or USDA loan are the best options if you have no credit.
If you have no credit, look into getting a manual underwriter or co-signer for the mortgage.
You often must show proof of on-time payments even if you have no credit.
What you can do to build credit fast!
Investing in a credit card is a great way to build credit. Check out the best credit cards to build credit by clicking here.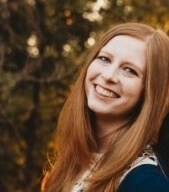 Camilla has a background in journalism and business communications. She specializes in writing complex information in understandable ways. She has written on a variety of topics including money, science, personal finance, politics, and more. Her work has been published in the HuffPost, KSL.com, Deseret News, and more.