Car title loans are a popular source of credit for people who need cash fast. More than 2 million consumers – about 1 percent of American adults – use car title loans every year. (Source) If you need money pronto, you are probably wondering whether car title loans are a good option for you.
Auto title loans are expensive. APR rates are typically around 300%. Even more concerning, you can lose your car if you don't pay the loan on time.
However, auto title loans don't require you to have a bank account, and loan amounts are larger than those offered by payday lenders. There are no credit checks, and you can get your money in a matter of minutes. This makes them an attractive source of money for borrowers with bad credit who don't have bank accounts or don't qualify for traditional loans.
Read this guide carefully to learn what to expect from a car title loan. If you decide a car title is what you want, we recommend the following lenders. They are established businesses with transparent rates and terms.
Do auto title loans seem too risky for you? Check out these alternatives.
What are car title loans?
A car title loan is a loan that uses your vehicle as security or leverage. If you don't repay the loan on time, the lender can repossess the vehicle and sell it to pay for your debt. Sadly, this is not rare.
According to a 2015 Pew Trusts report, 11 percent of borrowers have their car repossessed (Source). It's even worse if you believe the data from the Consumer Finance Protection Bureau, which puts the repossession rate at 20 percent of all auto title loans. (Source).
How do car title loans work?
Most auto title loans have a single payment that is due 30 days after the loan is signed, although some car title lenders do give borrowers the option to repay the loan in installments.
Car title loans are like payday loans, but with larger loan amounts. The average loan amount for a car title loan is $1,000, while payday loans are typically for amounts under $500. (Source)
How do you apply for a car title loan?
The first step is to find whether you live in a state where car title lenders operate. Car title loans are only available in 25 states. The table below shows which states allow title loans and their interest rate caps.

Compare the rates and fees of the lenders near you. SuperMoney's search engine makes it easy to filter through lenders based on the features that matter the most to you.

Drive to the auto title lender's store with the car you plan to use as security for the loan. Most lenders require you to own the car free and clear to qualify for a loan.

The lender will inspect the car and offer you a loan amount that is a fraction of the vehicle's value.

If you agree to the terms and sign the loan agreement, you can have your cash within 15 minutes.

In most states, the lender will keep the title of the car as security until you repay the loan.
Which states allow auto title loans?
Car title loans are specifically prohibited in 25 states and Washington D.C. Some states allow auto title loans to operate, but they restrict the rates lenders can charge. If restrictions are too tight in your state, you may struggle to find car title lenders even if they are legal. Other states, such as California, Kansas, South Carolina, and Louisiana, will technically ban auto title loans, but allow lenders to use legal loopholes to operate in the state.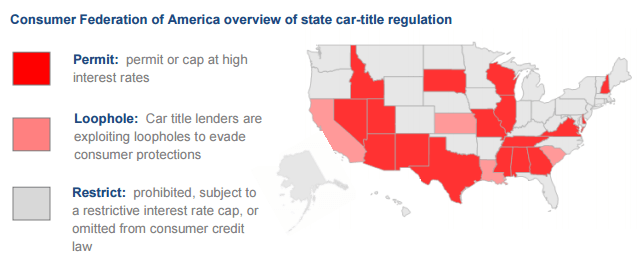 Source: Consumer Federation of America)
States that permit car title lending and their APR caps
Arizona (204% APR) *
New Hampshire (300% APR; lien fee)
Arizona (204% APR) *
New Hampshire (300% APR; lien fee)
Delaware (No Cap)
New Mexico (No Cap)
Florida (30% APR)
Oregon (No Cap)
Georgia (300% APR) **
Rhode Island (No Cap)
Idaho (No Cap)
South Dakota (No Cap)
Illinois (No Cap)
Tennessee (Cost limit of 1/5 of loan amount plus 24% APR)
Kentucky (No Cap)
Texas (120% APR)
Mississippi (300% APR)
Utah (No Cap)
Missouri (No Cap)
Virginia (264% APR on first $700; 216% on next $700; 180% on remaining balance; lien fee)
Minnesota (No Cap)
Wisconsin (No Cap)
Montana (No Cap)
California (loans must be above $2,500 to avoid small-loan limits)
South Carolina ***
Louisiana (loans must be over $350 and have terms longer than two months to avoid restrictions)
Kansas ****
* (204% APR on first $500; 180% on the next $2,000; 156% on the next $2,500; 120% on the remaining balance)
** (300% APR for the first three months; 150% after that; lien fee)
*** (loans must be above $600 to avoid small-loan limits)
**** (auto title loans sold as open-ended credit lines)
What are the rates and terms of car title loans?
Lenders usually express the cost of auto title loans as a dollar amount for every $100 borrowed. The APR equivalent ranges from 291% to 317%. However, 80 percent of car title loans are renewed the day they are due. These renewals come with additional fees in addition to the loans' APR.
When should you consider a car title loan?
Car title loans are a valid option for people with bad credit or people who need cash fast. Borrowers don't need a bank account, funding takes minutes not hours, and there are no credit checks. Remember you could lose your vehicle if you don't repay it in time. Only get an auto title loan if you're confident you can cover the payments before the due date.
FAQ on Car Title Loan
How does an auto title loan work?
Borrowers obtain car title loans when they give the title of their vehicle, such as their car, truck, or motorcycle, to the lender as collateral. The borrower generally agrees to pay a fee. Lenders usually give borrowers 30 days to repay the loan.
How long do you have to pay back a title loan?
The repayment period for a car title loan can be customized to fit your unique needs. The loan can be paid back anytime early without penalty, but the typical loan is written from 1 year to 3 years depending on the circumstances.
What is the average interest rate on a title loan?
Title loans cost a lot — typically coming with interest at an annual percentage rate, or APR, of around 300%. That breaks down to an average 25% in interest charges per month.
What are the benefits of car title loans?
The biggest benefit to getting a car title loan is that it enables the borrower to get the money they need extremely quickly. Car title loans are usually processed within a day or two. Another added benefit is that while you have the loan out, you get to keep the car and still drive it.
What happens if you don't pay back a title loan?
If you can't pay off the loan in the typical 30‑day period, the lender may offer to "roll over" the loan into a new loan. But the roll over process always adds fees and interest to the amount you originally borrowed. If you don't pay what you owe, the lender may decide to repossess your vehicle.
If a car title loan is not a good fit for you, consider personal loans for people with bad credit or payday loans.
Andrew is the managing editor for SuperMoney and a certified personal finance counselor. He loves to geek out on financial data and translate it into actionable insights everyone can understand. His work is often cited by major publications and institutions, such as Forbes, U.S. News, Fox Business, SFGate, Realtor, Deloitte, and Business Insider.