Buying a new mobile phone can be stressful and confusing. There are so many choices out there and so many companies who want your business, it can be difficult to find what you really need at the best price.
Before we dive in, ask yourself a few questions. What kind of phone do you want (smartphone, basic)? Do you need certain features or coverage in a particular area? Do you do more texting or gaming on your phone than talking? How much are you willing to spend? There are so many features available on cell phones these days and while many of them can prove to be very useful to you, others can just end up driving the cost of the phone up.
Once you have narrowed down the type of phone you want and your budget, it's time to start your search. There are several ways to find the best deals out there, and if you are willing to do a little homework, you can find a great deal.
Search Online For Cell Phone Deals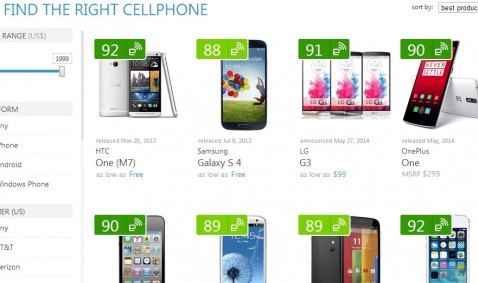 Start your search for the best cell phone deal online. You can look at sites that specialize in electronics, offer consumer reviews, or those "deal of the day" type sites. Most carriers like AT&T and Verizon have ongoing deals that are only available online, with cell phone options not available in-store.
Peruse the electronics section of Best Buy, Target, or Walmart and you'll find ridiculously low prices on contract phones. Target, in particular, is known for slashing prices for new customers who sign up in-store.
Know how you can track flight prices with sites like AirfaireWatchdog? There are also many sites that you can sign up to be informed of when a deal is available on the type of mobile phone you want. Engadget, for example, has a Price Alerts feature that lets you track price drops for many popular types of electronics, and they will email you when there is significant savings on whatever it is you are looking for.
Lease a Phone or Sign a 2-Year Service Contract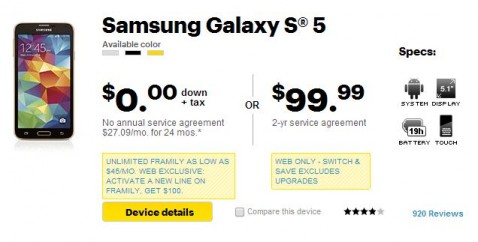 If you are looking for a phone, you're going to need the service to use it, right? If you are not opposed to signing a contract (usually 2 years), then you may be able to get your dream phone for a deep discount or free. Most service providers will offer a free phone in exchange for your promise to stick with them for the next two years, and if it is a service provider that is good in your area, you may just end up using them anyway.
Don't want to sign a contract? Many carriers will try to hook you into one of their "Jump!" or "Next" programs, which lets you lease a cell phone at a price-per-month. We detailed this super popular, but mega expensive, deal in 4 Ridiculous Things Cell Phone Companies Are Lying To You About. It actually ends up costing more to lease a phone–almost double–only to have to return the phone after your lease is up.
The benefit of leasing a phone is that you don't have a contract, you can upgrade your phone often, and $20/month seems better than $100 right now. If neither of these is an option financially, you still have other options.
"Free Smartphone or Tablet With Purchase"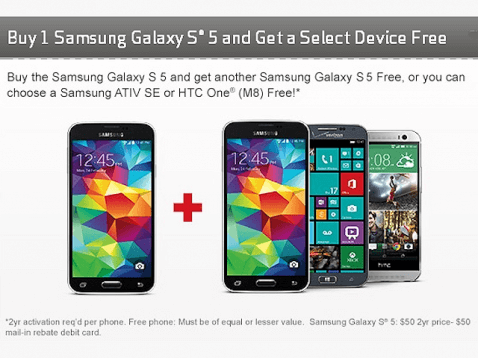 Always be on the lookout for deals – even from the most unexpected places. Sometimes when you sign up for a service with a company (like cable television) they offer you special limited time deals, like a free smartphone or tablet. Other places like department stores, may offer a free smartphone for the first 20 people at their grand opening of a new store location.
Sometimes, you can hop on a buy one, get one free deal when a hot new model is released. When the recent Samsung Galaxy S5 was released, Verizon pounced and offered new customers a second smartphone free of charge. Of course, that free phone required a service contract and activation fee, but it was still over $250 in savings.
Buy a Contract-Free Phone Online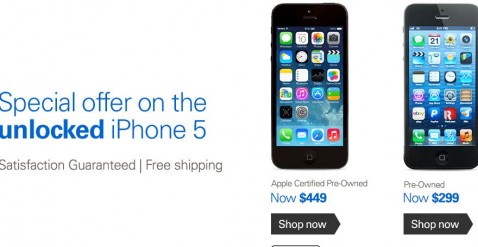 Yes, this may sound backward. How is it cheaper to buy a smartphone where half the cost isn't subsidized by a mobile carrier? This is a common, and legitimate assumption. After all, Apple's site lists an unlocked iPhone 5s at about $800, but the same phone attached to Sprint drops to an easier $300.
But look on eBay right now and you'll find a used iPhone 5 at the same discounted price, unlocked and not on a contract.
If you don't mind waiting until the hype is over, or sticking with an older model phone, you can find significant savings on Overstock and Craigslist. Brand new, locked and unlocked smartphones can often be found at nice discounts and contract-free. And if having a brand new smartphone isn't important, or you're happy with an older model phone, you'll find a ton of options for every price range.
With a contract-free phone, you can take advantage of advertised service prices, like AT&T's Mobile Share Data Plan, at those actual prices. And if you buy a reliable phone (check the reviews after several months or even a year), you could keep using it for years and years.
Wait Until a Better Deal Comes Along
It's tempting to want to get the newest, hottest phone right now. It's also tempting to just get the entire process over with by picking whatever phone with whatever contract as soon as you can. As we've shown, many of the best deals come along months after a new phone comes out. Similar to extreme couponing, these types of deals aren't always available, and you have to keep your eyes peeled for the best prices.
While shopping for a new mobile phone can be a daunting task, if you are patient and do your homework you can get really great deals on the latest and greatest phones available. Be sure to read the reviews on the kind of phone you are looking for to make sure it is really what you want. Also, knowing which service provider you will be using can play a part in choosing which phone is best for you.
Need cash in a hurry but don't know which personal loan company you can trust? Supermoney is here to help you find the best options for all your loan needs.

Jennifer Leonhardi was born and raised on Catalina Island, giving her a unique small town perspective and focus on community. With a degree in Sociology, she now primarily enjoys writing, largely based on her own experiences, on topics such as financial assistance programs, issues concerning the home and family, and socioeconomic trends.