Summary:
The American Express Centurion Lounge LAX initially opened its doors in early 2020 and then promptly closed them due to the Covid-19 pandemic. It finally reopened in the summer of 2022 after some building repairs were needed to prevent jet fumes from seeping into the lounge. It now provides a haven for domestic and international travelers alike to relax, enjoy a spa treatment, have a drink or bite to eat, or get some work done while they wait to begin their journey or continue on to their final destination.
With delays, baggage issues, and crowds, traveling can sometimes be a grueling experience. But having a comfortable, first-class private lounge to hang out in while you wait for your flight to depart, or experience a longer-than-usual layover, can make all the difference in your travel experience.
Read on to learn more about the American Express Centurion Lounge at Los Angeles International Airport (LAX), who has access to the lounge (including guests), and the amenities offered for world travelers.
Where is the AMEX Centurion Lounge LAX located?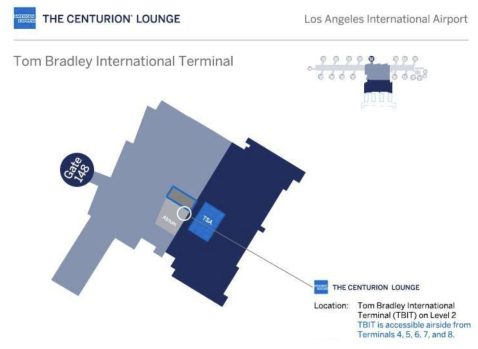 The Centurion Lounge LAX is located in the Tom Bradley International Terminal (TBIT). After clearing security, you'll see the
American Express Centurion Lounge blue branding on your left just before the bridge to the Great Hall. From there, take the AMEX elevator from level four to level two for entry to the LAX Centurion Lounge.
Passengers flying from other terminals can access the AMEX Centurion Lounge LAX by connector walkways from terminals four through eight and by airside bus from terminals two and three. For those taking the airside bus, please note that you'll want to be dropped off at gate 146 of the Tom Bradley International Terminal.
There is no airside access to TBIT from terminal one, so you'll need to leave and then re-clear security to access the AMEX Centurion Lounge LAX.
The hours of operation for the American Express Centurion Lounge LAX are from 6:00 a.m. to 7:30 p.m., although the spa doesn't open until 11:00 a.m.
Who is eligible for the American Express Centurion Lounge LAX?
Though the Centurion Lounge LAX is a private lounge, you can access the space if you own certain credit cards.
American Express Platinum Card members
American Express Business Platinum Card members
American Express Corporate Platinum Card members
Delta SkyMiles Reserve Card members
Delta SkyMiles Reserve Business Card members
Centurion members
It should be noted that Delta SkyMiles Reserve Card members only have complimentary access for American Express Centurion Lounges located in the United States, Hong Kong, and London, and only if they are flying Delta-marketed or Delta-operated flights.
All visitors to the Centurion Lounge LAX must present their eligible credit card, same-day boarding pass, and government-issued ID for admittance. For departing flights, travelers are only allowed into the Centurion Lounge three hours prior to boarding, but travelers waiting for connecting flights may enter at any time during their layover. If LAX is your arrival destination, you may not access the Centurion Lounge at all.
What is the guest policy at AMEX Centurion Lounge?
All AMEX Platinum Card members may bring two guests (or spouse/partner and children under 18) with them at no charge. However, these policies could vary internationally by country.
Centurion cardholders may bring two guests (or spouse/partner and children under 18) with them at no charge, but these policies could vary internationally by country.
Delta SkyMiles members may bring two guests at $50 (or comparable currency) per person, per visit who are also flying Delta-marketed or Delta-operated flights.
IMPORTANT! As of February 2023, U.S. AMEX Platinum and Business Platinum Card members and their additional card members must spend a combined yearly total of $75,000 or more on eligible purchases on their Platinum account to receive complimentary access for two guests.
AMEX Centurion Lounge LAX amenities
Centurion Lounge LAX features multiple workstations and lounging/seating areas, including both a sunrise room and a moonrise room. These tranquil rooms are meant to help travelers reduce jet lag as they travel through time zones and acclimate to their destination. They're also very relaxing spaces with many lounge-style chairs.
Both rooms are windowless and feature mood lighting to simulate either day or night. If you're in need of a quick nap before continuing on your journey, the moonrise room is the place to be. On the other hand, if a morning meeting is forthcoming, the sunrise room can help to wake you up.
Other amenities offered at the American Express Centurion Lounge LAX include:
Member services desk available to assist with current travel itinerary, book future travel, address any card inquiries, make restaurant reservations, and handle other requests
High-speed Wi-Fi throughout the lounge
Large, flat-screen televisions
Print, fax, and copy machines
Personal, semi-private workspaces
Family room
Complimentary spa services
Showers
Locally-inspired cuisine
Family room
A variety of different rooms and seating areas
Self-service drink stations throughout
Two bars
Magazines and newspapers
Spa services and showers
Who wouldn't like a little massage or some pampering after a grueling overseas flight? Lucky for you the American Express Centurion Lounge LAX offers a variety of complimentary treatments as part of their amenities package.
Remember that the complimentary treatments are offered on a first-come, first-served basis and don't open until 11:00 a.m. With this in mind, check availability early on in your visit to fit one in before your flight. Options include:
Hand massages/cleansing
Nail buffing and polishing
Deep-tissue massages
Flow-chair massages
Fusion-chair massages
There are also two shower facilities at AMEX Centurion Lounge LAX for guest use. Towels and soaps are provided, but shower rooms have time limitations and they could be busy. Book your shower room early with a Centurion Lounge staff member located at the membership desk near the entrance of the lounge.
Dining options
All American Express Centurion lounges feature gourmet food designed by local chefs. At LAX Centurion Lounge, enjoy cuisine designed by chef Nancy Silverton, a lifelong Angeleno whose restaurants include Pizzeria Mozza, Osteria Mozza, and chi SPACCA — all three of which were recognized in Michelin's inaugural 2019 guide to California.
Unlike a lot of first-class airport lounges that offer mainly snack-type dining options, the AMEX Centurion Lounge LAX features a variety of hot and cold breakfast, lunch, and dinner options to choose from.
| Hot breakfast items | Lunch and dinner specialties |
| --- | --- |
| Avocado toast on country bread with garlic mayonnaise, coriander, and lemon | Gem salads with fresh herbs, including chervil, dill, tarragon, and celery leaf, topped with lemon vinaigrette |
| Croissant bread pudding with leeks, spinach, gruyere,k and parmesan cheeses, and thyme | Grilled broccolini with a lemon dijon vinaigrette |
| Uovo in Purgatorio, which features San Marzano tomatoes, parmesan cheese, and extra virgin olive oil | Roasted chicken thighs with charred lemon salsa verde |
| Puffed french toast made with baguette bread and smothered in maple syrup and seasonal jam | Roasted carrots with cumin, dill yogurt, and coriander |
| | Bittersweet chocolate brownies with Maldon sea salt |
Adult beverages and bars
AMEX Centurion Lounge LAX features two bars with a variety of beer, wine, and specialty cocktails available for enjoyment. The main bar features traditional bar seating, and there's also a smaller walk-up bar to grab a drink before finding comfortable seating to relax with your family or other Centurion Lounge members.
Enjoy an alcoholic or non-alcoholic cocktail designed by famed mixologist Jim Meehan, or explore the wine selection hand-picked by renowned wine expert Anthony Giglio. Here is a sampling of the AMEX Centurion Lounge bar offerings. (The full, current menu can be found at Centurion Lounge bars.)
| Wines | Cocktails |
| --- | --- |
| Rutherford Hill Merlot, Napa Valley, California | Gate Crasher (N/A) — This earthy, herbal concoction reminiscent of gin (without the booze) includes Seedlip Garden, grapefruit soda, and cucumber garnish. |
| Hanna Estate Chardonnay, Russian River, California | Spray Tan (N/A) — This bittersweet cardamom and allspice non-alcoholic highball features Seedlip Spice, Crodino soda, and orange. |
| Giuliana Prosecco DOC, Veneto, Italy | Venice Spritz — A twist on the original recipe, this fully adult beverage includes Bruto Americano, Dark Horse Brut sparkling wine, and Pellegrino Aranciata |
| Riondo Sparkling Rose, Veneto, Italy | Maliblue Lagoon — A modern take on the classic pina colada, rum fans will love this cocktail which mixes Banks 5 Island Rum, Blue Curacao, coconut water, pineapple, and lime juice. |
American Express Centurion Lounge house rules
American Express cordially requests that Centurion Lounge members and cardholders treat the lounge, staff, and fellow travelers with respect and courtesy with these simple rules.
Alcoholic beverages will not be served to anyone under 21 years of age or to anyone who appears to be intoxicated.
Food and alcoholic beverages may not be brought into, or removed from, the premises.
Smoking, chewing tobacco, smokeless tobacco, and electronic cigarette use are not permitted.
While visiting the Centurion® Lounge, all guests must wear attire that is appropriate for a family environment.
Airline, airport, and industry employees are not permitted to enter while in uniform or while wearing branded apparel or company/airport identification badges. This includes employees of private and corporate aircraft and charter carriers.
What other credit cards allow travelers to get into private airport lounges?
Clearly, access to private lounges can make traveling by air a vastly more enjoyable experience. That said, there's more than one credit card issuer that can get you into luxury lounges around the globe.
To compare these cards with others that allow lounge access, take a look at some of the credit cards below.
FAQs
What accommodations has Centurion Lounge made in response to Covid-19?
American Express has implemented a number of new procedures to ensure travelers' health and safety while visiting a Centurion Lounge, including contactless check-in. But you'll still have to show your boarding pass and ID at the reception desk.
Other safety features include new capacity limits, reconfigured seating to allow for social distancing, multiple hand-sanitizing stations, and enhanced and more frequent cleaning procedures.
What if I lost or left behind something at a Centurion Lounge?
If you lose an item at an AMEX Centurion Lounge, it will be brought to the airport's main lost and found center. However, if lounge staff is able to identify the owner of the lost item, they will attempt to contact you before handing it over to the lost and found office.
Do Centurion Lounges allow pets or service animals?
For the most part, Centurion Lounges accept pets, emotional support animals, and service animals. However, especially when traveling internationally, you'll want to check with the specific lounge because local laws and health regulations may vary.
Generally speaking, all service animals, emotional support animals, and pets should remain in their owner's control at all times and/or in a closed carrier, if appropriate. (Obviously, service animals will need to be able to perform their duties.)
AMEX Centurion Lounge also requests that all animals stay off the furniture and are kept away from food service areas. Furthermore, no pet elimination areas are available in Centurion Lounge spaces, so travelers will need to use designated pet elimination areas within the airport.
Key Takeaways
The American Express Centurion Lounge LAX is located in the Tom Bradley International Terminal (TBIT) of LAX.
It offers complimentary access to AMEX Platinum Card members, their guest travelers, Delta SkyMiles Reserve Card members, and Centurion members.
The AMEX Centurion Lounge LAX has a full range of amenities including spa services, showers, Wi-Fi, work stations, multiple food and drink options, family areas, and more.
In response to Covid-19, American Express Centurion Lounges implemented numerous cleaning and configuration procedures to ensure the health and safety of travelers who visit.