These days, you can find and finance a new or used car while lying in your bed. Chase Auto Finance makes this particularly easy with its Chase Auto Direct platform.
In late December of 2017, Chase announced it was taking its Chase Auto Direct platform out of pilot mode and making it available in all 50 states. The recent expansion also allows co-signers to apply and it opens the platform to non-Chase customers.
This relatively new Chase product is powered by TrueCar, an automotive pricing and information website for new and used car buyers and dealers. Chase's auto platform connects you to most of the dealers in a given area using TrueCar.
This allows you to shop for cars from the comfort of your home, or at least get started that way. You'll eventually want to take that car for an actual test drive!
Before we walk you through the application process to either buy or refinance a car, let's take a look at what to expect.
Check your credit score before applying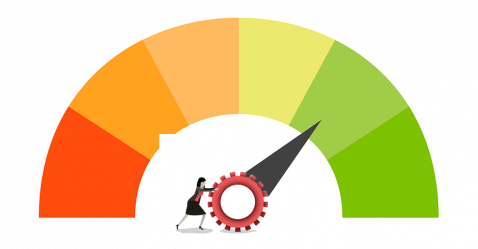 Your credit history and FICO score will affect whether or not you are approved for a car loan. Because your credit history is so important and will be used by Chase to evaluate your loan and credit requests, make sure the report is accurate. Lenders use credit reports to see if you have missed payments, carry high balances, or are over-extending yourself financially in other ways.
Eligibility
Before you apply for a car loan or refinance with Chase, make sure your credit score is FAIR — between 600 and 649 — or higher. People with poor credit will most likely be turned away. Chase uses other factors when evaluating your application, but a low credit score may be a deal breaker.
Prepare a checklist
Here's what you'll need to apply for financing through Chase Auto Finance: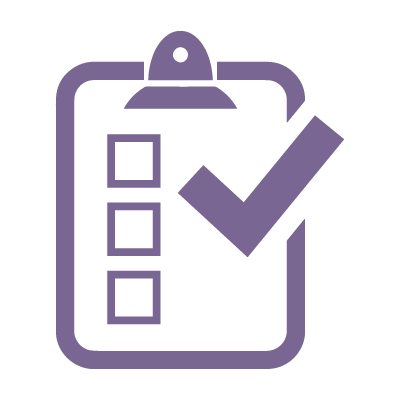 Personal information, including your Social Security number and driver's license
Contact information
Residence status
Employment and income
Information about the car you wish to purchase, including whether it's new or used, make and model and the year
Name of the dealer and location where the car is located (you can find this through Chase's new platform)
Vehicle savings certificate provided through Chase's car buying service
Manufacturer offers
Down payment and trade-in information
The amount of the loan required for your purchase
Chase auto loan terms
Chase's auto loans are available in three different terms:
48 months
60 months
72 months
Your APR and monthly payment will be determined by a variety of factors, including whether the car is new or used, your credit score, the make of the car, which state you live in, and how much you wish to finance. Check Chase's SuperMoney profile for the latest APR range.
Chase Auto Finance interest rate discounts
If you're an existing Chase customer, you can get an interest rate discount if you enroll in automatic payments. If you're not a Chase customer, you can also get an interest rate discount if you enroll in automatic payments.
Visit the website for updated rates.
Chase Auto Finance loan fees
Chase doesn't charge an application fee or an origination fee unless you live in Ohio and Indiana, in which case you will be charged an origination fee of $195. There's also no prepayment fee if you choose to pay off your car loan early.
Step-by-step guide to using the Chase car-buying service
Start by visiting the Chase Auto Finance website.
Once you're there, you'll have three choices:
Find and price a car
Finance a car

Choice 1: Find and price a car
Click on "Search Vehicles" under "Find and price a car." The next screen asks you to enter the desired make of the car you're seeking, then pop in your zip code and press "Find your car."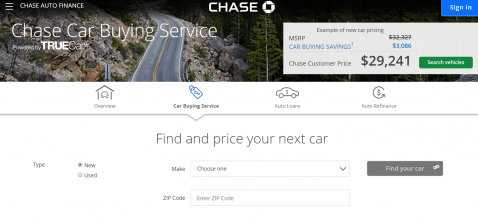 For example, we selected a Jeep in the 30601 area code of Georgia. Nine models came up. Now you must select one to continue.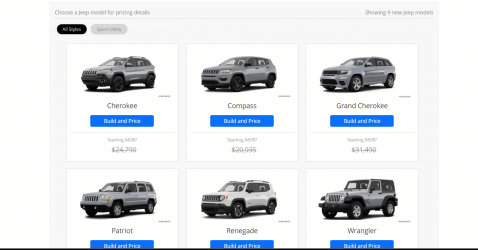 We selected the Jeep Patriot.
Now we're shown the average price and monthly financing amount for this vehicle in our zip code. The next step is to view actual vehicles by clicking on "View Pricing on Local Inventory."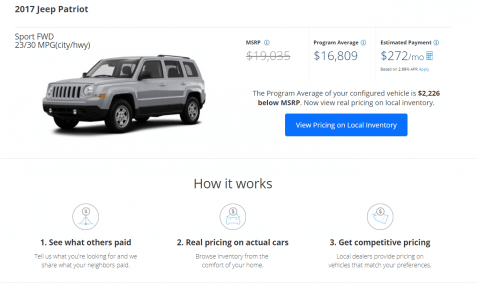 Before viewing the local inventory of Jeeps, you are asked for more information about yourself. Then, you're able to see what's available to you right now. (Warning: Once you complete this step, you will be instantly barraged with phone calls and emails from local car dealerships, so be prepared.)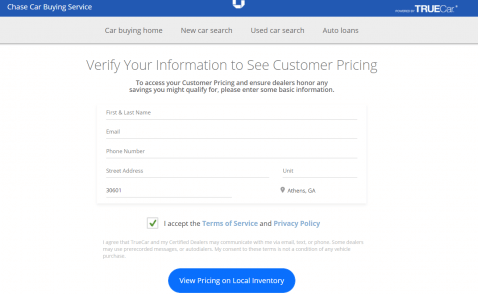 Before seeing all of the local deals on your selected new car, you can apply for financing directly with Chase by clicking the button that says "Financing."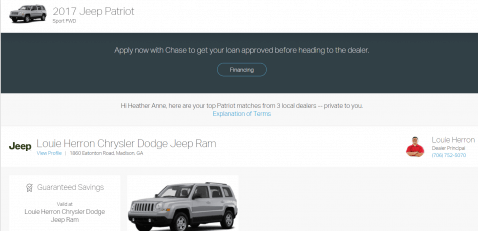 Choice 2: Finance a Car
To check out possible loan amounts, click on "Get a quick decision" under the section that says "Finance a Car." You'll then be sent to Chase's auto loan calculator. Fill in your details to see what Chase can offer you in terms of financing.
Interest rates and fees
While you won't get the definitive answer on your loan's interest rate until you've completed the application process, this auto loan calculator can give you an idea of what your rate will be.
You'll enter basic information then receive estimated monthly payments and rates for three different loan terms.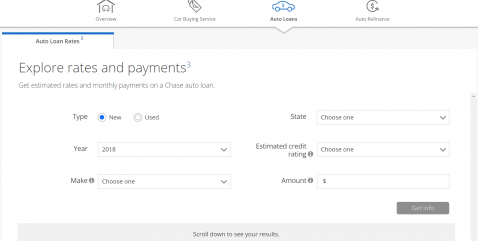 After filling in the information about buying a Jeep in Georgia, you are asked to scroll down for results: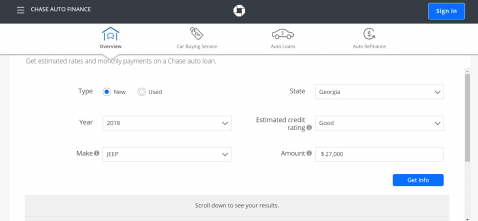 Several loan options pop up for different loan terms. This doesn't mean you've been approved yet. It just provides you with an idea of your monthly payments if you choose to proceed.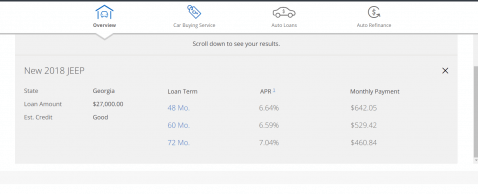 If you're ready to apply for financing, scroll all the way down and click on the "Apply Now" button.

To complete this loan application, you'll need:
Details of the car you plan to buy
The name and address of the dealership where your car is located
And the amount of the car you plan to finance.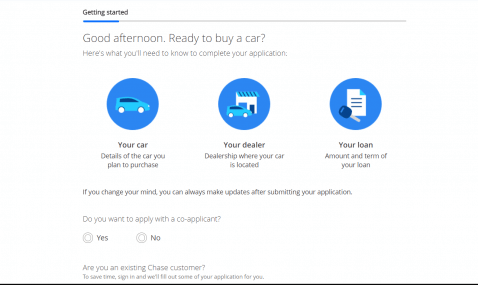 Fill out all of the information for your loan, then wait to see if you get approved and what terms and interest rates Chase can currently offer you.
The steps are simple. To get your new car you need to:
Apply online
Get approved– once you're approved, the loan details are sent directly to the dealer you selected.
Head to the car dealer– once there, you can add after-market products on if you desire, or even change the car you decide to buy.
Choice 3: Refinance an auto loan
If you're not in the market for a new car, but want to refinance your current vehicle, click on "Lower Your Payment" under "Refinance a Car." You'll be given today's interest rates in your area and the option to "Apply Now."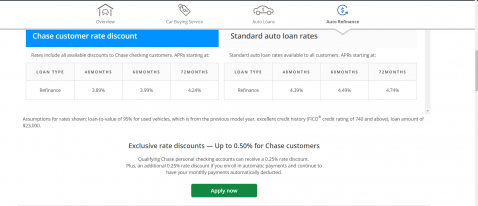 Here's what you'll need to fill out your application for refinancing with Chase Auto Loans:
Personal information including your Social Security Number, date of birth and driver's license
Your contact information
Current employment and income information
Vehicle year, make and model
The process is straightforward, and there are several benefits:
Lower interest rates (especially if your credit has improved or rates have dropped since you last financed your car)
Exclusive discounts if you're a Chase customer
Lower monthly payments (that will depend on the interest rate and if you decide to lengthen the term of the loan)
New platform makes it easy
Now that Chase's new platform — Chase Auto Direct — is available to everyone, it's very simple to go online or on your mobile device, find a car, get financing, and head straight to the dealer. If you're a Chase customer, you'll get even more perks and competitive rates.
Research other options
Before you apply with Chase, it's always smart to check out other auto lenders to see if you can get a better interest rate.
You can also use SuperMoney's auto loan tool to get pre-qualified with several lenders at once. The more you research and shop different lenders, the higher your chances are of getting the best deal available.

Heather Skyler writes about business, finance, family life and more. Her work has appeared in numerous publications, including the New York Times, Newsweek, Catapult, The Rumpus, BizFluent, Career Trend and more. She lives in Athens, Georgia with her husband, son, and daughter.