Check Into Cash is a direct lender that offers fast and easy title loans, payday loans and installment loans to people with limited credit who are in a pinch. This article provides an in-depth review of Check Into Cash, its rates and terms, and the pros and cons it offers when compared to other lenders.
Check Into Cash's Place In The Lending Market
In today's financial climate, it is as important as ever to have an emergency fund to deal with unexpected expenses. The reality, however, is that most Americans don't have enough savings to cover even a modest unexpected bill. If you fall into that category, you are certainly not alone.
According to a 2015 study published by Bankrate, only 38% of Americans have the cash on hand to pay for a $500 car repair or a $1,000 emergency room visit. The rest, 62%, would need to either use a credit card, borrow from friends or family, or take out a loan.
It can be a real struggle for those who don't have good credit. That is where alternative lenders like Check Into Cash find their niche.
The interest rates on payday lenders and title loans are high and should be avoided whenever possible. To illustrate, a two-week $100 cash advance can cost $15, the equivalent of a 390% APR, which is 10 times the rate of a high-interest credit card. However, even these rates can be less expensive than paying a credit card late fee, a utility reconnection fee or a bounced check fee.
A Little Backstory About Check Into Cash
Check Into Cash was founded in 1993 by Allan Jones, who is also the CEO of Creditcorp, Jones Management Services and a founding member of the CFSA: the Community Financial Services Association. Check Into Cash has its headquarters in Cleveland, Tennessee, but it has over 1,000 brick-and-mortar offices spread throughout 30 states. It also provides online loans through CheckIntoCash.com. As a member of the CFSA follows its best practices standards.
How Does Check Into Cash Work?
Check Into Cash is a leading company in direct lending. Its loan products include payday advances, in-store cash advances, online payday loans, and title loans. If Check Into Cash cannot complete a loan request, it will recommend a partner lender in its network that can work with you. It also provides financial services, such as check cashing, U.S. Money Cards, Western Union money transfers and walk-in Bill Pay.
This review will focus on its payday loans, title loans, and installment loans.
Check Into Cash Payday and Installment Loans
Check Into Cash offers both online or in-store payday loans. Online applications take a few minutes to complete and cash advances at one Check Into Cash's many office stores can be funded immediately. Check Into Cash's installment loans are a medium-term loan that provides larger maximum loan amounts than payday loans. Repayment terms range from 6 to 12 months, but they are no prepayment penalties so borrowers can pay them off early without additional fees. Learn more by reading our reviews on Check Into Cash's payday loans.
Check Into Cash Title Loans
Most of Check Into Cash's stores also offer title loans, which require borrowers to provide a clear title to a vehicle as collateral. The loan amounts are larger—up to $25,000—but so is the risk. Unlike installment loans and payday loans, which are unsecured loans, you risk losing your vehicle if you don't make payments on time.
What Are Check Into Cash's Rates and Terms?
Interest rates and terms vary depending on the loan product you choose, where you live, your income, and your credit history. This review gives a range of rates, so you can get an idea of what each loan product costs.
Check Into Cash's loan products are designed to be a fast source of cash in an emergency, not a long-term financial solution. Payday loan terms are usually set at 14 days.
Installment loans and title loans have longer repayment terms. However, Check Into Cash does not offer online title loans, and their online payday loans are not available in all states. To apply for a title loan, you will need to visit one of their stores and fill out an application. However, Check Into Cash does provide a free online car appraisal tool and will soon allow borrowers to complete online applications that they can then print and take to brick-and-mortar stores. Rates and terms are disclosed once applications are approved, and the vehicle is appraised.
How Much Can You Borrow From Check Into Cash?
Maximum loan amounts vary by loan product, the borrower's income and credit, and state laws.
The maximum payday loan amounts vary from $100 to $1,000 depending on where you live. A typical two-week $300 payday loan will cost $45.
Installment loans range from $500 to $3,000.
Title loans offer loan amounts of up to $25,000, depending on the value of the vehicle used as collateral.
What Is Check Into Cash's Application Process Like?
This is where Check Into Cash shines. Rates are extremely expensive, but at least the loans are fast, and it's easy to apply. Borrowers can either call their toll free number, apply online or visit one of their stores. You can also get prequalified online with Check Into Cash without hurting your credit score. This allows you to check what rates you qualify for without damaging your credit score. Notice, however, that if you accept a loan offer Check Into Cash may perform a hard pull on your credit report, which could ding your credit score.
1. Basic Personal Information
The first step is to provide Check Into Cash with basic personal information, such as your name, email address, cell phone, and zip code.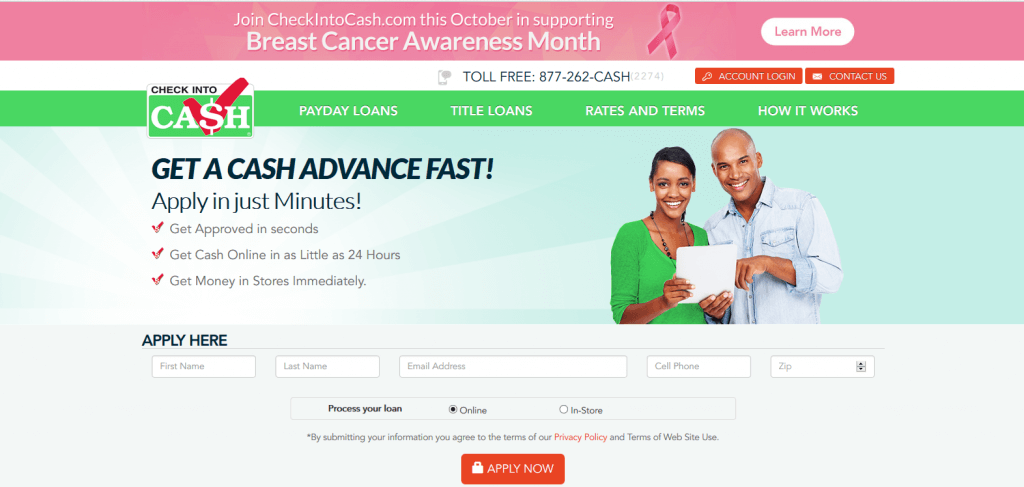 2. Additional Personal Information
The second page requires borrowers to provide additional personal and financial information, such as their address, driver's license number and whether they rent or own their home.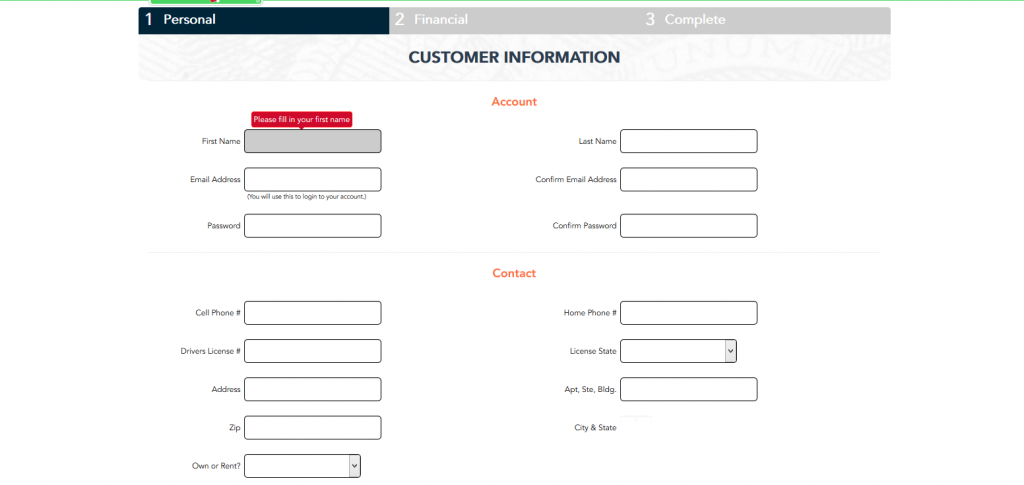 Cash Advance Review
3. Financial Information
The third and final step is to provide Check Into Cash with relevant financial information. This includes your source of income, paycheck amount, payment frequency, bank account type, account number, Social Security Number and date of birth.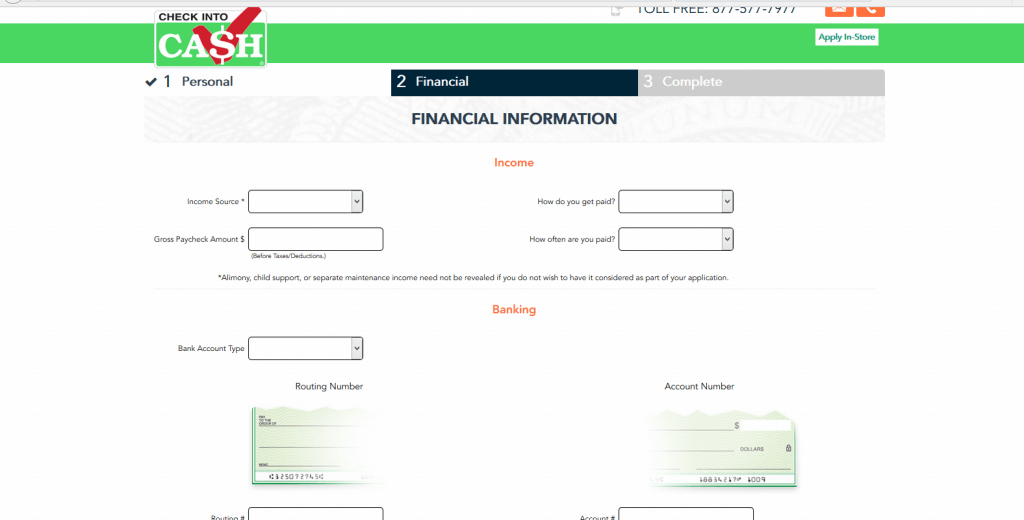 In some cases Check Into Cash also requires additional documentation, such as your most recent 30-day bank statement, your most recent pay stub or another source of income and a state-issued photo ID. If you're applying online, you may need to fax or email copies of these documents.
What Are The Disadvantages Of Check Into Cash?
Check Into Cash loans are extremely expensive. The price tag on these forms of credit is among the highest in the consumer credit market.
Payday loans often suck borrowers into a cycle of debt. It's easy to think you can repay a payday loan with your next paycheck. But according to a study by the Center for Responsible Lending, three-quarters of payday lending volume is generated by churned loans.
These types of loans don't help you improve your credit. Apart from avoiding late fees on a credit card or rent payment, payday loans don't help you build your credit. This is because this type of loan is not reported to credit agencies.
What Are The Benefits of Check Into Cash?
Check Into Cash is a fast and hassle-free source of income for people with poor credit who have a financial emergency and need a short-term solution. It's like taking a taxi: expensive if you go for a long journey, but a convenient tool for short trips.
Fees and interest rates are competitive and cheaper than many of the penalty fees charged by banks and utility companies.
Check Into Cash is a direct lender with over 1,000 offices nationwide and more than 20 years in business. It is licensed in all the states it operates in.
There are other lenders of credit with lower interest rates and better terms that you should probably try first. However, if your credit is not great, you need money fast, and you don't qualify for less expensive options, Check Into Cash is a hassle-free and reliable source of credit.
Andrew is the managing editor for SuperMoney and a certified personal finance counselor. He loves to geek out on financial data and translate it into actionable insights everyone can understand. His work is often cited by major publications and institutions, such as Forbes, U.S. News, Fox Business, SFGate, Realtor, Deloitte, and Business Insider.