CommonBond is an online student lending platform that was established in 2013 by a team of financial service experts and accredited entrepreneurs. It connects its community of individual and institutional investors with a community of borrowers who need student loans.
The CEO and co-founder David Klein stated back in 2013 that borrowers using CommonBond were saving an average of $17,000 over the life of a student loan. Recent figures from January of 2017 show the average savings on student loans have increased to $24,046.
With the current number of people struggling to repay student loans, this can be a game changer. If you're interested in how CommonBond can help you, here's more on what they offer and how it works.
CommonBond loan products
CommonBond Student Loans
CommonBond offers MBA student loans, graduate student loans, and undergraduate student loans. The amount you can borrow will be determined by your school and is based on the total costs of attendance minus any assistance you are receiving elsewhere (i.e. financial aid, grants, etc.). As for the costs of borrowing, CommonBond charges an origination fee and interest.
The way the interest works is you can choose between a fixed rate and a variable rate. With the variable rate, your interest rate and monthly payment start out lower than with the fixed rate but will fluctuate over time depending on changes in the market.
This creates some risk because your payment could go up unexpectedly, however, it can also remain low thus saving you money. The fixed rate gives you predictable monthly payments that are always the same, however, you may end up paying more over the length of your loan.
Additionally, your interest rate will depend on how many years you'd like your loan to be (i.e. 10 or 15 years) and which repayment option you select. Repayment options include full deferment of all payments until six months after graduation, fixed monthly payments of $25 until six months after graduation, interest-only payments while you are in school, or full principal and interest payments that start immediately.
The deferment options can help make your loan more affordable while you're in school but will often have a higher interest rate. These options should be weighed to find the best solution for your situation.
CommonBond Refinancing
If you already have a student loan (or loans) and want to refinance, CommonBond has options for both students and parents of students who are currently carrying the loan(s). As a student, you can take out a new loan at a lower interest rate, which replaces all of your old student loans. As a parent, you can refinance loans or transfer student loans to the student.
The obvious pro is that it reduced my interest rate by a ton! The process was super easy and getting such a low rate really helped me to pay off my debt faster"
Variable and fixed interest rates are available, as well as a hybrid rate option. The hybrid rate fixes the interest rate for five years and then converts into a variable rate for five years.
Interest rates on refinancing are customized and will be based on your credit score, income, and other factors.
Let's look at a real-life example. Kevin, a law school graduate who used CommonBond to refinance $40,000 in student loans, took out a 5-year variable loan rate which had an interest rate that started at 1.93%.
He says, "The obvious pro is that it reduced my interest rate by a ton! There weren't really a lot of cons for me since I was aiming to pay off my loans quickly." He adds, "I would definitely refinance my loans with CommonBond again. The process was super easy and getting such a low rate really helped me to pay off my debt faster."
Read more on refinancing Federal student loans.
Eligibility for CommonBond financing
To be eligible for financing through CommonBond, you'll need to meet the following requirements:
Have a credit score of at least 660 if you're refinancing or taking out an MBA student loan (if you don't have that score, you will need a cosigner who does).
Current students in undergraduate or graduate programs will be required to have a cosigner regardless of their credit score.
You must be a U.S. Citizen or permanent resident.
You must have attended, or be attending, a Title IV accredited university (not-for-profit) or graduate program approved by CommonBond.
MBA students must be enrolled full-time in an eligible school.
Undergraduate or graduate students must be enrolled at least half-time at an eligible school.
Why choose CommonBond?
Aside from the money it enables students to save, it also offers other benefits. First, the application process is very simple. You can apply online and manage the whole process remotely.
If you need extra assistance, it has customer support "Care Team" available via phone, email, and live chat, which has won awards for the quality of its service. For those who would like to learn more about student loans, you'll also find informational resources on the website to help you find the answers you need.
Once you have your loan, you may reach a time when you can't pay. With CommonBond, you'll have options to postpone payments. On the other hand, if you get into a position where you can pay off the loan early, you can as there are no prepayment penalties. Lastly, CommonBond makes a social promise to fund the education of a child in need every time it funds a loan. Here's a quick overview of the benefits.
Saves students money on their loans
Easy application
Good customer service
Educational resources available
Payment postponement options
Early payment ok
Help other students in need
The only drawback with is that you'll need to get approved, which can be challenging. David Klein, CEO of CommonBond, explained that they target borrowers who are less likely to default. This helps CommonBond provide its low rates.
For those applying for MBA student loans and refinancing, a minimum of 660 credit score is a must. Undergraduate students and graduate students will be required to have a cosigner with a 660 credit score or higher on their loan regardless of their credit score. So, to take advantage of their offers, you'll have to meet these requirements.
Learn how to build your credit
How does CommonBond's application process work?
Step 1: Head over to Commonbond's website and click "Get Your Rate."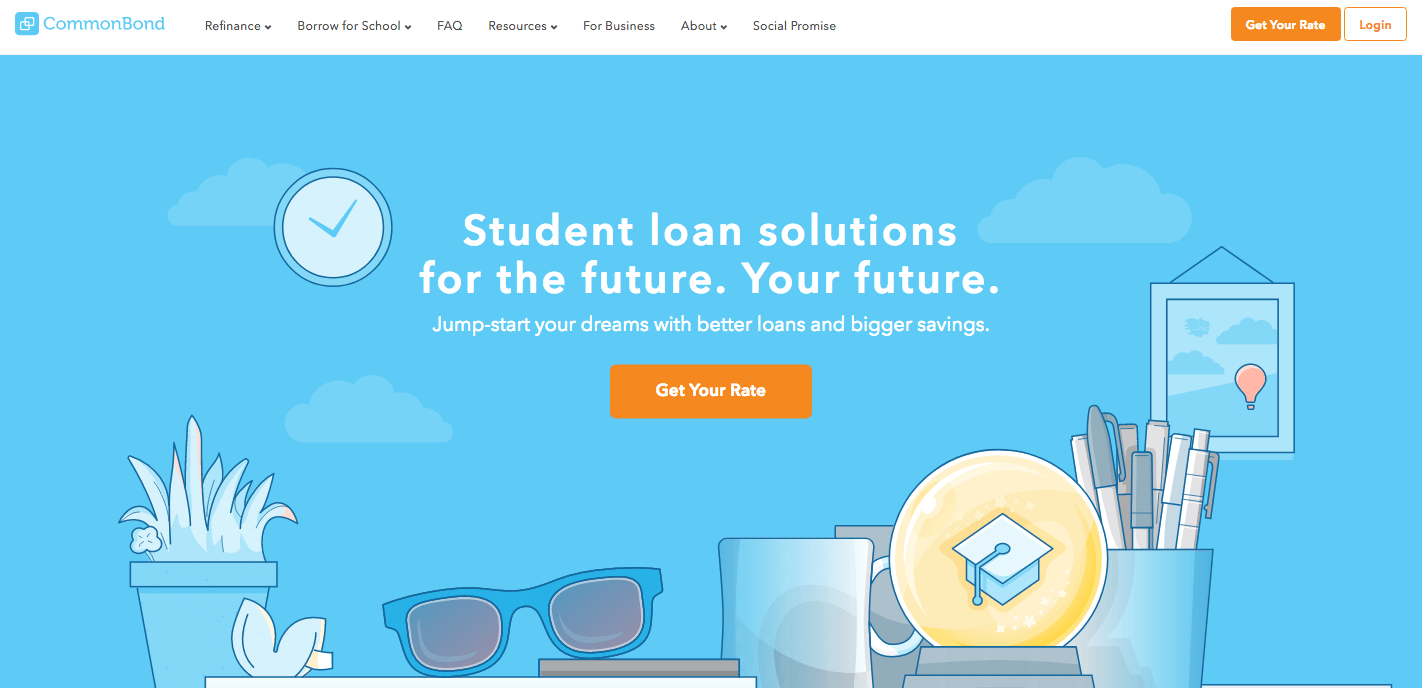 Step 2: Find the CommonBond loan product you want and click "Get My Rate."
Step 3: Provide CommonBond with your basic information.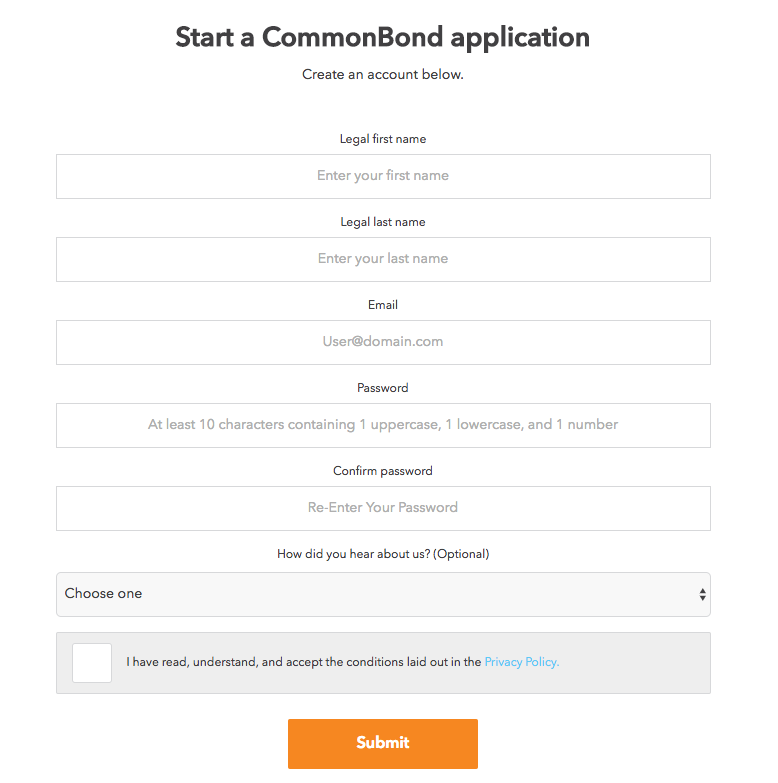 Step 4: Answer a few screening questions.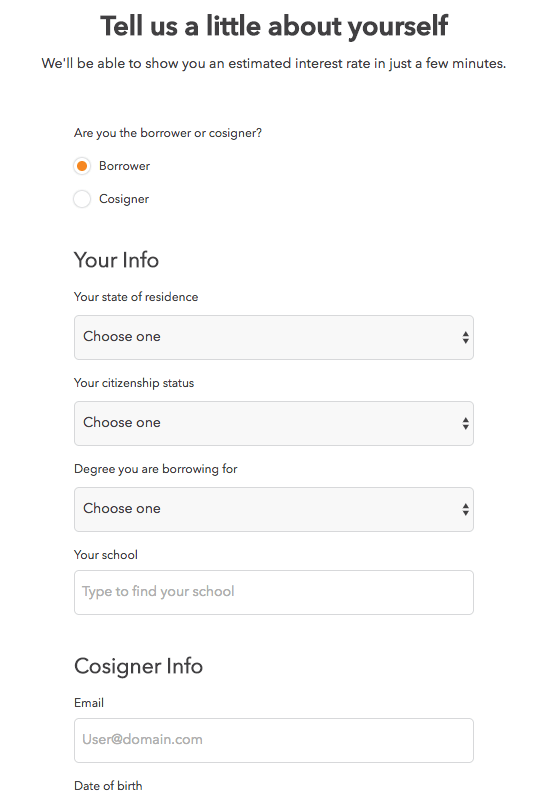 Step 5: Find out if you are eligible or not. If you are, click "Continue My Application" to continue on with Campus Door.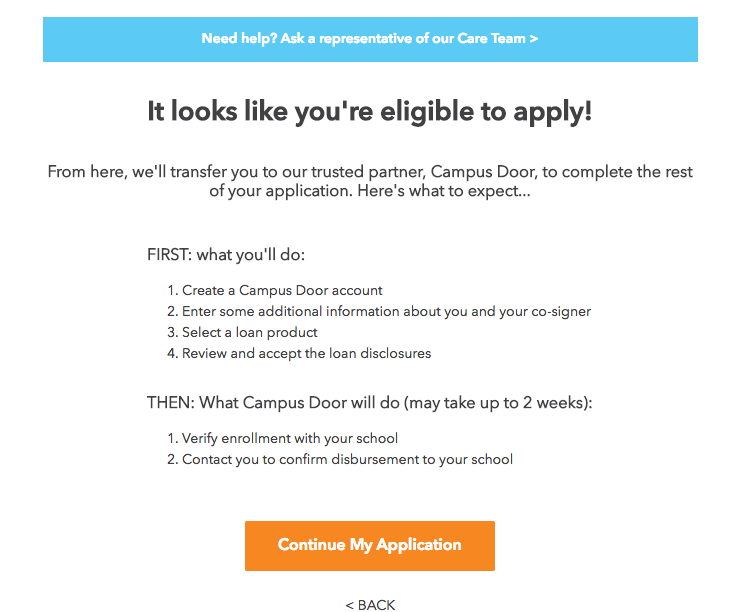 Step 6: Confirm your eligibility.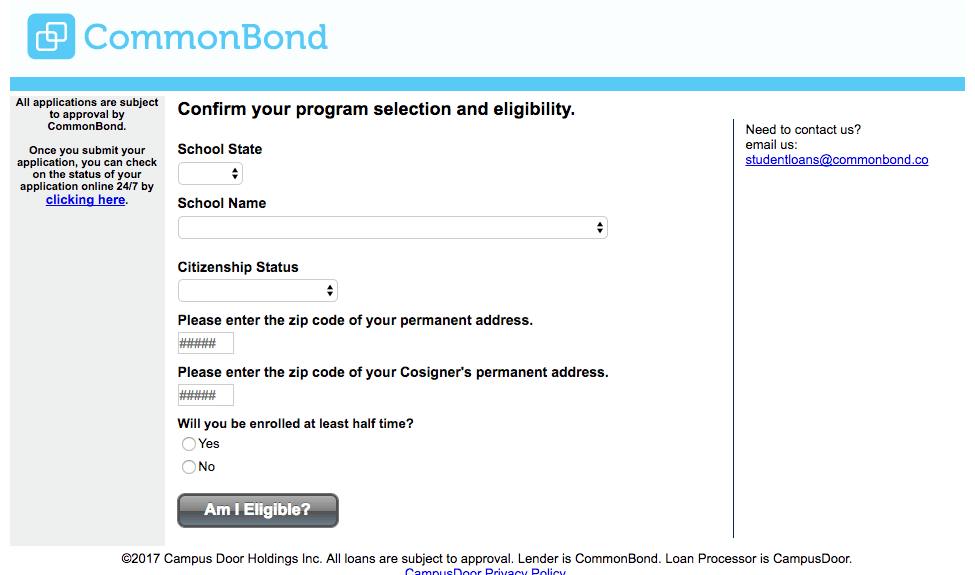 Step 7: Create a CommonBond account.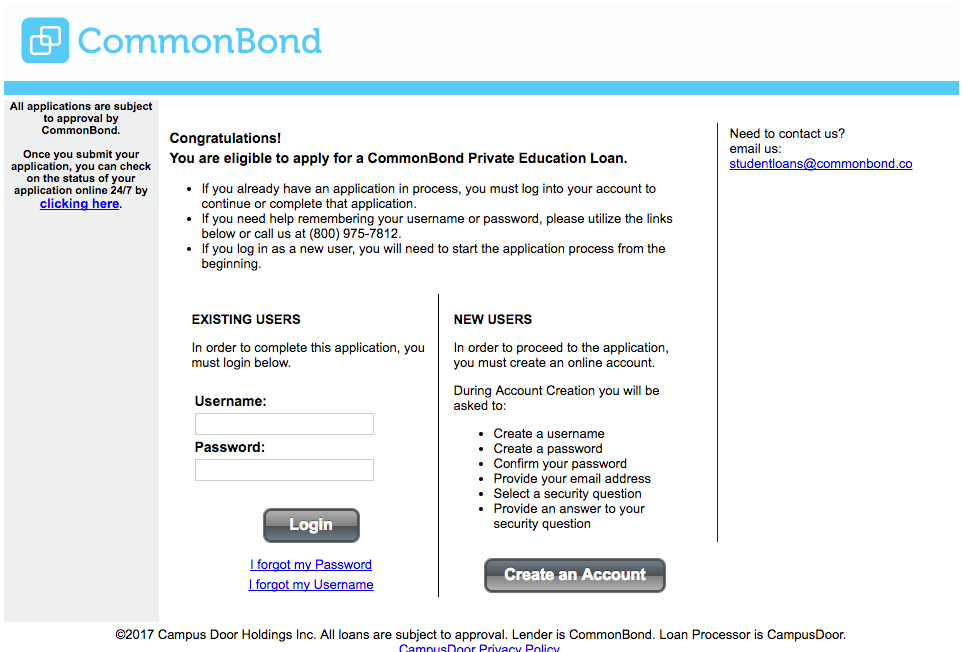 Step 8: Complete the full application, which includes school info, borrower info, housing info, employment info, reference info, and disclosures.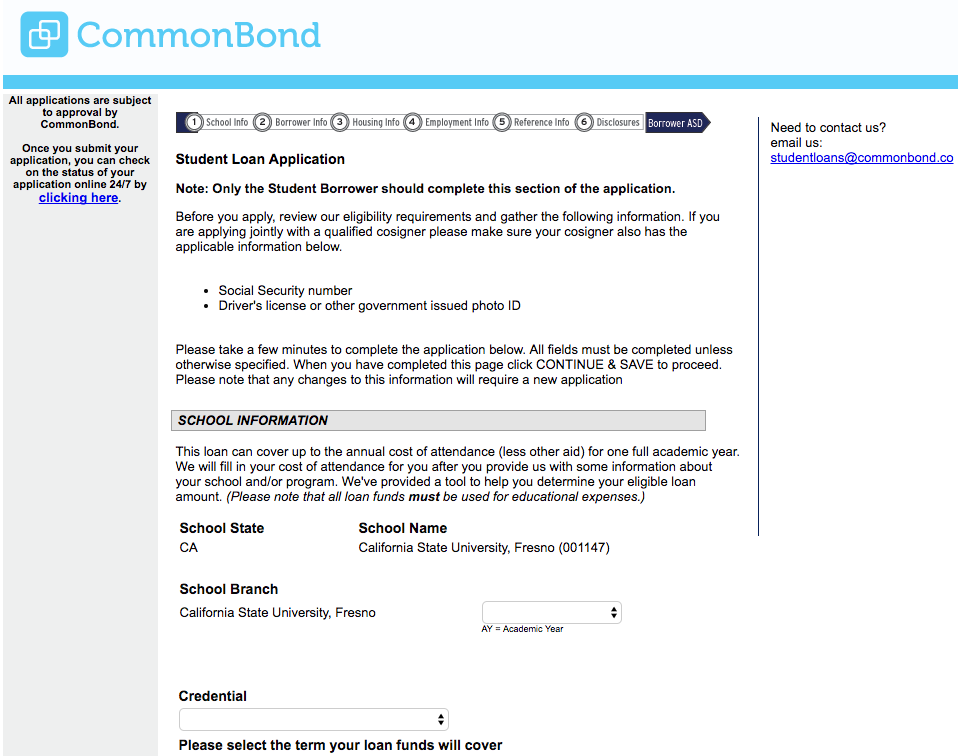 Step 9: Submit your application and get your rates.
Find out what you qualify for with CommonBond
If you want to save on your student loans and CommonBond sounds like the right fit for you, click here to apply and find out what you qualify for today.
Jessica Walrack is a personal finance writer at SuperMoney, The Simple Dollar, Interest.com, Commonbond, Bankrate, NextAdvisor, Guardian, Personalloans.org and many others. She specializes in taking personal finance topics like loans, credit cards, and budgeting, and making them accessible and fun.