As the Coronavirus (COVID-19) continues to spread throughout the U.S. and people receive treatment, medical bills mount. Depending on the severity of the virus, treatment can be expensive.
Here is what we know about the medical cost of treating a severe case of COVID-19.
What is Coronavirus?
Coronaviruses (CoV) are viruses transmitted between humans and animals that cause illness. The viruses, which include the common cold, vary in degrees of severity. According to the World Health Organization (WHO), COVID-19 is a new strain discovered in 2019. The strain wasn't previously found in humans. Coronavirus symptoms range from mild to severe and include fever, cough, and shortness of breath. (Centers for Disease Control and Prevention.)
Severe cases of COVID-19 result in pneumonia, severe acute respiratory syndrome and in a small percentage of cases, death. Recent statistics from a study of patients in Wuhan, China, where the outbreak started, show a 1.4% death rate. However, the exact mortality rate is still unclear. Mortality rates are higher among the elderly and people with preexisting heart, autoimmune, and respiratory conditions.
What are the costs of treating COVID-19?
Since the coronavirus is new, medical professionals are in uncharted territory regarding treatment costs. But the medical care for the virus is similar to pneumonia. A recent study by Peterson-KFF Health System Tracker estimated the average cost of COVID-19 for employer health plans and covered individuals. The study did this by examining the average cost of treating pneumonia.
The study examined the total cost of treatment, including insurance company payments and employee out-of-pocket expenses. The average cost of inpatient hospitalized treatment for severe pneumonia with complications was as high as $20,292. If you are fortunate enough to have insurance, it will generally cover most of this cost. Bringing the average out-of-pocket expense to about $1,460. Underinsured patients or those without insurance altogether might have to pay the full amount.
| Coronavirus treatment scenarios | Estimated cost |
| --- | --- |
| Treatment with major complications | $20,292 |
| Treatment without complications | $9,763 |
| Average out-of-pocket costs for insured patients | $1,464 |
| Percentage of cases with out-of-network bills | 18% |
| Source: Peterson-KFF Health System Tracker | |
The study also noted that treatment costs vary. This depends on the area of the country where the patient seeks treatment. If the person experiences complications during treatment or other health problems, this also affects costs. Without complications, pneumonia treatment costs can be as low as $9,763.
It's important to remember these are typical costs for treating pneumonia-like illnesses. It can get much more expensive. Consider the case of Danni Askini, which was reported by Time magazine.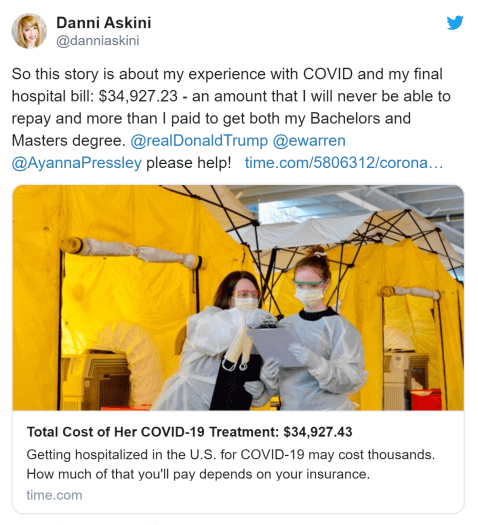 She was initially diagnosed with pneumonia when she visited ER with chest pain, fever, and headaches. Two visits to the ER later she was diagnosed with COVID-19. The total cost of her treatment was $34,927.43. You can see a summary of her hospital costs below. The test alone was $907.00.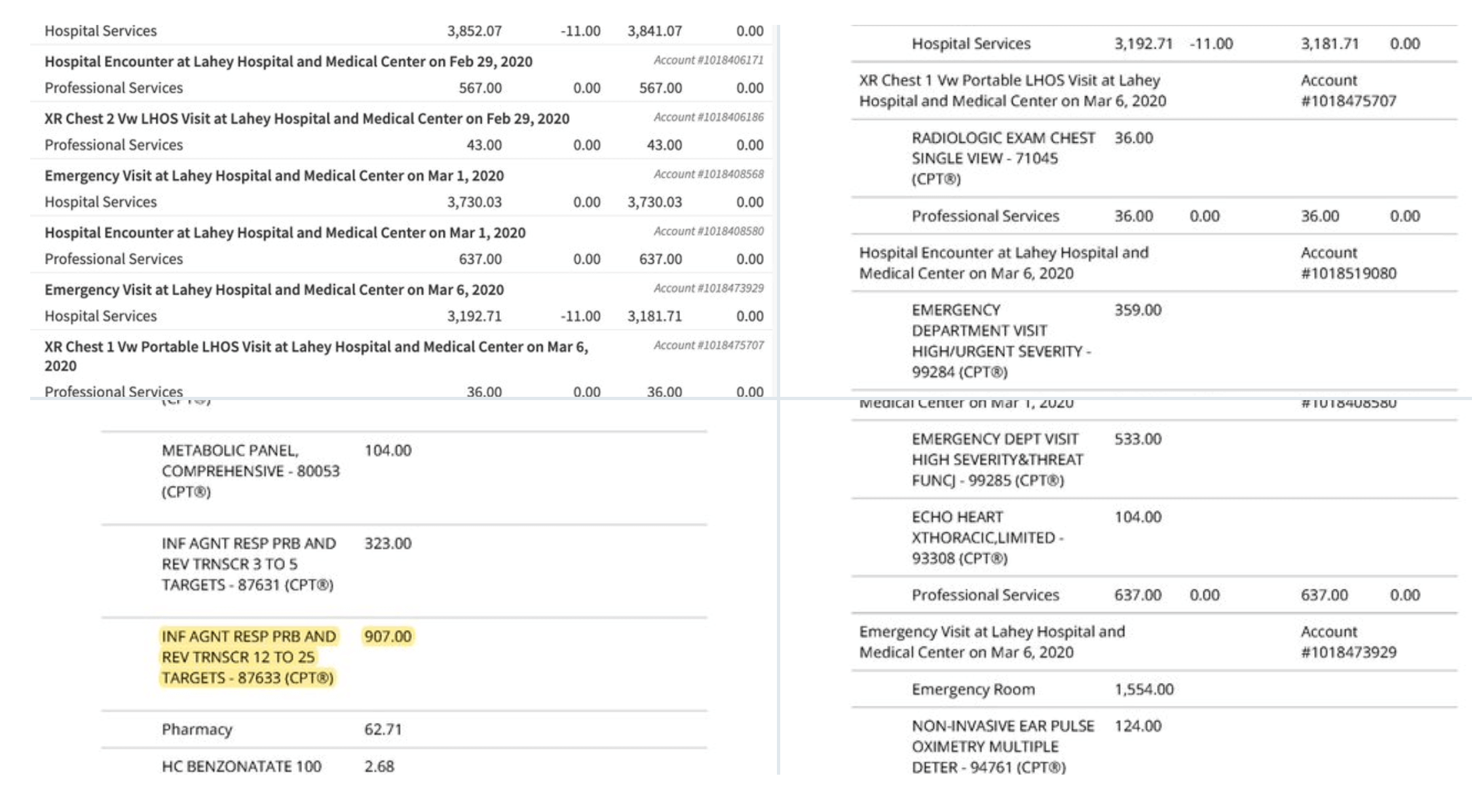 Askini didn't have insurance and is currently applying for Medicare in the hope that it will cover her bills retroactively. Askini's case may not be typical, but it does give a real-life example of how expensive treatment get can get.
Other expenses for coronavirus hospitalization
Unlike cases of pneumonia, those treated for COVID-19 require isolation. This occurs because the virus is highly contagious. The associated necessary procedures for isolation add to treatment costs.
During a hospital stay, out-of-network billing charges are also a possibility. This occurs when a doctor not in the patient's insurance network is consulted. Given the severity of a serious coronavirus case, this is a possibility. After treatment, the patient may get an unexpected costly medical bill.
The coronavirus test may be free, but the hospital visit isn't
In response to the widespread impact of the coronavirus, The House of Representatives passed H.R. 6201 on March 14. One provision in the bill is free COVID-19 testing. Patients don't have to pay any deductibles or copayments. The testing is free to anyone, including the uninsured and those on Medicaid and Medicare. The test requires doctor authorization.
While the coronavirus test itself is free, the hospital visit may be expensive. This can occur if you test positive, and they detain and treat you in isolation. If medical personnel monitor a person for symptoms, that could be as long as two weeks. In severe cases, treatment can take longer.
According to Kaiser State Health Facts, here are the average costs of just one day in the hospital. Some states have higher per day costs and others have lower costs.
Local and state government hospitals: $2,052
Nonprofit hospitals: $2,488
For-profit hospitals: $1,889
Even if the test results are negative and you only require a visit to the emergency room or urgent care, the bill can still add up. According to an analysis from UnitedHealth Group, the average ER visit runs $2,032. Urgent care visits can cost up to $200. Testing also factors in and raises costs. For instance, flu testing costs about $43 without insurance. And blood tests cost on average $36 to $58.
While all of these medical expenses may seem high, "hospitals can't work for free," notes Raviraj Hegde, founder of Donorbox. His company is a donation platform that includes charities providing healthcare to those who can't afford it. "Hospitals have to pay their staff, who have their own families to support and other expenses," he says. "Also keep in mind that medical personnel put themselves in harm's way by tending to sick people."
Does Medicare cover coronavirus medical costs?
If you have Medicare, you are in luck. In addition to the coronavirus lab test, Medicare covers necessary hospitalization. This includes treatment and quarantine for COVID-19. Though no vaccine is currently available for COVID-19, Medicare will also cover it when available. Additionally, Medicare patients can now use telehealth services offered by physicians to treat the coronavirus. Deductibles and co-insurance fees apply.
High-deductible health plans cover COVID-19
According to the Internal Revenue Service, if you have a high-deductible health plan (HDHP), you can take advantage of the free coronavirus testing without jeopardizing your status. Additionally, when a vaccine is available, it will count toward preventative care and be paid for by your HDHP.
What you can do in response to coronavirus
We face unprecedented circumstances. Lives and livelihoods are at stake. This realization can unsettle and even frighten you. Help ease your mind by familiarizing yourself with the financial ramifications of contracting the virus. Make sure you have an emergency fund that would help you cover your living expenses if you got sick or lost your job because of the coronavirus pandemic.
Check with your health insurance plan to see how much a hospital stay or emergency room visit could cost you. Determine if you have enough savings to cover a hospital stay. If you don't have enough money on hand, you may consider getting a personal loan. Different personal loans come with different rates, fees and requirements, make sure you compare several of the top personal loans to make sure you get the best rates and terms available. Check out what the best personal loans are to ensure that you choose the best option for you.
Also follow the CDC guidelines for helping to slow the spread of the virus. This includes practicing good hygiene, avoiding social gatherings, and unnecessary travel. Additionally, stay away from nursing and retirement homes and long-term facilities.
Julie Bawden-Davis is a widely published journalist specializing in personal finance and small business. She has written 10 books and more than 2,500 articles for a wide variety of national and international publications, including Parade.com, where she has a weekly column. In addition to contributing to SuperMoney, her work has appeared in publications such as American Express OPEN Forum, The Hartford and Forbes.