Finding yourself with credit problems is easy. Snowballing debt and late loan payments can do serious damage to your credit score. Unfortunately, solving those problems is a lot less easy. The good news is, there are solutions. Credit counseling can help you pave the way to a debt-free life and a healthy credit score.
What is credit counseling?
Credit counselors are financial experts who use their expertise to help you get your finances under control. By looking at your financial history, they can design a plan that will balance your expenses and debts with your income and financial goals.
Credit counselors are trained counseling, budgeting, credit and collections, and debt management.
How does it work?
After reviewing your financial situation, your counselor will offer you possible solutions. They'll help you develop a monthly budget, taking into consideration your current living expenses and your debt to creditors. They'll also show you how to rid yourself of unnecessary expenses, develop better credit habits, and live within your means. And all of the above will happen confidentially — your habits and credit history will be kept between you and your counselor.
Fees for credit counseling services vary widely and may include: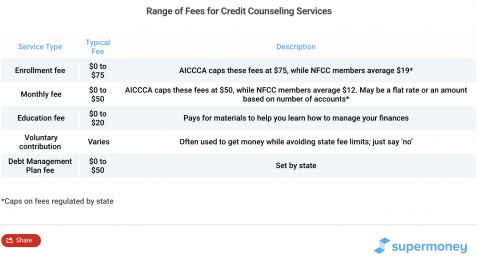 How to choose a credit counselor
When you look for a credit counseling service, be sure to:
How to choose a credit counselor:
Go with an accredited agency.
Ask if they're licensed.
Check their reviews.
Ask what services they provide.
Get a list of rates.
Check their qualifications.
Data security protocols.
Get details on their DMP.
Examine their benefits.
Choose an accredited agency
In the U.S., that means accreditation by the Council on Accreditation (COA) or the International Organization for Standardization (ISO). They should also belong to the National Foundation for Credit Counseling (NFCC) or the Association of Independent Consumer Credit Counseling Agencies (AICCCA).
Ask if they're licensed
Not all states require licensing, so first, find out if your state does.
Check their reviews
See what their clients say about them with SuperMoney's credit counseling reviews. Additionally, check with your state attorney general.
Appraise their services
Look for a counselor that offers a wide range of services, such as budget counseling and debt management classes. Check whether they offer in-person counseling or free educational materials. And be sure to avoid organizations that "sell" a debt management plan (DMP) as the only solution without analyzing your personal financial situation.
Investigate their rates
Ask for the list of fees and a firm quote for their services in writing. Find out if employees are paid a commission when you sign up for certain services or make a donation.
Ask lots of questions
You should discuss the certification and qualifications of their counselors, and the confidentiality and security of your personal information.
Investigate their debt management plan (DMP)
What debts aren't included in their debt management plan? And how will your enrollment in the DMP affect your credit?
Examine their benefits
Ask if they can get your creditors to lower or eliminate interest and finance charges, or waive late fees. You should also find out how long you have to be on the plan before the benefits kick in.
What is a Formal Debt Management Plan?
One key step in the credit counseling process may be to develop a formal Debt Management Plan (DMP). Though you can choose to get help with a budget only, a DMP has advantages. It often yields improved credit terms, lower interest rates, and reduced or waived charges with your creditors. This makes it easier for you to repay your debts. Not all credit counseling companies offer debt management programs and those that do usually only work with people who have a minimum debt balance. Consumer Education Services Inc. (see below for details) is an example of a reputable credit counseling company that has been in business for more than 20 years and specialize in providing debt management programs to borrowers.
Your credit counselor will design a DMP specific to your situation by arranging a payment schedule for how you will repay your debts. If you agree with their plan, you'll deposit a set amount monthly with your credit service. Your credit service then distributes these funds to your creditors according to the schedule.
What's the catch?
A DMP can help you get out of debt faster, but it does come with a few downsides.
In the short term, participation in a DMP may have a negative effect on your credit rating. However, creditors have different credit reporting policies. Your counselor can answer any questions you have about the impact on your creditworthiness. And in the long run, eliminating your debts will definitely help your credit score.
Also, while you're repaying your lines of credit through a DMP, you will not be able to use them. Some experts suggest closing these accounts to avoid temptation. When your goal is to get out of debt, any needless borrowing will only hurt your cause.
Finally, only unsecured credit accounts, such as credit cards or an unsecured personal loan, can be included in a DMP. Home and car loans, unpaid medical bills, and similar debts are not eligible.
Is credit counseling right for you?
There are plenty of benefits in using credit counseling. Credit counselors offer you free personal finance education and help you to negotiate rates and fees. However, you should only work with a credit counselor if you are ready to commit to eliminating your debt. Your debt management tactics will only work as long as you stick to the plan and stay on budget.
Keep in mind that unlike debt settlement, credit counseling won't lower the amount of money you owe. If you can't afford the payments arranged by the credit counseling organization, you could find yourself struggling with the same debt, plus additional fees. If your debts have spiraled beyond your ability to pay them off, consider settlement instead.
WEIGH THE RISKS & BENEFITS
Although credit counseling can help in some cases, it is not for everyone. Here is a list of the benefits and the drawbacks of credit counseling.
Pros
May lower monthly payments.
Counselors can negotiate extensions with creditors.
Lenders may accept requests to lower interest rates and waive fees.
You may learn how to manage your finances better.
Cons
No reduction in the debt owed.
It could hurt your credit score.
You'll accrue additional fees to pay.
Conclusions
Have you decided that credit counseling is right for you? Then you're ready to get started! The first step is to find the right credit counselor for your unique circumstances. Click here to check out side-by-side reviews and ratings of the top credit counseling firms. Or if you'd rather settle your debt, read more about how to get started here.