If you've heard anything about Credit Sesame, it's probably that it offers users a chance to see their credit score for free. That is true. We're not talking about a free trial either. Credit Sesame is completely free. No trials. No gimmicks. No purchase required. Zilch. Nada.
Unlike other "free" websites, Credit Sesame does not ask for your credit card number either, so they could not charge you even if they wanted to. What's more, it only requires the last four numbers of your SSN for identity confirmation purposes to check your credit score and monitor your credit report.
The big caveat is that Credit Sesame only provides TransUnion's credit score for free, and even then it's not the same credit score lenders use (more on the confusing world of credit scores below). However, Credit Sesame is more than just a source of free credit scores.
Credit Sesame is a financial analysis and advice website that helps consumers manage their credit and debt. It is a valuable service with no real downside. If you haven't already, we recommend you give it a try. Here's why:
Credit Sesame is free
It provides access to your credit score and credit report with monthly updates
Daily monitoring of your TransUnion credit score and report
Offers members free identity theft insurance ($50k)
Only requires the last four digits of your SSN
Reliable advice on how to improve your credit, reduce debt and reach other financial goals, such as buying a home
Still unsure? We get it. It's smart to be skeptical about offers that sound too good to be true. This in-depth review will explain what Credit Sesame offers, why it is free, and how it compares to the other "free credit score" websites.
What Services Does Credit Sesame Offer?
Credit Sesame is a full-service credit monitoring and identity theft protection company that provides its services on a freemium model. Freemium means what it sounds like. Some of the services are completely free and will remain free indefinitely. However, there are optional services that do require a monthly payment.
Credit Sesame offers the following services:
Credit Monitoring
Free Credit Score
Free Credit Report Analysis
Personalized Mortgage and Refinance Loan Offers
Personalized Credit Card Offers
Although Credit Sesame's free membership provides all these services, there are some features that members can only access if they pay to upgrade to a premium membership.
Credit Sesame Credit Monitoring
Credit Sesame provides free daily credit monitoring through TransUnion, one of the three major credit bureaus. Although this is a great deal for a free service, there are two other credit bureaus: Experian and Equifax. Service providers (such as lenders, utility companies, and landlords) don't always report to all three credit bureaus. In other words, monitoring your credit with one bureau does not guarantee you will be alerted if someone fraudulently uses your identity to apply for a loan or credit card.
To illustrate, my Equifax credit report doesn't show one of my credit cards and only shows two credit inquiries. My TransUnion report does show all my credit cards and six credit inquiries (I shop around), but they aren't the same inquiries on my Equifax report. In other words, any one credit bureau could miss new accounts opened in your name.
If you want Credit Sesame to provide daily credit monitoring of all three credit bureaus, you must enroll in its Pro Credit ($15.95 a month) or Platinum Protection ($19.95 a month) programs.
Does Credit Sesame Really Give A Free Credit Score?
Yes. It's completely free, and it is based on your actual TransUnion credit report. The catch is that this isn't the same credit score lenders see. Credit Sesame gives it customers TransUnion's equivalency score. This score is useful because it gives you a good idea of your credit's health. However, it is not the score most lenders see: your FICO score. For more information on the different credit scores available, read this article.
TransUnion's FICO and equivalence scores are usually very similar, but there can be differences of up to 30 points. I just checked my Credit Sesame TransUnion score and my FICO score, and there was a gap of 7 points. Not bad. However, if you need a set score to qualify for a financial goal, such as buying a house or qualifying for a credit card, you should obtain your FICO score.
Here are three ways to check your FICO score:
Some credit cards and banks provide customers their FICO as an additional service. For instance, I just checked my FICO score through my Barclaycard Frontier Airlines World Mastercard. However, this will only give you your FICO score with one credit bureau. Check out SuperMoney's credit card search engine to find credit cards that offer free access to your FICO scores.
Buy your FICO score from all three bureaus directly from MyFICO
Free Credit Report Analysis
Credit Sesame's credit report analysis is one of its most valuable features. It breaks down the components of your credit report into five categories and grades you for each one, which makes it clear what you need to work on to improve your credit.
The five categories are:
Payment History
Credit Usage
Credit Age
Account Mix
Credit Inquiries
Credit Sesame also calculates your total debt balances, your monthly payments, and your debt to income ratios, all of which are useful measures of your financial fitness.
Notice Credit Sesame does not offer a full credit report. Although it covers the necessary information, you will have to pay a one-time $9.95 fee or become a paying member to see your full credit report.
Personalized Recommendations
Credit Sesame's loan and credit card recommendations are both a service to its customers and the way it covers the cost of its free services. Credit Sesame gets paid a commission every time a customer completes a loan or credit card application recommended on the site. These recommendations are based on each client's personal credit profile. Credit Sesame even has an algorithm that calculates how likely you are to qualify for a loan or credit card. This service helps you avoid the credit damage caused by getting declined by card issuers and loans that are currently out of your league.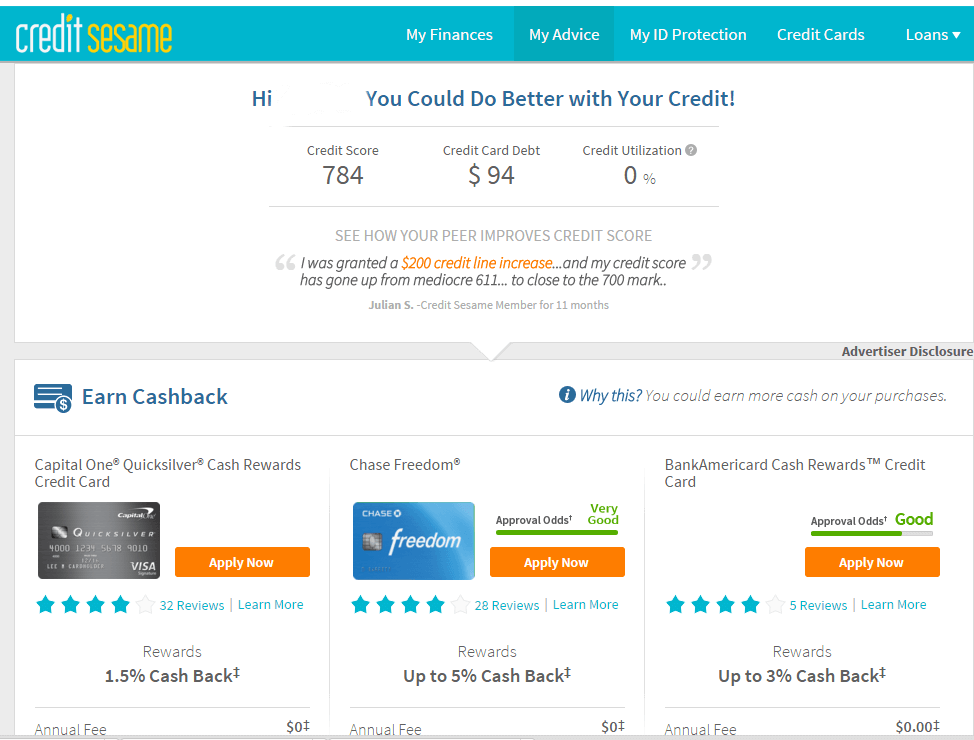 I particularly like Credit Sesame's free mortgage and mortgage refinancing analysis. It allows you to estimate the best loan rates you can expect to get, tells you how much you can afford to borrow for a home loan, and what your mortgage refinancing options are.
How Do You Register With Credit Sesame?
Creating an account with Credit Sesame takes only 90 seconds, and that's for slow typers. Here is a step by step guide of what you should expect.
1. Submit Your Email And Choose A Password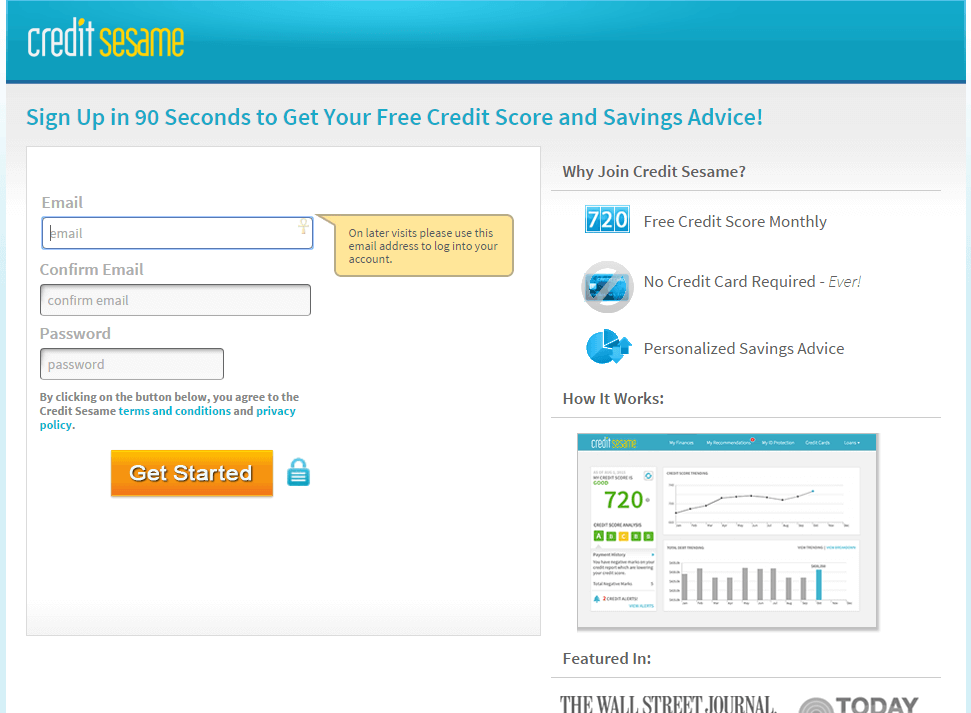 2. Complete Personal Information Form
Provide your name, address, DOB, and the last four digits of your SSN.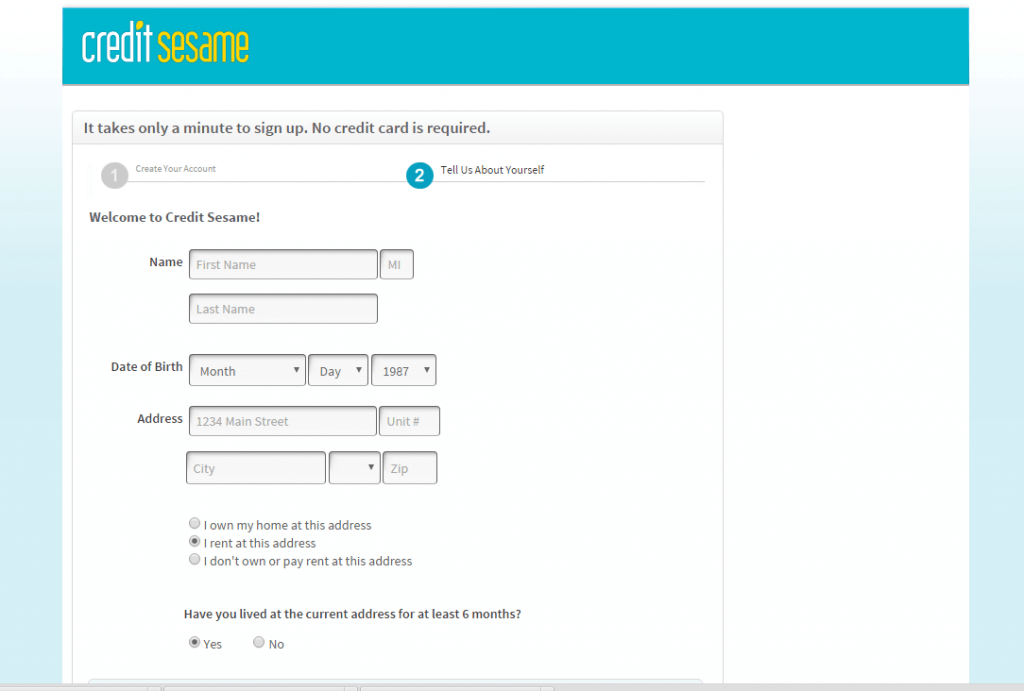 3. Confirm Your Identity
Answer a couple of questions about your credit history to confirm your identity. That's it. You're done.
Is Credit Sesame a Scam?
No. Not at all. It is a for-profit company that attracts new customers by providing free services in the hope they will upgrade their membership or apply for the loans and credit cards it recommends. This is the same business model Credit Karma, Credit.com, and many other legitimate businesses use.
Is Credit Sesame Safe?
Yes. You don't have to provide them with your credit card and they only request the last four digits of your SSN. Enough said.
Can I Get My Free Annual Credit Report Through Credit Sesame?
No. That is a different service you can only obtain through www.annualcreditreport.com. However, Credit Sesame and AnnualCreditReport.com are a perfect complement if you want a free way to keep tabs on your credit score and credit report for free.
How Much Does Credit Sesame Cost?
Credit Sesame is free if you stick to its basic features. Premium features, such as $1 million identity theft insurance, access to credit experts, and full credit reports require you to become a paying member.
Credit Sesame has three levels of paid membership: Advanced Credit, Pro Credit, and Platinum Protection.
Advanced Credit ($7.95 a month) offers a full credit report every month and 24/7 access to experts if you need to solve credit report inaccuracies.
Pro Credit ($15.95 a month) provides monthly credit scores (not FICO scores), daily credit monitoring, and full monthly credit reports from all three bureaus. It also includes 24/7 access to credit experts to resolve credit report inaccuracies.
Platinum Protection ($19.95) includes all the services offered by Pro Credit plus full-service identity restoration, $1 million identity theft insurance, 24/7 assistance when your wallet is lost or stolen, monitoring of black market websites, public records and your Social Security Number.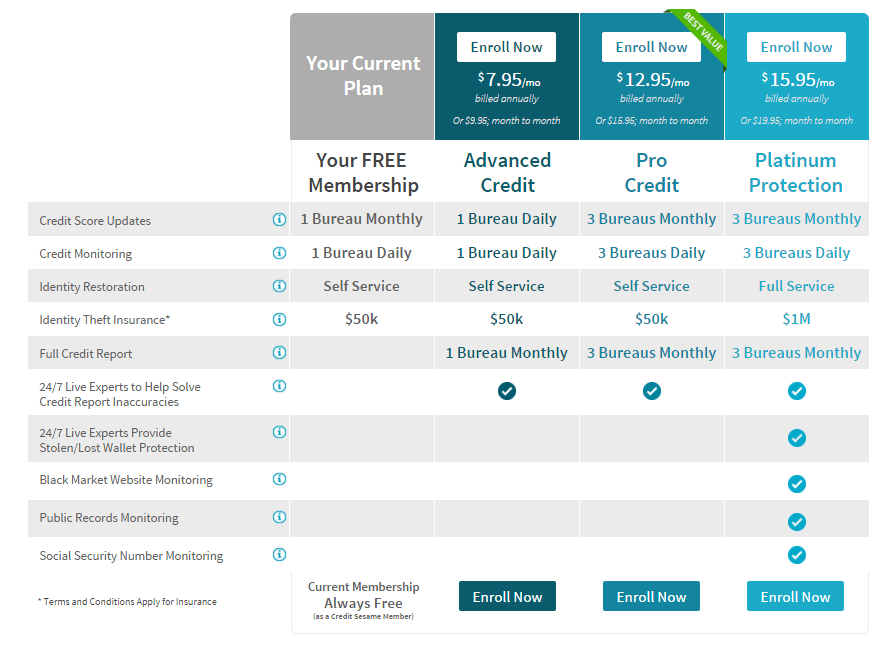 FAQ on Credit Sesame
Is Credit Sesame a legit site?
Credit Sesame is safe and uses the same security measures as banks and the government to keep your information safe and secure. Credit Sesame is not a scam; it is providing a legitimate service. Safeguarding your information is extremely important for them to keep your credit accurate and protected.
Are Credit Sesame scores accurate?
Credit sesame uses what is known as the Experian National Equivalency score. The score is accurate for what it is, but this is not the same score lenders look at when you make an application for a loan. Lenders look at what is known as a FICO score, this is calculated differently to the score sesame provides and even has a different range (360-840 for sesame and 300-850 for FICO).
What credit score does Credit Sesame use?
The credit score you see on Credit Sesame is based on the VantageScore® 3.0 scoring model and provided by TransUnion. It is a real credit score, and it is not the TransUnion Risk Score, which is a score that was merely an educational credit score and not used by lenders.
How Credit Sesame works?
Credit Sesame is a free personal financial management tool that assists users with monetary liabilities. While other financial management tools incorporate bank accounts, retirement investments and target savings goals, Credit Sesame stays on the debt side of the transaction. It specializes in tracking and monitoring the financial obligations of each user as well as providing recommendations.
Will using credit sesame hurt my credit score?
No. When you use credit sesame, they do a soft pull on your credit report, this is not used by any scoring algorithms to calculate your credit score and isn't something lenders consider when you apply for a new loan.
The Bottom Line
Credit Sesame provides an excellent service for an unbeatable price. As well as free access to your TransUnion credit score (not your FICO score), Credit Sesame provides a free analysis of your credit report, $50k identity theft insurance, and personalized recommendations on mortgages and credit cards. There is no downside to registering with Credit Sesame and a lot to learn and benefit from its free credit and debt tools.
Andrew is the managing editor for SuperMoney and a certified personal finance counselor. He loves to geek out on financial data and translate it into actionable insights everyone can understand. His work is often cited by major publications and institutions, such as Forbes, U.S. News, Fox Business, SFGate, Realtor, Deloitte, and Business Insider.