Customers interested in benefiting from a travel card without steep annual fees may want to look into the Deserve Pro Mastercard. Deserve now offers cardholders an invitation for a complimentary one-year Deserve Pro Priority Pass Select Membership. The value of this special travel perk is $99.
How to benefit from this offer
New cardholders are eligible for this sweet travel perk if they spend $1000 within the first 90 days of activating their card. This opens the door to 1,200 airport lounges worldwide to eligible cardholders. Deserve Pro Mastercard expressed plans to extend invitations to select current cardholders to benefit from this offer as well.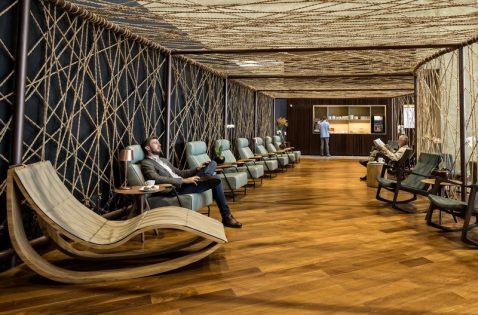 Members will still pay $27 to access each lounge. The discount from the usual $32 fee offers access to food and drinks at no further charge inside. Finding a comfortable spot to rest during long layovers makes this an appealing perk for many
travelers. Each lounge offers its own perks, but cardholders can count on complimentary Wifi and charging stations.
Travelers will also appreciate having a Mastercard with no foreign transaction fees
Other benefits of this card
In addition to the Deserve Pro Priority Pass perk, purchases earn 3% cashback on travel and entertainment and 2% cashback at restaurants. All other purchases will earn 1% cashback. Cardholders receive their cashback rewards on up to $500 in combined purchases per billing cycle.
As for the hefty annual fee attached to most travel credit cards? Deserve Pro Mastercard comes with none. Along with the $0 annual fee, card members benefit from lower credit standards than many travel cards. Most require high credit scores and tack on a substantial annual fee for access to travel perks. The Deserve Pro Mastercard is a great alternative for travelers building their credit. While Deserve isn't matching the perks of the high price travel cards, customers who qualify for this card still receive great travel benefits. Cashback rewards mean that all credit card usage reaps benefits for cardholders. Customers have the chance to build credit as they spend, leading to further financial independence.
This card has an easy to manage via their mobile app. The app includes a financial literacy section to help customers make wise credit decisions. It also comes with Mastercard cell phone insurance. This applies if you use your Deserve card to pay your monthly cell phone bill, adding up to a $600 value.
Cardholders can also take advantage of a one-time statement credit for renter's or homeowner's insurance. Customers receive a $10 credit when using their card for monthly Lemonade insurance payments. All of this comes with standard Mastercard benefits like car rental coverage, extended warranty protection, and price protection.
You don't need an SSN to apply, which is a big attraction for international students and temporary residents.
Fees, interest rates and credit limits
The Deserve Pro Mastercard comes with credit limits of up to $10,000. It has a variable APR, check below or here for the current rates. There is a late payment penalty of $25 and a returned payment fee of $37 but no over limit fee. 
Rewards credit cards like this can make it easy to earn miles, points, or cashback to make your travel plans a reality. Check out SuperMoney's credit card comparison tools to find the best rewards card for you.