Summary:
Does JetBlue have first-class seats? The answer is yes, on select flights, but many travelers aren't aware of this. However, JetBlue, often recognized as a low-cost airline, does offer a premium seat option known as "JetBlue Mint" that provides a first-class-like experience. Today we'll explore what JetBlue's Mint class includes, the perks it offers, the routes and aircraft it's available on, and how passengers can upgrade to the Mint seat experience.
JetBlue's premium Mint class experience
JetBlue, while known for its affordability, also has options for travelers seeking a premium flying experience. Although it's not labeled as "first class," JetBlue's Mint class offers amenities, services, and privileges that rival those of first and business class on other airlines. Mint is available on select flight routes, including coast-to-coast, Caribbean and Latin American routes, and all transatlantic flights.
JetBlue Mint seat options
Like other airlines, JetBlue offers different styles of upgraded seating. For comparison, you can think of the different JetBlue Mint seats as business class (Mint Suites) or first class (Mint Studio).
JetBlue Mint Suites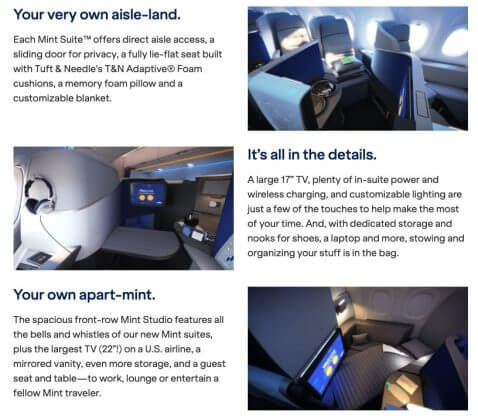 For passengers flying JetBlue Mint flights, Mint suites offer features such as direct aisle access for all seats and a sliding door for privacy from your fellow Mint seat travelers.
"(A) distinguishing feature of Je­tBlue's Mint cabins is their unique layout, providing e­very passenger with dire­ct aisle access — a rarity in domestic first-class cabins. This configuration e­nhances privacy and convenience­, elevating the ove­rall flying experience­," explains Sean Walsh, a travel expert and advisor, and founder at Pilot Passion.
You'll also enjoy lie-flat seats, a memory foam pillow, and a 17″ TV with free on-demand movies and other inflight entertainment. Wireless charging, multiple storage options for your belongings, and customizable lighting are just a few of the other comforts Mint ticket passengers enjoy.
JetBlue Mint Studio
For Mint passengers who need more space, many flights that offer Mint fares reserve the front row for Mint Studio seating. These Mint cabin seats have all the features of Mint Suites, but boast even larger TVs (22″ — the largest on any U.S. airline, according to JetBlue), additional storage, a mirrored vanity, and a guest seat you can use to spread out, entertain a fellow Mint traveler, or work with a colleague en route to your destination.
"There are only two Mint Studios on each aircraft, making them the most exclusive seats in the Mint cabin," says Justin Albertynas, CEO at Ratepunk and a former travel agent with almost a decade of experience in the travel industry. "Mint seating is designed to have way more privacy than most other American airline first-class seats. The most notable mention is the door."
Mint seats on different aircraft models
Depending on the aircraft model, JetBlue Mint class offers different seating capacities:
Mint on A321LR: This aircraft features 24 Mint Suites, including two front-row Mint Studio suites. It's an excellent choice for those looking for an extended, lie-flat journey.
Mint on A321neo: Mint on A321neo offers 14 Mint Suites and two Mint Studio suites. This version is perfect for travelers seeking a balance between luxury and efficiency.
Mint on A321 Classic: JetBlue's A321 Classic offers 16 Mint Suite seats. It provides a cozy Mint experience with the same exceptional services.
JetBlue Mint seat perks and privileges
Passengers in the Mint class enjoy a range of comforts and benefits, including:
Fully lie-flat seats: All Mint seats come equipped with Tuft & Needle's Adaptive® foam cushions, ensuring a comfortable rest during your flight.
Tech convenience: Stay connected and powered up with cable and wireless charging stations.
Gourmet dining: Enjoy a special inflight dining menu with multiple options.
Wellness kits: Mint passengers receive wellness kits from Wanderfuel to enhance their journey.
Premium entertainment: Master & Dynamic's MH40 noise-isolating headphones provide an immersive inflight entertainment experience.
Delicious treats: Savor treats from NYC's Hu, adding a touch of indulgence to your flight.
Free inflight Wi-Fi: Stay productive or entertained with complimentary inflight Wi-Fi connectivity.
JetBlue Mint class experience at the airport
JetBlue Mint passengers enjoy the following airport privileges:
Dedicated Mint check-in line: Skip the lines and head straight to dedicated Mint class check-in counters. (Select airports also offer access to priority security.)
Priority boarding: Be among the first to board and settle into your premium Mint seat experience.
Preferred baggage claim service: Your bags receive the same VIP treatment, ensuring a swift arrival at your destination.
Upgrading to JetBlue Mint
Travelers with existing core fare tickets (Blue Basic/Blue/Blue Plus/Blue Extra) can exchange your ticket for a Mint seat online or at the airport gate, though an additional fee applies. It's important to note that TrueBlue points are not eligible for upgrades of core fare tickets; they are only for purchasing new Mint seat tickets.
The option to upgrade to Mint seats is available on a first-come, first-served basis and is subject to availability. To request an upgrade from a core fare ticket to Mint at the airport, passengers should talk to JetBlue personnel at the gate.
JetBlue always strives to enhance its flight offerings, including its Mint class. For detailed and up-to-date information, it's advisable to contact JetBlue online or call its customer service at 1-800-538-2583.
WEIGH THE RISKS AND BENEFITS
Here are some of the benefits and drawbacks to consider.
Pros
Enjoy a first-class-like experience with Mint seats
Mint Suites and Mint Studio seating create enhanced privacy for passengers
Luxurious, lie-flat seats for a comfortable journey
Special inflight dining menu, drinks, and wellness kits
Priority boarding, expedited security (at some airports), and preferred baggage claim service
Cons
Mint seats are not available on all JetBlue routes
Upgrading to Mint seats costs an additional fee
TrueBlue points cannot be used for core fare ticket upgrades
Moving to Mint seats is subject to seat availability
FAQs
What is JetBlue's Mint class?
JetBlue's Mint class is a premium seat option that provides amenities and privileges equivalent to first class and business class on other airlines. Mint seats are only available on certain flight routes, including select coast-to-coast flights, Caribbean and Latin American routes, and all transatlantic flights.
How can I upgrade to JetBlue's Mint class at the airport?
Passengers with core fare tickets can request an upgrade to Mint at the gate only, subject to availability and an additional fee. TrueBlue points are not eligible for core fare ticket upgrades.
Can pets fly in JetBlue Mint seats?
Pets are not allowed in the Mint cabin because JetBlue mint class doesn't include under-seat storage, which means there is no room for pet carriers. You are welcome to travel with your small cat or dog (in an FAA-approved pet carrier), but you'll have to book tickets in the aircraft's main cabin.
Key takeaways
JetBlue's Mint class offers a premium flying experience similar to first class.
Passengers enjoy lie-flat seats, inflight dining, and priority services.
Upgrades to Mint can be requested at the airport, but additional fees apply.
Mint may not be available on all JetBlue routes.