Article Summary:
A patio home is a single-story home that shares walls with other units. Patio homes are similar to condos and townhouses, although there are differences between these types of homes. Patio homes are a great option for those with limited mobility or for those who want an entry-level home. Continue reading to learn more about patio homes and their pros and cons.
If you are looking to purchase a home, you have probably encountered the wide variety of homes available to you. There are townhouses, condos, apartments, single-family homes, multi-family homes, modular homes, co-ops — the list goes on. You may have found something called a patio home and want to know what defines a patio home compared to all of these other options. This article will tell you what you need to know.
Let's get started
In this article, we will accomplish the following:
Define "what is a patio home?"
Compare patio homes to other, similar homes
Discuss what you should consider about the patio home before purchase
Help you understand how to finance your patio home
Explain for whom a patio home is suitable
What is a patio home?
Despite its name, a patio home is not defined by the presence of a patio. Rather, patio homes — also referred to as garden homes or cluster homes — are often compared to a condo or a townhouse. While these three types of homes share similarities, they also have distinct characteristics.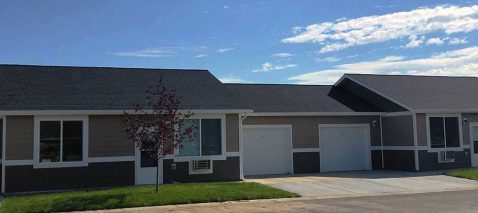 Patio homes exist in communities of other patio homes. While patio homes vary in design and shape, their height defines them: most patio homes do not exceed one-and-a-half stories tall. This means that most patio homes do not have stairs and are single-story. Patio homes commonly share side walls with other homes, but not top or bottom walls. Lastly, patio homes include the land underneath the property.
Similarities and differences between condos and townhouses
Patio homes, condos, and townhouses are all variations of "attached residences" or multi-family homes. These types of homes share at least one wall with their neighbors and exist in complexes designed for multiple families. However, there are key differences between these unit types.
The only similarity between a patio house and a condo is that both types of properties share walls with other units. A condo is more similar to an apartment, as all walls in the condo unit can be shared. However, in a patio house and townhouse, only the side walls are shared. Similarly, both patio homes and townhouses include the land under the property. This is not the case with condos.
So, how are patio homes and townhouses different? The most noticeable difference is in the size. Some consider patio homes to be "miniature townhouses" because a patio home rarely goes above single-story height, while a townhouse can be any number of levels. Patio homes, generally, have smaller square footage than a townhouse.
How much does a patio home cost?
Without knowing the location of the real estate, it is nearly impossible to estimate the cost of a patio home. A patio home on a golf course in Southern California will cost more than a patio home somewhere in Madison, Wisconsin, for example.
You should expect a patio home to have a price comparable to — or slightly lower than — the price of a townhouse or standalone property that is not part of a community.
You may have to pay homeowners' association fees
Given that most patio homes are part of a community, however, you will likely have to pay HOA fees. These fees are not optional. If you purchase a patio home that is part of an HOA community, you will have to pay them. For this reason, you should consider HOA fees along with the price of the home.
The additional cost of these HOA fees also varies according to the amenities offered by the given HOA. Some HOAs only pay for the maintenance cost of shared landscaped areas. On the other hand, some HOAs include amenities such as swimming pools, golf courses, tennis courts, social events, and clubhouses. The association fees for the latter HOAs will be much more than for the former. That being said, you will get extra amenities with the latter.
You should consider what kind of community you want as you look to purchase a patio home. Also, consider if the amenities offered by your potential HOA are worth the extra cost.
Save money by buying at auction
If you are looking at patio homes because you are on a budget, a potential option is to buy a patio home at an auction. This can lower the cost of the house even more. Buying a home at auction can be risky and complicated, so we recommend fully understanding the process of how to buy a house at auction first.
Size and design of a patio home
All patio homes are different, and the internal design is not the defining feature of a patio home. That being said, most patio homes have open floor plans. This means that there is usually a large living room that opens into a kitchen or dining area. For owners who love to have guests, this is great. No one is hidden in the kitchen, and there are no narrow hallways or doorways that make it difficult to get around.
If your patio home is one-and-a-half stories, you will have a half-story space that is great to convert into an office or an at-home gym, or whatever fits your needs.
Regardless of the design of the patio home, it will be a smaller space than most other home options. This is a great low-maintenance option for people with mobility issues and for people who do not want to do as much cleaning!
Who should consider a patio home?
Patio homes are great options for small families, young couples, old couples, or single people. Given that the defining characteristic of patio homes is the lack of stairs, many homeowners who do not want stairs opt for patio homes.
You can find patio homes in many 55+ communities for this exact reason. However, families with young children or with persons with disabilities may benefit from the lack of stairs in a patio home.
A patio home is also a great option for those who do not want to be responsible for landscaping, given that patio homes are part of an association whose fees go toward landscaping costs.
Lastly, you should only consider a patio home if you agree with the rules and fees of the HOA and want to be a part of a community that has shared values and regulations. If you value the option to make stylistic changes to your home or do not want to be subject to community rules and regulations, a patio home may not be the best fit.
How can you finance your patio home?
You can finance your patio home just as you would finance any other type of home, condo, or townhouse: with a mortgage lender. The process is very similar. Once you have secured your mortgage lender, you should expect that the lender will verify your credit and order an appraisal of the property. If you are curious about the process of financing a home, read SuperMoney's guide here.
It is important to note that because you are purchasing a home that is part of a community and that comes with HOA fees, your mortgage lender will make sure you can pay not only the mortgage but the HOA fees, as well, before approving your mortgage.
Pros and cons of patio homes
There are many considerations before you purchase a home. Patio homes are no exception.
WEIGH THE RISKS AND BENEFITS
Here is a list of the benefits and the drawbacks to consider.
Pros
Reasonable and comparable purchase point
Less square footage, which can be a pro for people who do not want to manage as much property space or do not want as much upkeep
A single-story without stairs, which is great for people with mobility issues.
Extra amenities included in the HOA fees
Community-like feel with neighbors
Often fewer security concerns as many HOA communities include security guards and damage protection
Low maintenance
Cons
Additional monthly expenses of the HOA fees, which you may not fully suit your lifestyle or needs
Small square footage and proximity to neighbors means you may not have much privacy
Have to obey the rules and regulations of the HOA community
Where to find patio homes
Patio homes can be found nationwide, but their popularity has spiked only in the last several years. The northeast is home to a large number of patio homes, and you should look near retirement communities to find large collections of these types of homes. However, because they are not as popular an option as condos and townhouses, you may need to work harder to find a patio home that fits your needs. Ask your real estate agent for patio home options near you.
Pro tip:
Because patio homes are less common, it is important to prepare in advance to buy the patio home of your dreams if you find one in your market. Secure a top-notch real estate agent, and follow SuperMoney's
step-by-step guide for how to buy a house
.
FAQ
What defines a patio home?
A patio home is defined by being without stairs and at a max height of one-and-a-half stories. A patio home shares side walls with other units, and its owner owns the land under the property.
What is the average size of a patio home?
There is no average size of a patio home. A patio home can have any number of bedrooms, bathrooms, and extra space. However, patio homes are generally smaller than most other types of homes and are single-story.
How private is a patio home?
The privacy of your patio home will depend on the community that you live in and the nosiness of your neighbors. As with townhouses and condos, you will share a wall with your neighbor, which automatically takes away some degree of privacy. Patio homes are smaller, so you may not have much privacy inside the home, either.
Could a patio home be right for you?
Patio homes are a great option for small families, for people with mobility issues who are unable to climb stairs, or for people who are looking for low-maintenance housing options. However, given that they are in community complexes, they will come with additional fees and community regulations. You may also have less space and privacy than with other housing options. You should consider if these advantages and disadvantages fit your lifestyle before purchasing a patio home.