Everyone makes mistakes. But when they happen when you're driving your car, mistakes can be expensive. If you've been involved in a major accident or traffic offense, you may need to meet additional requirements before you can drive again. Luckily, it's not the end of the world. As long as you have an SR-22 insurance certificate, you can get back on the road without having to pay a costly cash deposit.
So what is an SR-22? How does it work? And where can you get one? Read on to learn everything you need to know.
What is an SR-22?
Also known as a financial responsibility filing or a certificate of insurance, an SR-22 is a vehicle liability insurance document issued by a driver's insurance company.
In most states, the Department of Motor Vehicles (DMV) requires that drivers carry an SR-22  to prove that they have their state's minimum required insurance. Also, it's often needed when reinstating a driver's driving privileges after an accident or a serious traffic offense.
How much does SR-22 insurance cost per month?
SR-22 is not an insurance policy, it is a certificate verifying that you have insurance. As such, it does not have a monthly fee. Instead, you can purchase one for a low, one-time cost of around $25.
However, if the DMV requires you to have an SR-22, you probably have some negative marks on your driving record. And these negative marks can drive your insurance premiums up. For example, a DUI can cause your premium to increase anywhere from 50% to 200%. So it is true that overall, drivers with SR-22 forms tend to have more costly insurance premiums.
Tip: Looking to cut auto insurance costs? Because costs vary widely for very similar coverage, it's in your best interest to shop around to find the best value.
Compare auto insurance quotes:
Who needs an SR-22?
If you are required to submit an SR-22, the state or court will notify you. Situations that often result in the need for an SR-22 include:
Driving without a license and getting in an accident.
Driving without car insurance.
Reinstating your license after revocation or suspension.
Numerous traffic offenses in a short period.
Alcohol violation arrest of conviction such as a DUI or DWI.
Conviction of a serious moving violation (e.g. negligent driving).
Racing.
Submitting the SR-22 is often an important step in the legal process of getting back on the road.
How long do you need an SR-22?
If you've received an SR-22 notification in the mail, it will specify how long you must maintain the active certification. The time varies depending on your state and circumstances. In most cases, you'll need your SR-22 form for three years, but it can range from two to five.
Do you need regular insurance with SR-22?
An SR-22 is a certification that you have the minimum amount of insurance required in your state. In some states, "high-risk" policies are required. As such, to keep your SR-22 active, you'll need to maintain your state's necessary insurance policy.
What happens if you cancel your insurance or drop below the minimum requirement? In this case, your car insurance company is required by law to notify the DMV. This will lead to undesirable consequences, such as the suspension of your license.
Can I get an SR-22 in place of making a cash deposit?
Yes, and it is usually a far cheaper alternative.
In the event of certain road violations, many states require proof of financial responsibility in the form of an SR-22 or a deposit in cash or security. The SR-22 is usually the least expensive option. For example, in Illinois, drivers can either submit an SR-22 or $70,000 in cash. In California, the alternative to the SR-22 is $35,000 in cash.
What is an SR-26 form?
Insurance companies are required to issue an SR-26 form when an SR-22 expires or is canceled. The form certifies the cancellation of a policy.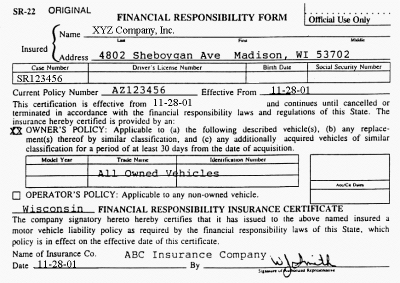 What is an FR-44?
An FR-44 is another financial responsibility certificate but is only used in Florida and Virginia. The liability requirements on the FR-44 are higher than the ones required by the SR-22.
How can I get an SR-22?
If you are required to get an SR-22, you need to find an auto insurance policy that meets the minimum requirements. Further, you need an insurer that is SR-22-friendly.
If you already have a qualifying policy, you can contact your insurer to find out if they can get you the SR-22. Insurers that offer SR-22s, such as Esurance, will often file your form electronically with the Department of Motor Vehicles.
Find the right insurer for your SR-22
Do you need SR-22 auto insurance, but don't know where to start? Check out our curated list of leading auto insurers below. You can easily shop around and get quotes from multiple insurers in minutes. Once you get your auto insurance and SR-22 in place, you can get back behind the wheel.
Shop auto insurance companies now.
Jessica Walrack is a personal finance writer at SuperMoney, The Simple Dollar, Interest.com, Commonbond, Bankrate, NextAdvisor, Guardian, Personalloans.org and many others. She specializes in taking personal finance topics like loans, credit cards, and budgeting, and making them accessible and fun.