If your company is in the media industry and you find yourself crippled by long payment cycles (sometimes up to 120 days), then FastPay Capital (FastPay Loans) is a service you'll likely want to consider.
It is a finance solution marketed as an alternative to venture capital for new businesses that face cash flow problems. If you don't have established credit and can't (or don't want to) sell equity in exchange for working capital, it can be especially helpful.
Here's everything you need to know about FastPay loans to decide if they are right for your company.
About FastPay
FastPay was founded in 2009. Its headquarters is in Los Angeles, with other offices in San Francisco, New York, Boston, and London.
Put simply, FastPay is a financial technology company that provides the digital media industry with liquidity and financial workflow solutions to help them grow and overcome hard times. It leverages analytics and proprietary technology to address the long payment terms and inefficient payment processes that are common in these industries.
The FastPay team is composed of media, legal, technology, design, finance, and entertainment professionals who are seeking new ways to lend money to leading companies in ad tech and digital media. Since its founding nine years ago, the company has originated more than $2 billion in loans.
Without FastPay Capital, we would not have been able to grow our business as fast as we have"

Lisa Marino, CEO of RockYou
Check out the best small business loans for all types of credit
FastPay Capital
FastPay Capital is FastPay's working capital solution. The company extends credit lines secured against account receivables (outstanding invoices). Eligible businesses can access up to 70% of their invoice balances within two business days. Initially, you can obtain credit lines up to $100,000, which can increase after four to six months of using FastPay.
Highlights:
No personal guarantee requirements.
An easy-to-use interface for more control and visibility.
Hundreds of integrations with accounting systems and media dashboards (i.e., Quickbooks, Google, AppNexus, etc.).
Data on over 55,000 media buyers and suppliers which allows the company to approve more invoices that any other provider thanks to its FastPay Network.
For example, RockYou is a media company that came to FastPay in 2013 because it was facing cash flow issues and couldn't get financing from traditional financial institutions. It needed access to a substantial credit line. FastPay's platform integrated into RockYou's accounting system and workflow, which enabled the company to borrow seamlessly against its receivables.
Alleviating the cash flow concerns allowed RockYou to focus solely on its customers and on growth. The result was a 233% increase in annual revenue. "Without FastPay Capital, we would not have been able to grow our business as fast as we have," says Lisa Marino, CEO of RockYou.
FastPay costs to borrow
The cost to borrow from FastPay is 3% of the outstanding balance per month. Once your client pays the invoice, you then need to repay the loan and fees.
See the best working capital loans of 2018
FastPay loans eligibility requirements
Qualifying for FastPay is easier than qualifying for many other business loans. Here are the requirements:
Have a business in the digital media industry.
Have accounts receivables that FastPay can review.
Be established as a corporation or LLC (no sole proprietors).
First funding request must be at least $5,000.
There are no requirements for the number of years in business, annual income, credit score, etc., which can make this an attractive option for certain businesses. The business types that most commonly use FastPay's solution are ad tech companies, ad networks, app developers, publishing networks, publishers, and agencies.
Compare FastPay against Fundbox business loans
FastPay loans pros and cons
WEIGH THE RISKS AND BENEFITS
Here is a list of the benefits and the drawbacks you should consider when shopping for a loan with FastPay
Pros
FastPay specializes in serving the digital media and tech industries.
It lacks fixed requirements for credit, years in business, or annual income.
It provides funding in a short period.
the company offers quality support online and over the phone.
Cons
No funding for sole proprietors.
52% APR if loans are repaid after four months.
Companies must have pending invoices.
Only available for businesses in the digital media and tech space.
These differentiating factors put FastPay in a niche of its own and make it a perfect solution for certain types of businesses. If this sounds like the right solution for you, here's how to find out if you qualify.
How do you apply for a FastPay loan?
Contact FastPay by filling out the form provided on its website and the company will contact you.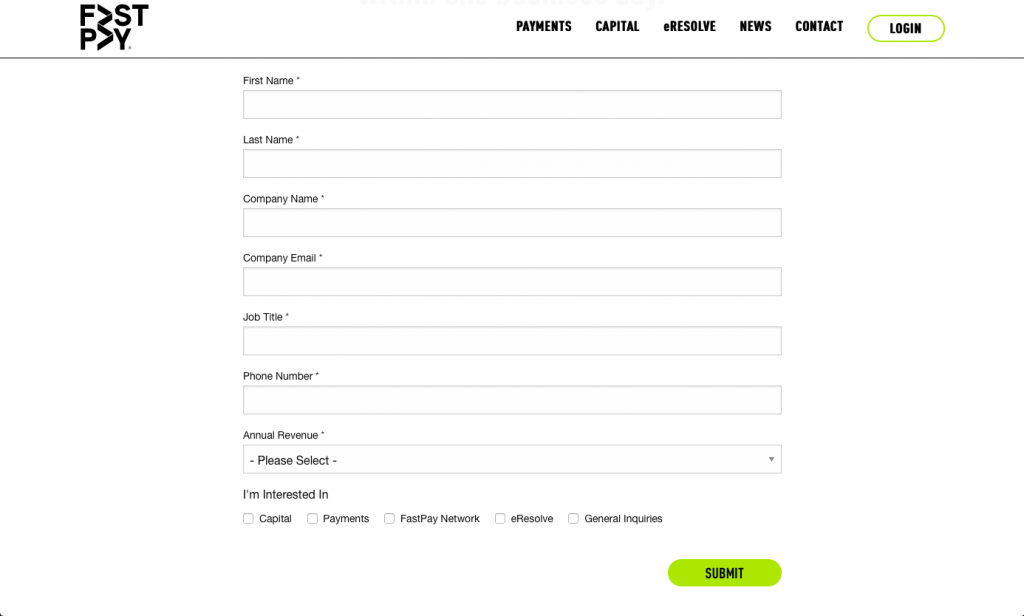 Unfortunately, there's no online application at this time.
Read the ultimate guide to easy business loans
Other FastPay services
In addition to FastPay Capital, the company also offers the following services to help streamline payments in the industry.
FastPay Network
This is a leading end-to-end payment platform built for media suppliers. By joining, firms can expedite payments, gain more visibility into transactions, and lower their costs. Highlights include:
Visibility of payment status in real-time.
Detailed payment information integrated into accounting systems.
Lower costs to accept payments than other networks.
Flexible terms.
Multiple financing options.
Electronic payments directly post to the company's account.
Control over acceptance.
Access to detailed remittance data (invoice #/data/amount, etc.).
Accelerated payments (e.g., net 15).
Archive of all transactions.
Invitation to FastForward (annual conference) and industry round-table events.
FastPay ePay
FastPay ePay is an electronic payment solution designed for the media industry to increase revenue, reduce costs, and improve client satisfaction. In other words, it works with accounting platforms to process payments using various methods (ACH, check, the FastPay Network, and virtual credit card). Here are highlights of the platform:
SitePay technology eliminates the need to enter information into a supplier's website manually.
Users gain access to sophisticated reporting and transparency.
EPay automatically reminds suppliers to process payments.
Many integrations are available including Quickbooks, Microsoft Dynamics, Mediaocean, and Advantage.
The FastPay Network features the largest supplier database with more than 55,000 media vendors.
A media payment team monitors the account to minimize labor and maximize revenue while providing support and ongoing supplier activations.
FastPay's follow-up on payments saves time and effort while ensuring invoices are paid.
FastPay Political is a second payment solution that is designed just for political media agencies. It ensures that suppliers get paid quickly while eliminating checks and overnight fees. Highlights include the above, plus:
Separate notifications for media reps.
24/7 support.
These services help optimize the entire payment process in the digital media and tech industry.
Is FastPay Loans right for you?
FastPay Loans offers a unique working capital solution that solves a common pain point in the digital media industry: long payment cycles that can hamper future projects. However, it is not the only solution. It is always a good idea to shop around before choosing a lender to ensure you get the best deal.
Learn how to qualify for small business loans
While FastPay Loans can be helpful for some companies, it can also be expensive. As such, be sure to compare a few other lenders to find out what offers are available to you and which would be the most beneficial.
Jessica Walrack is a personal finance writer at SuperMoney, The Simple Dollar, Interest.com, Commonbond, Bankrate, NextAdvisor, Guardian, Personalloans.org and many others. She specializes in taking personal finance topics like loans, credit cards, and budgeting, and making them accessible and fun.