Thinking of buying a home this year and wondering who can qualify for an FHA loan?
The FHA program is a great option to look into as it provides lenient credit eligibility requirements, low closing costs, and low down payments.
Here is the rundown of the FHA loan requirements for 2020.
FHA loan general requirements
To qualify for an FHA loan, you must meet these general requirements:
Have a social security number
Must be old enough legally to enter into a mortgage
Must take title to the property in own name or a living trust
Co-borrowers or co-signers must be in the U.S. or have a principal residence in the U.S.
Can not have delinquent non-tax or tax federal debt
Must be free and clear of all liens
One borrower must live in the property as their primary residence within 60 days and for one year (some exceptions apply)
Can not be an investment property
Must meet credit and income requirements
Borrowers can purchase an existing one to four-unit residence or may construct a new one
Properties must meet FHA criteria
You can read all the details in the U.S. Department of Housing and Urban Development's (HUD) policy handbook on FHA single-family housing.
However, it is quite lengthy, so we will cover the basics below.
FHA loan credit score requirements
According to the FHA handbook, applicants must have a minimum decision credit score (MDCS) of 500 to be eligible for an FHA loan.
Your MDCS can vary depending on how many credit scores you have from the different bureaus (Experian, TransUnion, Equifax).
If all of your credit scores are the same, that will be your MDCS
When the middle If you have three different scores, the middle score will be your MDCS
If you have two scores, the lower one will be your MDCS
When multiple borrowers are applying together, the lowest credit score will be the MDCS
Tim Milauskas, Loan Originator at First Home Mortgage Corp., says, "While FHA has a minimum required credit score of 500, you'd be hard-pressed to find a mortgage company or bank willing to lend to someone with a score that low."
He adds, "Most buyers will need a 620 or better before a lender would consider them suitable for a mortgage. There are all sorts of data out there about the likelihood of defaulting on a mortgage as you look across the board at different credit scores.
The lower the score, the greater a chance of default. As a result, most lenders place overlays on top of FHA rules to prevent defaults. Generally, buyers with credit scores above 620 are considered FHA-eligible."
Further, the MDCS will impact aspects of the loan such as the down payment required and the allowed debt-to-income ratio, so it is beneficial to get your credit above at least 580 before applying.
FHA loan requirements: creditworthiness
HUD requires that applicants have no delinquent accounts or collections, and no legal actions such as a foreclosure or bankruptcy on their records.
Any of the above that appear in the last seven years must have an adequate explanation or resolution. If your credit history is shorter than seven years long, HUD will consider the length of credit history available.
FHA loan requirements: income
The HUD handbook also outlines the income requirements for FHA loans. Here is a brief overview of the highlights:
For income to be "Effective Income," it must be legally derived and accurately recorded on the borrower's tax return (when required)
Effective Income must be reasonably likely to continue for the first three years of the mortgage
You will need to show your work history/income for the past two years
You can see what mortgage providers will consider "Effective Income" on pages 199-221 of the handbook.
If borrowers have changed employers or their line of work more than three times within a year, they will have to undergo further verification
Milauskas says, "Almost everyone can meet the income requirements, and they are by no means considered stringent."
FHA loan requirements: debt-to-income ratio
When it comes to FHA underwriting guidelines, you will have to be under the debt-to-income ratio limits.
Generally, FHA does not want a borrower to spend more than 43% of their gross monthly income on their mortgage payment plus all of their other monthly debts."
According to Milauskas, "Generally, FHA does not want a borrower to spend more than 43% of their gross monthly income on their mortgage payment plus all of their other monthly debts.
There is room for borrowers to spend more though, and it's all up to automated underwriting engines designed by Fannie Mae and Freddie Mac. This system will let lenders know how high a debt-to-income ratio can be for any given borrower."
Here is a chart from the FHA handbook outlining the acceptable ratios by credit score. In the maximum qualifying ratios column, the first number shows the percentage of a person's total Effective Income that the mortgage can consume.
The second number shows what is called the Total Fixed Payments to Effective Income ratio, which accounts for the mortgage payment and all other monthly obligations on debts or liabilities.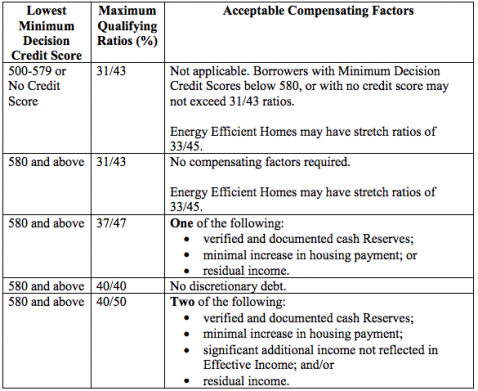 Source: FHA Handbook (pg. 325)
For example, if your credit score is 550 and your monthly Effective Income is $3,500, the highest your mortgage payment could be is 31% of your income, which is $1,085.
As for your total amount of fixed payments to debt, it could not exceed 41% of your income, which equals $1,435.
On the other hand, let's look at a person with a credit score above 580 who can verify residual income. In this case, if they had the same Effective Income of $3,500 per month as in the previous example, they could qualify for a monthly mortgage payment up to 37% of their income, or $1,295, with up to $1,645 allowable in total fixed payments to debt.
The better your credit and compensating factors, the higher monthly payment you will qualify for.
FHA loan down payment requirements
Now for the all-important down payment. HUD refers to the down payment as the "Minimum Required Investment" (MRI) in their handbook. The minimum amount allowed is 3.5% of the Adjusted Property Value.
The FHA will insure a mortgage loan from borrowers with a credit score as low as 500 with a 10% down payment. However, it is very difficult to close on a home with a score below 580."
However, not everyone will qualify for that rate.
"The FHA will insure a mortgage loan from borrowers with a credit score as low as 500 with a 10% down payment. However, it is very difficult to close on a home with a score below 580.
I would recommend working on improving your credit scores if you have a score below 580. Borrowers with a 580 or higher credit score can qualify for FHA with just a 3.5% down payment," says Milauskas.
FHA loan property requirements
HUD has a "Property Acceptability Criteria" that must be met and basically ensures a house is secure, safe, and sound. An appraiser will determine if a property meets the requirements or not.
Examples of requirements include the absence of defective conditions, encroachment, overhead electric power, onsite hazards or nuisances, improper abandonment of gas or oil wells, and lead-based paint.
The list is quite extensive and you can review it in full on page 163 of the handbook.
FHA loan maximum loan amounts
There are caps on how much you can borrow with an FHA loan, which will limit the properties you can select.
The mortgage limits are set based on the median house prices in each Metropolitan Statistical Area and County. They are updated periodically and you can check them in your area here.
Here's an example of current rates for homes in Fresno County, California.

FHA mortgage insurance premiums
Most FHA loans will require a one-time upfront mortgage insurance premium (UFMIP) and a yearly premium, which is paid in monthly installments.
The UFMIP must be either paid in full upfront or must be fully financed into the mortgage. This insurance is required if the down payment on an FHA loan is less than 20%. It protects the lender if you are to default on the loan.
You can view MIP premiums on page 972 of the handbook.
FAQ on FHA Loans
What are FHA requirements on house condition?
According to the 2020 FHA appraisal guidelines, all properties being purchased with an FHA-insured mortgage loan must be appraised by a licensed, HUD-approved home appraiser. At a minimum, the appraiser must complete the following steps: Visually inspect the subject property both inside and out.
Is there an income limit for an FHA loan?
There are no minimum or maximum income requirements for FHA home loans Rules do not say that it's possible to earn too much to qualify for an FHA loan. Regarding minimums, regulations focus more on the borrower's ability to afford the mortgage loan.
Can I apply for an FHA loan online?
Once you choose a lender, there are two ways you can apply for an FHA loan. You can go to the bank itself, obtain the necessary application forms, fill them out either there or at home, then submit them to your loan officer for review. However, many lenders now allow you to apply for an FHA loan online as well.
How long do you have to live in a house with an FHA loan?
You must be in the home within 60 days and live in that property for a minimum of one-year, full time. The co-borrower can live in the residence if the primary borrower cannot be in the home within that 60-day period due to proven extenuating circumstances.
How much will my FHA closing costs be?
Closing costs on an FHA loan range between 2%-5%. One of the main factors in the amount of closing costs you'll pay is your credit score. If you have a low credit score, you have few other options.
Apply for an FHA loan
There you have the basic requirements for an FHA loan in 2020 (which haven't changed much from the FHA loan requirements in 2019). To see if you qualify, you will need to find a lender.
HUD secures the loans and makes the rules, but third-party lenders provide the loans to borrowers. There are many options available, which can make it hard to decide which one is best for you.
To browse a list of lenders, see real user ratings, and read reviews, head over to our Mortgage Purchase Review Page and click the box in the left-hand menu for FHA.
Still have more questions about FHA loans? Check out our comprehensive FHA FAQ.
Jessica Walrack is a personal finance writer at SuperMoney, The Simple Dollar, Interest.com, Commonbond, Bankrate, NextAdvisor, Guardian, Personalloans.org and many others. She specializes in taking personal finance topics like loans, credit cards, and budgeting, and making them accessible and fun.