Student loans are the largest source of debt in the United States after mortgages, hence why financial aid is more important than ever.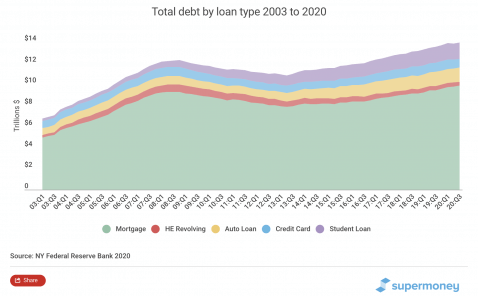 College costs can overwhelm you. The average student pays about $24,000 a year to go to college. Multiply that by four years of college, and it's enough to trigger a panic attack.
However, you can take steps to reduce these costs. Financial aid can be the difference between a few years and a lifetime of student debt.
What is federal student aid?
Federal student aid is money you receive from The Office of Federal Student Aid to help you cover college costs. This office is a part of the U.S. Department of Education. It provides the largest amount of student financial aid in the nation– over $150 billion to more than 13 million students each year in the form of federal grants, loans, and work-study funds.
How can you gain access to this assistance? Through the Free Application for Federal Student Aid (FAFSA). In this guide, we will discuss eligibility, what aid is available, how to fill out the FAFSA, and what to expect after applying.
By the end, you'll know how you can utilize Federal Student Aid to lower your college expenses to a figure you can afford.
"I graduated and have a full-time job now, but I am fully aware that I wouldn't have been able to pay for college without FAFSA."
Federal aid eligibility
To be eligible for federal aid, you must meet the following requirements:
Be a U.S. citizen or eligible non-citizen
Have a valid Social Security Number
Have a high school diploma, GED, or have completed home school
Be enrolled in a suitable program
Maintain satisfactory academic progress
You can't owe money to the federal government due to a past default on a federal student loan, or in the form of a refund on a federal student grant
You also can't have a conviction for the possession or sale of illegal drugs that occurred while you were receiving financial aid in the past.
These are the basic requirements, although others may apply.
The FAFSA helped us pay for expenses at a time when we were starting to get desperate, even though both of us were working part-time jobs as full-time students."
Types of federal aid
Here are the types of assistance available through Federal Student Aid.
Grants
Grants are usually given based on a student's need, and typically do not need to be repaid. There are many federal grants available to students attending four-year colleges or universities, community colleges, and career schools. These include Federal Pell Grants, Federal Supplemental Education Opportunity Grants (FSEOG), Teach Education Assistance for College and Higher Education (TEACH) Grants, and Iraq and Afghanistan Grants.
Federal Work-Study Program
This type of aid allows students to get a job (usually part-time) related to their careers. This helps them to earn money during the school year while gaining valuable work experience.
Low-interest loans
While loans do have to be repaid, the following have low interest, which makes them more affordable.
Federal Perkins Loan Program
This loan program is for graduate and undergraduate students and is campus-based. The amount you get will depend on your level of need and how much you receive in other types of aid. It also depends on the amount of revolving Perkins loan funds available at your school, which varies by college.
William D. Ford Federal Direct Loan Program
This loan program enables you to borrow money directly from the Federal Government. There are two types of loans available: a Direct Stafford Loan, which may be subsidized or unsubsidized, and a Direct PLUS Loan, which is always unsubsidized.
When a loan is subsidized, the Federal Government pays the interest while the borrower is in school and during deferment. Unsubsidized loans, on the other hand, require the borrower to pay all accrued interest. Direct Stafford Loans are available to undergraduate students and graduate students.
Direct PLUS loans are for parents of dependent students, graduate students, and professional degree students. In addition to the aid from the Federal Government, more assistance may be available to you from your state and school. Both may use the FAFSA to determine your eligibility.
Other aid options
Federal student aid isn't the only way to get help paying for college. If your FAFSA application is rejected, don't lose hope: there are other sources of financial aid.
State grant agencies
Even if you are ineligible for federal aid, you may still qualify for state aid. Contact your state's grant agency to find out what you need to apply.
Aid through your college
Many colleges have private funds to provide financial aid to students who need it. To find out how to apply, go to your school's website and find the financial aid page, or visit the financial aid office in person to discuss your options.
There are also scholarship opportunities available through some departments. Speak with your department to find out what scholarships might be available for your major.
Do this research as soon as is possible — each school has its own deadlines, and you must meet them!
Nonprofits and private organizations
Many organizations offer scholarships or aid for a variety of students. First-generation college students, students of color, women, and other marginalized groups can find organizations offering scholarships to their demographics. Do some online research for "scholarship" + aspects of your identity and history, your background, or your field of study. You'll be surprised at how many scholarships you qualify for!
Scholarships are a valuable resource for financing college expenses. Scholarships and grants cover about a third of college costs. If you are going to college, and you want to use your education to help people reach their financial goals, check out SuperMoney's Financial Literacy scholarship program. It awards $2,500 a year to a student who wants to help Americans improve their financial wellness through continued education.
How to apply for financial aid
The FAFSA applies you for federal, state, and school financial aid. As such, if you also want to apply for aid from private organizations or nonprofits, you will have to do this separately.
FAFSA is available every October for the following school year. The sooner you fill it out, the better, as early completion and submission will ensure you meet all deadlines. Here's how the process works.
Get prepared
You will need the following information handy to fill out the FAFSA:
Federal tax information or returns
Social Security Number
Cash, savings, and checking account balances
Alien registration number (if applicable)
Investments other than the home you live in
Records of untaxed income
The easiest way to apply is online. However, you can fill out a paper form and mail it in, as well.
Online application
1: Visit the FAFSA home page and click "Start a New FAFSA."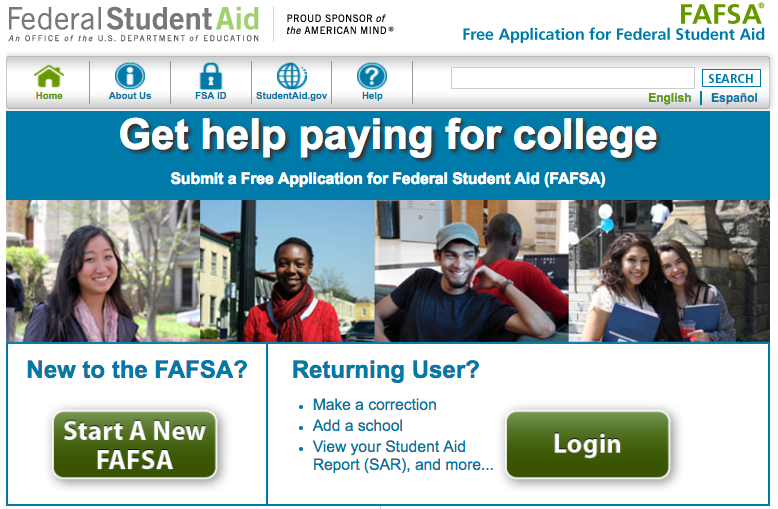 2: Select the circle for "Enter your (the student's) FSA ID and select "Create an FSA ID." If you already have one, skip to step number five.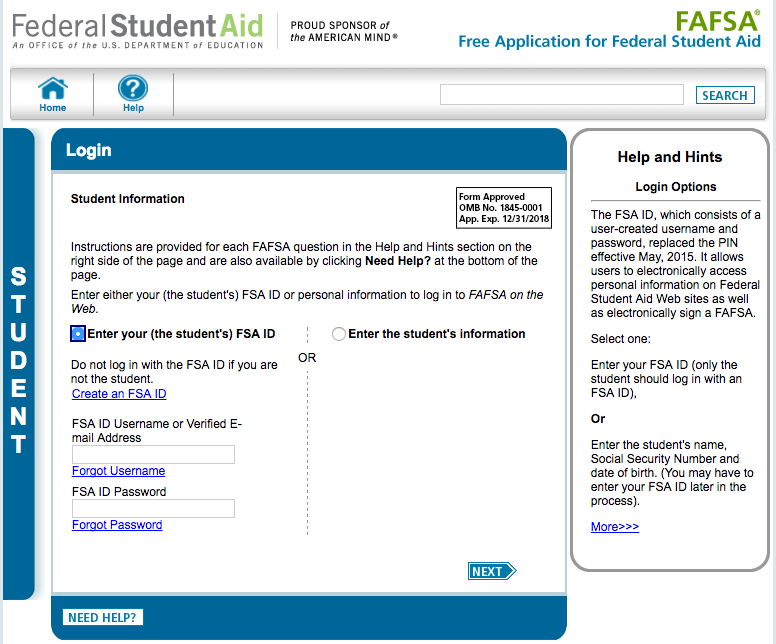 3: Create your FSA ID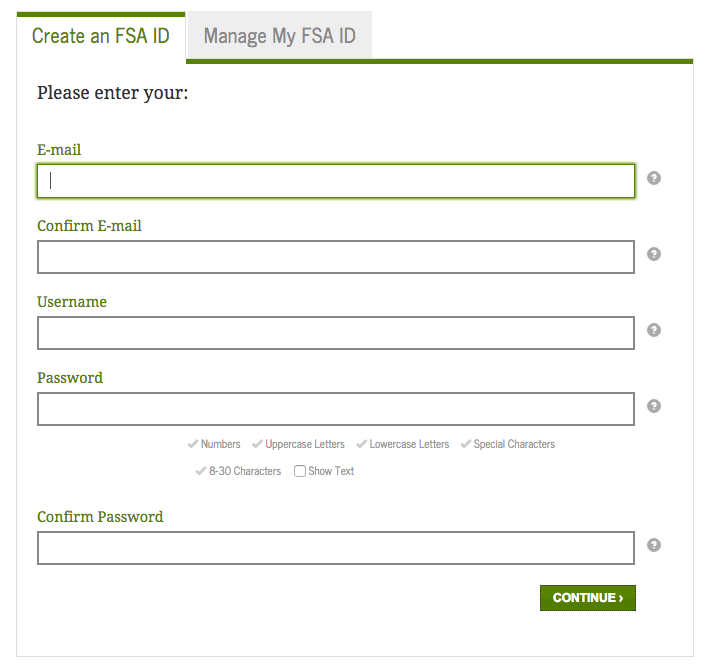 4: Complete FSA ID registration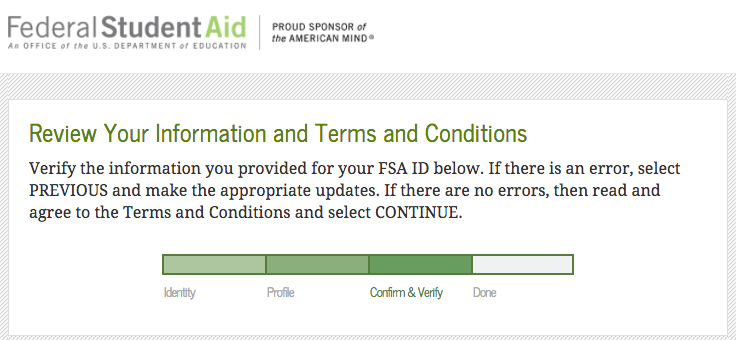 5: Once you have the FSA ID, login and choose the school year for which you are applying for financial aid.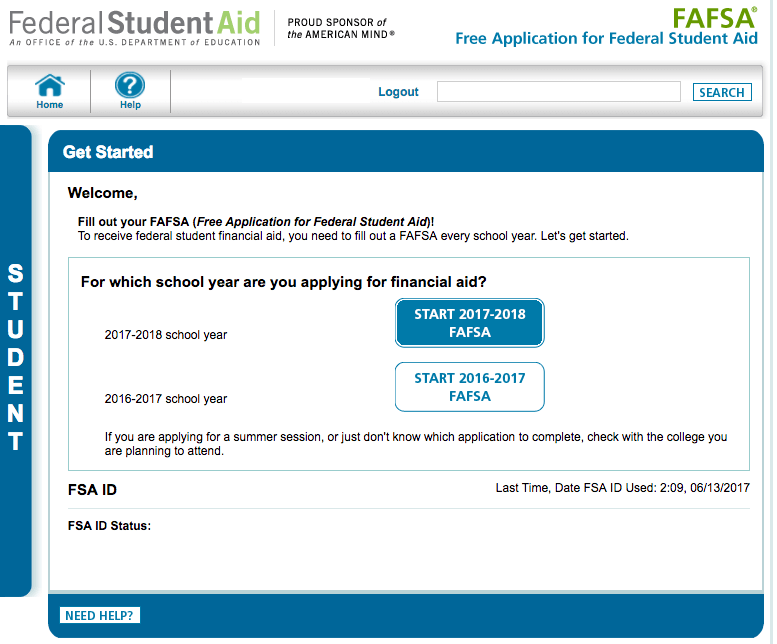 6: Read through the introduction page and click "Next."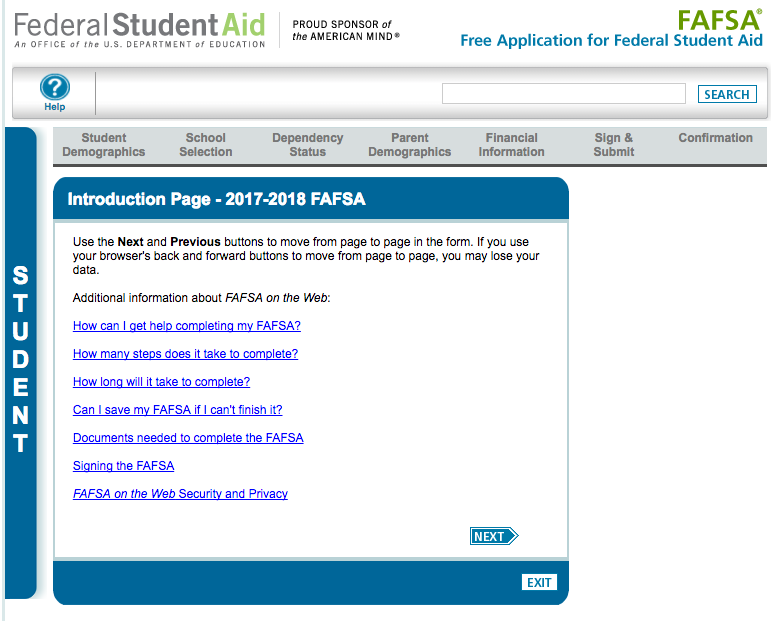 7: Provide your student demographic information.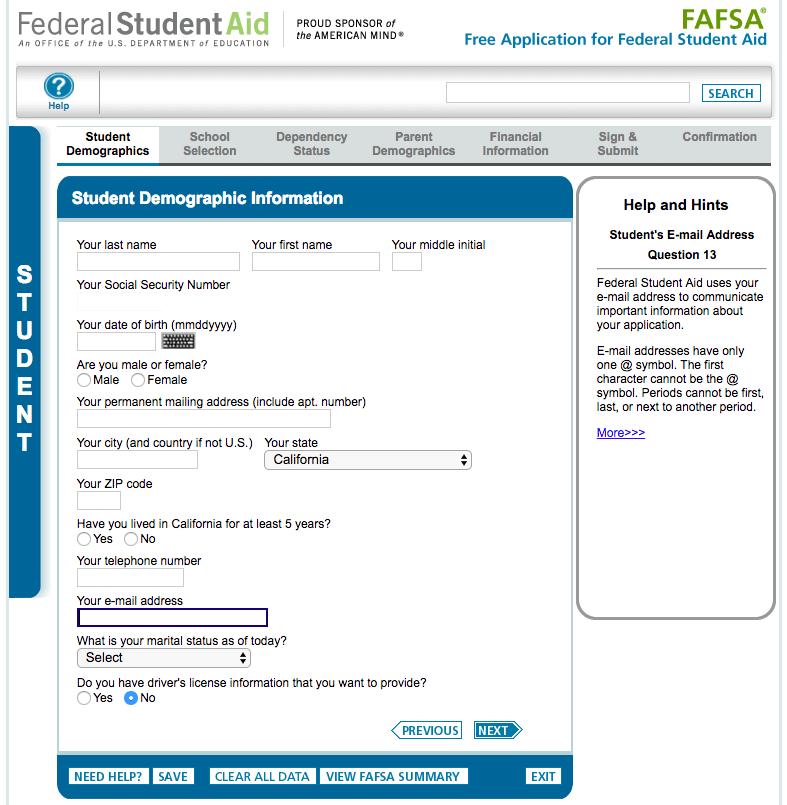 8: Select the school or schools you would like to attend.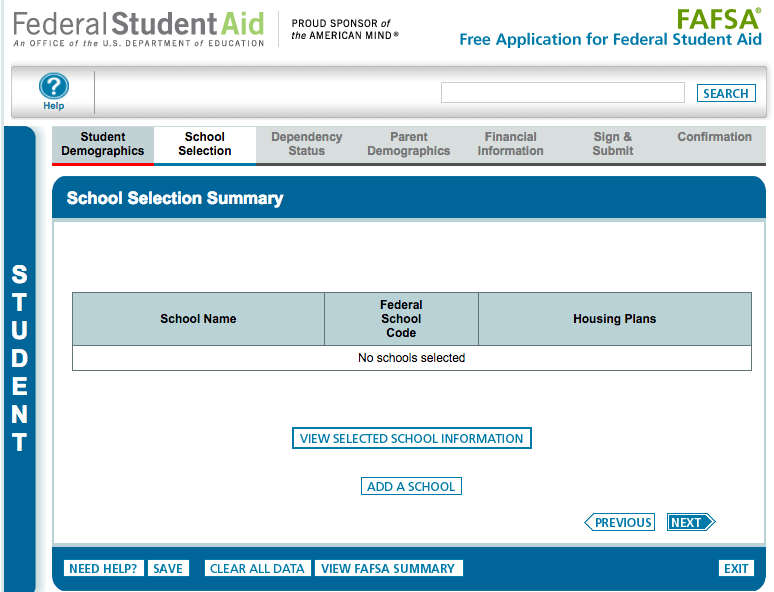 9: Provide the dependency determination information.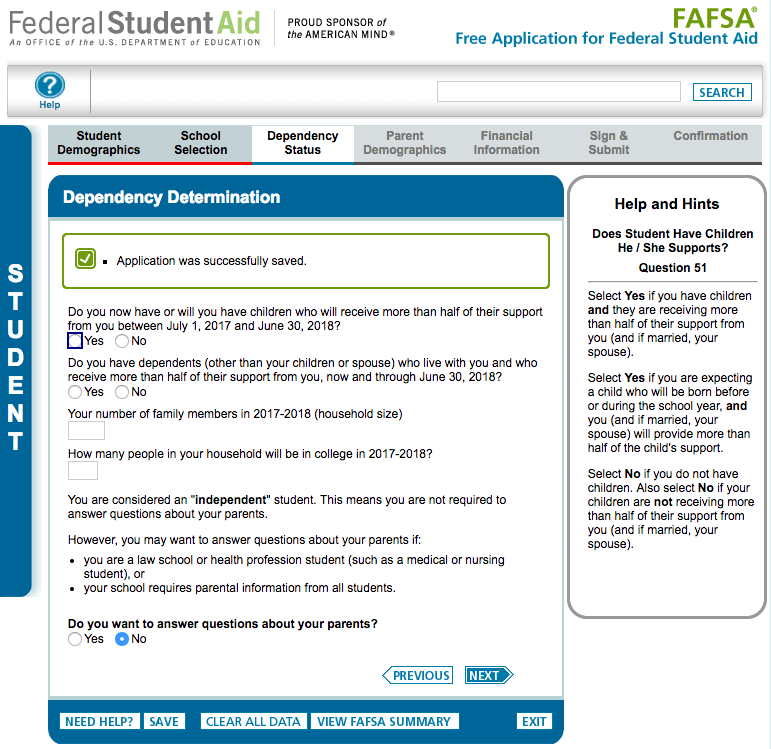 10: Provide your financial information.
11: Sign and submit your application.
You can view the FAFSA web worksheet to assist in your application process.
What to expect after filling out the FAFSA
Once you've submitted your application, the information will be sent to the school or schools you listed on the form. You'll also receive a confirmation email and may get a request for additional information. First-time applicants will receive offers of aid from each school they applied to on the FAFSA, which states how much money you can receive. Applicants renewing their financial aid will receive an offer from your school.
To get the financial aid, you accept a school's aid offer, and the school will handle it from there. You'll want to find out from your school when you'll receive the aid, how it will be paid, what it covers, and how much you will receive after the tuition and fees are paid.
Alec Sears is a college graduate who funded his and his wife's education with FAFSA. He says, "The FAFSA helped us pay for expenses at a time when we were starting to get desperate, even though both of us were working part-time jobs as full-time students."
He adds, "I graduated and have a full-time job now, but I am fully aware that I wouldn't have been able to pay for college without FAFSA."
Conclusions
If you're unprepared, the flood of college costs may be enough to drown you — to force you to drop out or to mire you in years of student debt. But with the right preparation, you can make college accessible and affordable. Apply to FAFSA as early as you can; research around for organizations that may fund sponsorships which you qualify for. If in doubt, reach out to your school's financial aid office and speak with them directly about how you can get help. Do your research and apply comprehensively, and you can set yourself up for a financially secure future.
Ready to get started? To review and compare student loan lenders, click here.