Founded in 2013, Fundbox is a financial services company providing small business loans and lines of credit. The company offers access to rapid funding based on unpaid customer invoices, not your credit score or your business' assets.
"Customers use the credit they secure from Fundbox for everything from cash flow optimization to business acceleration," says Tim Donovan, head of Corporate Communications at Fundbox, which, to date, has served more than 50,000 small businesses.
"Fundbox is focused on helping small and medium-sized businesses looking to grow," says Donovatan. "Rather than granting credit based on personal FICO credit scores, which were never designed to determine small business credit, Fundbox determines creditworthiness based on the transactional data that a small business conducts with other businesses within its immediate ecosystem.  This data then   provides meaningful insight into the holistic health and credit worthiness of the small business."
Fundbox provides an extra financial cushion while you wait for payments to come in, which can give you the funds you need to keep your doors open. Here's more on how Fundbox works and how the company might help you grow your business.
Who are Fundbox Loans designed for?
Fundbox loans are well-suited for business owners who aren't able to get a traditional line of credit, due to a low personal credit score, short time in business, or lack of collateral. The company's Direct Draw program allows business owners to apply for credit by simply supplying access to a business bank account. You can borrow up to $100,000, receiving 100% of the value of outstanding invoices.
"Rather than granting credit based on personal FICO credit scores, which were never designed to determine small business credit, Fundbox determines creditworthiness based on outstanding invoices and the holistic health of the business."
"Fundbox was founded with the idea that there are a lot of credit options for consumers, but not that many for small businesses," says Donovan. "The ability to access credit is the lifeblood of the small business. There's a large market of underserved small business owners stuck in a gray zone of not being able to qualify for financing with traditional banking institutions that consider them too risky, yet who have robust companies that require financing to operate efficiently."
For many Fundbox customers, the funds help them retain momentum, which is critical to business success. Approval often takes just hours and, once approved, business owners can draw down on credit within 24 hours.
What are the advantages of funding through Fundbox?
Fundbox technology biometrics examine the health and wellness of your business to access creditworthiness without the subjective opinion of an underwriter
Lending decisions are based on the strength of the business, not the personal credit score of the owner
You can get a line of credit ranging from $1,000 to $100,000
You choose the amount you wish to withdraw and pay just on that amount
It's a simple application process that only requires you to provide a business bank account or accounting software
You repay with your choice of 12 or 24 weekly payments
Fast approval, usually within 24 hours
Payments collected on a weekly basis through automatic withdrawals from the company bank account
No prepayment penalties, origination, maintenance, or inactivity fee
What are the disadvantages of funding through Fundbox?
More expensive than traditional financing
Missed payments will affect the owner's personal credit score
The maximum loan amount is $100,000, which may not be enough for your growing business
What are the interest rates and terms for Fundbox lines of credit?
The fees charged by Fundbox translate to an Annual Percentage Rate (APR) between 15%-80%. You choose a repayment plan of 12 or 24 weeks and then repay weekly, including a fee, which varies.
"Fundbox is transparent about fees," according to Donovan. He adds, "For a $5,000 credit line, for instance, you might have $348 in fees."
Eligibility for Fundbox financing
No minimum FICO score required
No minimum annual revenue
If you're applying using online accounting software, it must link to Fundbox. Software programs that do so include QuickBooks, Harvest, FreshBooks, Clio, InvoiceASAP, Kashoo, Jobber, Sage One, and Clio. If you take the Direct Draw path, you only need to supply a business banking account.
How does the Fundbox application process work?
Fundbox's credit application is different based on whether you will be applying using your bank account or accounting software. Below are screenshots and descriptions of each stage of both types of applications, so you know what to expect.
Step 1: Head on over to Fundbox's website and click "Sign Up."
2: Register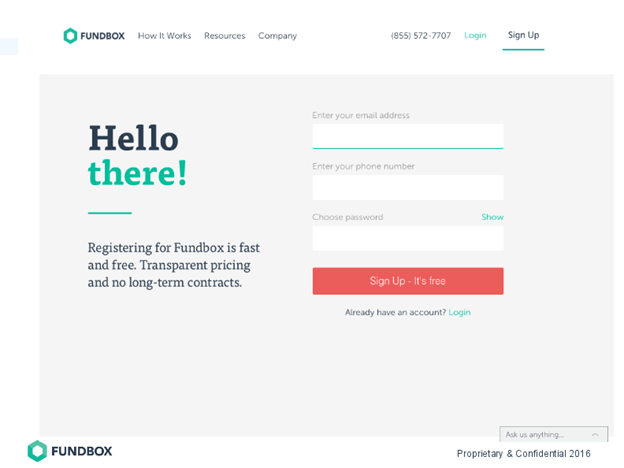 3: Choose how you want Fundbox to evaluate your business to make a credit decision. They can check your accounting software or your bank account.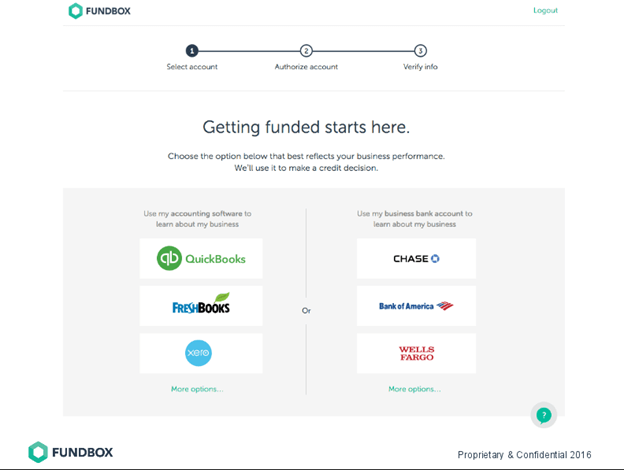 If you decide to take the Direct Draw bank account information route:
4 (a): To see if you're eligible for credit, choose your bank and connect your account.  
4 (b): Authorize and verify your banking account.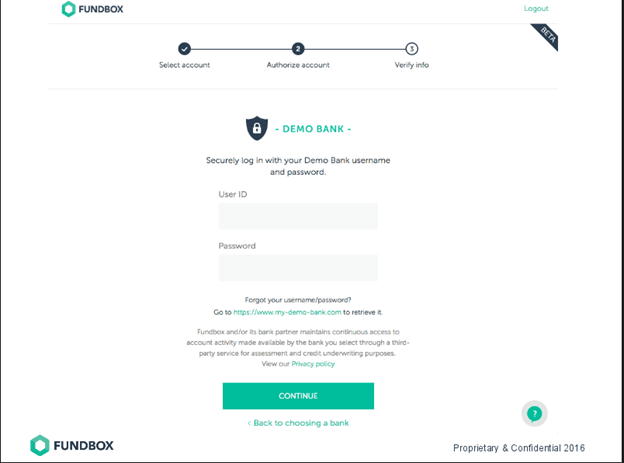 Authorizing your bank account will allow Fundbox to check your eligibility for credit. This will also provide an account for them to deposit funds into, should you qualify for credit.
5: If Fundbox grants you credit through their Direct Draw program, you'll receive credit amount options from which to choose.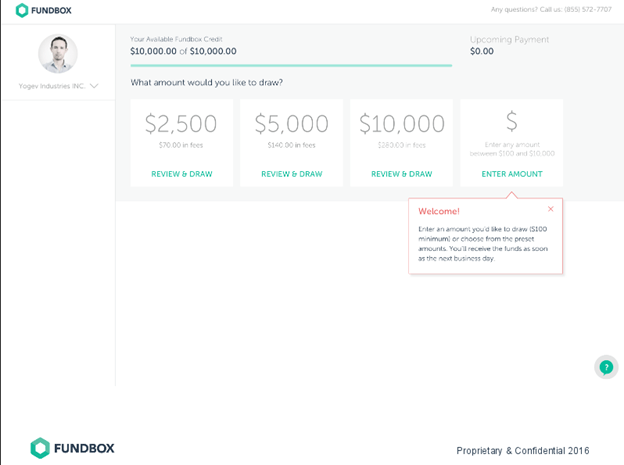 6: When you choose your Direct Draw amount, you'll get a repayment plan and the total repayment amount, including fees.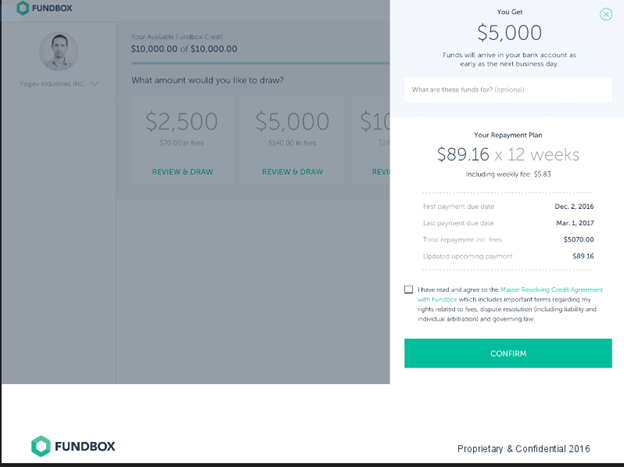 If you decide to take the Invoice Financing Route:
4 (a): Connect your accounting software and records, which Fundbox will use to determine if you qualify for credit.
4 (b): Indicate which version of QuickBooks you use for your company.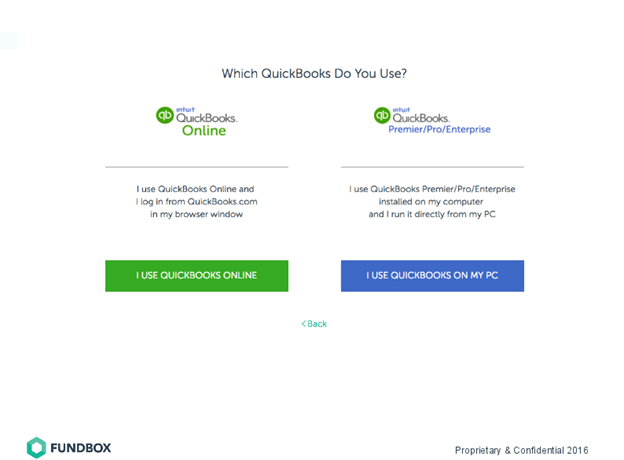 5: If Fundbox grants you credit through their Invoice Financing program, you'll receive credit based on your outstanding invoices.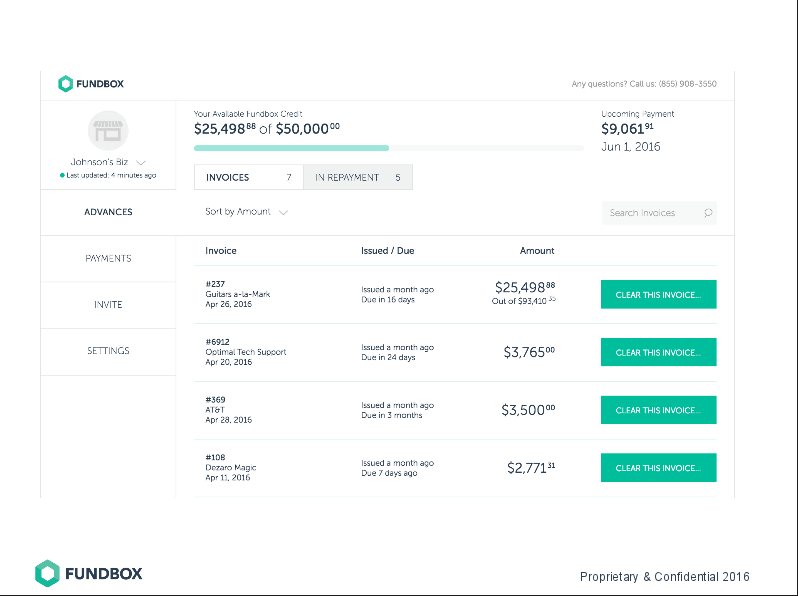 By hitting the "clear this invoice" button next to each invoice total, you'll draw credit for that amount.
6: Once you request credit for an invoice, you'll be given the money and then a payment schedule, including fees due.
In this example, the user borrowed against an invoice for $3,500.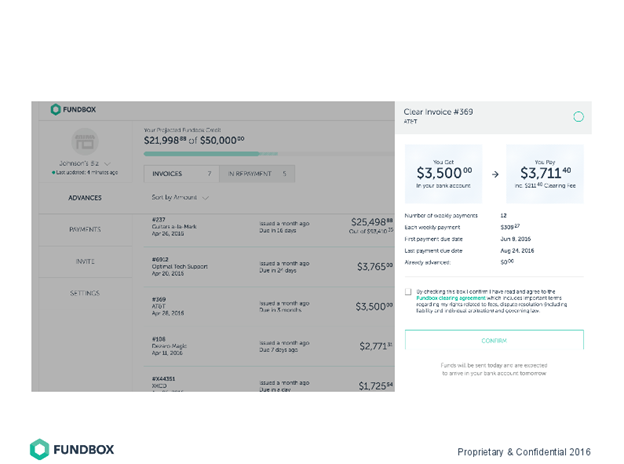 Carefully evaluate small business credit options and loans
While having sufficient capital is certainly the key to small business success, it's important to proceed with caution when taking out credit, advises Anne MacRae, vice president of business development with Express Business Funding, a factoring and ABL company.
"Understand why you need the funding," says MacRae. She adds, "If it's because your customers are slow in paying, review your payment terms and accounts receivable policies and procedures. Online lenders can be expensive. It's a lot cheaper to change your payment terms and make sure you are on top of your invoicing and collections."
When you do borrow, ask for as little as possible, and only what you can repay. Don't start stacking loans or things will spiral out of control very quickly.
If you decide that extending some credit on your outstanding invoices with Fundbox will benefit your company, click here to discover how much credit you qualify for today.
If you're not sure this is the right product for your company, visit SuperMoney's business loans review page and compare dozens of online business loans. Our user-friendly filters make it easy to pick the right lender for your business based on your revenue, years in business, credit score, and the loan amount you need.
Julie Bawden-Davis is a widely published journalist specializing in personal finance and small business. She has written 10 books and more than 2,500 articles for a wide variety of national and international publications, including Parade.com, where she has a weekly column. In addition to contributing to SuperMoney, her work has appeared in publications such as American Express OPEN Forum, The Hartford and Forbes.