Funeral flowers are typically large, formal floral arrangements that go directly to the funeral home, and are displayed at the funeral and graveside services. They are meant as a decorative tribute to the person who has passed.
When planning or attending a funeral, you may be wondering what type of funeral flowers you should buy.
"Typically, flowers range from small or large green plants, combination plants, and vases of flowers, all the way up to a flower stand and casket spray. The price can range from $50.00 up to $500.00 or more," says Mark Anderson, owner of Joiner-Anderson Funeral Home.
Here's a helpful guide to assist you in finding the right funeral flowers for your situation.
Types of funeral flowers
Let's start with the arrangements and types of flowers that are most common at funerals.
4 funeral flower arrangement ideas
1) Funeral sprays
Sprays are large, flat bouquets of long-stem plant material that are designed for viewing from one side. In the case of short-stemmed plants, wires are often used to add length.
For funerals, sprays traditionally come in single-ended and double-ended designs. Single-ended designs are usually presented on a stand. However, small sprays can be placed inside the casket.
Double-ended designs are often placed on top of the casket and, thus, are referred to as casket sprays. The immediate family usually organizes these.
2) Floral arrangements

You can also choose from a variety of floral arrangements which feature cut flowers tied together in a bouquet or placed in a vase or basket. Further, you can have flowers arranged into various shapes such as a cross, heart, or something custom like a letter.
3) Live plants
A live plant is another acceptable option. It has a symbolic meaning because it will continue to grow and live. These can range from small to large.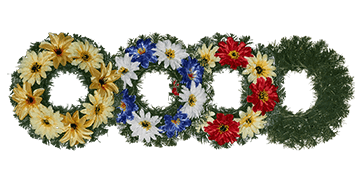 4) Garlands
Garlands are bands of plant materials which are secured together. When secured in a circle, they become a wreath which can represent eternal life.
Now, let's look at the common types of flowers featured in these arrangements.
5 common funeral flowers
Gena Lorainne, horticulturist and plants expert, says, "Choosing the perfect flowers for a funeral can be quite a challenge since it's a sad occasion. It's important to know the meaning of the flowers you're giving.
As a gardener, I'll share with you the most common flowers chosen for funerals and the meaning behind them.
1) Lilies
This delicate white bloom symbolizes innocence. It suggests that the soul of the deceased person has returned to a state of innocence and peace.
2) Peace lily
Similar to the lily, this flower stands for innocence, harmony, and the rebirth of the soul.
3) Roses
Now, this is a flower that's perfect for any occasion, whether it's a happy or sad one. Different colors symbolize a wide palette of emotions. White roses are considered as the ultimate symbol of purity, spirituality, and innocence. Deep red colored roses are a sign of deep love, but can also express deep grief.
4) Orchids
Nothing says 'I will always love you' like this delicate bloom.
5) Carnations
Pink carnations represent pure love and remembrance, while white ones stand for innocence and purity. These meanings make them a popular selection when it comes to offering funeral flowers and expressing one's feelings for the deceased.
These are some of the most commonly used flowers for funerals."
Anderson adds, "Most florists have idea books for clients to pick from and, of course, there are a lot of ideas on the internet to choose from for different type of flowers for funeral flower arrangements." Browse funeral flowers pictures to see which will work best for the situation.
Selecting the right funeral flowers: 5 considerations
There are certain funeral flower etiquette rules you should follow when sending flowers. Here are five key factors to consider when selecting funeral flowers for a recipient.
1. Relation
Your relation to the deceased person will determine what type of funeral flowers you should get for them. The closer you are, the more elaborate it should be.
The close family members typically buy the biggest and most important flowers such as the casket spray, heart-shaped arrangements, wreaths, and large sprays on stands. Very close friends and extended family may also buy sprays for display.
Those who are further from the person, such as casual friends and colleagues, typically send smaller arrangements like vases, baskets of flowers, or small to medium-sized live plants.
2. Personalization
Think about the nature and vibe of the funeral. Is it traditional or more of a unique celebration? In some cases, you may be asked to stray from the classic white lilies or red roses to include flowers that are more representative of the person.
For example, if someone loved sunflowers and had a bright personality, the planners may request that arrangements feature that flower.
3. Funeral type
Additionally, consider what type of service it will be (funeral, memorial, etc.).
Anderson explains, "There are sometimes different needs for flowers, as in if it's a cremation service with no burial, then flower baskets, green plants, and flowers that can easily be taken home are more appropriate.
Traditional burial services would involve the same flowers but sometimes with more emphasis on a flower stand that can be left at the cemetery." Carefully read the invitation and, when in doubt, check with the planners.
4. "In lieu of flowers" requests
Should you still send flowers if funeral planners request a donation in lieu of flowers? It is best to honor the request by donating money. However, you can send flowers in addition to the donation.
5. Religious considerations
If the person who has passed was religious, be sure to take their beliefs and preferences into consideration. The funeral traditions of most religions involve flowers and most all arrangements and flower types are acceptable.
However, be sure to check with the family if you aren't sure. For example, if the person is of the Mormon belief, you don't want to send arrangements featuring crucifixes or crosses. Or, if the person is of the Greek Orthodox faith, white flowers are often preferred. Knowing these little preferences will ensure your flowers are appropriate.
How to order funeral flowers
"If the order is a local purchase, then typically the buyer will contact their favorite local florist. If the purchaser is from out of town, then they rely on the internet to assist them with a  purchase," explains Anderson.
He adds, "A lot of funeral homes, ours included, offer buyers the option to purchase directly from our website. The order is then placed with a national account, and they route the purchase to the local florist in the area.
This works extremely well for the purchaser as they feel they can trust the funeral home to direct the purchase to someone they can trust locally."
After the order is placed and filled, the funeral flowers will be delivered to the recipient which is often the funeral home.
How to pay for funeral flowers you can't afford
If you want to order funeral flowers but need help fitting the purchase into your budget, a personal loan or credit card can help you to finance the cost.
Personal loan
Many personal loan lenders– such as Upgrade and Prosper— are available online and can transfer money into your bank account in as little as one business day.
Different personal loans come with different rates, fees and requirements, so check out what the best personal loans are to ensure that you choose the best option for you.
In addition, you can easily Find out what rates you qualify for from various lenders without hurting your credit score. This will expedite the process and help you find the best option.
You can then compare each lender side-by-side to see how they stack up against each other and several other leading lenders.
Credit card
While a credit card can take a bit longer to get to you (about a week or two), it can also help to delay full payment of the flowers.
For example, if you get a card with an interest-free introductory period— such as the Citi Simplicity Card and Discover it Chrome— you won't have to pay interest on your purchase for a set period of time. And if you're able to pay off the balance before the period ends, you won't pay any interest at all.
To find the best credit card, review your options and compare the details all in one place.
FAQ on funeral flowers guide
How do you order flowers for a funeral home?
Choose a casket spray or wreath if you are from the immediate family.

Choose a standing spray or informal arrangement if you are a member of the extended family.

Send a spray, wreath, basket arrangement, bouquet in a vase, or a live plant if you are a close friend or colleague.
What flowers are appropriate for funeral?
Below are some of the most common flowers used for funeral. Lilies, peace lily, gladioli, carnations, chrysanthemums, roses and orchids.
When should you send funeral flowers?
If you are a member of the immediate family, it is appropriate to send your flowers to the funeral itself, or you may prefer to take your flowers to the graveside.
Do you send flowers to the viewing or the funeral?
If you're close family or knew the deceased very well, it's customary to send flowers for the visitation and funeral and in some cases, even to the family's home. If you're more an acquaintance, work colleague, distant friend, etc then sending sympathy flowers to their home or the viewing is a polite thing to do.
What color flowers do you give for a death?
Common white cut flowers sent as a sign of sympathy include sympathy lilies, white roses, orchids and irises. Once the service is over, potted flowering plants are often carried home by the family of the deceased and live on as a memory of the service, the lost loved one, and your consideration.
 Eliminate the confusion
If it's your first time ordering funeral flowers, it can be a bit confusing. You may be worried that you're going to send the wrong kind. But you now have everything you need to simplify the process and feel confident that you're making the right decision.
Simply follow the guidelines above to appropriately show your affection for someone who has passed, while also making a kind gesture to loved ones of the deceased during their time of grieving.
Jessica Walrack is a personal finance writer at SuperMoney, The Simple Dollar, Interest.com, Commonbond, Bankrate, NextAdvisor, Guardian, Personalloans.org and many others. She specializes in taking personal finance topics like loans, credit cards, and budgeting, and making them accessible and fun.