Whether you're the type to replace your whole wardrobe to keep up with fashion trends or you infrequently add something new to your closet, the Gap credit card by VISA can make it easier to get rewards on your clothing purchases.
And unlike most store credit cards, you can also use the Gap credit card for non-Gap purchases because it's a Visa card. Now, let's dig into the details about what the card offers in terms of rewards and perks for loyal Gap shoppers.
Gap credit card rewards and perks
While the Gap credit card can't compete with the best rewards credit cards, it offers some impressive benefits for a store card.
Here's a breakdown of the card's rewards structure:
Earn 5 points per dollar spent at Gap, Old Navy, Athletica, and Banana Republic
Earn 1 point per dollar spent everywhere else
For every 500 points you earn, you'll get a $5 reward
So, for purchases made at Gap brands, you'll only need to spend $100 to get a $5 rewards, giving you a 5% rewards rate. But for non-Gap purchases, you're only getting a 1% rewards rate.
That's not terrible, but you can do better with a card like the Chase Freedom Unlimited® or the Citi® Double Cash Card.
You can redeem your rewards earned with the Gap card in-store or online, and you can even use them in combination with one promotional offer to maximize your savings.
Gap Visa Card Details
| | |
| --- | --- |
| Sign-up Bonus | 20% off and free shipping on your first Gap purchase |
| Rewards Rate | 5% on Gap purchases, 1% on all others |
| Ongoing APR | 28.24% |
| Late Payment Fee | Up to $39 |
| Foreign Transaction Fee | 3% of each transaction |
Other perks
Here are some other benefits you'll get when you sign up for the Gap card:
Get 20% off and free shipping on your first Gap purchase using the card
Receive an extra 10% off every time you shop at Gap, Gap Outlet, and Gap Factory stores
Get to special shopping events with exclusive discounts
Get more points on special bonus shopping days
Receive a special birthday gift every year
Pay no annual fee
Also, if you sign up for paperless statements and marketing emails, you'll get an extra 1,000 points, which is worth $10 in rewards.
Gap silver status
If you can manage to earn 5,000 points in one calendar year, you'll achieve Gap silver status, which gives you access to even more perks, including:
A 20% quarterly rewards bonus
Choose your own sale day
Free online shipping with no minimum purchase
Free basic alterations on Banana Republic purchases
Special silver cardmember events
But keep in mind that the bonus rewards points you earn don't count toward silver status. You'll get there if you spend $1,000 at Gap brand stores, $5,000 on non-Gap purchases, or a mix of the two.
"The Gap credit card has been my best credit card," says Susan Jackman, a nurse living in Miami, Florida. "My kids outgrow their clothes so fast, so I feel like I'm always upgrading their wardrobe. This card has made a huge difference for me."
GAP card member services
Gap credit card services is handled through its issuer, Synchrony Bank, so you'll need to contact them directly to get information or ask questions about your Gap card. You can typically reach them by calling the number on the back of your credit card.
Alternatively, you can call the Gap card phone number at 1(866)450-4467.
Should you get the Gap credit card?
Despite the Gap card's generous benefits, it's not right for everyone. If you want to determine whether it's right for you, there are three things you need to consider.
1. Your spending habits
If you don't shop at Gap brand stores often, it doesn't really make sense to get a new credit card for infrequent use. But if you're a regular Gap shopper or shop at similar stores, it might be worth getting the card.
One of thing to consider, though, is whether the Gap card would encourage you to spend money unnecessarily. Getting discounts every time you shop could encourage you to overspend, so it's important to understand whether the card would be a bad influence, so to speak.
One good way to ensure you don't overspend is to create a monthly budget and stick to it.
2. Your credit score
The Gap card, as well as other store credit cards, is generally a good choice if you have bad credit or a limited credit history. So, even if your credit score isn't the best, you'd have a good chance of getting approved. Plus, you can use the card to continue building your credit score.
"I qualified for this card when I couldn't get any other bank to even look at me," says Jackman. "Since then, I've made good progress with my credit."
Keep in mind that the card's interest rate is much higher than the average credit card interest rate. So, you'll want to pay off your balance in full each month to avoid paying interest.
3. Personal preferences
You can only redeem your rewards for Gap vouchers, which can be somewhat limiting. If you'd prefer cash or travel rewards, you might be better off looking into cash-back or travel credit cards.
But if you're OK with earning and redeeming rewards only at Gap, this card remains a good option.
Take a look at each of these things and also compare the Gap card with other major rewards credit cards. As you do your research, you'll get a better idea of what you want in terms of rewards and card benefits.
How to apply for the Gap credit card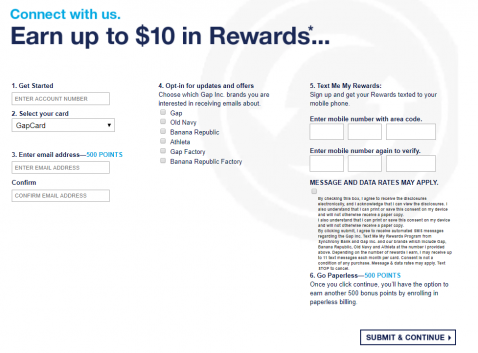 The application process takes just a few minutes and you should get a response within a minute or two. "I got my card about a week after I got approved for the card," says Jackman. "It was perfect timing as I had some back-to-school shopping to do that weekend."
Gap credit card payment
Once you get a Gap credit card, you will need to know how to manage your account. This includes learning how to make a Gap card payment.
There are three main ways to do this, online, by mail, or over the phone.
Online Gap credit card payment
Most people fine online payments the fastest and easiest method. Here's how to do it:
Use your Gap card login information to log in your Gap online account at the Gap website.
To create a Gap login, click "Register" on the login page. The form will ask you for your credit card number, ZIP code, email address, Social Security number and date of birth.
Click on the "Pay Your Bill" to pay online. You'll need to provide your bank name, checking account number and bank routing number.
Choose the amount you want to pay. You can make the minimum payment due, pay the entire balance, or any amount up to your current balance.
It will typically take up to a week to process your first online payment. Future online payments will usually take up to 72 hours to process.
Pay Gap credit card payments by mail
Gap cardholders can also pay by mail in your Gap payment, by following these steps:
Write a check and make it payable to "Gap" in the amount you want to pay.
Avoid penalties by paying at least the minimum amount due. Pay the full amount of your last statement balance and avoid interest charges.
Mail your Gap card payment to the following address:
Gap/SYNCB
P.O. Box 530942
Atlanta, GA 30353-0942
It will usually take up to 10 days to process your payment.
Gap credit card payments by phone
Another option is to make your Gap credit card payment by phone. It´s free and easy.  Just follow these steps:
Collect your credit card and payment information.
You will need to know your card number, bank account information, and the amount you want to pay
Call Gap card services at 800-887-1198, and follow the automated prompts to make your payment.
How can I reach Gap Credit Card Customer Service?
Gap's customer service can be reached in several ways:
Gap Credit Card Phone Number: 1(866)450-4467
Gap Credit Card Email: custserv@gap.com
Gap Credit Card Mail Address: Gap Customer Service, 6007 Green Pointe Drive, Groveport, OH 43125
FAQ on Gap Credit Card
What monthly fees does the Gap credit card have, even if you don't use it?
The Gap credit card from Visa doesn't have a monthly or annual fee.
Where can you use a Gap credit card?
The Gap store card can be used at Gap, Old Navy, Banana Republic and Athleta. The Gap Visa credit card, which you need at least good credit to get, can be used anywhere Visa is accepted.
Which bank issues the Gap credit card?
Which bank issues the Gap credit card?
Synchrony Bank issues the Gap credit card.
How can I reach Gap Credit Card Customer Service?
Gap's customer service can be reached in several ways: Gap Credit Card Phone Number: 1(866)450-4467 Gap Credit Card Email: custserv@gap.com Gap Credit Card Mail Address: Gap Customer Service, 6007 Green Pointe Drive, Groveport, OH 43125
Can I use Gap credit card anywhere?
There are two credit cards associated with the Gap: The Gap card and the Gap visa credit card. The first can only be used at the Gap and affiliated stores, but the second can be used anywhere visa is accepted.
What credit score do I need to get a Gap card?
Synchrony bank, the financial institution that issues the Gap credit card, doesn't specify a minimum credit score needed to qualify for either credit card. In general, if you have fair to good credit, the chances of approval are favorable, but not guaranteed.
How do I cancel a Gap credit card?
There are two options when closing a Gap credit card account: You can mail a written request to Gap card services, PO Box 965004, Orlando, FL 32896-5004. Make sure you list your name, address and credit card account number on the request. You can also call customer service using the telephone number on the back of your card, or call 1-800-887-1198. Simply inform the customer service representative that you'd like to close your account.
Do Gap card holders get free shipping?
Free shipping is valid on your first purchase made with your Gap card or Gap visa card at Gap, Banana Republic, Old Navy, and Athleta shipped to a single U.S address. Must enter first purchase promo code and select the free 5-7 business days shipping option.
How to earn points on your Gap credit card?
When you open a Gap credit card, you're automatically enrolled in the rewards program, which lets you earn points on all qualified purchases. To maximize reward points, use the card exclusively at Gap brand stores to earn five points for every dollar spent. Gap visa card holders can also earn one point for every dollar they spend on their visa card away from the Gap stores. Cardholders get a $5 reward for every 500 points they accumulate.
If you're interested in getting the Gap credit card, check out SuperMoney's review page of the card to learn more and apply. Then, compare it to other personal credit cards to find your best option at the lowest possible rate.
<
Ben Luthi is a personal finance writer and a credit cards expert who loves helping consumers and business owners make better financial decisions. His work has been featured in Time, MarketWatch, Yahoo! Finance, U.S. News & World Report, CNBC, Success Magazine, USA Today, The Huffington Post and many more.