The housing market was in good shape this year — so good, in fact, that demand for homes to buy was greater than supply. Some would-be home buyers may have found themselves unable to purchase for a variety of reasons, even as other factors like low interest rates were attractive for buyers.
So should you buy a house in late 2020 or early 2021? There are a lot of factors to consider.
Why you might want to buy a house sooner
Perhaps the number one reason you might be looking at buying a house now is interest rates. They're at record lows, with the 30-year fixed-rate mortgage averaging at less than 3%. The Mortgage Bankers' Association expects the 30-year fixed-rate mortgage to average 3.1% at the beginning of 2021, and Fannie Mae is predicting 2.8%. Freddie Mac is calling for a 3% average in all of 2021. Two years ago, interest rates on fixed-rate mortgages were in the neighborhood of 4.6%.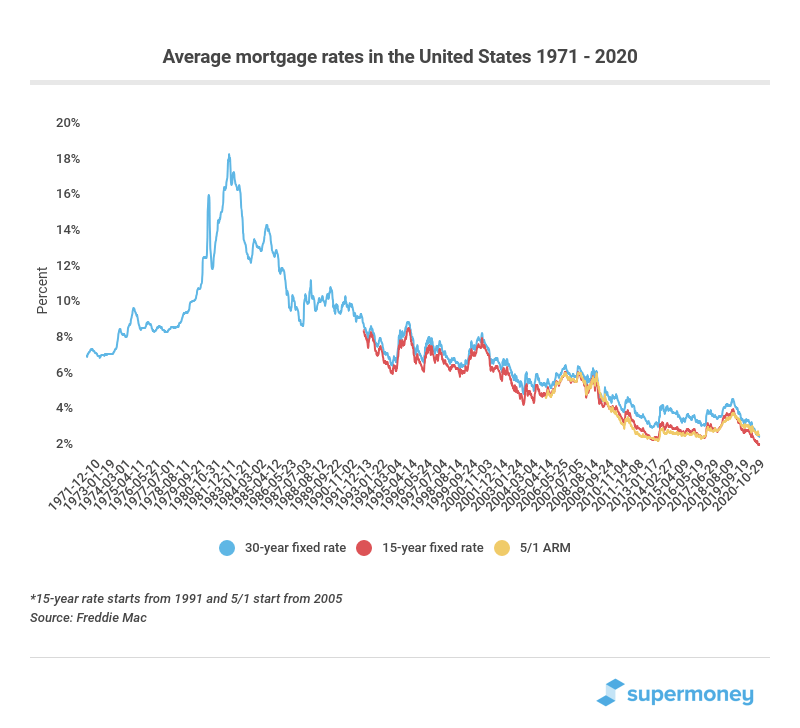 The good news about interest rates is that they are expected to be low for the foreseeable future, so you don't need to worry about trying to buy a home before rates go up. It could be years before that happens, and when it does, there will be some warning. The chairman of the Federal Reserve gives commentary every month, and he or she will give some indication about whether they're thinking about raising interest rates any time soon.
Another reason you might want to buy a house sooner rather than later is that home prices will probably keep going up. Home prices increased significantly this year due to a large number of bidding wars for houses. Last year, home prices increased by 5.1%, according to Housing Wire. The National Association of Realtors found that sales of existing homes were up 10.5% year over year in August. In fact, home prices are increasing at the fastest rate since 1991. The MBA is expecting home prices to increase by 2.4% in 2021, so it is good news that the increase could be slowing.
A related issue has to do with inventory. This year saw a great many bidding wars because there weren't enough available houses, but that could change in 2021. Housing Wire reports that housing starts are projected to grow steadily next year, which means there should be more new homes on the market next year. Fannie Mae and the MBA are calling for a stronger single-family construction market than what we've seen in two or more years.
Why you might want to wait
On the other hand, you might not want to buy a house this year or next. The fact that home prices are increasing so much could be a good enough reason to wait for a bit. Before deciding whether or not to buy, you should compare home prices with rental prices in your area. Forbes advises that if a home for sale is priced at more than 20 times the annual rent of a similar home, then the house that's for sale is overpriced.
Whether or not it is a good time to buy a home also depends on the season. According to Quicken Loans, the best time to buy a house is usually in the late summer or early fall, so we are heading out of that window. The reason is that there is often less competition than during the spring and summer, although the pandemic has likely increased competition throughout the year.
Buying a home during the winter can be more difficult because there are usually fewer homes on the market. However, buyers often have more negotiating power because fewer people are looking for a house to buy. Thus, if you're looking for a house to buy, the next few months could present an opportunity.
It's also important to realize that the housing market is inherently local, so while it might be a good time to buy a house in one part of the country, it might not be in another. You should work with a real estate agent to determine the housing supply in your area and whether home prices are increasing rapidly. You might want to speak to several real estate agents to ensure you're finding one that isn't just pushing you to buy so they can get a sale.
Michelle Jones was a television news producer for eight years. She produced the morning news programs for the NBC affiliates in Evansville, Indiana and Huntsville, Alabama and spent a short time at the CBS affiliate in Huntsville. She has experience as a writer and public relations expert for a wide variety of businesses. Michelle has been with ValueWalk since 2012 and is now its editor-in-chief.