Article Summary:
The short answer is that most mortgage preapprovals are good for 90 days from the date of issue. However, this can vary from lender to lender. An expired mortgage preapproval could destroy your chances of buying a home, so you don't want to mess this up. Here is what you need to know.
In this article, we will discover how to determine when a mortgage preapproval expires. We will also touch on the process of obtaining a mortgage preapproval letter and what you should and shouldn't do when requesting a mortgage preapproval letter.
I worked as a loan officer in the mortgage industry. So, I am pretty familiar with the mortgage process and the steps needed to obtain your lender's preapproval letter.
How long is a preapproval for a mortgage good for?
Typically, a mortgage preapproval is good for 90 days from the date of issue, but this can vary by mortgage lender. Usually, the expiration date of a mortgage preapproval is included in the preapproval letter. In the Wells Fargo example below, you can see it in the bottom right of the first page of the letter.
I have seen lenders who provided pre-approvals that are valid for 30, 45, 60, 90 days, or even longer. In the example below, the mortgage preapproval was good for 120 days.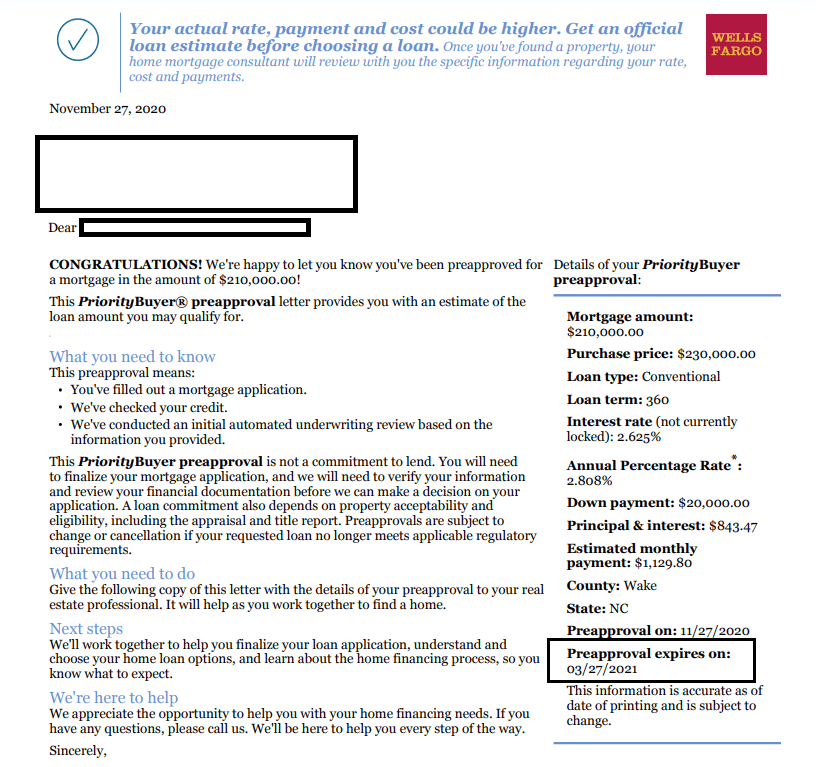 What if my mortgage preapproval letter does not include the expiration date?
I recommend you reach out to your loan officer directly to discuss how long your preapproval is good.
Ask your lender to include the expiration date in the mortgage preapproval letter since buyers and their real estate agents are probably expecting to see it there.
Major considerations with mortgage preapprovals
Remember that the preapproval process does not consider your homeowner's insurance on the new home, and your property taxes can vary by location.
The lender will certainly ask for your pay stubs, bank statements, and federal income tax returns in case you're self-employed. It's also important to recognize the difference between a mortgage pre-approval and a mortgage pre-qualification.
A mortgage pre-qualification will only do some preliminary research on one's financial health and most lenders will pre-qualify a prospective customer in just a few minutes.
Whenever you're looking to buy a new home, it's essential to determine the purchase price and your home buying budget. Keep in mind that mortgage rates and mortgage options are dependent on your credit check and your credit history. Similarly, your down payment amounts your monthly debts will play a key factor when you're looking to obtain financing.
Before you make the mortgage payments, I am sure you would want to understand the mortgage deal in its entirety. To end up with a home loan that meets your expectation of what you can afford.
Let's start with the basics.
What is a Mortgage Preapproval?
A mortgage preapproval is a process lenders use to determine how much money you can borrow to buy a home. Lenders will look at your income, assets, and credit score. Determining which loans you qualify for, how much you can borrow, and what your interest rate is likely to be.
A pre-approval means that the initial approval requirements are met. The loan should technically be approved if there aren't any significant changes in the borrower's credit or income history and the appraisal on the home meets the requirements.
The drawbacks of a preapproval letter
A pre-approval does not mean that the mortgage is going to be approved.
This is something many borrowers are a little bit confused about when it comes to mortgage approval.
Pre-approval means conditional approval based on the loan officer's current understanding of the borrower's ability to meet all the requirements to obtain the mortgage.
Of course, the loan officer will need to analyze the borrower's credit and price the interest rate accordingly.
One thing to keep in mind a mortgage preapproval is not a signed loan application as a borrower you should be aware of the difference. A signed loan application happens after the seller accepted the offer on the home and the Loan Officer initiates the process of obtaining the loan.
On the other hand, the preapproval happens before the seller accepts the offer on the home. It's more of a letter of intent. The actual application finalized the terms and conditions of the loan.
Does a mortgage preapproval guarantee you will qualify for a loan?
A pre-approval does not guarantee a finalized approval for a loan from your lender as a borrower.
Many factors go into the approval process. Many borrowers are not aware that if their loan doesn't clear and close, they will be liable in most cases for out-of-pocket expenses such as the appraisal.
One example is an appraisal fee. In most cases, the borrower is responsible for the appraisal on the home. If the appraisal does not meet the regulatory and banking guidelines the borrower will still be responsible for the cost of the appraisal even if their loan was declined.
How do you get a mortgage preapproval? 
The pre-approval process is simple. Many lenders offer the borrower the ability to complete the entire pre-approval process online.
For a pre-approval, the borrower needs to provide the lender with their current income, and the lender will run a hard credit pull and analyze the borrower's credit file.
If the loan officer sees questionable items on the credit file, he will need to investigate those items before he continues with the mortgage pre-approval process.
The loan officer verifies the borrower's identity and the borrower's income. He will also confirm if any changes to their income over the past two years with the borrower.
Mortgage preapprovals and self-employed workers
Self-employed borrowers will generally need to provide two years of historical tax returns for their pre-approval instead of employed borrowers that are required to submit their paystubs and W2's.
The reasoning behind this is that self-employed borrowers generally take in a lot of deductions on their income so their income on file could vary significantly from their actual income.
Once the loan officer verifies all the information on file the loan officer will contact the borrower and ask them if they have a specific property in mind.
Suppose the borrower has the location of the property. The loan officer will put the address on the pre-approval letter so the seller will see the name of the listed property on the pre-approval and offer letter.
How long does it take to get preapproved?
The process of obtaining a pre-approval is simple for most borrowers. However, the process can vary depending on the borrower's situation.
For example, a borrower employed for the last two years and has good credit should receive a preapproval in a matter of a few hours, if not immediately.
On the other hand, a borrower who previously had a foreclosure and just got divorced and has pending judgments against them may have to wait a little longer. In some cases, the lender may choose not to provide a mortgage preapproval letter.
When should you apply for preapproval?
You should only apply for a pre-approval if you're looking to purchase a home in the near future. Applying for a pre-approval will hurt your credit since the lender will run a hard pull on your credit report.
If you plan on buying a home in the near future I will highly recommend that you reach out to multiple lenders at the same time and obtain multiple pre-approvals.
Having multiple pulls on your credit file will not affect your credit report in a short timeframe. Only the first pull will have an immediate effect. The rest of the pulls will only affect your credit later on.
Preapproval vs prequalification
The pre-approval process differs from the pre-qualification process. When a borrower is ready to purchase a home, he needs a pre-approval letter.
The lender's pre-qualification makes the initial assessment of the borrower's ability to qualify for the loan.
Pre-qualification is just a tool to determine a borrower's ability to purchase a new home.
Mortgage preapproval FAQs
Do preapprovals hurt your credit score?
Yes, preapprovals will typically hurt your credit score. Hard inquiries have an immediate impact on your credit score.
I would highly recommend requesting a preapproval letter only when you have a home in mind that you're ready to buy.
However, the first hard inquiry immediately impacts your credit score. If you're going to compare rates, I would highly recommend that you do so within 14 to 45 days. This range can vary depending on your credit scoring model.
How far in advance should I get preapproved for a mortgage?
When you're ready to purchase a home. The sooner the better. I would highly recommend you seek a Pre-Approval within a few weeks of when you plan to make an offer on a home.
Can you extend a mortgage pre-approval?
As discussed above the pre-approval process varies from lender to lender. In general, a new pre-approval will require another credit pull. Therefore, I wouldn't recommend extending the pre-approval process but instead request a pre-approval closer to when you plan on purchasing the new home.
Can you get denied after pre-approval?
Of course, not every preapproval leads to actual approval.
The lender does not know the condition of the home you're buying and if it meets the regulatory and banking guidelines. The appraiser is the one who puts in the report regarding the home's condition.
The lender also does not know if anything will change in your financial status from when you requested the loan until the loan closes.
Therefore, do not assume that a pre-approval means you got the loan. The mortgage industry is complex, don't assume a preapproval means your loan will always get approved. Best to speak to an advisor before requesting a loan.
How long does a mortgage take to close?
As with most things in life, it depends. The home buying process with mortgage lenders can take some time. Generally, most loans these days close within four weeks but this could change based on the borrowers' credit and income.
Key takeaways
Preapprovals are usually good for 90 days but expiration periods range from 30 to 120 days.
Don't assume a pre-approval means you got the loan.
Remember to request a preapproval as close as possible to when you plan on making an offer on the new home.
When requesting a preapproval, it's advisable to reach out to multiple lenders at the same time to request multiple credit pulls and pre-approval letters.
View Article Sources
Get a prequalification or preapproval letter – CFPB
Shopping for a mortgage FAQs – Federal Trade Commission
Difference between a prequalification and preapproval letter – CFPB

Joel is a financial writer with a deep passion for helping his audience understand more about financial products and how they can achieve their financial goals. He gets a lot of satisfaction from helping others understand financial matters.