Summary:
Laminate flooring is popular due to its durability, low cost, ease of installation, and ability to emulate more expensive materials like hardwood and stone. The average cost to install laminate flooring ranges from $6 to $14 per square foot, including materials and labor.
Wood flooring, tile flooring, carpet, or laminate flooring: these are just a few of the many flooring options you can choose from, and each has its benefits and drawbacks. Because of its high visibility and usage, flooring is one of the most important investments most homeowners can make, so you'll want to consider both aesthetics and durability when choosing yours.
Considering the wide range of types, prices, and uses available, it may feel daunting to decide which material to use for your floors. The best option will usually depend on several factors, including the use of the space in question (i.e., foot traffic, water resistance, etc.), the desired durability of the material, and the labor and material costs per square foot.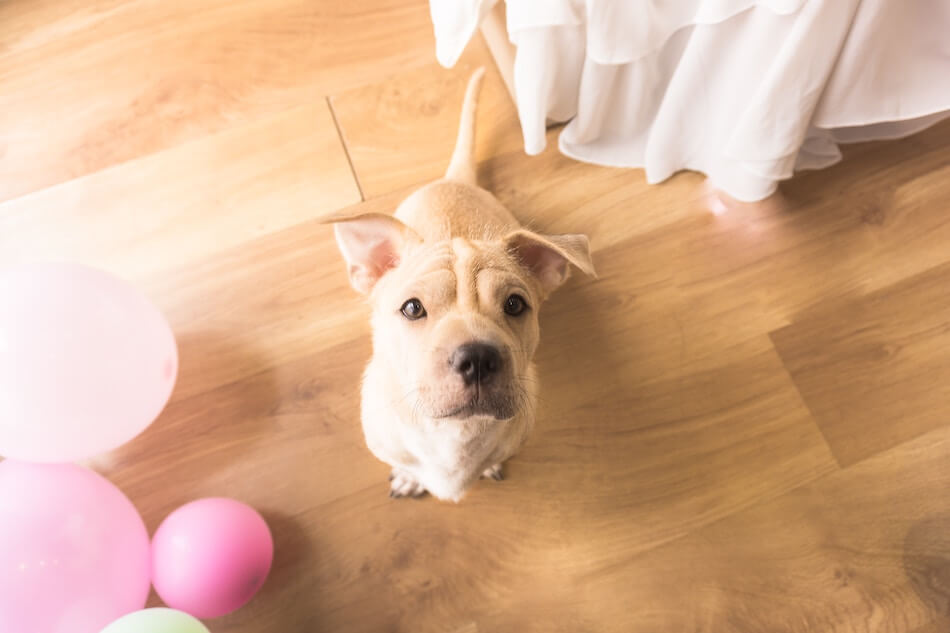 Laminate flooring has become a popular choice due to its durability, low cost, and ease of installation. It also comes in more styles than ever, making it a versatile option for many different spaces and an affordable alternative to natural hardwood or stone floors. According to John Ward, co-owner of Austin Iron Fences, "With laminate, you can achieve the look of these expensive materials at a fraction of the price, making it an excellent choice for budget-conscious individuals seeking aesthetic appeal without breaking the bank."
So how much does it cost to install laminate flooring? In this article, we'll go over the factors to consider, including laminate flooring prices and labor costs. To start off, let's review what laminate flooring is, as well as the pros and cons of using laminate flooring in your home.
What is laminate flooring, and is it right for your space?
Laminate is a composite material made of a fiberboard or particleboard base layer, an image layer that can resemble other materials and a top layer to protect the flooring. The quality of laminate will often depend on three factors:
Thickness: Laminate flooring is usually between 6 and 12 millimeters thick. Thicker laminate is considered better quality and more durable for high foot traffic areas and commercial spaces.
Imaging: High-quality imaging can make laminate look very similar to real wood!
Abrasion rating: This is the floor's scratch and dent resistance, also known as its AC rating.
Depending on the laminate style, the flooring can be smooth or textured, and the finish can be glossy, semi-matte, or matte. Some laminate floors include an underlayment, while others need a separate layer installed underneath. A laminate underlay is a thin, soft layer of cushioning (usually foam, cork, rubber, or felt) that is laid between the existing flooring and the laminate.
"I recently installed laminate flooring in a rental property I own to replace carpet in the bedrooms and main living areas and can tell already it is going to be a game changer. Cost-wise it was just as cheap as carpet and I can already tell it is going to be much more durable, particularly for a rental property where people don't always take the greatest care of the flooring." — Rick Wallace, founder and CEO of LLC Dojo
Pros and cons of laminate flooring
Before installing laminate flooring, you'll want to consider the following advantages and drawbacks to determine whether or not this is the best material for your space:
WEIGH THE RISKS AND BENEFITS
Here is a list of the benefits and the drawbacks to consider.
Pros
Easy to install
Save money and time
Durability
Economical
Easy to clean
Variety of styles
Cons
Not water-resistant
Less value
Slippery
Potential danger of toxic chemicals
Less cost-effective in the long run
Pros of laminate flooring
Easy to install: Laminate is one of the easiest flooring materials to install. If you are good at DYI, you may not even need to hire a flooring contractor, which would save money on the laminate flooring installation cost significantly. The flooring planks or tiles are designed to fit and snap together, which means that no nails or glue are needed (aka floating floor).
Save money and time: Laminate planks can sometimes be installed over existing flooring. This means you may not need to remove or refinish old flooring, which can save you time and money. Note that while it's easy to lay laminate over uniform materials (like concrete, vinyl, tile, hardwood, or plywood), it's still important to add an underlay. Also, brick, carpet, and natural stone are not good surfaces to lay laminate over due to their unevenness.
Durability: Some laminates are more resistant to scratches and dents than natural wood or vinyl, making them ideal for hallways, bedrooms, living rooms, and even kitchens. If installed in a dry and well-maintained environment, some laminate floors can last between 15 and 25 years (similar to linoleum).
Economical: Laminate is generally about half the price of real wood or tile per square foot, and it's only slightly more expensive than carpet installation.
Easy to clean: Laminate requires minimal maintenance and is resistant to stains, fading, and moisture, which makes it easy to clean. Sweeping, vacuuming, and dry/damp mopping is usually all that's required (wet mopping is not recommended), and you can use a laminate floor cleaner.
Variety of styles: Beyond simulating the look of hardwood or stone, laminate flooring can be created in a limitless variety of styles and colors to achieve any interior design look.
Cons of laminate flooring
Not water-resistant: While laminate is resistant to some moisture, it is best used in dry spaces. It should not be installed in areas with high water usage, such as bathrooms or laundry rooms. "You shouldn't use steam mops, and make sure to dry any spills as soon as they happen. If standing water is allowed to absorb into the flooring, it can separate, bubble, or buckle," says Tom Nolan, founder of the home improvement company All Star Home. "If you live in a humid climate, laminate flooring might not be an ideal option."
Less value: Laminate will likely not add value to your home, so it may not be the best choice if you're a homeowner looking to increase the resale value of your home. Premium-quality laminate flooring will likely only maintain (or slightly raise) the value of a home, while poor-quality laminate flooring can actually decrease a home's value.
Slippery: According to Davin Eberhardt, founder of Nature of Home, "If you have pets or children in your home, you should know that laminated flooring can be slippery."
Potential danger of toxic chemicals: Certain types of laminate flooring have been known to release formaldehyde. This problem can be avoided by choosing a product that is GreenGuard Gold-certified or by researching formaldehyde-free brands.
Less cost-effective in the long run: Laminate may be half as expensive per square foot, but its lifespan is a lot shorter than engineered wood flooring (which can last about 50 years) and bamboo or hardwood flooring (which can last 100 years or more). Unlike laminate, the top layer of wood flooring can be sanded and refinished, which can help it last longer. In short, longer-lasting options may be more cost-effective in the long run.
How much does it cost to install laminate flooring?
The average total cost to install laminate flooring ranges from $6 to $14 per square foot. New laminate flooring costs depend on several factors, including flooring material, square footage, labor costs, and any additional work required before or after installing the laminate. This means it's a good idea to conduct a laminate flooring cost and quality comparison before you start your renovation project!
Material costs
For laminate, the average national cost per square foot is $0.79 to $3.00, plus $0.29 to $0.79 per square foot of underlayment. The price depends on the quality of the laminate, which is based on AC rating, thickness, image quality, texture, finish, and warranty.
Since most homeowners want their investment to last, Jay Sanders, owner of Castle Dream Basement Waterproofing, offers the following recommendation: "Don't use the cheapest option. Try to buy a premium laminate that will last longer than a lower-cost or flimsy type of flooring. You want the laminate to last at least 10 to 15 years, which means it needs to be at least 8 mm."
Expert Tips
"Shop around for deals and discounts before making a purchase decision. Many stores often offer sales or clearance events where you can find affordable yet high-quality laminates at discounted prices." —Robert Fields, owner of ATX Stained Concrete Austin
"Opt for standard-sized planks rather than custom sizes, as they tend to be more expensive due to special ordering requirements from manufacturers." —Daniel Sarrero, co-owner of SEA Concrete Contractors
"Buying your flooring directly from the manufacturer can save you money, as they don't have to go through distributors or retailers. This also ensures that you get the highest quality product at the best possible price." —Shaun Martin, owner and CEO of We Buy Houses In Denver
"If you value price over choice, check out the savings at your bulk buy store (like Sam's Club or Costco). Or skip the middleman altogether! LLFlooring (was Lumber Liquidators) and Floor & Décor make the laminate they sell. Even Habitat for Humanity ReStores sometimes have laminate flooring available. The amount will likely be limited, but if you have a bedroom or home office in mind for laminate, you can help a good cause in the process." —Jamie Sandford (chief editor) and Rob Parsell (expert DIYer), Home Flooring Pros
Labor costs
Professional installation can add to the cost of new laminate floors. The average labor cost to install residential laminate flooring is between $4 and $8 per square foot. Laminate flooring installation costs can also increase significantly if the existing flooring needs to be removed, if subfloor repair or replacement is needed, or if the flooring contractors will be moving furniture or installing baseboards.
Pro Tip
"Consider DIY installation if you possess basic handyman skills. By taking on this project yourself instead of hiring professionals, you can significantly reduce expenses without compromising the final outcome." —Chris Purvis, owner of CCA Concrete Contractor
Room size
Total laminate flooring costs will also greatly depend on the square footage of the space — the larger the space, the more materials and labor will be required. For example, installing laminate floors in an average-sized room of 100 square feet would cost between $600 and $1,400.
Expert Tips
"Before you purchase laminate flooring, it is important to accurately measure the space in your home. This will ensure that you buy enough material and don't end up with too much left over. Take note of any obstacles or obstructions that may require specialty cuts. If possible, try to use existing materials like baseboards and molding, which will save you time and money." —Patrick Grayson, founder and CEO of Paramount Property Buyers
"Use furniture pads on heavy items such as couches, dressers, wardrobes, and tables to help protect the laminate flooring." —Jay Sanders, owner of Castle Dream Basement Waterproofing
"Consider installing the flooring in a smaller area first to see how it looks and holds up before committing to a larger installation." —Tommy Mellow, DIY and home service expert
Key Takeaways
The average cost to install laminate flooring is between $6 and $14 per square foot, including materials and labor.
Laminate flooring costs will vary depending on the quality of the materials, the labor costs, and the square footage of the room.
There are several advantages to choosing laminate flooring, including the durability of the material, the ease of cleaning, and the lower overall cost of installation.
Although laminate is a popular choice for new flooring, it's worth noting that it's not water-resistant, it won't significantly raise the value of your home, and it may not be as cost-effective as more durable materials (like wood) in the long run.
Are you planning to upgrade your home but need some extra cash to get started? Consider getting financial help for your renovation project with a personal loan. Check out SuperMoney's list of the best personal loans for home improvement projects!