America has a debt problem. The average household has $31,130 in non-housing debt, according to data from the Federal Reserve Bank of New York and U.S. Census Bureau.
But with all the tips out there on how to pay down debt quickly, few people have gone to the lengths that Aja McClanahan and her husband, Kelvin, have.
Getting into $120,000 in debt
For the McClanahan's, digging themselves into a hole took time. Half of the balance – $60,000 – came from student loans that Aja and Kelvin accumulated while in school. Another $30,000 came from a luxury SUV the couple bought, and the rest was a mixture of credit cards, medical bills, and more.
Not long after the couple married, Aja gave birth to their first child and realized that their debt was keeping her from living the way she wanted to.
"I thought to myself, 'There's no way I can go to work,'" she says. "Having a kid in daycare wasn't for us. I was desperate to stay home with my child and any future children, but the money wasn't there to make that work."
She read Dave Ramsey's The Total Money Makeover
and began to make some changes. It wasn't until a few years later, however, that they made an extreme choice that became a game-changer.
Moving to a crime-ridden area… for free
Four or five years after Aja and Kelvin married, a relative offered to give them a house free and clear. The caveat was that it was located in the Englewood neighborhood of Chicago.
With the area ranked as one of the most violent in the city – there were bullet holes in the back door of the house – the McClanahan's weren't interested. "Then we thought about it," says Aja. "No mortgage, no rent. Sign us up!"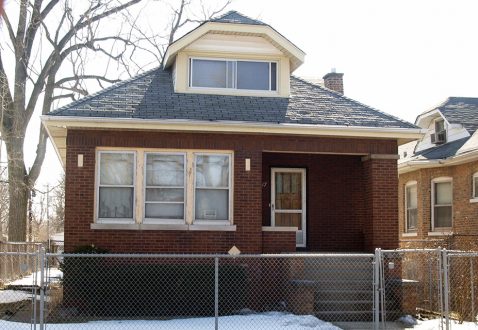 Over the next five years, the couple took their debt payoff to a whole new level. For example, when their air conditioning unit was vandalized during a particularly hot 2012 summer, they found that it would cost $3,000 to fix it.
"My husband is a letter carrier for the post office, and he hates heat," Aja says. "In summer, he's in the heat all the time."
In spite of all that, the two agreed to forego the repair so that they could reach their goal to become debt free. They also stopped buying things like paper towels, and began shopping at a food pantry to get free food, an experience that Aja calls "very humbling."
With all their efforts, the couple paid off the last of their debt in 2013.
How to pay off debt
For those who find themselves drowning in it, Aja's story offers hope. "No amount of debt is insurmountable," she says. And while not everyone gets the opportunity to avoid a monthly housing payment, the McClanahan's overall strategy is one that anyone can follow.
1. Don't procrastinate
If Aja could go back and change anything, it'd be to start paying off debt sooner and save a little more along the way. "Now, we are trying to get that 'time value of money' back for all the years we were in debt," she says. "If we had put more away even in debt, maybe we'd have more in our retirement accounts."
You don't need to have a lot of extra cash to start paying down your debt. Adding a few dollars extra to your payments each month is a great start. Over time, you can find ways to ratchet that amount up.
2. Change your lifestyle
Increasing your income through a second job or side job is a great way to find money to pay down debt. But for a more immediate effect, take a scalpel to your budget and find areas to cut back.
"It might mean moving, selling your home or car to free up extra cash for debt repayment," says Aja. "If you want it bad enough, you'll make those changes." While the McClanahan's didn't sell their home, they no longer drive new luxury cars. Now, they drive 15-year-old models to keep their monthly payments low.
Only you know where you can reasonably cut back on your budget. As such, it's important to be honest with yourself about which expenses are wants and which are needs.
3. Work with your creditors to pay off debt
Depending on your lender, you may be able to find a way to decrease the amount you owe. For example, Kelvin had a private student loan through his college that had accrued over $9,000 in interest. "We called and asked if they would just take the $3,600 in principal and they said yes," says Aja.
If you have student loans, another option is to refinance them to get a lower payment or interest rate.
Compare student loan refinancing lenders to see if you can use refinancing to repay your loans more quickly.
4. Once you're out, stay out
Before the McClanahan's moved into the Englewood house, they had been going in and out of debt, never making significant headway. Now that they're debt free, though, they plan to stay that way.
"We just got credit cards two years ago and, to date, we've only paid eight cents in interest," Aja says, noting that she was upset about it. "We are very careful to pay our balances in full each month."
The McClanahan's still purchase most of their things in cash, however, and try to save as much as possible. "We're coming up on a major roof repair and bathroom remodel that we'll cover with cash," Aja says. "We also got my husband a car earlier this year and took a few vacations, too – all with cash."
Decide your next steps
All things considered, it wasn't the free house that made the difference for the McClanahan's. Of course, it would've taken them longer to repay their debt with a mortgage payment. The house was the catalyst, but the real game-changer was their decision to make it work by any means necessary.
As you stare your debt in the face, determine what you're willing to do to get rid of it. Find what works best for you, but consider pushing yourself a little past your comfort zone. Depending on what you find there, you may be able to accelerate your debt repayment in ways you never before considered.
For some, that may be refinancing their student loans and aggressively paying off the new loan. For others, that may mean earning more income or cutting their budget back to the basics and throwing the extra cash at their debt. Whatever you decide, take steps now to make it happen.
Ben Luthi is a personal finance writer and a credit cards expert who loves helping consumers and business owners make better financial decisions. His work has been featured in Time, MarketWatch, Yahoo! Finance, U.S. News & World Report, CNBC, Success Magazine, USA Today, The Huffington Post and many more.