An increasing number of U.S. drivers are deciding to lease their vehicles instead of buying them, opting for cheaper monthly payments and a new car every couple of years.
In fact, as of Q4 of 2017, 28% of new vehicles in the U.S. were on lease. However, what if you want to break out of the leasing cycle and buy your car? What is involved and how do you know if it's a good idea?
Read on to find out how you can buy out a leased car in five easy steps.
How to buy out a leased car in 5 steps
Here is a step-by-step guide to buying out of a lease.
1. Calculate the costs
When buying a leased car, the costs will often include the buyout price, sales tax (depending on where you live), transfer fees, registration fees, and purchase fees.
If your lease is not yet over and you want to buy the car before it ends, you will face additional fees for terminating the contract.
Speak with the leasing company to find out the costs and add them up to get the total cost. Additionally, find out the deadline for completing your purchase or return.
Remember, the buyout price is based on the vehicle after the term of the lease with the allotted miles and regular wear-and-tear."
2. Evaluate if it's a good deal
Next, find out if you are getting a good deal. Look up the car price online to find out its fair market value. Be sure to factor in your current mileage and the car's current condition, and add any applicable taxes and fees you will have to pay.
Kerri Mortiary, a small business consultant with a financial background, says, "Remember, the buyout price is based on the vehicle after the term of the lease with the allotted miles and regular wear-and-tear."
She adds, "If, after the term, you've only put three-quarters of the miles on the car and kept up with maintenance, your vehicle will be worth more than the buyout price, so you can purchase it from the dealer for a steal!
On the other hand, if you've crashed the car twice and gone over the mileage by 10,000 miles, the car is now worth less than the buyout, and you're stuck paying a premium for a vehicle that isn't worth it."
So, whether the deal is good or not will depend on the following factors: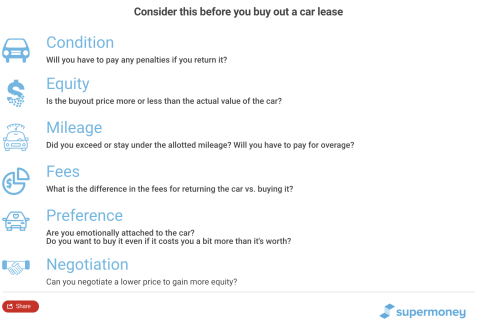 If the buyout price is equal to or less than the car's actual value, it's a good deal. If it's higher, you could get a cheaper deal buying it elsewhere.
However, you will also have to factor in fees such as those for excessive wear-and-tear, returning the car, and/or extra mileage. These can make buying the car a better deal than returning it, even if the buyout price is a bit higher than the actual value.
If, after the term, you've only put three-quarters of the miles on the car and kept up with maintenance, your vehicle will be worth more than the buyout price, so you can purchase it from the dealer for a steal!
By weighing all these factors, you can determine the best solution in your situation.
3. Get competitive financing
If you decide that buying out is the way to go, then it's time to figure out the best way to pay for the car. Of course, cash is the cheapest option because there is no interest involved.
However, not everyone has enough money on-hand. Being so, many opt for a car loan. It's best to shop around so you can get the best deal available to you.
You may get a financing offer from the dealer or leasing company, but don't take it before exploring other options. Lenders can vary significantly from one to the next in the interest rates and fees they offer.
Where can you look?
Certain auto loan lenders will finance a lease buyout, such as Bank of America and Wells Fargo. Further, you can apply for an unsecured loan from online personal loan lenders.
Be sure to calculate the total cost of borrowing from each lender by identifying all of the fees involved and adding them to the total cost of the interest over the term of the loan.
Beware, not all fees are clearly communicated; sometimes it takes a little digging, so it's best to double check with representatives from the companies you have shortlisted.
Once you have all the info, you'll be able to identify which lender truly offers the best value.
Learn how to get the best auto loan rates
4. Buy the car
With your financing solution in place, you can contact your lease company and tell them you are ready to buy the car. They will then work with you and your lender to complete all the appropriate paperwork and process your purchase.
5. Begin payments on your new loan
Once you buy your "new" car, the lease will be history. If you take out a loan, you will make payments to your new lender. When the loan contract is fulfilled, you will own the car free and clear.
Pros and cons of buying a leased car
What should be considered when deciding whether to buy or lease your car?
"The benefits of buying out your lease apply when you're under the mileage and the car is worth more than you're paying for it. Also, since it's a new vehicle when you lease it, it's likely not to have as many issues or unexpected repairs as you will face when purchasing a pre-owned car," says Moriarty.
She adds, "A con of buying out your lease is that you're stuck with that car now, for better or worse. Many people find comfort in leasing because you are upgrading to a newer (safer?) vehicle every few years that's under warranty and often includes a maintenance plan.
Another con is that, depending on how you finance the car, your monthly payment for the buyout may be higher than your lease payment."
Here's a quick summary of the pros and cons of buying a leased car:
WEIGH THE RISKS & BENEFITS
Here is a list of the benefits and the drawbacks to consider.
Pros
Potentially buy the car for less than it's worth
Know the full history of the vehicle
Gain equity with each payment
Avoid paying penalties for excessive wear-and-tear or mileage
Cons
Higher monthly payment than when leasing
Will likely drive the same car for longer than if you keep leasing
May pay more for the car than it's worth
Lease purchase option fee
How to find the best financing for a lease buyout
Shopping around for a loan can be time-consuming and confusing. There are many lenders to choose from – this can leave you wondering which offers the best deal and who you can trust the most. But there is a way to speed up the process.
SuperMoney partners with dozens of reputable industry-leading lenders to offer borrowers an easy and secure way to find the most valuable loan solution for their situation.
You simply answer a few basic questions in the auto loan or personal loan engine and, if you qualify, you will receive competing offers from numerous lenders. It doesn't cause any hard inquiries on your credit report, so you can compare quotes without worrying about a drop in your credit score.
Want to give it a try? Find your best rates on a personal loan and auto loan!
Jessica Walrack is a personal finance writer at SuperMoney, The Simple Dollar, Interest.com, Commonbond, Bankrate, NextAdvisor, Guardian, Personalloans.org and many others. She specializes in taking personal finance topics like loans, credit cards, and budgeting, and making them accessible and fun.