Article Summary
You've fallen hard and are willing to go into debt for love. This article tells you how to get the best deal on an engagement ring, especially if you can pay cash. If you can't pay cash, it also tells you what your options are if you need to finance. From credit cards to personal loans, this post tells you all you need to know. It even tells you how you might be able to get a partial cash refund on your purchase via a cashback-bonus credit card.
So you've decided to propose and don't think that plastic ring you found in a cereal box is going to cut it? If you're eager to pop the question but haven't saved up enough cash to buy an engagement ring, you might be tempted to borrow the money.
At the start, you'll likely experience sticker shock when you shop for engagement rings. After all, the average cost of an engagement ring is $5,200! (Source) Diamonds aren't cheap.
Fortunately, you have several options to get the best deal and finance an engagement ring.
Getting the best deal on an engagement ring
When you shop for an engagement ring, be realistic. Even if you've decided to finance your purchase, this doesn't mean you need to go overboard. Don't feel pressured to go into extreme debt before you even begin to think about the upcoming wedding, honeymoon, and cohabitation. And keep in mind that this isn't the only ring you'll have to buy if your proposal goes well.
Better yet, look for ways to save some cash by knowing when to shop for the ring and by paying cash if you're able.
Know when to shop
For the best prices, time your engagement ring shopping for Christmas and just before Valentine's Day. Also, do some research about ring choices and diamond quality so that you're an informed ring shopper and know a good deal when you see one.
The benefits of paying cash
If you can afford it, paying cash is a great option.
Many jewelry stores will give discounts to buyers who wire money directly from their bank account as payment.
In addition to getting a discount, paying with cash allows you to avoid interest and financing costs, therefore paying less for the engagement ring of your choice.
For example, buying a $5,000 ring with your own funds costs you just $5,000. In contrast, if you finance the ring with a loan at 10% over 12 months, you'll end up paying over $5,275 for that same engagement ring because of the interest charge.
Your options for engagement ring financing
But don't worry: even if paying out of pocket isn't affordable for you, there are other ways to buy that ring:
Review the information below to be well informed before making that big purchase and popping the question!
Jewelry store financing
When you step into a jewelry store to begin shopping for rings, you'll notice that most major stores are all too willing to help you finance your purchase. In some cases, like with major chain stores, this might be a good deal. However, please pay careful attention to the terms of the loan and how it affects the purchase amount.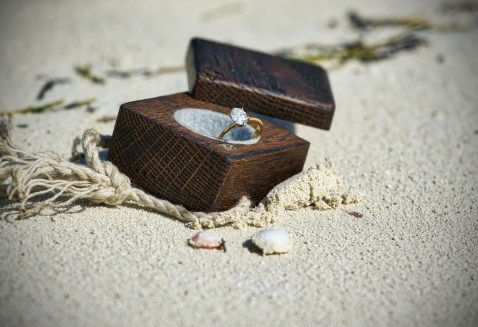 Jewelry store financing could offer you 0% annual percentage rate (purchase APR) credit cards or even 0% and no payments for a certain number of months. The catch is that, once the promotional period expires, the interest rate jumps to double digits and sometimes retroactively if the balance is not paid in full! You'll need to pay careful attention to when the promotional period begins and ends, and that can be a challenge if you're busy with wedding preparations.
One of the most important questions you can ask when exploring engagement ring financing options relates to retroactive interest. In many cases, if you don't pay off the balance during the 0% interest account introductory period, the company will charge interest on the account balance retroactively — from the date of purchase.
An example of a retailer with these financing plans is Zales. A recent offer tells customers that interest is waived for 12 months if they spend at least $1,000 and put a minimum of 15% down on the purchase balance. However, note that once the 12 months are up, the APR jumps to 23.73%–28.99% interest. If you make a late payment or don't pay off your balance in the first 12 months, interest is retroactively charged from the date of purchase.
Financing an engagement ring with personal loans
The issue that many buyers have with on-site jewelry store financing or other promotional offers is that the balance on their accounts needs to be paid off quickly to take advantage of the 0% APR offer. If you want to stretch out your monthly payments over several years, personal loans might be a better option.
A personal loan from a bank, credit union, or online lender can give you access to the funds you need to buy a ring and set you up with a longer fixed monthly personal loan payment that is more affordable.
Keep in mind that not all lenders are equal as they offer many different loan products, services, and account terms. You can save a lot of money if you take the time to compare lenders and the terms of each of their loan products. In addition, making payments over a longer period of time will result in a more costly purchase if your compensation doesn't allow you to repay it early.
Personal loans: factors to consider
Comparatively low interest rates.
No 0% APR intro offers.
Fixed interest rates.
Set repayment period.
Larger loan amounts available.
Understanding your purchase APR
A purchase APR is a rate by which your unpaid purchase amount grows over time. APR stands for Annual Percentage Rate and is the cost you pay each year to borrow money, including fees, expressed as a percentage. The purchase annual percentage rate is a broader measure of the cost to you of borrowing money since it reflects not only the interest rate but also the fees that you have to pay to get the loan.
The impact of your credit history
If you're a borrower with a good (+700) to excellent (+750) credit score, you have a chance of qualifying for the best personal loan rates. If you're not sure what your credit score is, you can find out for free here.
Borrowers with fair to poor credit will struggle to qualify for competitive rates. But there are still lenders willing to consider borrowers with bad credit. Here are lenders that specialize in borrowers with poor credit.
Using a credit card to finance an engagement ring
The average consumer credit card APR is well under 20%, making a credit card the better choice to pay for a ring than most store-branded offers that don't fall within the promotional period.
If you're only making minimum monthly payments on your credit card balance, though, interest will pile up on your account, which can sometimes lead to a debt trap.
A potential silver lining to opening up no interest credit cards is that they can then be used for all of your wedding-related products and purchases, and you'll earn cashback on it all! If you can afford to repay the credit cards quickly, this could benefit you more than using your checking account to tie the knot. We've compiled credit card offer reviews to make it easy to find a good deal.
Credit cards: factors to consider
Fast and convenient.
High interest rates.
Credit limits are modest when compared to personal loans.
Great savings available if you qualify for a 0% intro offer.
To learn the pros and cons of marriage financing more generally, look at our articles on marriage loans and marriage funding. And to reduce how much you end up having to finance, read our article on cutting wedding costs.
Engagement ring financing with bad credit
Even if you have bad credit, there are still a few choices to finance ring purchases. However, if you do have bad credit, it's important to make an effort to get your finances in order before getting married, getting as many debts paid in full as possible while sharing all of the details with your partner.
Any delinquent loan payments or credit challenges you have now will likely only be compounded once you get married, as your poor credit will make all of your financed purchases more costly. In addition, you or your partner may have student loans, credit cards, or other debt accounts that will make keeping up with ring payments even more challenging.
Leasing offers on-site
Some retailers offer the financing option to lease the ring, and then, once you complete your leasing payments, you own the jewelry outright. There are several factors to consider when looking into a lease. Some lease providers advertise the following considerations —
Leasing a ring: factors to consider
No credit approval needed.
Requires an initial down payment of $79+
Easy application process with most companies
Take your item home the same day or schedule delivery
You do not own the merchandise until you make payment in full
A jewelry lease is not the same as buying on credit. With a credit transaction, financing, or a loan, you make a purchase with borrowed money that must be repaid, often with interest on your monthly payment and credit approval. With a lease, the company providing the lease (lessor) purchases the merchandise you select from the retailer. Then, you sign an agreement to lease that merchandise from the lessor. They own the merchandise, but you can take ownership after the agreement is paid in full — by making all required lease payments or, sometimes, through an early purchase payment option. Acquiring ownership by leasing costs more than the retailer's cash price.
How to compare engagement ring financing options
If you can't pay out of pocket, a deal with 0% APR promotional terms from any credit card is usually your next best alternative. Jewelry store financing often offers an inexpensive source of credit if you can get a 0% APR intro offer. However, you have to be careful with 0% APR offers when you can't afford to pay the loan off within the introductory period. If you can't pay it off within the intro period, consider a personal loan or a balance transfer credit card with a low balance transfer fee and competitive rates. Check out the best personal loans and 0% APR balance transfer cards available before making a decision.
Frequently asked questions
Can you get financing for an engagement ring?
Yes, it is possible to finance an engagement ring with personal loans or a line of credit. You also have the option of financing a ring with an installment plan arranged through your jeweler. Although paying with cash is usually best, using loans to make major purchases and keep cash on hand can be a smart financial move in some cases.
What's the average price for an engagement ring?
The average price for an engagement ring is around $5,200. However, that is not what most people pay. The cost varies a lot by region and the average price is skewed by wealthy people who can afford to buy very expensive rings.
How much does it cost to finance an engagement ring?
It depends on the method you use. In some cases, it can be free to finance an engagement ring if you qualify for a 0% APR installment plan and pay it before the intro offer period expires. However, buying a $5,000 ring and paying it with a credit card that you only make minimum payments on would cost you nearly $7,000. On the other hand, a $5,000 personal loan with a 10% APR and a 36-month term will cost you $800 in interest.
Where can I finance an engagement ring?"
There are many ways to finance an engagement ring. Most jewelry shops have some kind of installment plan, you can use a persona loan, and even credit cards are a smart option if you can qualify for a low interest rate. Alternatively, you can borrow from family or friends or get a secured loan using your home as security (e.g., home equity investments, home equity loans, and cash-out refinances).