Whether you'd like to make a few simple upgrades or have just purchased a fixer-upper that needs a lot of help, figuring out how to finance home renovations can be confusing. While you want to add value to your home, you also need to find the best home renovation loans for your situation. Here is some useful information about how to finance your upcoming home improvement projects.
Home renovation projects that add value to your home
While some home remodeling projects are sexier than others, not all of them are going to add value to your home. When you look at your home's outdated countertops, chipped bathtub, and a leaky roof, some items should take priority on your renovation list. Focus on the projects that are more likely to add value to your home.
Obviously, anything that affects the integrity of your home's structure or systems needs to come first. If you decide to sell your home and it has a leaky roof or subpar furnace, homebuyers will devalue the property no matter how beautiful its countertops.
Remodeling magazine annually ranks the home renovation projects that add value to homes as compared to their cost. In its latest report, adding insulation tops the list of return on investment. Other high-value projects include adding a manufactured stone veneer, garage door replacement, and a new entry door.
Projects that don't return as much for your investment are bathroom additions, upscale master suites, and composite deck additions. Projects that will return a portion (around 50%) of your investment include wood-framed windows, bathroom and closet renovations, and swimming pools. However, if you plan to stay in your home for a long time, these renovations can add to your quality of life. If that's the case, then taking out a loan for these projects may still be worthwhile.
Types of home renovation projects to finance
One of the reasons that you should understand what adds value to your home is that these renovation choices will affect your financing options. For example, if you decide to finance a bathroom and kitchen remodel with a refincanced mortgage or a home equity loan, you're borrowing against your home's value. If you haven't increased the value of your home by as much as you've spent on a remodel, you could end up upside down on those loans for several years.
The best types of home renovation projects to finance are the ones where the value you're receiving exceeds, or at least comes close to, the cost of borrowing money.
Let's say that you want to upgrade your home's landscape. According to a recent Outdoors Remodeling Impact Report by the National Association of Realtors, this is a good move. If a landscape professional gave you an estimate of $6,000 for the work, your return on that investment could be as much as 105%, or $6,300.
Popular choices for home renovation projects are ones that make your home more functional, modern, and energy efficient. Energy-efficient updates, such as new windows, appliances, or a new roof, typically offer the best return on your investment.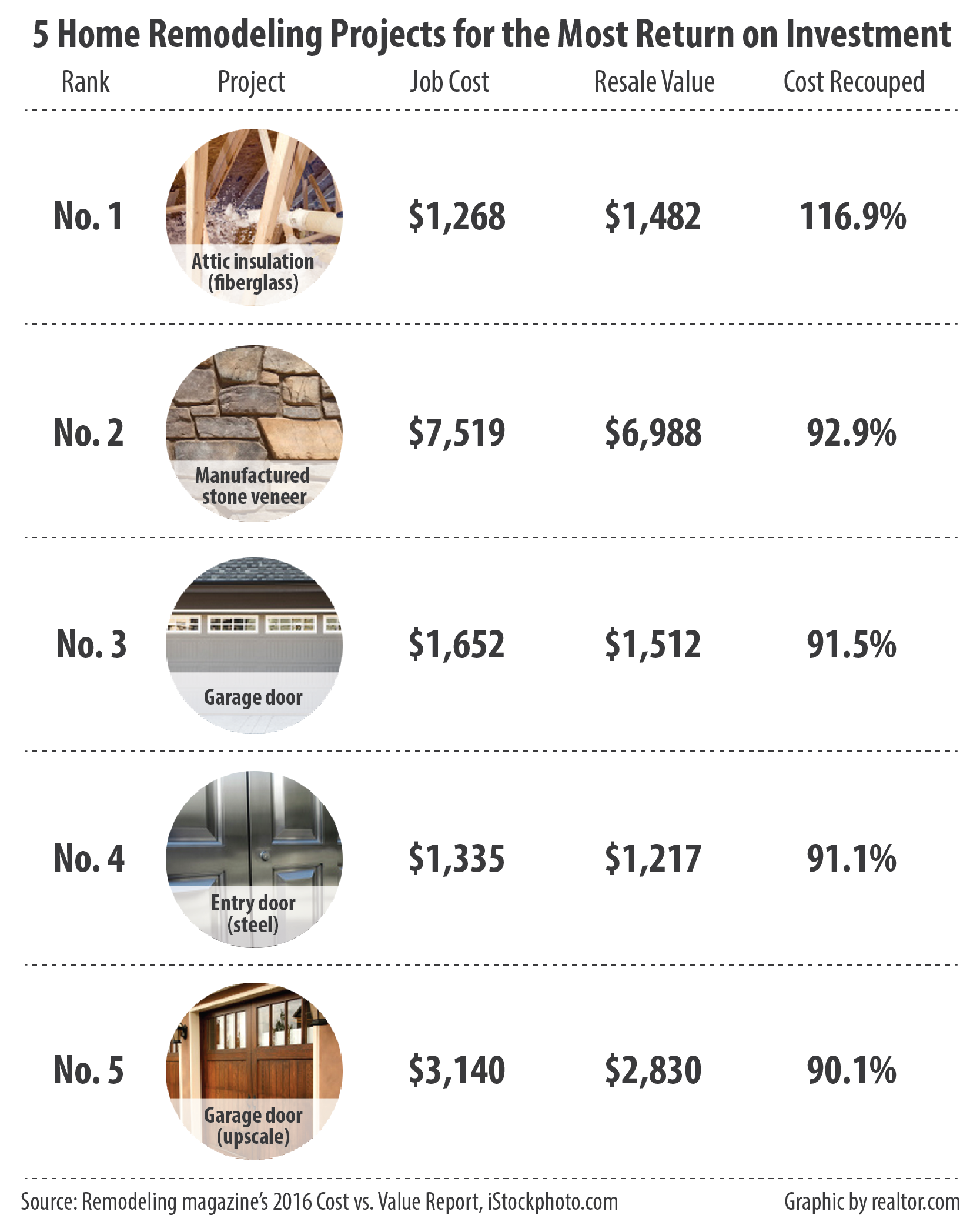 DIY renovations
Home renovation doesn't always need to be done by professionals. That being said, a recent Houzz & Home survey reports that four out of five homeowners (85%) still enlist the help of a professional.
Hiring a contractor might be a requirement of some home renovation loans, while DIY work is ok with others. If you decide on DIY renovations, put together a careful budget for materials and add in a safety net to ensure you have enough funds to complete your projects.
How to finance a home renovation
There are several options for financing home renovation projects. Which alternative you choose will depend on such things as the value of your home, how much money you need to borrow, and your credit score. If you're not sure about your current credit score, get a free credit score report here.
Now, you can start exploring the various ways to finance your exciting projects.
Personal loans
Personal loans for financing home renovation are set up as term loans. This means that you borrow money at a fixed rate of interest and pay it back monthly for the stated term. The interest rate will remain the same throughout the term of the loan, so your monthly payments will not fluctuate. Because they are unsecured loans, personal loans have higher interest rates than a mortgage or a home equity loan.
You can get personal loans from local banks and credit unions as well as through online lenders. Which type of loan you'll qualify for depends on factors like your income, debt-to-income ratio, and your credit score.
Debt-to-income ratio is determined by dividing your total monthly debt by your total monthly income (before taxes).
Lightstream is an excellent option for home improvement personal loans for several reasons. They offer flexible terms with competitive annual percentage rates (APRs). Lightstream also gives applicants lower interest rates when the loan is being used to finance home renovation projects. They also have no origination fees or prepayment penalties.
Federal loan programs
Several federal loan programs could help you with your home renovations. If your projects are minor, $25,000 or less, consider an FHA Title 1 loan. These loans don't require you to have home equity, are insured by the federal government, and have terms of up to 20 years.
Another choice is the FHA 203k loan, which you can use on a new home purchase or as a refinance loan. This is a mortgage that bundles your primary mortgage loan together with the cost of your home renovations. If your repairs are $35,000 or less, there is a Streamlined 203k loan program as well.
Home equity loans & home equity line of credit
Federal programs aside, if you have equity in your home you can use that for several other types of loans. There are two basic loan types that base collateral on the equity in your home. Equity is the difference between the market value of your home and the balance you owe on the principal. For example, if your home appraises for $200,000 and you still owe $150,000, your home equity is $50,000.
A home equity loan is the same as a second mortgage. This is a good option if you have enough equity to borrow against and you can qualify for a loan with a favorable fixed interest rate. There may be fees and closing costs associated with these loans. Be sure to shop around and read the fine print.
A home equity line of credit (HELOC) is the other option. This can work in environments where interest rates are favorable because they usually have a variable APR. Again, you need to have equity in your home to qualify for a HELOC, and this funding arrangement can give you ongoing access to cash for 10 years or more. A home equity line of credit offers flexibility since it works in a similar way as credit cards. You can use the pre-determined funding amount on an as-needed basis, and you only pay interest on the amount used.
Mortgage loans for home improvement
There are several benefits to using a mortgage loan to finance home renovations. The first is that these loans usually have competitive interest rates, making the cost of borrowing money for your projects more affordable. As a bonus, mortgage interest is tax deductible, so you can recoup some of those interest payments each year when you pay Uncle Sam.
The downside to some of these loans is that, particularly with the standard 203k mortgage, the lender requires that you pay for mortgage insurance to protect their interests. They may also take longer to fund than a personal loan. Federally-backed loans might also put restrictions on your projects, such as no inground pools or other luxury upgrades.
Credit cards for home improvement
Credit cards are a good choice for financing home renovations if you have a credit score of 700 or above and plan to tackle small to medium-sized projects. If you fit into this category, you should apply for a card that has a 0% APR introductory period, like the Chase Freedom card. With this card, you'll pay no annual fee and no interest for the first 15 months. Click here for a list of the best 0% APR balance transfer credit cards available.
Compare lender options
When you compare the different lenders for your home renovation loans, look carefully at several things. You should always calculate the total cost of borrowing money and decide whether or not those projects are still worth what you're about to pay. Look at what the lender lists as their APR, loan term, any additional fees, as well as prepayment penalties. Particularly with home renovation loans, see if there are additional requirements, such as inspections, completion dates, or even progress reporting.
Applying for home renovation loans
When you apply for home renovation loans, have your remodeling budget ready and know where you stand with your personal finances. Lenders will look at your credit score, your monthly income, other debts, and sometimes the equity in your home. A clear understanding of these items can put you in the position to shop, compare, and apply for loans to remodel your home. Learn more about financing home improvement projects here.
Before you apply for a loan, check what industry experts and other consumers have to say about it. SuperMoney provides free reviews and consumer comments on mortgages and personal loans.