Home appliances help us all live day-to-day life much more comfortably. And, now, Americans use about three times the number of appliances than we did 35 years ago.
It's not until one of them breaks that we realize just how big of a role it plays; all of a sudden it takes an hour to clean up after dinner, a shower is freezing cold, or you can't keep food fresh.
When an appliance does go down, it can be expensive to repair or replace it. So, it's important to protect your investment.
You may be wondering if there's home insurance that covers appliances or if they need a special kind of coverage. Let's take a look at the costs of appliances and how you prevent big out-of-pocket costs.
How much does it cost to repair or replace appliances?
First, here are the average costs to repair and replace appliances in the U.S.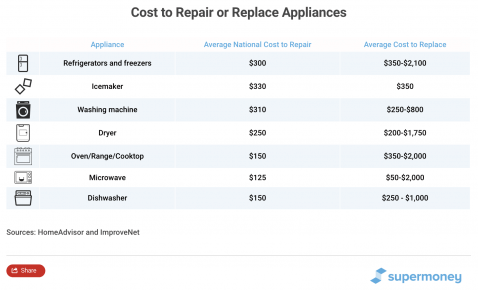 As you can see, it can get pricey so here's how you can prepare.
Are appliances covered by homeowners insurance?
To answer that, let's look more closely at the nature of homeowners insurance.
Most homeowners insurance policies are designed to protect a policyholder's home and belongings against unexpected events that are out of the person's control.
A common requirement for claims is that events are "sudden and accidental," which means the damage was not preventable because it happened without any warning signs.
Further, damages must be the result of a peril that the company covers (i.e., windstorms, theft, hail, explosions, etc.). Each company will list the perils they cover in your policy.
What protection does homeowners insurance provide for appliances?
If your appliances incur sudden and accidental damage as the result of a covered peril, your homeowners insurance would likely cover the cost to replace or repair them.
However, if the appliance is the cause of the damages, insurance often covers the damages but not the appliance itself. Further, it does not cover normal wear-and-tear, which can leave you vulnerable when appliances break down.
The gap in homeowners insurance can be supplemented by home warranty insurance.
What should you know about home warranty insurance?
Home warranty plans offer to repair and replace home appliances and systems when problems occur due to normal wear-and-tear. Often, customers can choose from various coverage plans depending on their needs.
Here's what is typically covered in a basic plan versus an enhanced plan.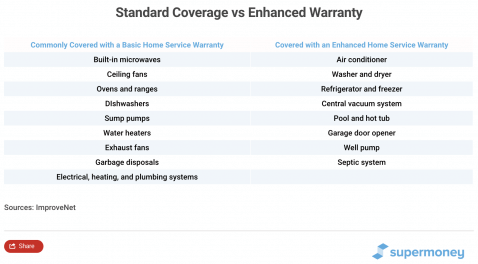 To get coverage, you'll need to find a company that suits your needs, sign up, and pay an annual fee. When something goes wrong, you'll call your home warranty company and they'll send out a contractor to fix the problem.
The average annual fee ranges from $319 to $894 per year, and the average service fee ranges from $50 to $100, according to Improvenet.
Note that most home warranty insurance companies won't cover appliances or systems with pre-existing conditions. A home inspection will usually be performed to ensure everything is in good working order.
Having both a homeowners or renters insurance policy and a home warranty insurance plan offers the most protection for your appliances.
Whether an unexpected event causes damage to your home or something breaks down due to normal wear-and-tear, you can rest assured that you're probably not going to have to cover the damage costs on your own.
Learn more about home warranty plans. 
Frequently asked questions about appliance insurance
Does renters insurance coverage cover appliances?
Renters insurance works like homeowners insurance and will often cover your appliances in the event of a sudden and accidental covered loss. Note, the owner's appliances typically won't be covered by your policy, but appliances you own and maintain will.
Which is the best home warranty company?
Some of the most reputable home warranty companies are:
Choice Home Warranty
American Home Shield
Complete Protection
Total Protect Home Warranty
Select Home Warranty
The best home warranty company for you is going to depend on which one can best meet your needs. Always review a few companies and compare their offerings before making a decision.
Which company offers the best homeowners insurance?
The best homeowners insurance company is the one that provides you with the coverage you need, the service you want, and an affordable price. It won't be the same for everyone.
Learn more about how to find the best homeowners insurance here
Which company offers the best renters insurance?
A good renters insurance has comprehensive coverage, good prices, quality service, and special offerings. See our current best picks here.
To find the best fit for you, you will need to review and compare the offerings and get quotes.
How much does homeowners insurance cost?
The cost of homeowners insurance can range from $300 to $1,000 per year, according to the Federal Reserve Bureau. Policyholders typically pay the annual amount broken up into monthly payments.
Are furnaces covered by homeowners insurance?
Furnaces can be covered by your homeowner's insurance under the right circumstances (covered perils, sudden and accidental circumstances).
However, if your furnace causes damage to your house, your insurance would cover the cost to repair the damages but would not cover the cost to repair or replace the furnace.
For replacement due to malfunction or wear-and-tear, you would need a home warranty plan that covers furnaces.
Are appliances considered personal property in homeowners insurance?
If appliances stand alone, they are often covered under personal belongings coverage. If they are built-in, they are often covered under dwelling coverage.
What are the average lifespans of appliances?
The lifespan of your appliances can vary depending on their quality and how you maintain them. However, here are a collection of average lifespan estimates: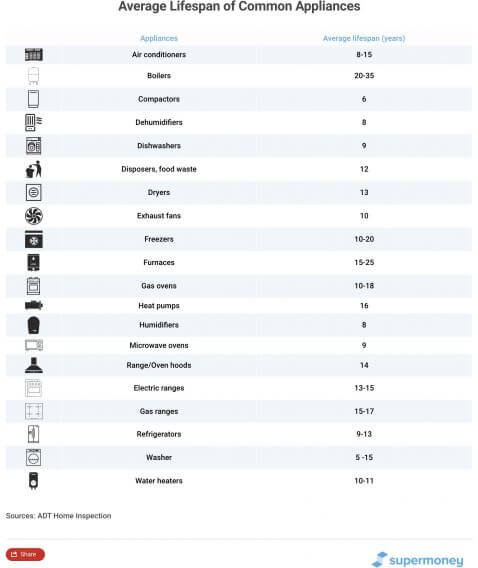 Protect your home appliances
Now you know how to find home insurance that covers appliances. You can get comprehensive coverage by holding both a homeowners or renters insurance policy and a home warranty plan.
However, before springing for a home warranty, be sure to weigh the costs and benefits. Take inventory of your current appliances, their costs, and their conditions. Do they still have warranties from the manufacturers?
The real value of home warranty plans come to fruition when appliances and systems are reaching the end of their life as that's when the repair and replacement costs start to add up.
However, you often have to sign up while your appliances are in working order, so you'll have to decide when the benefits are likely to outweigh the costs.
Together, a homeowners insurance policy and home warranty plan average around $1,200 per year. That breaks down to about $100 per month. Not bad for peace of mind.
However, if your appliances are all new and in great shape, you may be able to wait a few years before signing up for a home warranty plan. Further, if you need more than a basic plan, it will be more expensive.
Weighing all of these factors will help you make the right choice for your situation.
Regardless of what you decide on the home warranty plan, homeowners or renters insurance is always a good idea for those unexpected events that you can't predict.
Want to compare homeowners insurance companies? Review and compare top companies side-by-side here.
Jessica Walrack is a personal finance writer at SuperMoney, The Simple Dollar, Interest.com, Commonbond, Bankrate, NextAdvisor, Guardian, Personalloans.org and many others. She specializes in taking personal finance topics like loans, credit cards, and budgeting, and making them accessible and fun.