At the end of Q1 2019, more than 5.2 million Americans were seriously underwater on their mortgage. That means that 9.1% of all homeowners possess negative equity. If this applies to you, you're probably wondering what you can do to minimize your losses. Refinancing may be a helpful solution. But is it possible to refinance your mortgage when you're already underwater?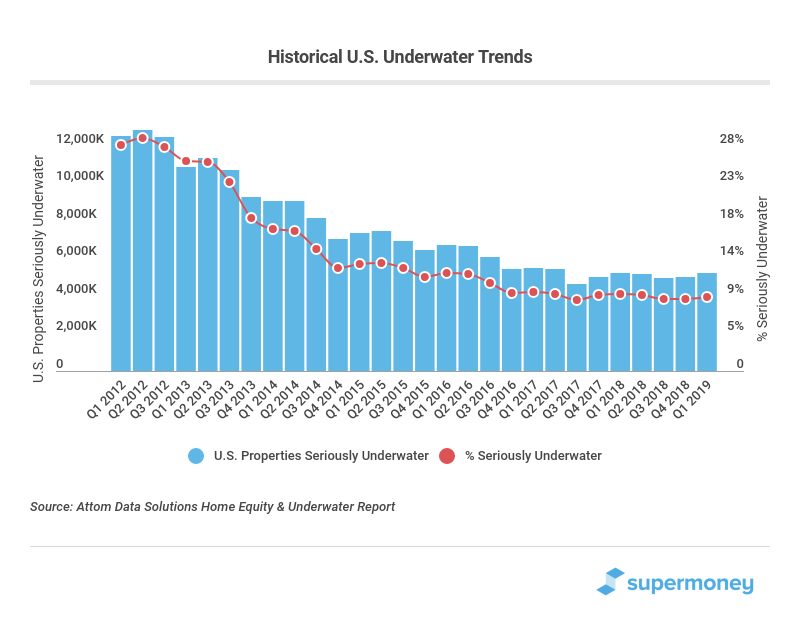 What does it mean to be underwater on your mortgage?
If you're underwater on your mortgage, it means that the value of your property fell before you finished paying off the property. In other words, it means that your mortgage now costs more than the house is worth.
You're classified as "seriously underwater" if your property's value fell significantly, such that the amount that you owe your lender is 25% higher than your property's market value.
So where can you go from here? If you're underwater on your mortgage, how can you reduce your losses?
How can refinancing help?
Refinancing is a great way to lower your losses on your mortgage. To refinance, you take out a new loan (with more desirable rates and terms) and use it to pay off the old loan. If you're looking to lower your monthly payments at the cost of the overall loan cost, you can pursue a longer loan term. If you're looking to reduce your overall costs, look for a shorter loan term. Either way, securing a lower interest rate is always a good thing!
However, when you're underwater on your mortgage, you run into an additional challenge. Usually, banks are unwilling to write home loans that exceed the value of the property in question. That's because home loans are secured by the value of the home. If a home buyer defaults on the loan, the bank avoids losses by selling the home. So if the home is worth less than the loan and the borrower defaults, the bank loses money.
Fortunately, there are programs available for borrowers who want to refinance while underwater, especially if you have good credit. Read on to learn the steps to take to refinance while underwater.
How can you refinance your mortgage while underwater?
If you have good credit, you're probably current on your mortgage payments (since late loan payments are toxic to your credit score). If you're not, take some time to improve your credit before refinancing. Then, consider the following options!
Refinancing a federal home loan
Did you get your federal loan from Freddie Mac, Fannie Mae, or the Federal Housing Administration? Luckily for you, all of those organizations have programs available for borrowers who want to refinance while underwater! Check out the following programs:
Enhanced Relief Refinance
If Freddie Mac originated your home loan on or after November 17, 2018, try the Enhanced Relief Refinance Mortgage. This option is available if you're current on your payments, but are unable to take advantage of the usual Freddie Mac "no cash-out" refinance because you're underwater.
Also, you cannot have previously refinanced your loan through the Home Affordable Refinance Program (HARP), a federal refinance program which expired in 2018.
For more eligibility information, click here.
High Loan-to-Value Refinance Option
If you got your mortgage loan from Fannie Mae, consider the High Loan-to-Value Refinance Option. However, the program is only available if your mortgage originated on or after October 1, 2017.
To qualify, you must have:
Made at least 12 on-time payments.
No 30-days late payments in the last 6 months.
Made no more than one 30-day late payment in the past year.
For more eligibility information, click here.
FHA Streamline Refinance
If the Federal Housing Administration (FHA) originated your mortgage and you're current on your payments, try an FHA Streamline Refinance. You will need to meet these eligibility requirements:
You're current on your mortgage.
At least 6 months passed since you took out your mortgage.
Your mortgage loan is from the FHA.
Refinancing will offer you a tangible benefit.
Refinancing a mortgage from a private lender
Get a loan modification from your current lender
It's not technically refinancing, but the effect is the same. Even if you don't qualify for any of the above programs, your lender may agree to restructure your loan. If you can afford higher monthly payments, a shorter loan term will save you money in the long run. Just be sure to ask about any fees involved before making a deal.
Alternatively, if you're open to losing the property, you can ask about making a short sale. What is a short sale? It's when you sell your house at market value to get your lender to forgive your remaining balance. But be warned: in the short term, a short sale may hurt your credit.
Shop around
There's a massive, thriving ecosystem of online lenders, each with their own eligibility requirements. Being underwater definitely limits your options (most lenders refuse to lend more than 80% of a home's value), but it's still possible to find a lender who will consider your good credit and be willing to make a deal. Plus, some lenders offer their programs for refinancing loans with high loan-to-value ratios.
Prequalifying for a loan won't hurt your credit score, so it doesn't hurt to look around and see what's out there!
Compare mortgage refinance lenders side-by-side.
How to refinance while underwater
Ready to refinance your mortgage?
First, ask yourself where you got your mortgage. If a federal organization originated the loan, pursue its program for underwater borrowers! If your mortgage is from a private lender, browse mortgage refinance lenders to find out what's available to you.