Sending money overseas is big business. In 2019, people paid more than $47 billion in money transfer fees. In total, over $700 billion were sent to other countries in small amounts  — mostly by migrants workers wiring money home (source). These money transfers are not cheap. The average cost to send a remittance (a.k.a money transfer) is 6.82% of the amount sent (source). However, there are ways to get around these fees. This is how to send money for free.
How can I send money abroad for free
If you live in the United States and you need to send money online to your loved ones, you can expect to pay 5% to 7% in fees. For example, sending $1,000 to India will cost you $50 to $70 depending on the method of payment and how your loved ones will receive the money.
You can lower these fees considerably by choosing an online money transfer service instead of a traditional bank wire transfer. Some firms, such as WorldRemit, even have promotional offers with no-fee money transfers.
tra
Send money for free with WorldRemit
WorldRemit has some of the lowest fees and foreign exchange rate margins in the industry. For a limited time, you can send up to three free money transfers if you follow these steps.
1. Download WorldRemit's app or create an account on their website.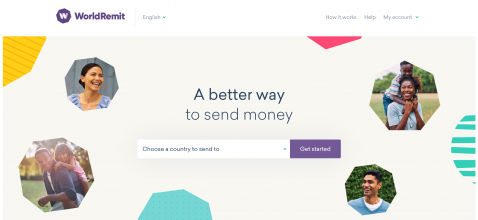 2. Select the country and the amount you want to send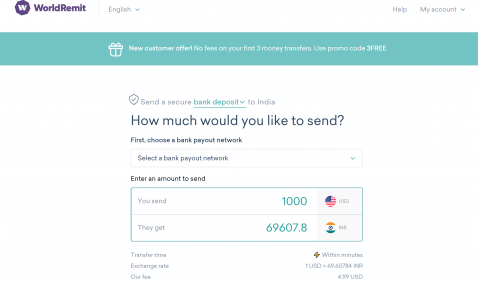 Notice how the fees and exchange rate change depending on the currency and destination. Don't worry. The fee will be waived at the end of the transaction.
3. Add the details of the person receiving the money and choose the method of delivery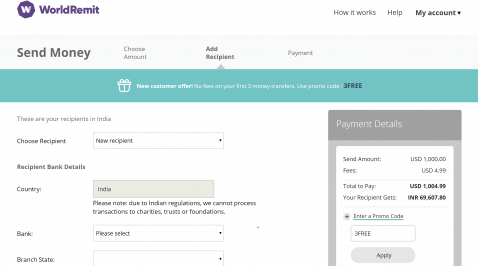 Use the promo code '3FREE' when you process the transaction. That's all there is to it. You will receive a confirmation email or SMS when the money is sent.
International transfer fees
There are two types of fees to consider when sending money abroad: direct fees and the foreign exchange rate margin. Direct fees are usually hard to miss, but the foreign exchange rate margin can get lost in the small print.
What direct fees do money transfer services charge?
Direct fees include any fee that is related to the actual money transfer, such as a bank-to-bank fee, a flat transaction fee, a percentage of the transaction fee, or an outgoing wire fee.
What is the foreign exchange rate margin?
The foreign exchange rate margin is the difference between the rate you receive from the money transfer service and the interbank rate. The interbank rate is the midpoint between the buy and sell prices of two currencies. Money transfer services use this margin to mark up the rate of a currency and make money on transfers in addition to their regular commissions and fixed fees.
Some firms claim to charge no transfer fees but then increase their exchange rate margin, which can be more expensive than a flat fee. Take into account both upfront fees and exchange rate margins when comparing the cost of money transfer services.
How to send money for free within the United States
Money transfer operators (MTOs) have revolutionized the way people make payments and split bills. It's now possible to send money to friends and family for free using services like Square Cash (a.k.a CashApp), PayPal, or Zelle.
How to send money with Cash App's free money transfer app
Cash App doesn't support international payments, but it's hard to beat for domestic transfers. You can send money for free with Square Cash, as long as you use a debit card. There is a fee if you use a credit card or request an instant deposit. To send money with Cash App, open the app, set the amount you want to send, enter the email or phone number of the recipient, and tap "Pay."
How to send money online for free with PayPal
Sending money to friends and family within the United States is also free with PayPal when you use a linked bank account or money in your PayPal account. You will need to pay a fee if you send money abroad or use a credit card, debit card, or PayPal Credit. To qualify for free transfers, choose "Sending to a friend" to qualify to receive the no-fee transfer. You will have to pay a fee if you choose "Paying for an item or service."
You can select "friends and family" when sending payments to strangers for online purchases, but you will not be covered by PayPal's purchase protection if something goes wrong. Fee-paying customers receive additional services, such as fraud prevention, dispute resolution, and full-price reimbursements if there is an issue with your purchase.
How to send money for free to bank accounts with Zelle
Bank transfers are typically expensive and take days to process. However, you can transfer money between bank accounts for free using a peer-to-peer money transfer tool called Zelle.
Notice this service is only available to people who have an account at one of the financial institutions that have partnered with Zelle. Financial institutions embed Zelle in their websites and apps, so the specific steps you must follow to send money will vary by bank. You should also check the bank receiving the payment does not charge additional fees.
The value of low-cost and free online money transfers
Providing an inexpensive way to send money can be a game-changer for many families. Around 800 million people in the world receive money transfers — typically  $200 to $300 a month — which makes up about 60% of the household's income (source).
The United Nations estimates that three-quarters of remittances are used to pay for basic expenses, such as medical costs, school fees, and housing expenses. Remittances sent to developing countries represent more than three times the amount provided in international aid. Even a small reduction in transaction costs can improve the financial stability of families and their communities.
How to choose the right money transfer service
The important things to consider when selecting a money transfer operator are fees, delivery options, transfer limits, country availability, and customer service.
There isn't one company that provides the best prices and terms for all destinations. So, it pays to compare a few providers to make sure you get the best deal possible. These steps will help you find the right money transfer operator for your situation.
Determine which firms operate in the country where you want to send money.
Filter out the firms that don't offer the delivery methods your recipient needs. For example, if your friends and family don't have access to a bank account, consider operators that provide alternative delivery methods, such as cash pickup, mobile money accounts, or mobile airtime top-ups.
If you're on a tight deadline, choose companies that offer delivery within a business day. Some operators even provide instant transfers.
Check the total cost of the transaction. This includes direct fees and the markup on the exchange rate margin.
Confirm your top choices are licensed by government regulators and use industry-leading security technology.
Find out what customers have to say about their experience.
WorldRemit is an excellent place to start your search. It has multiple pay-in/out methods and allows you to send money to over 150 countries in more than 90 currencies. Regular money transfers are typically approved in a matter of minutes, and mobile transfers usually take less than three minutes to process. Transaction fees and exchange rate margins are competitive, and you can now send your first three money transfer fee-free to test them out.
Sponsored content by WorldRemit
These articles are brought to you by SuperMoney sponsors. Learn more about content sponsorship opportunities with SuperMoney.