Most of us have dreams about the amazing things we could do if we had one million dollars to play with. We assure ourselves that building the next Google or Facebook would only be possible with the right team and a lot of dough in the bank.
Of course, getting one million dollars to play with is no easy task. According to a recent article published by Forbes, the probability of an average new business getting venture capital is about 0.0005 (300/600,000). This means that 99.95 percent of entrepreneurs will not get venture capital at startup.
Furthermore, in a recent Wall Street Journal, Harvard Business School senior lecturer Shikhar Ghosh published research that indicates as many as 75 percent of venture-backed companies never return cash to investors, with 30 to 40 percent of those liquidating assets where investors lose all of their money.
The odds are against us. So most people don't even try.
Personally, I find this tragic. We're living in a time where it's easier than ever to start a business, there is more opportunity than ever to start a business, but fewer people than ever are willing to take the risk.
Unfortunately, we've reached the point where there are now more firms dissolving per year than new ones being created.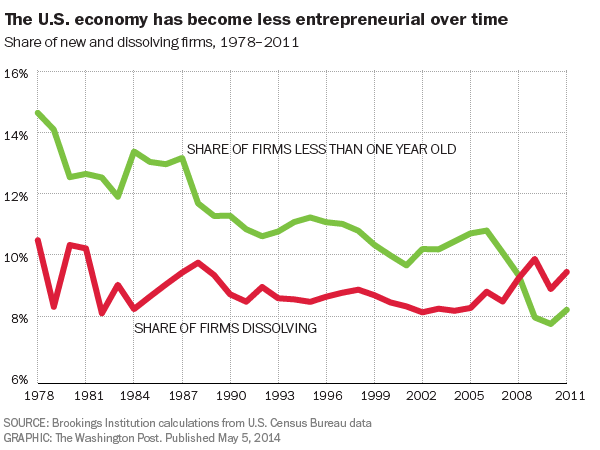 How do we stop the trend?
One of the key problems driving this trend is that we tend to think linearly about the problem – 'If I had A then I could do B'. Some people think they are missing startup capital, others think it's a genius ninja programmer that they need to get to the next steps. This sort of conditional logic will get you nowhere.
No matter how ambitious your idea is, there is a way to test your idea/hypothesis without spending a dime or writing code.
To be a successful entrepreneur all you really need is to:
Challenge assumptions
Leverage limited resources
Be creative
With these three abilities you can indeed turn $5 into your dream company.
So how do you turn $5 into a dream company?
Well, step one is to go to Vegas – just kidding. Gambling provides a very small chance at earning a big reward. This is definitely not thinking creatively.
A more literal way of approaching the problem is to think about what sort of business you can build with the constraints of $5 in startup capital. Certainly you can leverage the limited capital resources to purchase starting materials for a car wash or lemonade stand. The problem with these businesses is that they are labor intensive with markets that have already been highly optimized. While it's definitely possible to scale your $5 investment into the next car wash empire, it will be a long road.
Think Out of the Box
The key is to challenge assumptions and be creative in order to create as much value as possible. Don't fall into the trap of linear thinking.
You don't have the freedom that a million dollars affords, nor should you be limited by the constraint of five dollars.
Five dollars is essentially nothing. You might as well just change the challenge to 'turn nothing into your dream company'. This is what an entrepreneur does. They take an idea and make it real.
When you start thinking in this manner you will realize that there are opportunities everywhere. It will unlock your creativity to identify problems you had never thought to solve.
A Story from Stanford – Few Smart Ideas & Finding The Right Opportunity
This challenge was presented by Tina Sellig, Executive Director of the Stanford Technology Ventures Program, to a group of her students. They were given $5 and 2 hours to generate as much as revenue as possible.
So what did they do? One group identified a problem common in a lot of college towns—the frustratingly long lines at popular restaurants on Saturday night. They had a simple solution to this common problem. They booked reservations at several popular restaurants. As their reservation times approached, they sold each reservation for up to twenty dollars to customers who were happy to avoid a long wait.
Another team took an even simpler approach. They set up a stand in front of the student union where they offered to measure bicycle tire pressure for free. If the tires needed filling, they added air for one dollar. Even though the cyclists could get their tires filled for free at a nearby gas station, they soon realized they were offering a convenient and valuable service to the cyclists. In fact, halfway through the challenge, the team stopped asking for a specific payment and requested donations instead. Their income soared. They made much more when their customers were reciprocating for a free service than when asked to pay a fixed price.
Each of these projects mentioned above brought in a few hundred dollars. However, the team that generated the greatest profit looked at the resources at their disposal through completely different lenses, and made $650. These students determined that the most valuable asset they had was neither the five dollars nor the two hours. Instead, their insight was that their most precious resource was their three-minute presentation time on Monday. They decided to sell this time to a company that wanted to recruit their Stanford peers. The team created a three-minute commercial for the company. Instead of presenting what they had done the prior week, they showed their peers the company's recruiting commercial in class. They recognized that they had a valuable asset—that others didn't even notice—just waiting to be mined.
The Secret Recipe To Making Millions Out Of Nothing
If you haven't grasped this by now, the key to turning $5 into your dream company is to avoid limiting yourself. Instead, use your creativity to identify the hidden problems waiting to be solved and hidden resources available to you.
What are the assumptions you're making in your daily life? What are you not looking at? What have you taken for granted?
If you box yourself in with linear thinking and conventional conditional logic, you will only be left with excuses.
It doesn't matter if you have $5 or $5,000,000. If you can solve a problem in a way that adds value for others, you have a business opportunity that you can scale into your dream company.
Miron Lulic is founder and CEO at SuperMoney, a service that helps millions of people transparently compare financial services such as loans, investments, and more.