What happens when you mix a few poor financial decisions with unemployment, medical bills, and other monthly expenses? You're left with a huge tax bill that you can't pay.
You want to pay your fair share of taxes, but you simply can't afford it. If this sounds familiar, don't worry—you're not alone.
In fact, the IRS reported more than $12.5 billion in additional taxes for returns not filed on time in 2017 and collected more than $1.6 billion with delinquent returns.
You don't want to become part of that statistic, though. Avoiding your taxes will only make the problem worse. So rather than letting your tax debt continue to grow, find a way to resolve it before it gets too big to manage.
An offer in compromise (OIC) could be the solution you're looking for. It's one of the most misunderstood and underused tax relief programs offered by the IRS.
So here's everything you need to know about offers in compromise, who qualifies, how to apply, and how it can possibly wipe your tax slate clean.
What is an IRS offer in compromise?
An offer in compromise is a settlement or agreement between you and the IRS, where the IRS accepts less than the entire tax bill. If you qualify and you make the agreed payments, your tax balance is wiped clean.
The IRS accepted 25,000 offers of the 62,000 received in 2017, totaling nearly $256 million. That translates to a 40.32% acceptance rate and a 59.68% rejection rate.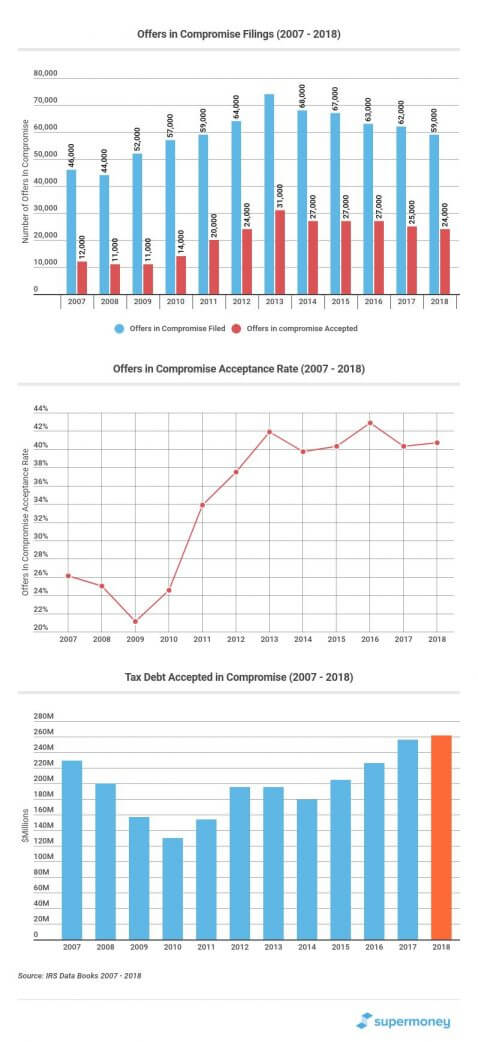 Why does the IRS offer this solution?
As with any other creditor, the IRS wants its money pronto—and getting some of it is better than nothing.
Taxpayers struggling with debt may give up completely and stop filing their annual tax returns. Giving otherwise productive taxpayers a fresh start is a smart use of taxpayer dollars.
Plus, the IRS only has 10 years to collect taxes once a return is filed. And research shows that the longer a tax debt is on the books, the less likely it is to be paid.
The IRS can garnish your wages, levy your bank accounts, and put a lien on your property. However, some assets are off limits even for the IRS.
In cases where taxpayers don't have many assets or large incomes, an offer in compromise may be the IRS's best chance of getting some revenue from a delinquent taxpayer.
Also, the IRS will not seize your property if you have an offer in compromise under consideration. But the same cannot be said about liens.
Two types of offers in compromise
There are two types of offers in compromise based on how you decide to pay.
Lump sum offer
The "lump sum" offer in compromise requires taxpayers to pay the agreed amount within five months of the date the IRS approves it. For the IRS to consider the offer, taxpayers must make a 20% down payment when they submit the offer.
Warning: The 20% down payment is not refundable, so you may want to think long and hard about whether the IRS is likely to accept the offer. Your best bet is to consult with a tax relief professional.
Periodic payment offer
The "periodic payment" offer in compromise must be paid within six to 24 months. The first payment should be included with the application.
What forms do you need to submit?
The IRS requires applicants to complete Form 656 and Form 433-A (433-B for businesses) to obtain the financial information it needs to determine eligibility.
You'll have to provide detailed information about your sources of income, bank accounts, investments, and living expenses. It's easy to make expensive mistakes when completing these forms.
Hire the services of a qualified and experienced tax relief firm before providing the IRS with financial information.
How to qualify for an offer in compromise
There are three reasons the IRS might consider you eligible for an OIC.
You can't afford the full amount. The IRS accepts that you don't have the income or assets to pay the full tax debt before the statute of limitations (10 years) ends.
Economic hardship. You are able to prove that paying the full amount would cause you economic hardship.
Doubt over what you owe. There is doubt over whether you really owe the tax or about the accuracy of the amount.
You may wonder why anyone would pay a portion of a tax debt if there are doubts about whether he or she even owes it or if the amount is accurate.
Wouldn't it be better to appeal the decision in court? Going to court is sometimes the right move. On the other hand, though, the IRS wins 80% of its cases.
Also, an offer in compromise is no longer an option when your debt has been established by a final court decision.
In other words, paying a chunk of your tax debt, even when you don't agree with it, could be cheaper and certainly less time consuming than appealing to a judge.
Before making a decision, talk to an experienced tax lawyer or CPA.
Eligible taxpayers must also:
File all required tax returns.
Be up-to-date with estimated tax payments (self-employed and business owners).
Be up-to-date with federal tax deposits (businesses with employees).
Not currently be in an open bankruptcy proceeding.
How does the IRS determine eligibility for an OIC?
First, the IRS needs to determine whether taxpayers can afford to pay their tax debt in total. To do this, the IRS calculates their "reasonable collection potential."
If it's less than their total tax debt and they meet the other requirements for an OIC, the IRS will consider the offer.
Second, the IRS determines whether the offer in compromise is the maximum amount the taxpayer can afford to pay. This is why it's important to understand IRS policies and procedures.
An experienced tax relief professional can help you calculate the lowest possible amount the IRS will accept.
How does the IRS calculate the amount you can afford to pay? 
The IRS will settle for nothing less than the maximum amount you can afford. The big question is, how does the IRS decide how much you can afford?
The formula that the IRS uses to determine your reasonable collection potential (RCP) is also known as "net realizable value." It varies slightly depending on what assets you own, whether you own a business, the type of offer in compromise you apply for, and other factors.
These calculations are best left to a tax relief professional, but below is a simplified version of the formula to give you an idea of how it works.
IRS reasonable collection potential formula
RCP = Reasonable collection potential.
QSV = Quick sale value or 80% of the fair market value of the asset.
MDI = Monthly disposable income (the balance after you pay for necessary living expenses).
Lum sum offers
For lump sum offers that are paid in five months or less, the RCP is the quick sale value of your assets (property, jewelry, vehicles, etc.), plus your monthly disposable income, multiplied by 12.
RCP = QSV + (MDI x 12)
Periodic payment offers
For periodic payment offers, where the OIC is repaid in 6 to 24 months, the formula for the RCP is the quick sale value, plus your monthly disposable income, multiplied by 24.
RCP = QSV + (MDI x 24)
10 elements to consider when negotiating an OIC with the IRS
Providing detailed financial information to the IRS can have serious consequences. Consult with a tax relief professional if you have a large debt or you may run the risk of being audited.
Make sure you can realistically pay the monthly installments of your OIC. If you miss your payments, you could end up back at square one with additional interest and penalty fees.
The statute of limitations on collecting taxes is put on hold while an OIC is being assessed. Consider this if you are close to the end of the 10-year period that the IRS has to collect on a tax return.
Don't pledge more than you can afford when paying a lump sum. The lump sum is not refundable if the IRS denies your application or if you fall behind in your payments.
The maximum term for OIC payments is 24 months, but you will have to stay current for at least five years after the IRS approves the offer in compromise. Otherwise, the tax balance will be reinstated.
If the IRS rejects your offer, you have the right to appeal within 30 days of the denial.
Tax refunds are automatically kept by the IRS to pay for your tax debt while it considers an offer in compromise submission.
Keep track of the date you applied for an offer in compromise. The process can be lengthy. But if the IRS does not reject, return, or withdraw it within two years, the offer is considered accepted.
If the IRS rejects your offer in compromise, apply again. The IRS's reply will include the minimum offer you should make based on the financial data in your tax account. Request a transcript of your tax account to see if there are mistakes or omissions.
Submitting an offer in compromise will generally put levies and garnishments on hold. Nevertheless, the IRS may still file a federal tax lien on your property.
Take control of your tax debt
Not having enough money to pay your taxes isn't a crime, but lying to the IRS is. So don't avoid your taxes. With a 50.68% rejection rate, an OIC isn't the easiest tax relief option to qualify for. So it's wise to consult with a licensed tax professional before you submit an offer in compromise. The best tax relief companies have tax lawyers and enrolled agents on staff, provide a money-back guarantee and charge competitive rates. Check out which tax relief company is the best fit for you.